You've gotta love this place and space we are in as it pertains to plus size fashion. There are so many more plus size designers, retailers, boutiques, and places to stalk for inspiration and shopping! Navigating it all can be a bit overwhelming or a challenge. How about a few plus size fashion tips, to help you out?
If you are here (welcome to your new fashion home) we have quite a few plus size fashion resources and articles to help you along the way.
But what we've realized is that there is so much information out there, that figuring out how to start, what to do, or how to do it can be a bit overwhelming. So, what we have done is hooked you up with a fun roundup of 15 plus size fashion tips to help you shop and rock out confidently…
Whenever you need a little bit of help shopping online for plus size fashion, reference these as you go about your fashionable day!
Don't you love that we no longer see sooo many of those "Rules" articles in plus size fashion?
Now it is a time of learning, finding, and experimenting! YES honey, yes! Where do we begin? Are you ready for a few plus size fashion tips? Some that will help you out?
No worries! Check them out below… Are you ready?
15 Plus Size Fashion Tips to Know
15. Forget the notion of what plus size fashion WAS and embrace what it is today
This one here can be a challenge. We have been accustomed to only three stores, specific styles, and certain options. You have all shared your frustrations with design elements in plus size fashion that drive us insane.
But now? Now we have new indie plus size designers, on trend silhouettes, retailers who cater to our style and desires, and the platforms to speak out and up on what we want, like, and need!
14. KNOW your measurements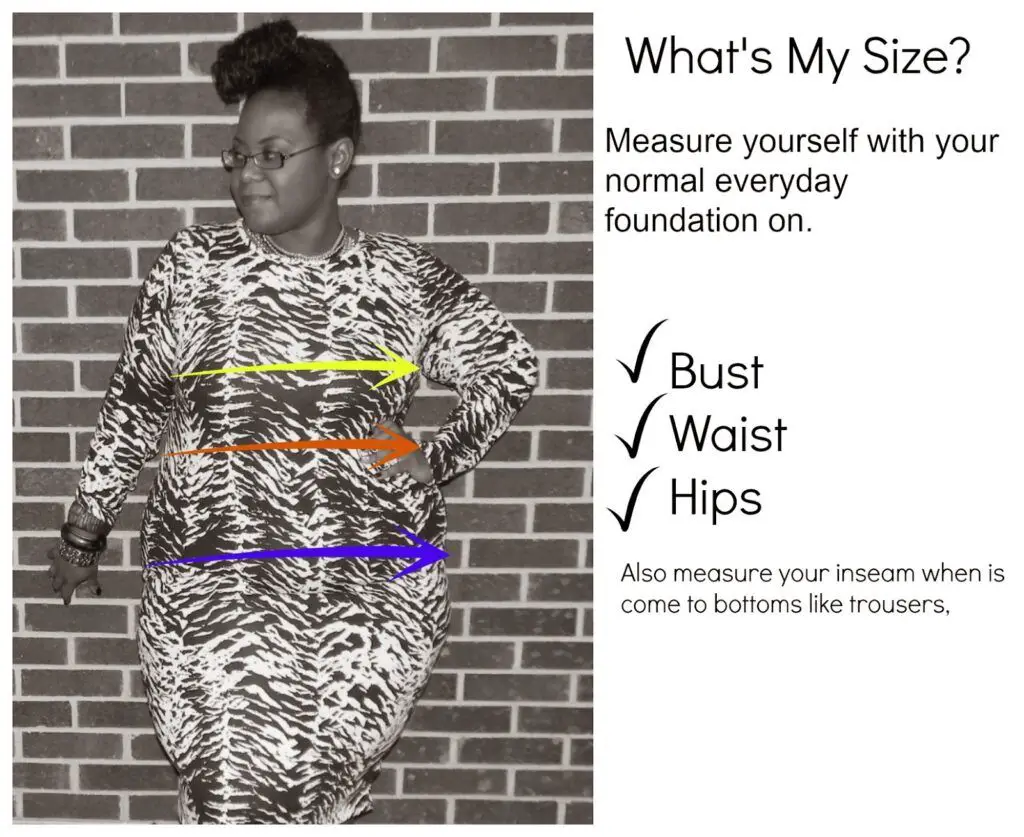 While most of our shopping options are online, it is imperative that we know our measurements NOT just in clothing, but bras and our calf sizes! Get fitted at least once a year (check out the Lift Tour here) and break out the measuring tape whenever you are not sure about the fits! I keep two by my desk ALWAYS.
Check out this post and image by Pretty Plus Pep!
13. Toss out the "rules" that have been drilled into our heads
I mean. "Don't show your belly." "No horizontals." "No patterns." "Black is slimming." "Don't wear items that are body conscious…" PSHAW. With all of these rules, how can one enjoy the progression of plus size fashion today?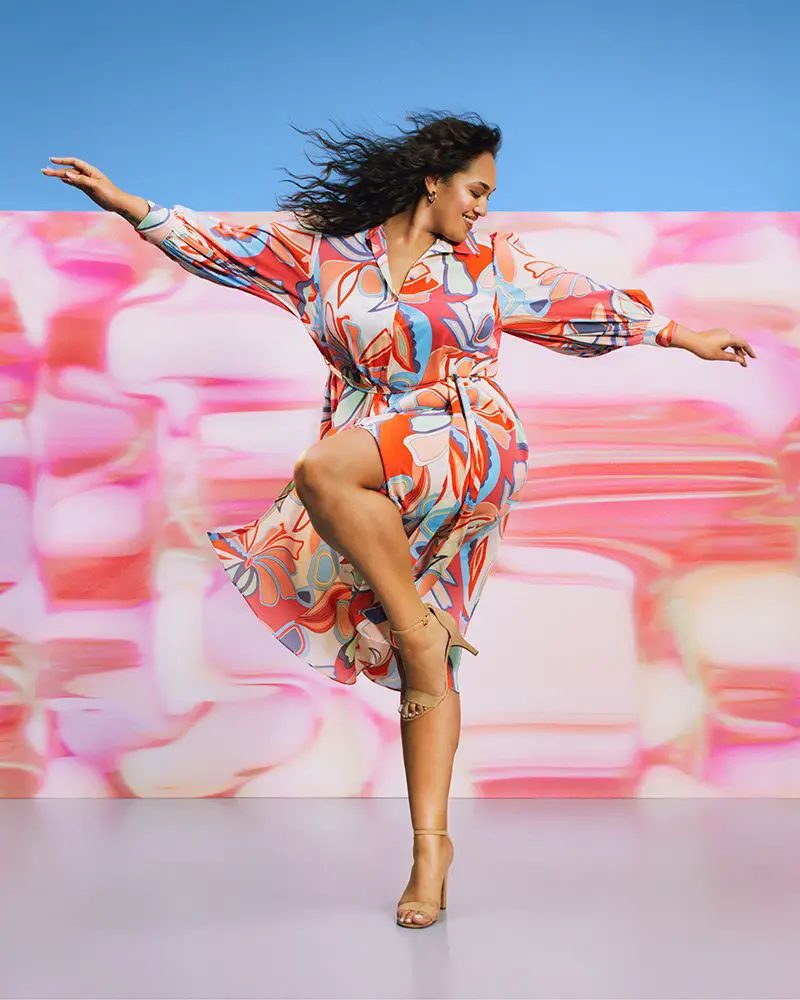 Find a rule and break it I say!
Go far out with it too! You never know what you will find!
12. More plus size fashion tips? Play with Color!
Color is proven to affect, change, and alter one's mood. I mean you cannot NOT be happy in Yellow.
Blue is calming and relaxing.
Red is a spicy and sassy color that makes you feeeeeel.
Find a hue that you are drawn to and play in baby steps, then in focal items, OR don a head to toe monochromatic look!
11. Find an accessory style that works for you
We have a thing for rings. The bigger, the gaudier, the edgier- the better. What is your accessory fix?
Earrings as big and long as we can take them. Accessorize to Maximize I say! We all have a signature, whether we notice or care, it is there.
Find it- that finishing touch that defines you and work it. If you have a penchant for stilettos- then walk, walk, fashion baby!
10. Have a tailor on deck
Not necessarily on deck, but one that you know you can reply on to do those finite fixes and tweaks to your garments. Many times, off the rack will not fit you perfectly and this is NORMAL.
Taking your pieces to a tailor (sometimes at the cleaners) you will have a garment that looks and feels like a million bucks for less than $20 in tweaks!
If you do not have a tailor handy, definitely head to your local dry cleaners, they may already have this service available!
9. Get the "Girls" Fitted
Having a perfectly fitted bra is like heaven. Your back thanks you, your clothes love you, and life just feels better when the girls are in their place (or when they are free- I happen to think this is the best feeling).
We have often been told that that any time you lose or gain weight, after nursing, and/or annually, are key times when you should get re-fitted.
Hrmph.
Let's be honest, we do not always get fitted religiously. We must share that getting fitted for European bras is also a must, as this is a slightly different from US bra sizing. Also? Shape matters- yes, the shape of your boobs matter.
Not only that, but there are so many cuts of bras that affects the way your girls sit!
8. Prints are playful and fun- Focus on scale or the size of the print
A bold print can be a mood changer. We are >>here<< for a great print too! Depending on what areas of your body that you love, place the print on the area you do not mind the attention, as the eye will gravitate there.
Also, if you want to make that area look smaller, a smaller print, don't care or want to make bigger? A bolder and bigger scaled print will do!
7. Forget the size of the garment- focus on fit
The only person who will see the size of your garment is you. While we can have a gamut of sizes in our closets, fit is the most important.
Some brands prefer a more tailored look, some brands are more conservative, others have different fit methods- you are not alone here.
Hell, even vanity sizing is an issue with straight sized women as well! A great fit looks best over whatever size it is on the inside.
6. Experiment with silhouettes and shapes
We have all been a little guilty of this.
Being scared of a new shape or trend that has hit. But you can do it!
Whether it is a skater skirt, a body con dress, or a crop top- you can do it…
We've played in bold patterns and prints, challenging ourselves to embrace more separates. We all are on a personal style evolution as more options become available that speak to our mood, aesthetic, or vibe. We are here for this exploration!
You never know what you really like or love without playing around with new shapes.
You may realize that you love your legs in midi skirts, your arms in cap sleeves, or your legs in shorts! You never know!
5. Nail it
Over here, we love a great nail design and statement. We love nail stickers even more. Gotta admit, some days where you feel a little blah, having the nails done can automatically makes you feel dressed up or feeling a little bit more fancy.
Whether it is a great clean manicure or a bold bedazzled number, have a little fun with it.
4. Play with new fabrications
Modal Cotton feels like second skin. Silks feel amazing and drape quite nicely. Double faced wool is both chic and warm.
Cashmere blends are like butter. Supple leather hugs the curves just right. Before, we only had the option of cheaper poly blends and jerseys. With technology and designers bringing the quality and luxury, we have a few new fabrications to play in!
I dare you to try it! Your skin and curves will thank you!
3. Challenge yourself to try a new trend
SKATER skirts? Jumpsuits? Two Piece Bikinis? Say WHATTT? Ohhh yes. SKORTS? Culottes?
Do you dare?
We say try it on!
They may be the best thing since sliced bread and you didn't EVEN know! What will it hurt to test it out, try it on, and give it a go?
Over here, we try to face our fears, have welcomed palazzo pants, donned more than our fair shares of plus size crop tops and have been having fun with our fears!
2. Make a statement
Oftentimes, showing up as a confident plus size person is a political statement within itself…
Real talk.
But sometimes, we want something we are rocking to also take center stage… your jewels, the bag, the shoes, or the dress.
Whatever it is, allow it to do the talking for you- unapologetically.
1. Have FUN!
At the end of the day, there should be a bit of fun and self-expression that should come from shopping, dressing up and finding new items to dress your curves in! It should be fun! Not shrouded in rules, boxes, and hindrances.
Be open, step outside your box, and explore!
These are a JUST few plus size fashion tips to play in and with to help you along your way!
We even made a quick little graphic for you to pin and save!
Now while you are looking for more plus size fashion tips, make sure you check out our other articles around plus size tips and style news!
Which tips resonated with you the most? What would you add here? What tips have helped you do the most and have the most fun with your fashion life?
Leave a comment and let us know what you think!