Valentine's Day is almost here and that usually means it time to stock up on some of the sexiest plus size lingerie you can find, in order to give yourself or your boo a treat that they won't forget. As a reminder, you don't need Valentine's Day as an excuse to properly outfit your curves in playful plus size lingerie finds! You should be rocking your best whenever you feel like it.
BUT when you do, you need to rock a few pieces that will make you look as good as you feel.
This is where we come in. We've always got the 411 on the latest in plus size fashion! So, for those of you who shop for lingerie all throughout the year, you're always ready to go. But for those of you who are just starting to celebrate yourself, your curves, and your sexiness, what do you wear when a sensual or sexy mood hits?
The perfect lingerie pieces, of course! To make it easier for you to shop for lingerie, without dealing with the headaches online shopping can bring; we've fancied a list of the best places to find plus size lingerie.
Where To Shop For The Most Playful Plus Size Lingerie
Addition Elle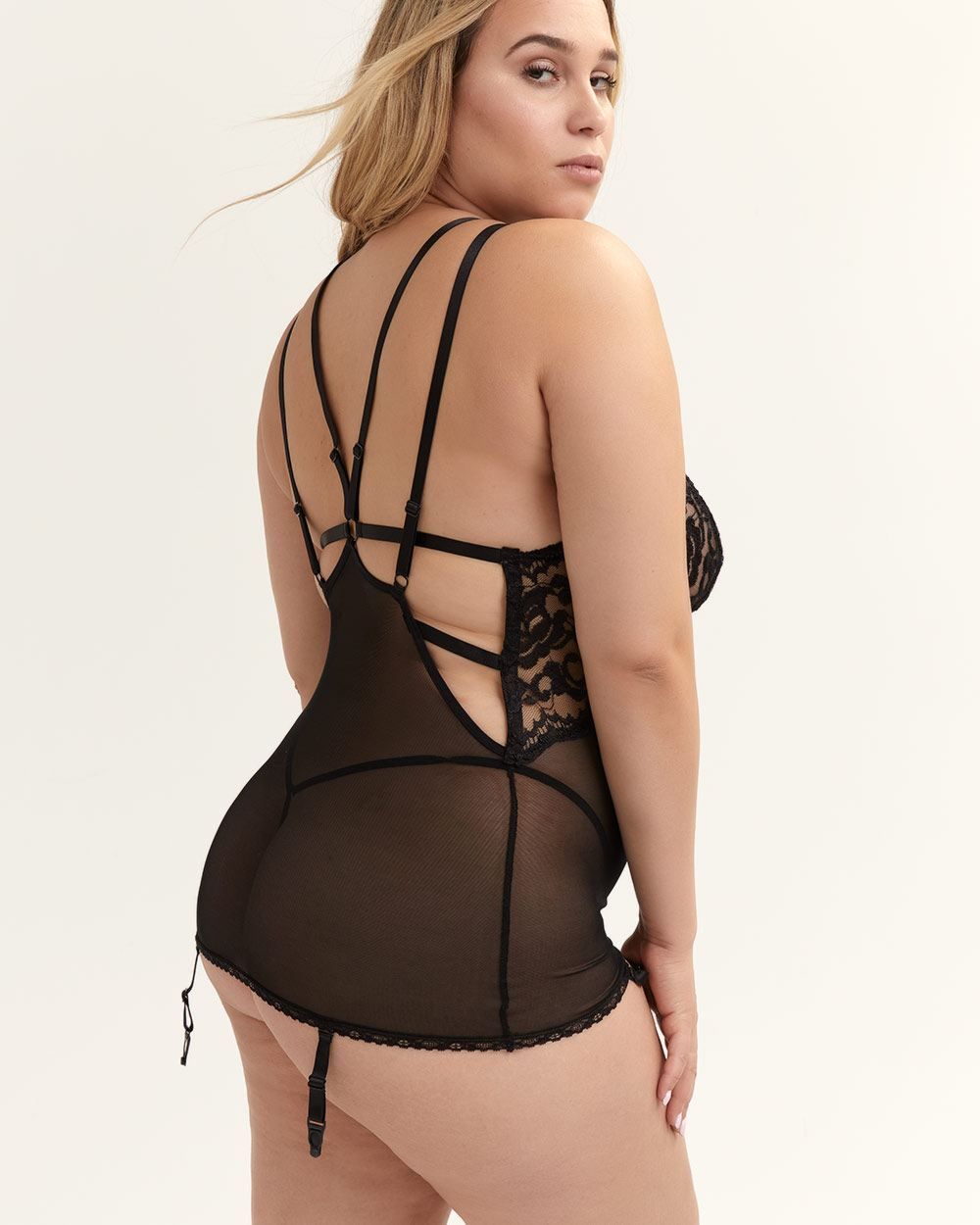 Featuring collections such as Ashley Graham, Deesse, and Ti Voglio, this Canadian plus size retailer is definitely one to watch as they do ship to the US and beyond!
Available up through a size 6X in select items at AdditionElle.com
Adore Me
This membership site has been carefully curating some of the cutest plus size bra and panty sets that are both accessible in price and extremely cute!
Available up through a size 4X in select pieces at AdoreMe.com
Ashley Stewart
One of the tried and true plus size brands has been consistently delivering new plus size lingerie pieces each year. Each year they turn it up just a bit hotter, with the spiciest baby dolls, chemises, and playful sets.
Available up through a size 4X at AshleyStewart.com
ASOS Curve
Asos consistently curates some of the best of the lingerie designers and brands who also include plus sizes- shooting and featuring them in a way that inspires us.
Available up through a size 26 at ASOS.com
Cacique
Offering some of the widest ranges of lingerie, bras, loungewear and in store options that also give fashion and function. Sexiness, of course, but with Cacique, it is definitely a lifestyle!
Available up through a size 28 at LaneBryant.com
City Chic
A consistent fave who is making inroads across the US, this Australian based plus size retailer is one to watch in their lingerie game.
Available up through a size 24 at CityChicOnline.com
ELOQUII
Thanks to the latest collaboration with Cosabella, Eloquii expands their lingerie options to include a higher level of lingerie goodness. As they expand their options, we have more to love with them.
Available up through a 5X in select items at Eloquii.com
Hips and Curves
The hallmark plus size lingerie retailer, Hips and Curves has been serving the plus size lingerie community for over 19 years. If you need it, Hips and Curves more than likely has it for you!
Available up through a size 6X in select items at HipsandCurves.com
Monif C
Recently taking a pivot from ready to wear, Monif C has entered the lingerie game and we have been eying quite a few pieces and options! We are curious to see what comes of the brand and what magic she will drop for our curves!
Available up through a size 3x/4X at MonifC.com
Playful Promises
Thanks to collaborations with GabiFresh and an Upcoming collab with Georgina of Fuller Figure, Fuller Bust, UK based brand, Playful Promises has been giving us high fashion, editorial delights, and the options to play in.
Available up through a UK24 at PlayfulPromises.com
Savage Fenty
Rihanna has been piqued our interest with the launch of Savage Fenty, including plus sizes. For those who love to channel your inner foxiness, you need to check out the collection!
Available up through a size 3x at SavageFenty.com
Simply Be
One of our faves at TCF, UK based retailer, Simply Be is constantly providing the plus size woman options to play in and shop from- in a variety of styles, options, and sizes!
Available up through a size 28 at SimplyBe.com
Torrid
A tried and true staple in the plus size fashion space, Torrid has quietly been moving to make a few updates and changes to the plus size fashion game. With their latest Tara Lynn Collaboration, their plus size lingerie options have been growing and we have taken notice.
Available up through a size 30 at Torrid.com
Yandy
A brand who is quickly becoming one to watch, Yandy has been moving into the plus size fashion space with more intent, direction, and excitement. This GA based retailer is definitely one to watch, especially if you are looking to spice things up in your love life!
Available up through a size 6X at Yandy.com
From teddies and bodysuits to chemises and more, our list features a collection of retailers who always bring the heat when it comes to plus size lingerie that is just as sexy as anything you would find in a smaller size. So, have fun ladies…and shop 'til you drop!
What are some of your favorite lingerie retailers or brands? Still looking for a few pair of fancy plus size panties? No need for the sexy plus size chemises and babydolls? Make sure you check out our sexiest plus size panty finds! If you want something more unique, make sure you check out the indie plus size lingerie designers and brands who are bringing the best in lingerie options!
What do you like to wear to feel your sexiest in the bedroom?
What are your plans for Valentine's Day? Let us know in the comments!