Body positivity and fashion sense are not just for the ladies, the fellas are out here killing the game, too. Men have been craving new colors, patterns and silhouettes to diversity their wardrobes and the designers have started to respond. So, we wanted to provide all of you Curvy Fashionistas with a comprehensive list of brands we felt the Big & Tall man in your life would love to have! So here goes…
Top 10 Brands the Big & Tall Man in Your Life Would Love!
The Winston Box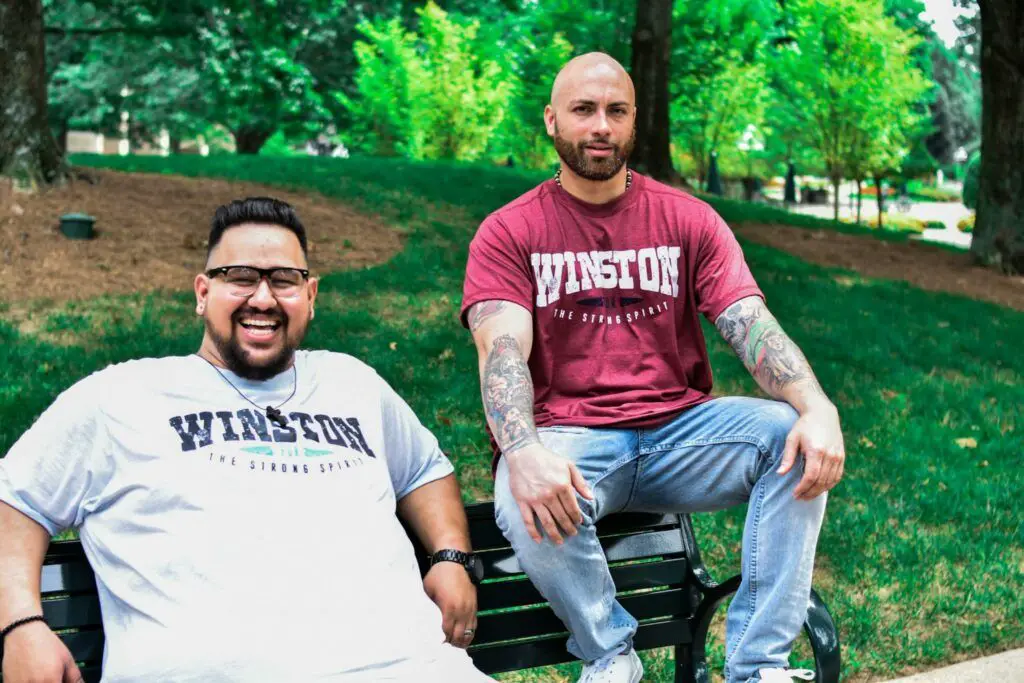 Ohhh The Winston Box, it brings back so many memories for me. It was one of the first brands we worked with, and they're still supporting us today. The Winston Box is a Big & Tall subscription service that delivers a dope new box of the latest trends every month. Head on over to thewinstonbox.com and save $15 off your first box by using code KIRK15 at checkout.
MVP Collections
MVP Collections came out the gate swinging and they land every time. I had the pleasure of meeting the team over at MVP personally and I can tell you they get it. They understand the needs of the Big & Tall man and they are supplying those needs. MVP has two secret weapons on their team, first, they are made in America. That helps them crank out clothes in a shorter time span. Second is Diane, Brenda & Mo Vaughn. They are like the steam engines behind the brand. Head over to mvpcollections.com to get the latest Big & Tall fashions.
Limitless XL
Limitless XL worked for months to get the perfect items in. I was introduced to Will of LXL via Instagram (Shout Out To The Internet). The store is now finally online and you can now shop your hearts out. Head over to lxlbigandtall.com and use code LXL20 to save 20% off your order.
Bad Rhino
Bad Rhino is one of the Big & Tall brands that gets it, they just get it. From the sizing to style to the price it's like a trifecta of amazingness. We recently partnered with Bad Rhino to pull off the first lookbook, ok, and when I tell you no one was more excited than me to finally get this shoot out to the world. If you haven't had an opportunity to see the looks click here to see the collaboration. Then get on over to www.badrhino.com and get yourself something dope. PS, they go up to 8XL and 8XLT in the shirts and 60 in in the waist!
Brandon Kyle
Indie Designer Brandon Kyle keeps dropping the heat every collection. "This brand was birthed from a radical idea that plus menswear fashion should be just as appealing as its counterpart." brandonkylecollection.com
ASOS
ASOS Plus Men's hit the scene over a year ago and had been dominating my timeline ever since. Their endless style and size options are making them a must-have every season. Shop at asos.com.
American Tall
American Tall is a brand I've been seeing for over a year that is more so dedicated to the tall in "Big & Tall." Here's how they describe their site "American Tall understands that finding tall men's clothes online is a task as tall as you are. On average, our tall men's clothing fits those
between 6'3″ to 7'1″ with a Medium to XXL build," though the sites actual sizes run through a 3XL. Shop at americantall.com.
One Bone Brand
"One Bone Brand set out to solve an age-old Big & Tall Problem. The Problem: The idea for One Bone came to me long after I'd already solved this problem for myself. I was sick and tired of seeing my regular sized friends wear trendy clothes, while I was forced to wear the low
end, basic t-shirts that made me look 30 pounds heavier. This was especially challenging for me to handle while touring as a DJ. A Solution: So I bought my own fabric, drew out my own designs and went to a friend's mom who was a seamstress. In the basement of her house, she was cutting t-shirts to fit my body perfectly. Now, I was able to tour in the comfort of a t-shirt that fit me properly, and it snowballed from there. I had my regular sized friends asking me where did I get my t-shirts… My answer was "I made them." Shop at onebonebrand.com.
Big Boys Are Cute
Big Boys Are Cute is a brand I've been following since its creation. Vonnie has always been uplifting the big guy. Since his viral tweet in
August his brand has just exploded. Read their slogan in their own words: "Confidence isn't optional, it's mandatory. Here at 'Big Boys Are Cute' we are about self-love, positivity & uplifting our community." Shop at bigboysarecute.com.
Franklin & Anthony
I've had the pleasure of seeing the suits and custom clothing that Franklin & Anthony creates up close and personal. "Franklin and Anthony is a bespoke suit company shaping and transforming the aesthetics of men everywhere. We help bring your style visions to life by creating distinctive, one of a kind custom pieces. Whether the occasion is formal, corporate attire, or stylishly casual, Franklin & Anthony can create a masterpiece for you that is sure to make an unforgettable impression." Check them out at franklinandanthony.com.
Big Man Culture
Big Man Culture is an amazing brand of which I have the pleasure of knowing the owner. Mike runs a custom suit brand right here in our home town of Atlanta. He also launched a tee shirt called "Big Guy Facts" that really took off this summer. He describes his brand as an "experience well tailored for your needs." Visit bigmanculture.com for more info!
Whew, that was a lot of info! With all of these great brands, we're sure you big & tall gents or the ones in your life are all set!
Are any of these brands new to you? What are your favorite Big & Tall brands? Let us know in the comments!