From tv to social media, the self-love movement is everywhere! Our favorite celebrities always have a motivational message about self-love. Self-love is supposed to make people feel good and appreciate their bodies.
But, self-love is not sustainable without social change. It cannot exist without challenging the dominant society to uproot its beliefs about certain bodies and help create a society where fat people can thrive.
It's essential to treat fatphobia as a social justice issue. Treating self-love as the solution to navigating the impact of social, political, and economic fatphobia is not helpful.
It creates a sense of weight blindness and leads people to believe that weight does not have an impact on the lives of fat people. There definitely are legal and social limitations that impact fat people's lives.
But, Is Self-Love Possible To Achieve In A Marginalized Body?
People don't have to love themselves to fight social injustice.
There is so much pressure to love your body but the messages are often sold to fat people that if they love themselves just a tad bit more then they would have more access in this society. The reality is, it won't save us.
There are systems that thrive off of our self-love. Self-love advocates fail to mention that in their well-meaning self-love mantras and that's what makes it toxic. It puts a burden on the individual. The issue is systematic and should be treated as such. Self-love omits the impact that discrimination has on mental and physical health.
"Stop being so hard on your body" but isn't society hard on our bodies. Denying access to chairs that fit us comfortably or reproductive care based on size can't be fixed with a "love your body" quote. Fat people do not owe confidence to the world.
Will self-love give fat people more access to public goods?
Self-love can uplift people and improve someone's confidence. But it doesn't address medical discrimination in health care, which impacts the self-esteem of high-weight people.
The Rise of Body Neutrality
As body neutrality becomes more popular, it's also important to realize that appreciating your body for what it does also isn't enough. There is value in body neutrality, but there's a missing element from that (body neutrality) conversation. Having the ability to shake someone's hand doesn't absolve fat people of the lack of access to social mobility.
"When we spend less time thinking about our bodies, it affords us room to focus on other things."

Alison Stone
Marginalized people do not have the luxury to not think about their bodies; that in itself is a privilege. Self-love will not stop police from murdering Black people, nor will it stop women from getting paid less money.
There are legal differences that allow particular bodies more freedoms than others. From custody battles to acting roles, weight discrimination has been used as a tool to stop people from living full lives.
Is there salvation in appreciating your body for what it can do? Yes, but does it change social injustice?
It sounds like a privileged ideology to have.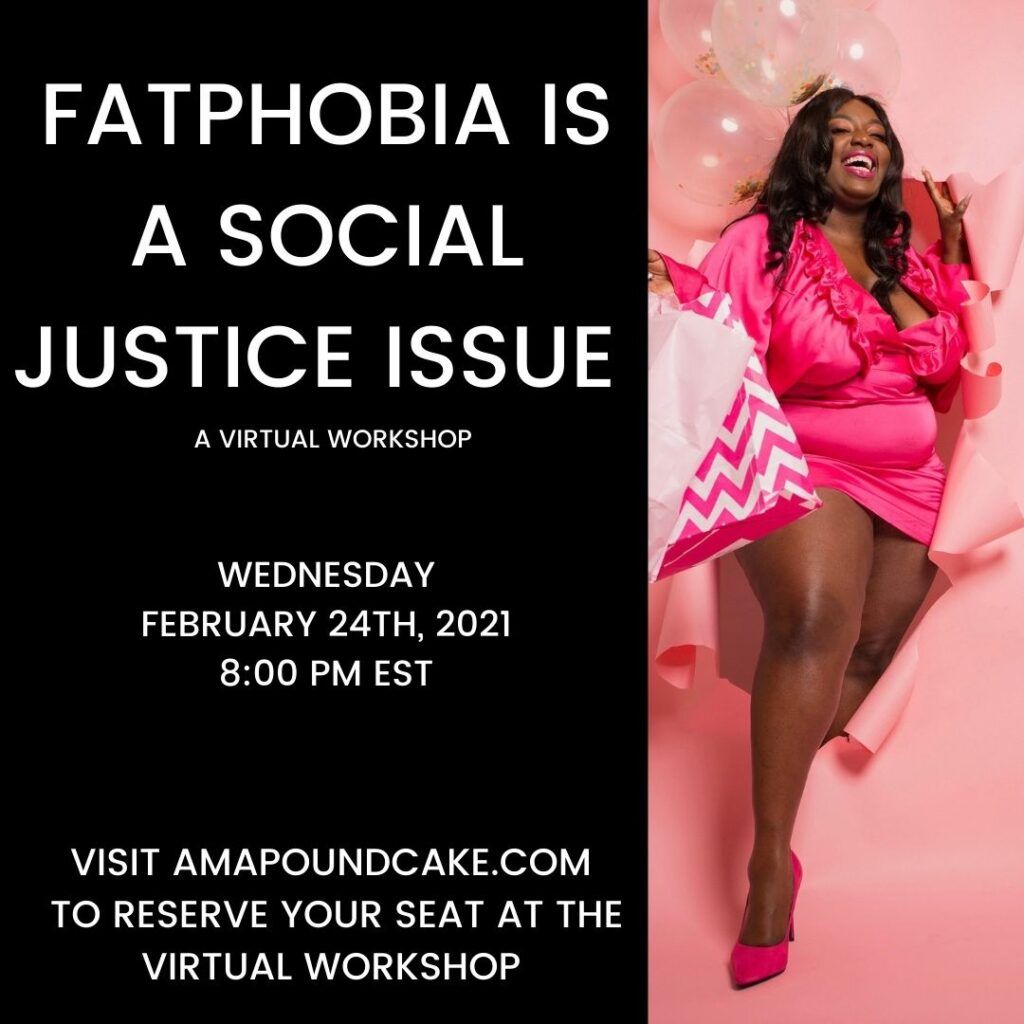 But Let's Talk About It…
Join me at my Virtual Workshop: Fatphobia is a Social Justice Issue
This course will address weight discrimination as a social justice issue and will highlight the following:
A brief history of Weight discrimination and racism
Beliefs about fat bodies and the ways they impact jobs, health care, & housing
How to use representation as a tactic
Link to sign up https://amapoundcake.com/workshops/.
I hope to see you there!