Over the past few years, we've been slowly making our way to increased TV and movie representation. Gabby Sidibe, Leslie Jones, Chrissy Metz, and Amber Riley have been trailblazers for plus size actresses and both representation and talent for YEARS, and we know it hasn't been easy!
But who are the newest plus size actresses making sure plus representation continues?
In 2021, we're excited to see and support more plus size babes get screen time. Not only as a side-kick, the sassy, funny one, or the sad self-loathing trope… The heroine, the lead, the confident one.
As we know, sometimes Hollywood doesn't always get it right. But, based on what we've seen, the future sure is promising!
Below are a few of our favorites to watch and support this year. So please give them a follow and check out their work!
Here are a few Plus Size Actresses to Watch in 2021
1. Nicola Mary Coughlan
At this point, who hasn't binge-watched the Bridgerton series on Netflix? The breakout star, who played Penelope Featherington in the Regency era romantic drama, produced by the amazing Shonda Rhimes, is one to watch!
It was hard not to fall in love with her sweet yet smart character. Since Bridgerton is based on the best selling book series, we cross our fingers for many more seasons to come!
Can't get enough of Nicola? You can catch her on the second season of Harlots on Hulu, and she also stars in Derry Girls on Netflix. We are looking forward to following her career and love how comfortable and happy Nicola is in her own skin!
2. Bria Samoné Henderson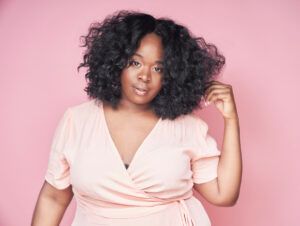 Bria is killing it right now, and she's just getting started! Bria plays Margaret Sloan on the Hulu series Mrs. America, and Dr.Jordan Allen on ABC's The Good Doctor. In the historical drama Mrs. America, Bria portrays the real-life Margaret Sloan-Hunter, a Black feminist movement leader.
Bria immersed herself with old recordings of Margaret while studying for the role, telling Showbiz Cheat Sheet in an interview,
"Margaret was the face of intersectionality when it came to her race, gender and sexuality. In her activism work, she had to navigate different spaces that did not fully accept all of who she was… Margaret did not allow parts of herself to be sacrificed to push the overall agenda of these different movements that made no space for her freedom, equality or voice."
3. Natasha Rothwell
Natasha Rothwell can truly do it all. The incredibly talented writer and comedian had us hooked to our tv screens every week on HBO's Insecure. She provided so many laugh-til-you-cried moments on the show, and was arguably everyone's favorite!
Be on the lookout for her new project, a social satire mini series called White Lotus, currently being filmed.
4. Da'Vine Joy Randolph
Da'Vine Joy Randolph began her career in 2012 as Oda Mae Brown, a storefront psychic in Ghost: The Musical. This role landed her a Tony Award nomination for Best Featured Actress in a Musical! She then took her talents to the small screen, playing roles like Cookie Lyon's cellmate Poundcake on Empire, and Lady Reed in Dolemite Is My Name .
This year, you can see her in The United States vs. Billie Holiday, a film which is set to be released on Hulu in late February!
5.Michelle Buteau
Speaking of laughing until you cry – Michelle Buteau is another actress and comedian that we can't get enough of! In 2020, Michelle released her comedy special, Welcome to Buteaupia on Netflix. She also published her first book, a series of autobiographical essays called Survival of The Thickest in December!
Watch Michelle in The First Wives Club on BET Plus!
6. Nikki Garza
Nikki is an Atlanta-based actress with experience in both stage and film acting. She's also a TikTok star! Seriously, her TikTok's make me so dang happy! Her message of body empowerment and unapologetic ways make it so you can't stop scrolling her feed! We can't wait to see what 2021 has in store for her!
When asked the kind of roles she's interested in, Nikki shared,
"I would love to play a fat character whose storyline has nothing to do with weight loss or being the butt of a joke. I'd really love to play a lead in a rom-com where I didn't have to have a concussion for an attractive man to like me, just saying!"
Catch her in Sonorous: The Musical and Until Time Stops!
7. Raven Goodwin
We were so excited to break the news about Raven Goodwin landing the role of Hattie McDaniel, just last week! We can't wait to see how Raven portrays the legendary Hattie. This Washington DC native, is no stranger to the screen. With dozens of credits under her belt, she is an industry veteran!
We think 2021 is going to be Raven Goodwin's year, and we will be supporting her, as well as the other plus size actresses on our list, every step of the way!
There's the roundup! What do you think of our list?
You have to admit… it is pretty awesome to see that we have more than a handful of plus size actresses making news and breaking barriers in representation!
We're sure there are other breakout plus size stars to watch in 2021 – who'd we miss?!
Tell us in the comments below!