We are just loving the diversity of plus size bloggers. From the petite plus blogger Stefanie of SassyPlus who we brought you last week to today's Bronx-based blogger Jami of Style Over Size, we are bringing you plus size bloggers of all shapes and heights and from all over the world The plus size fashion industry is better than ever, and today's plus size bloggers are WERKING it!
Styling a ton of Eloquii, Jami is a girl after my own heart (seriously, Eloquii is the best!) Jami credits her mother as her first plus size style role model, and she loves inspiring others to try out new pieces or looks. She is a plus size blogger YOU NEED TO KNOW!!!
Meet Plus Size Style Blogger, Jami of Style Over Size!!!!
Blog: http://www.styleoversize.com/
Age: 33
Height: 5'5″
Location: Bronx, NY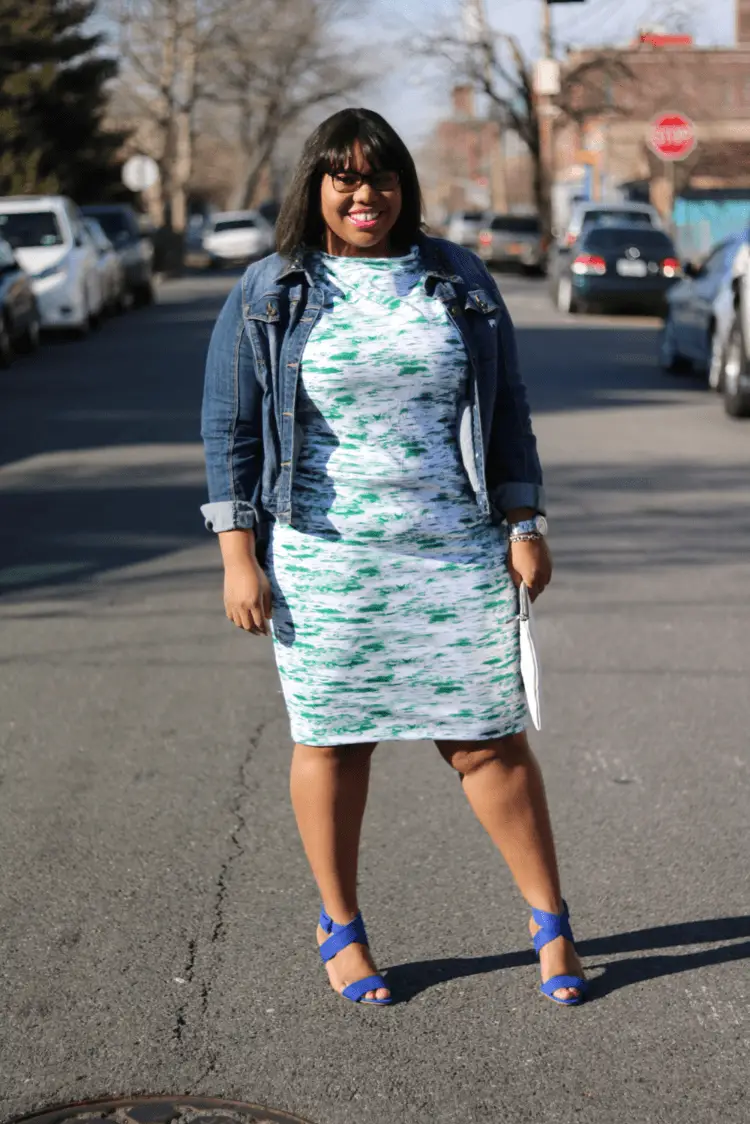 How long have you been blogging? 1 year
What or who inspired you to become a fashion blogger? What led you to it?
I would get stopped in the street by women who loved what I had on or my shoes. My friends encouraged me to start blogging, but I didn't think I had the "it" factor to be a blogger.
At an event one day, I met a blogger who asked me for my business card…"I was like, I'm not a blogger." She looked at me and said, "You should be." I thought about it, and said "you know what, why not?" Bought a domain and never looked back.
Do you blog full-time, for fun, as a hobby? Share your evolution!
The blog started out definitely for fun. It is a platform for me to try different things. Since I have a 9-5, there is not a lot of experimentation I can do with my wardrobe, but with the blog, I can be preppy today, bombshell the next!
Even though I am not a full-time blogger, I devote as much as I can to create content that I am proud of. After a year, it still doesn't feel like work to me.

What is your favorite asset? Your legs, arms, waist? How do you play that up?
My favorite asset are my legs. I like to wear things that show them off like skinny ankle pants or dresses.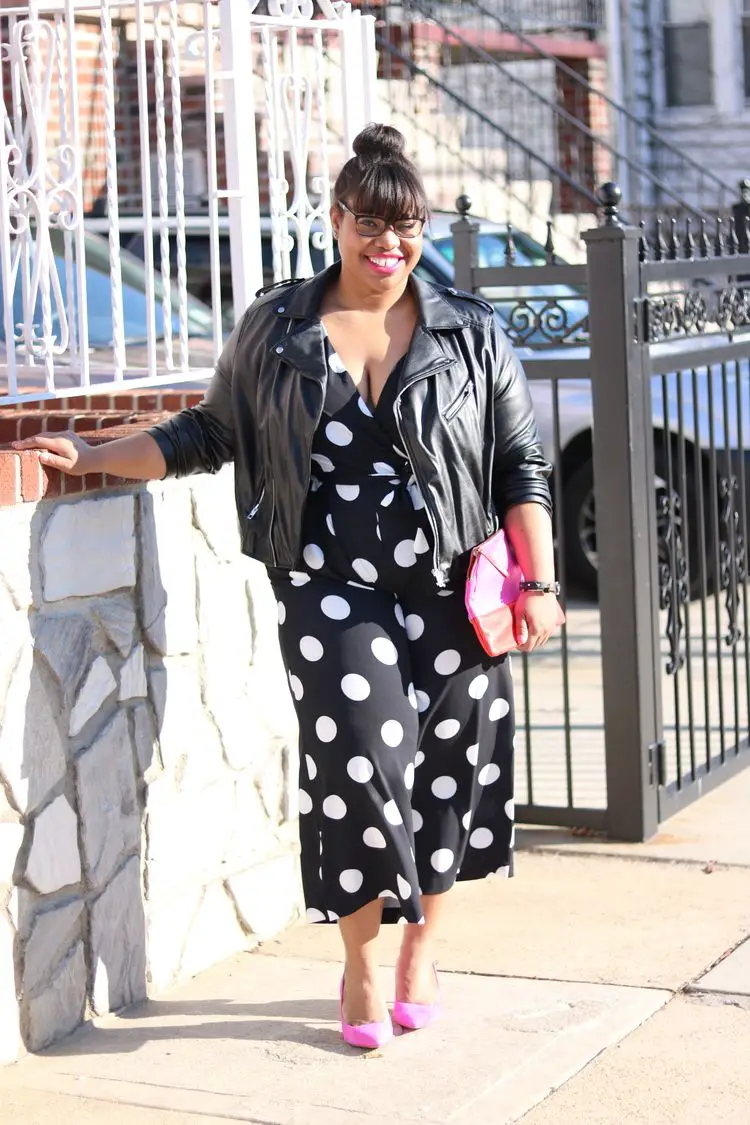 What are the challenges, if any, you face regarding being plus size?
Challenges for me are finding items that can get over my hips and thighs, but still fit well on my waist. Whoever said to add Lycra to jeans is a genius, because without it I would never have a pair of jeans that fit right.
What's your favorite thing about being plus size?
I have been plus size my whole life. My mom is plus size as well. Growing up plus size made me more of a problem solver in the sense that I would see a style that I would like, and then I would find things that would give me the look I wanted.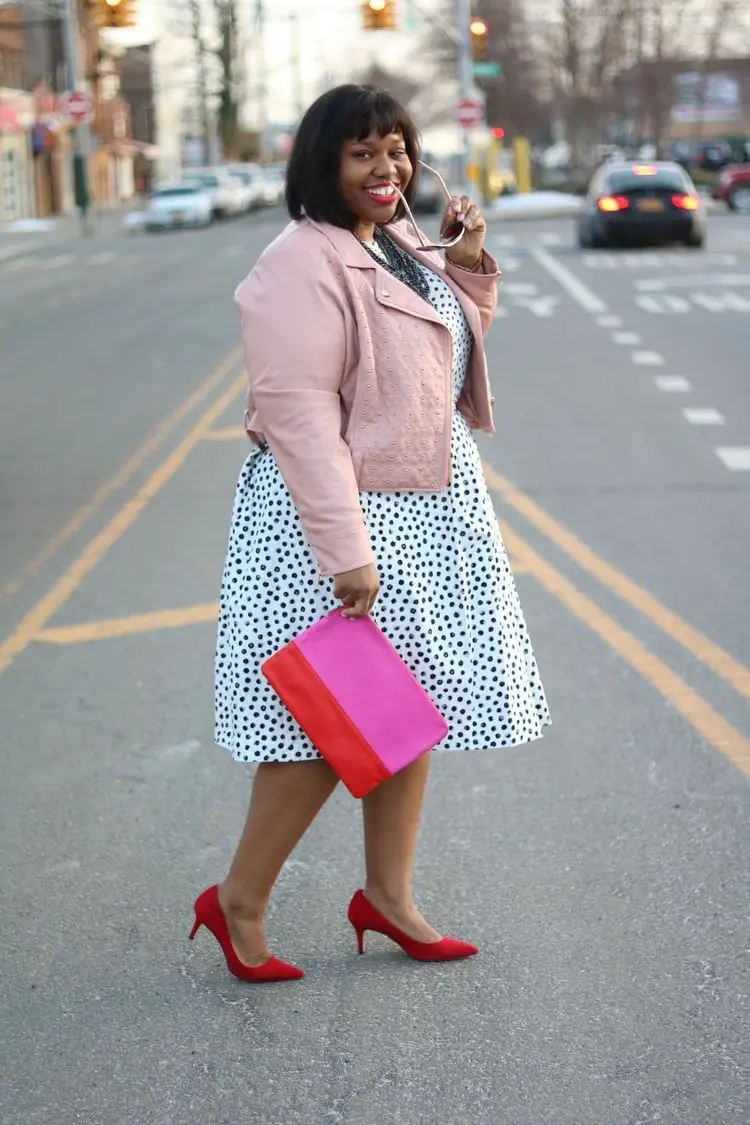 What's your favorite thing about being a blogger?
I love that I am able to inspire people and get them excited about shopping. For all of us, there was a point in our lives when there was not much and shopping was daunting. I love when women tell me that they are going to get the shoes or jacket that I am wearing because they loved how I styled it.
Men are also reading my blog, and it's great because they are interested in the content not just my looks. It's one thing to like a picture, it's another when people see the work I put in and acknowledge it.
Who/what are your favorite designers/brands?
My favorite designers are Jason Wu, Tracey Reese, and Olivier Rousteing.My favorite clothing brands are Kate Spade, Eloquii, Modamix, and Halogen. For shoes my go to brands are from Vince Camuto, Zara, and Cole Haan.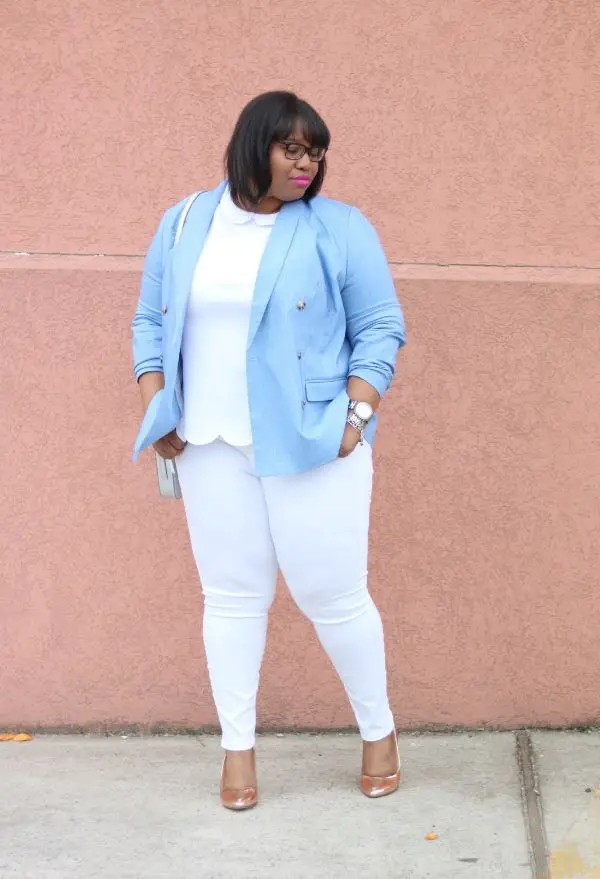 Describe your personal style.
I would say classic with a twist. I love basics like a great pair of jeans and blazers, but I hardly met a sequined item or print that I won't try.
Which bloggers inspire you? Plus or straight size! Any bloggers currently on your radar?
I have been obsessed with Comme Coco as of late. I started following her on Twitter and just love her blog. I also check out FabEllis, Grown & Curvy Woman, Dressing Room 8, and the list goes on and on.

What do you think about where plus size fashion is today versus a few years back?
There has been a major shift in the perception of a plus size woman. Having style and being plus size did not go hand in hand. There were only a few brands that had plus size. Fast fashion? What's that? Lol.
The industry itself was moving forward, but still viewed us in this antiquated "I do not want to draw attention to my body" sort of mentality. Now more brands are noticing that if you make it in her size, if it looks good and fits well, she will buy it. The early adaptors really helped push for more options in plus. The only limits are ourselves at this point.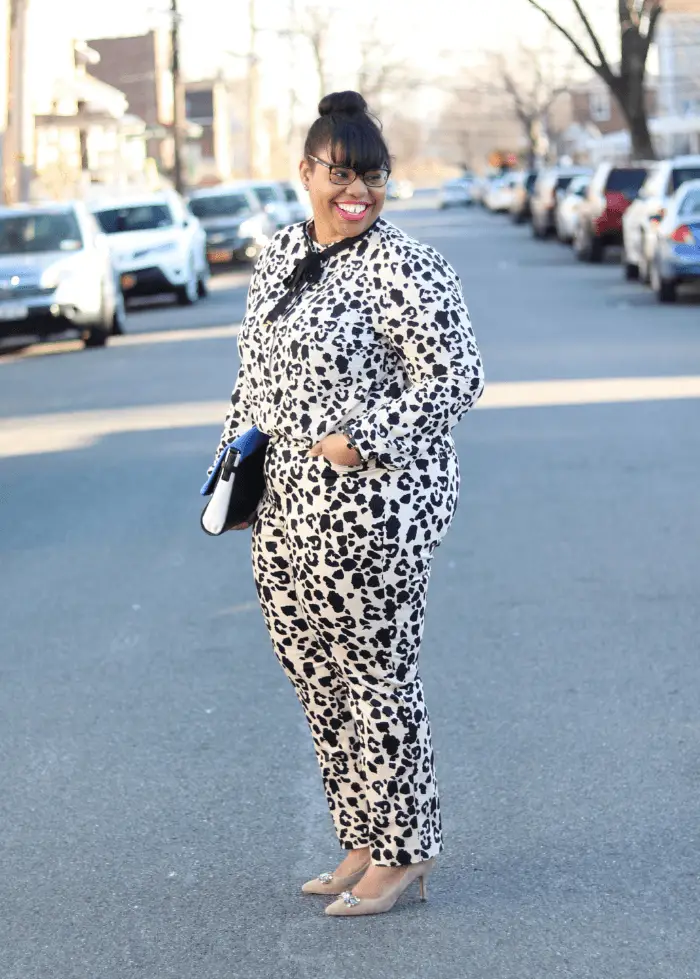 What do you think or hear from readers, is one of the biggest myths about plus size fashion?
That we have to spend a lot of money in order to look good. There are items where I may spend a little more, but that's if I know the quality of the item. When I would get stopped by women, they assumed I spent full price, when I would get items 50-75% off.
You don't have to break the bank to look good, nor do you have to sacrifice quality because of the price tag. You can have both.

Are you working on anything or have anything to share? Anything else you want The Curvy Fashionista's readers to know?
My focus for this year is to do more blogger collaborations and meet with brands to share my experiences. I'm excited to announce that I am a Brand Ambassador for City Chic, so definitely check out the blog for tips on how I style their new items.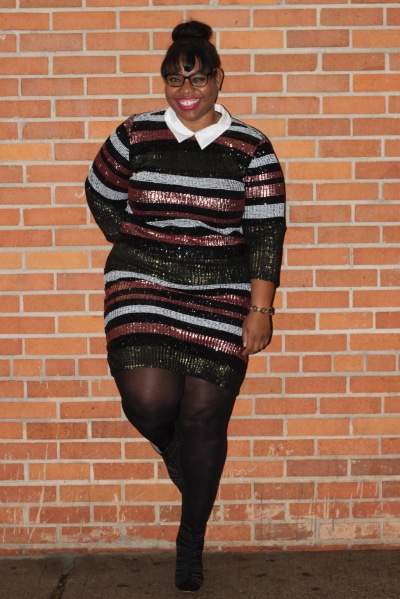 Lastly, what does Curvy.Confident.Chic mean to you?
Self love and acceptance. We are taught at such a young age not to love our bodies, our skin, but to aspire to look like a particular standard. I learned to stop comparing myself to others and just love who I am because when you have that inner peace it shows.

Be sure to check out Jami's blog at StyleOverSize.com!!!

Do you dig her style? Which look is your fave? Let's talk about it below!!
Want to be featured?
Make sure you fill out your deets here,
so that we can feature you!
Looking for more plus size blogger style inspiration?
Make sure you check out all of the other plus size blogger spotlights!
Aaronica
One dope woman/mom/wife/entrepreneur learning to conquer the world one cute outfit at a time.