Even though it may not feel it, but it is spring and that means it is time for some good ol' spring cleaning! This is a great time to clean out the clutter in our house because we can't use the excuse of not being home enough.
Also, with spring cleaning, comes new wardrobes…clear up your closet to make room for some new spring/summer plus size fashion pieces! How does a little plus size consignment or resell sound like, to you?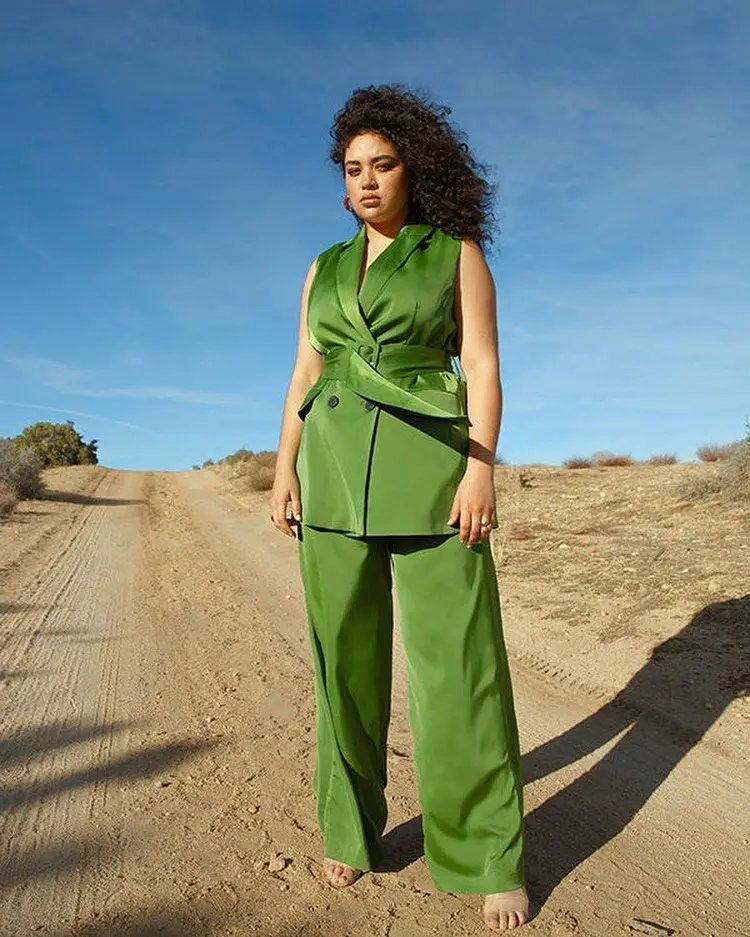 The easiest way to get paid from the following websites will most likely be on PayPal, so we recommend creating an account for that now so you are all ready to go!
Plus Size Resell or Consignment: Where to sell or donate your plus size clothes

Poshmark is one of the most popular re-selling websites – and for good reason! Poshmark is like a fashionable, younger Ebay. You can easily post photos of your clothing from your home and once an item is sold you ship directly to the customer, no middle man!
Poshmark Commission Fees: "For all sales under $15, Poshmark takes a flat commission of $2.95. You keep the rest. For sales of $15 or more, you keep 80% of your sale and Poshmark's commission is 20%."
Steps to Sell:
Create an Account
Create a listing for an item

Take photos
Determine a price

When someone buys, Poshmark will send you a pre-paid shipping label
Either drop it off at your post office, Fedex, UPS, or let the mailman pick it up!
Poshmark will pay you directly via Paypal
Similar to Poshmark, Depop allows you to create your own listings and sell at your convenience. Depop operates more from their app, so if you are wanting to sell you will have to do it off of that.
Depop Commission Fees: Depop automatically charges a 10% commission fee on all sales.
Steps to Sell:
Create an account
Create a listing for an item

Take photos
Determine a price
Determine shipping method

When someone buys, you ship it off
Depop will pay you and take its commission
Mercari allows you to sell your items, ranging from clothing to fit bits and everything in between, on its app or website.
Mercari Commission Fees: Mercari automatically takes 10% per listing.
Steps to Sell:
Create an account
Create a listing for your items
Ship it off
Get paid by Mercari!
Think, Craigslist, but with a face lift. Facebook Marketplace is already integrated into your Facebook and it is the site for you if you can't be fussed to ship out your items, or if you want to sell larger items other than clothes.
Facebook Marketplace connects users in the same cities to help sell directly. With social distancing times, it may be harder to pick-up or drop-off items.
Facebook Marketplace Commission Fees: None
Steps to Sell:
Go to Marketplace on your Facebook
Create a listing for your item
That's it!
This one may be the most convenient way to sell your clothes. No need to stress about taking pictures, picking prices or the most annoying of it all: actually shipping it out.
We would recommend this one if you are looking to get rid of a lot of clothes, but not doing it to solely make money.
ThredUp's commission is one of the highest, so if you have the patience to sell yourself and want to make money, ThredUp wouldn't be your first choice.
ThredUp's Commission Fees:
Steps to Sell
Create a ThredUp Account
Order a Clean Out Kit

Fill it up with all your goods you wish to sell

Send it Off

Leave it for your mail carrier or drop it at FedEx or USPS

Get cash or credit!
But there are Dedicated Plus Size Consignment and Resell Options too!
Created by Jen Wilder of UR2Much and celebrity plus size stylist, Marcy Guevara- Prete, The Plus Bus "meets you on your turf and expand yours plus size clothing horizons right here in Los Angeles. We offer everything from gently-used fashion gems from your favorite brands like Eloquii, Torrid, Premme and more to some of the latest and greatest brand new pieces from plus size's foremost indie designers."
This LA based plus size consignment boutique offers closet clean up services and virtual styling, in addition to their online shop.
The Trade & Sell page breaks down what they are looking for and their process, to take those clothes off your hands.
Most recently, we interviewed Rachel of Secondhand Curves to learn how we can best support this plus size consignment and resell boutique.
"Visit our boutique for the latest plus size fashion and accessories. There are always new items to choose from and a wide selection of top brand names. We welcome you to visit us today. You can also use our consignment services."
They currently are selling directly on Instagram. Make sure to follow @secondhandcurves to support this Illinois based consignment boutique.
"A few sales later, Darlene's blogger bestie and housemate Sandra Negron joined in, selling her own clothing. It was then that the Blogger House Curvy Closet was born.
The power duo started having sales via Facebook Live once a month, which they also noticed had become a space that inspired women to get out of their comfort zone, trying new styles without breaking the bank. Their customers were interacting with them on a personal level, sharing their OOTDs and it became more than just selling clothing. It became a community.
Darlene and Sandra started referring to their customers as the BHCC squad and later created a private Facebook group to offer private flash sales and have a safe, non-judgmental place for the squad to share their outfit images and interact with each other."
This group hosts FB lives to sell various plus size fashion options, all worn or owned by some of your favorite plus size influencers.
Fat Fancy is a radical body positive plus size resell and consignment boutique located in Portland, Oregon. They carry all gender clothing, shoes, and accessories in Vintage + Modern styles!
You can also book a video or in person styling session with Bee at fatfancyfashions.com as well as shop clothing only available on their site!
This Philadelphia based plus size resell boutique, owned and operated by Adrienne Ray is one to know!
At Curve Conscious we offer trendy and stylish apparel, shoes and accessories for women sizes 12 to 28.

Because every item in our store is hand selected, we're able to offer the best brands and styles in contemporary plus-size fashion at a fraction of the retail price!
Curve Conscious is currently doing curbside pickups and online FB Live sales. Make sure to check out the FB Page to catch the next one!
Do you have room in your closet for new clothes now?
Head to Insyze to fill your closet up with new plus size dresses, party pants and so much more!
If you're in need of some inspo for what pieces you should be buying, you can check out my Instagram, which features new plus size fashion inspiration everyday.