"Inspired by vintage Saint Laurent, the tailoring and reverence of Vivienne Westwood, and the practicality of Halston." Luxury plus size boutique Sante Grace, launched in late 2020, caters to women size 16-28 who are looking for high fashion.
If you have been looking for pieces with their own personality paired with luxe elements, you are in for a treat with this LA based plus size brand…
You Oughta Know: Sante Grace
The line is named for my grandmother who taught me to sew. I knew I wasn't interested in another line of stretchy leggings or utilitarian design. Places like Universal Standard already do a terrific job there. But where was the cashmere, silk, premium cottons and woolens for my body type? Where were my date clothes, brunch clothes, seduction clothes? Where was my Agent Provocateur, Alice & Olivia, or Bluemarine?

Tracy Christian, Founder of Sante Grace
The collection launched with their signature piece, "The Muse" caftan; a luxe and carefully constructed blousy caftan made from 100% 18 momme Italian silk and available in an array of jewel tones.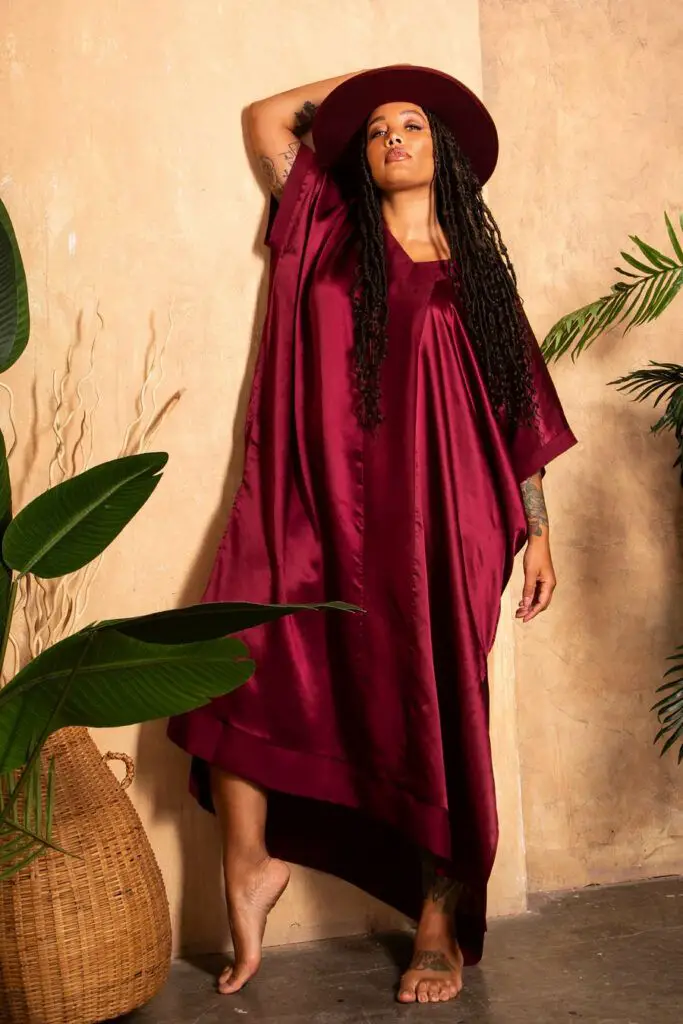 The one-size-fits-all piece caters to sizes 12-26 and gives us ALL of the "Conde Nast Traveler" vibes. At $395, this is definitely an investment piece, but one that you can wear for years to come.
We are NOT fast fashion. We appreciate our clients are honoring our price point and consequently make sure that construction, design and materials reflect the trust our clients place in us.

Tracy Christian, Sante Grace
Our top pick is the Wardrobe Hero High Waisted Jogger, a luxurious, billowy jogger pant in 100% Italian silk (with pockets, honey!). Available in 6 colors for $195, this is another gorgeous investment piece we are definitely considering.
In fact, according to their website, more than 80% of the Sante Grace collection was constructed of rich, reclaimed Italian silks, and manufactured in Los Angeles. The brand's shoes are handmade in Morroco.

Their line of vermeil jewelry, hats, and even down to their custom babouches are all designed in house with the plus size woman in mind.
Sante Grace founder Tracy Christian isn't doing this alone – The Sante Grace team (all paid a living wage) is entirely female from design inception and execution (most of the team is plus size, too)!
She also has help from Jen Wilder, who many of you may know is The Plus Bus co-founder, a second-hand plus size shop in Los Angeles.
I was lucky enough to find Jen Wilder who wears a thousand hats at Sante Grace. Equal parts designer, production manager, and visionary, Jen makes sure Sante Grace remains fashion forward and fits body types beyond my own.

Tracy Christian, Sante Grace
You can shop the collection at SanteGrace.com
And for those of you who are outside of the US, they do ship internationally!
Finding luxury made for plus size women isn't always easy, and we're happy to see another player join the fray. Yes, there are others and Sante Grace joins the likes of 11 Honoré, Jibri, Coyan, and Bacaal!
What do you think about Sante Grace? Tell us in the comments!