Ladies, it's time to talk about plus size swim cover ups!!! Swimsuit season is officially here! This means that in addition to stocking up on the hottest plus size swim to compliment all your dangerous curves, you also need to get your hands on some of the most stylish cover-ups around.
The poolside is the new runway, baby!!
Plus Size Swim Cover Ups
Cover ups definitely live up to their name and keep your swimsuit covered for those times when you're feeling more modest or want to go out beyond the beach or the pool.
However, modern swim cover-ups are so stylish and sexy that you'll find yourself looking for reasons to wear them as part of a spring/summer ensemble.
I think that a plus size swim cover up can also act as a great loungewear option for hanging out at home, plus size festival wear, etc!
Cover-ups are the perfect way to tie your swimwear look together with relative ease, so we compiled a list of the best plus size swim cover-ups that are a fashion must-have this year.
We've also shared a few of our TOP tips for buying the BEST plus size swim cover up for your needs, so check out those tips under our curated list of plus size swim cover up options!
Are you ready?! Let's GO!
Must Have Plus Size Swim Cover Ups!
5 Tips for Plus Size Swim Cover Ups
Whether you like a plus size sarong, swimdress, beach pants, tunics or rompers, there are so many fun cover-up styles to choose from. Below, we've shared 5 of our TOP tips when it comes to finding the right plus size swim cover up for you!
[Also, real talk — we here at TCF definitely have MULTIPLE plus size cover ups in our closet — from crochet dress plus size cover ups, to two piece sets, so don't let us stop you from building out a summer wardrobe with plus size cover up OPTIONS!)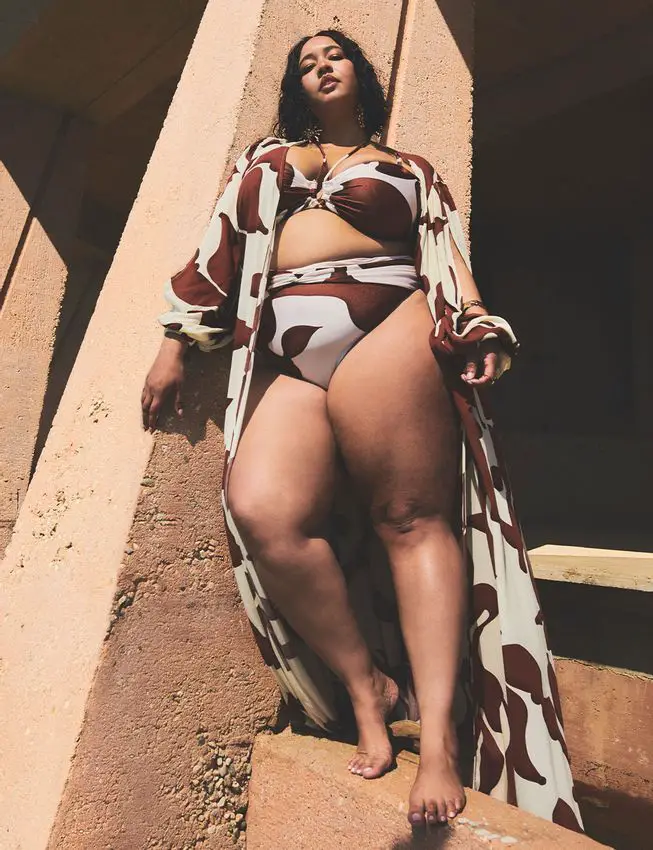 You don't have to match! Some women opt to match their cover-up to their swimsuit, while others are more daring in their style approach and mix + match colors and prints.
Add some sparkle: We love a plus size cover up with a bit of sparkle to catch the light in the summer! So fun! This can be done with sequins or sparkle thread, or other types of embellishments!
Dry off first! Chlorinated water can damage fabric (that's why swimsuits are often made out of specialty fabric), so be sure to avoid drenching your cover up in water!
Accessorize! Don't forget about your statement sunnies or other must-have accessories, our list here!
Go BOLD! If you don't feel comfortable in a SUPER BOLD plus size swimsuit, you can "dip your toe" in the water, so to speak, by snagging a bold plus size cover up to wear. Life is short! Go bold, babe!
Which one are you? How do you like to rock your coverup?
Ladies, did you see any plus size cover up styles in our ultimate guide that you absolutely must have? Do you have multiple cover-ups for each swimsuit or do you just stick to one throughout the season? What are some of your favorite cover-up styles for 2023?
Let us know in the comments how you plan to shut it down this season with your cover up looks for the beach, pool, or lake!!
Want more plus size swimsuit recs? Check out these other posts!