As we ready ourselves for the spring season (can it be here already, I am freezing) the newest trends, collections, and magazines are teasing us with the new and I am here for it all. Yes, ma'am! BUT, if you are new to playing with fashion, or if you are like me- noticing that your personal style is evolving, or need a bit of help, then sometimes, stepping out of your box, or knowing what to do or where to start, can be a daunting task. But we are here to help get your plus size spring style in order!
We have rounded up a few tips for YOU to own, rock, and embrace, to help your personal plus size spring style bloom.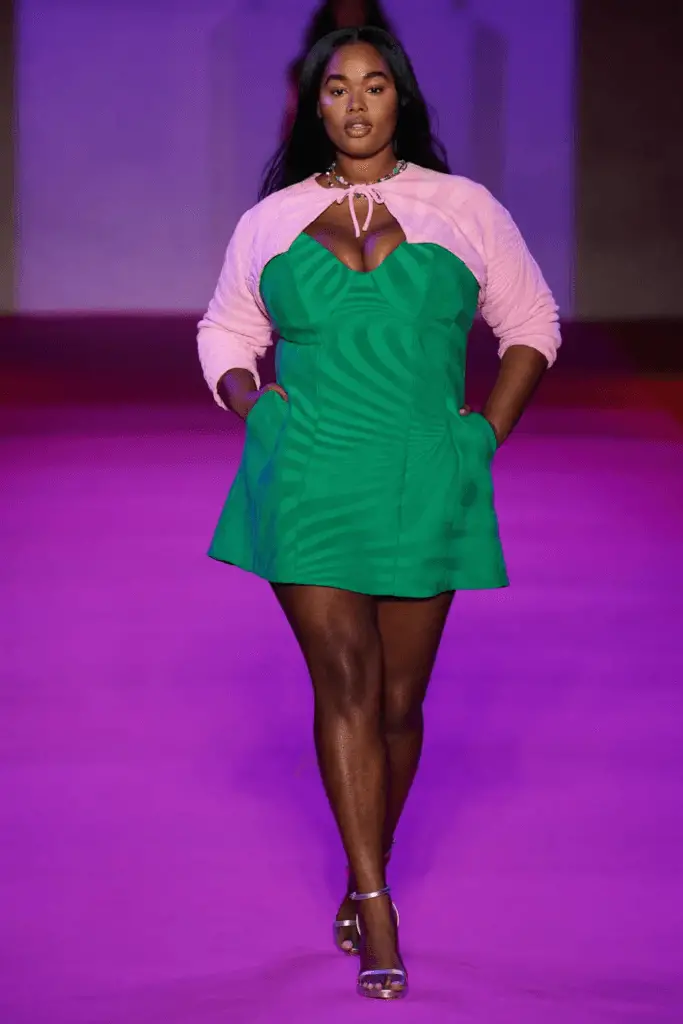 So, I am pushing you to take a few steps with me! Take a read and let me know what you think! Make sure you share with your friends and loved ones who may be looking for a few pointers, too!
Let's do a little plus size spring style shopping.
14 Pieces That Will Jump-Start And Update Your 2022 Plus Size Spring Style
GREEN ACCESSORIES
Available in 5 beautiful colors.
Photo Credit: www.etsy.com
GREEN ACCESSORIES
Make a statement in these goregous earrings.
Photo Credit: www.eloquii.com
GREEN ACCESSORIES
Available in size 12-28
GREEN KNITWEAR
Available in size 1x-4x
Photo Credit: shopstyle.it
OVERSIZED BLAZER
Available in size: 12-22
OVERSIZED BLAZER
Available in size: 16-22
NEON
Available in size: 1x-3x
NEON
Available in size 12-24
Photo Credit: www.eloquii.com
PLAID SUITING
Available in size: 14-28
Photo Credit: www.asos.com
PLAID SUITING
Available in size: 1x-3x
SLIP DRESS - A 2022 Spring trend layer your slip dress with a oversize blazer or dress.
Available size: 00-16
SLIP DRESS
Available in size: 14-20
STRIPES
Available in size: 1x-3x
Photo Credit: www.karenmillen.com
STRIPES
Available in size: 14-20
18 Fashion Tips to Jump-Start Your Plus Size Spring Style
1. Get Playful In Color
Oooohhh I am sooo here for the intensity of color for spring. I am looking forward to rich blues, blinding yellows, juicy oranges. AND bold and bright prints of all scales! You'll be seeing a lot of green this spring. Insert it in your knitwear and accessories. Neon colors are here to stay!
2. Find A Few New On Trend Key Items To Add To Your Closet
Trendy pieces are always a perfect addition to your wardrobe. This is where fast fashion comes in handy for your plus size spring style. You can purchase trendy pieces without breaking the bank and pair them with your staple pieces. A few trends worth having in Spring 2022 are pleated skirts, plaid suits, and statement cutouts.
3. An Eye For Detail
A cheat code to adding details to your wardrobe is with fabrication. Lace, quilted, and printed fabric. Stripes will forever be in style and they are definitely making a big comeback this Spring.
4. Clean Out the Closet
This is such an important tip. Makes sure you make 3 piles (Keep, Maybe, Donate). Take your time, try on the clothes you have worn in a while, and think about how to wear them. Let go of pieces that no longer serve your style.
5. Update Your Signature Pieces
You may have that black blazer that you love so much. How about upgrading with a mint green or red blazer? Your favorite jeans? Maybe get them in another color.
6. Invision your dream style (Create A Mood Boards)
As a designer and a stylist, one of the first questions I ask a client is, "Whose closet would you love to raid?" This sets a foundation and gives somewhere to start. Pinterest is an easy fun way to pull a mood board together.
7."Wear Something That Scares You"
This is one of my favorite rules. Stepping out of your comfort zone can be such a difficult task yet so rewarding when you do it. Whether it may be a crop top, bold colors, or a fitted dress. Promise me you'll at least try on something that scares the heck out of you. *Pinky promise.
8. Find A Few New Versatile Staples To Add Into Your Closet
A white tee shirt is a major versatile staple no matter your style. You can dress them up with a blazer and a-line skirt. Dress it down with of course jeans. Another versatile is a tee shirt dress.
9. Accessorize to Maximize
Can you over-accessorize? Never if you love jewelry. Don't be afraid to express yourself with a chunky necklace, big bold bag, over-exaggerated statement earrings, or bracelets. Your accessories should speak for you without you ever having to say a word.
10. Update the Foundations
Foundations you ask? I mean the undergarments. When was the last time you were measured? The last time you bought shapewear (if this is your thing?) refreshed your undies collection? With the new silhouettes for spring, it is important that these underthings be just right so that your garments lay just how they are supposed to!
11. Play In Items That Make You Feel Confident (Not Just Because It Is On Trend)
I personally love wearing fitted dresses they make me feel extremely confident. I love how versatile they are. I also feel confident in a bodysuit, jeans, and designer sneakers. Whatever makes you confident wear it until the wheels fall off. Purchase different colors and prints as well.
12. Make Sure You Know The Fit Of Each Retailer
Not every plus size brand will fit the same (just like straight sizes). While some brands DO have fit issues, knowing which brands are more junior cut, missy cut, or true to size is critical. This will help you navigate through the designers and retailers and boutiques! Be mindful of fast fashion brands sometimes the sizing chart isn't accurate.
13. Forget The "Size" Of The Garment, Pay Attention To Fit
I do not know how loud I can scream this, BUT, the fit is much more important than the number size. When an item fits well, you are more confident, comfortable, and assured of self to take on the day or event! If an item doesn't fit well, the tugging, pulling, or whatever other telling sign can hinder you from enjoying life- all because of you fussing with your clothes!
14. Know Your Measurements
Shopping online can be such a hassle and unnecessary game of what will fit and what won't. Knowing your measurements takes away most of the guessing games and having the fun job of returning packages.
15. Organize the Closet
It is one thing to clean out and purge the closet and another to organize it. I have even done a post or two on this! But what is the point of having an effective and well-rounded closet if you cannot find anything? I live to organize by item and color… what about you?
16. Read Blogs, Magazines, and Your Fave Retailers' Sites to Learn What Is Coming Happening Next!
We are here to help, be a resource, and give you a few ideas to play in! We have a blog roll, a directory of designers and retailers, a boutique directory to help you find plus size designers, plus size dresses, lingerie, shoes- you name it!
17. Have Fun
One of the things that have helped me most was taking the seriousness out of it and learning to have a bit more fun playing around with separates, accessories, hair, and makeup!
18. Own It!
Whatever it is that you decide to rock, honey OWN it!
You know, this journey is an ever-evolving one and one that may take a bit longer than others to get to. The beauty is learning who you are or realizing WHAT you want to say, along the way!
Which plus size spring style trends resonate the most with you? What are your favorite plus size spring style trends? Let's chat!