We took a little break from Fashion Blogger Friday, but we're excited to be back today with Liz Black of P.S. It's Fashion! Liz is inspirational because she is so bold and fearless with her fashion. Describing her style as eccentric, Liz really knows how to mix it up, going sporty to edgy to romantic to sleek with ease.
With years of experience in the fashion industry, Liz has an awareness of where plus size fashion is headed. The future is bright – for plus size fashion and most definitely for Liz!!! She is a plus size style blogger YOU NEED TO KNOW!!!
Meet Plus Size Style Blogger, Liz of P.S. It's Fashion
Blog: www.psitsfashion.com
Age: 31
Height: 5'6″
Location: Jersey City, NJ
How long have you been blogging?
4 years
What or who inspired you to become a fashion blogger? What led you to it?
Since middle school I knew I wanted to be involved in the fashion industry. Style is a means of personal expression and can completely transform your mood and self-confidence; it has a lot more power than most people realize. I have also always loved writing, so it seemed only natural to combine my two loves.
I had actually created a fashion blog many years ago, but once I began writing for other websites I gave up on it. After years of enduring Devil Wears Prada level internships and grueling jobs, I knew I wanted to start my own site.
I was encouraged by my PR friends to create a style blog as they were not used to seeing a bigger woman dress well; at that time there were almost no plus bloggers or models at any fashion events, so I stood out from the crowd – big time. Being plus size is about standing out, not blending in, and I wanted to showcase my standout style in hopes of inspiring other plus women to take sartorial risks as well.

Do you blog full-time, for fun, as a hobby? Share your evolution!
I currently work freelance for a variety of different sites, including my own blog, P.S. It's Fashion. I have been covering plus size fashion for Refinery29 for over 3 years, and I occasionally cover straight-size fashion, body image, and beauty for them as well. I also contribute to Yahoo Style and The Curvy Fashionista, and I've previously written for CITY Magazine, The Huffington Post, and many others.
It's only been the last 8 months or so that I have been able to focus on my freelance jobs – before that I worked full-time as a copywriter for Bare Necessities and Macys.com, and worked as Head of Editorial & Social for an event dress company. I'm SO much happier working from home, having a flexible schedule, and focusing on things I think are important. I am also lucky to have a very supportive husband who has a steady job as an environmental engineer; without his consistent salary and benefits, I wouldn't be able to focus on these projects and do what makes me happiest.
What is your favorite asset? Your legs, arms, waist? How do you play that up?
I love my hazel eyes; although I know eyes don't truly change color (although they can appear to), I love that they appear greener when I'm happy. I love my smile and my full lips, I love my hands and my long elegant fingers, I think I have fabulous skin (31 and not a single wrinkle in sight!), and I've embraced my natural wavy/curly hair (bye-bye straightener).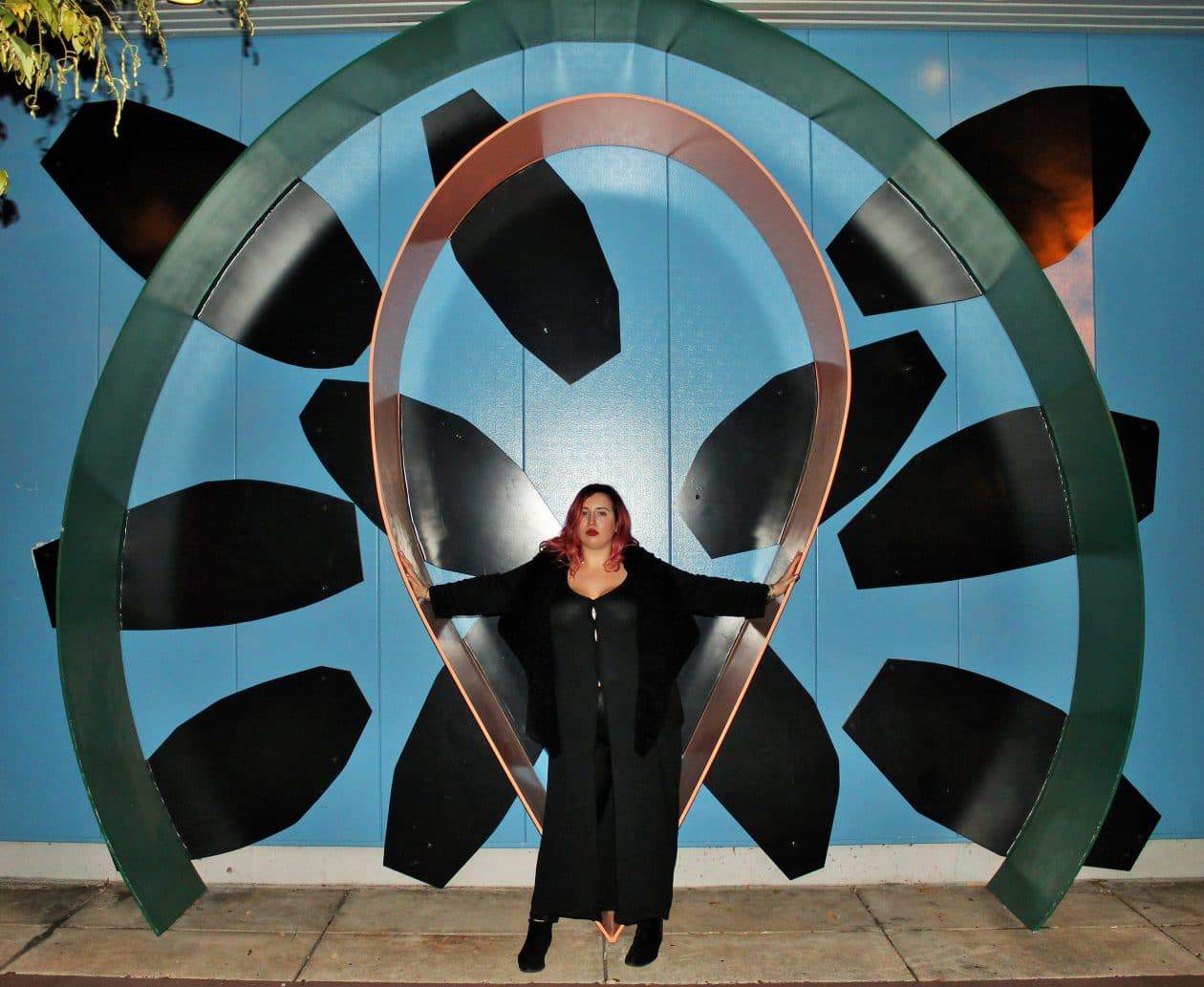 What are the challenges, if any, you face regarding being plus size?
The general discrimination that comes along with having a marginalized body type is always frustrating. People love to make negative assumptions about fat people, and I love proving them wrong. I used to get odd looks at fashion events, but now no one bats an eye at my bigger body. Things are definitely improving.
What's your favorite thing about being plus size?
It's certainly forced me to become a more inventive dresser. Since I love to experiment with fashion and refuse to live my life in sad sacks I have to scour the web and stores for pieces that will work for my body and style.
I'm much more comfortable now as a size 16 than I was when I was desperately trying to be a size 8. I used to brutalize my body through fad diets, multiple-hour workouts, and a very hefty dose of self-hatred. When I finally stopped hating my body and accepted that I would always be bigger and that was fine, I've been much happier and healthier, mentally and physically. I eat healthy, I work out, I make a point to practice mindfulness, and I no longer fixate on the number on the scale. Giving up the impossible task of trying to force my body to be a size 2 has freed me – I love myself now.
What's your favorite thing about being a blogger?
I love being able to inspire others to have fun with fashion, take risks, and embrace the body they have. You only have one body and one mind, so being kind to yourself is something I try to express in my posts both on my blog and on Refinery29. It's the reason I felt compelled to write this piece in response to Oprah's sad Weight Watchers commercial.
Who/what are your favorite designers/brands?
I looooove me some Eloquii. I really think Jodi and Mariah have done amazing things with the brand since they brought it back, and I'm super excited to see their evolution. I'm excited about their spring shoes – there are a few with my name on it (and one literally named Lizzie). Their customer service and styling is top-notch too (and they're very affordable)!
I also like Shegul, ASOS, Simply Be, Torrid, Lane Bryant, Dorothy Perkins… Most of the brands I like are online-only, but I will always make a pass through Macy's semi-depressing plus section to check out designs from INC, Calvin Klein, and Michael Michael Kors (they have great plus size stuff but they don't advertise it AT ALL). I'm also pretty excited about Rachel Rachel Roy's new Curve line that's coming out in February.
Describe your personal style.
Eclectic for sure. I see my style as a reflection of my mood, and that changes day by day. I work from home, so it would be all too easy to roll out of bed and just stay in my pjs all day – but if I did that I know I'd feel schlubby and it would bring down my mood. I will typically wear athleisure at home – something sleek and stylish that I would feel cool in, whether I was running errands, writing on the couch, or hanging with friends.
I love any excuse to get dressed up, so when I'm going to events I will be more creative and inventive and break out my most unique pieces. I'll take more risks and play with trends more. I also love to break fashion rules – you tell me I can't wear stripes? Oh, I'll be rocking head-to-toe stripes the next time you see me then. It's just so much fun.
What do you think about where plus size fashion is today versus a few years back?
Plus fashion has evolved faster in recent years than any other aspect of the fashion industry. I've been working in the fashion industry for over 8 years, and I've gone from being the biggest woman at every event to seeing a diverse array of body types – including bodies like mine! While high-end fashion is still moving like molasses in terms of including more diverse bodies on the runway, it is happening.
There are more clothing options now for full-figured women than ever before; although there's still a lot of hideous and boring pieces being sold to plus women, finally there are options. Not every brand or design is going to work for every individual's style, and now there are multiple options to choose from to fit your body, wardrobe and budget. Of course there's still room for improvement and just like other plus women, I still want more choices, but I get frustrated when people act like we're still in the dark ages of plus fashion. Dim ages maybe, but not dark ages.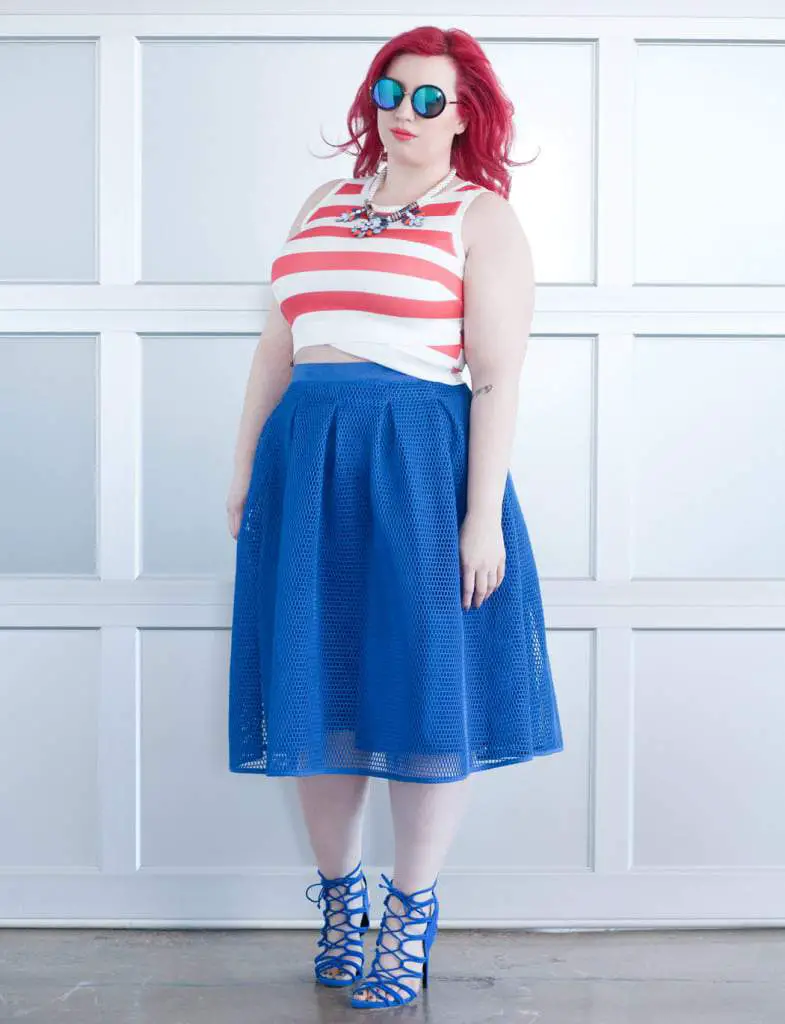 What do you think or hear from readers, is one of the biggest myths about plus size fashion?
That they can't "pull something off." – it's complete BS! If there's any trend or style out there that you love but you think won't look right on your body – wear it! You will be surprised that all of those internal fashion fears will fade away once you start wearing things you love.
Although not every single garment is made for every body type (there's a reason why "straight", "curvy", "tall" and "petite" denim exists), every trend and style can work for you; you just have to take the time to try things on and find the right pieces that will work for your comfort level. But I hear that same excuse from women of all sizes, and it's just not true. You can wear stripes, white, short skirts, patterned pieces, crop tops, bodycon dresses, etc. – just try things on (in multiple sizes), and you may be very surprised by just how fabulous you look!

Are you working on anything or have anything to share? Anything else you want The Curvy Fashionista's readers to know?
After winning the NFL Fan Style Showdown in September, I was inspired to do more video work and live appearances. I recently filmed a segment for an AT&T documentary that will be out on Feb 7th, and I am beginning to do videos for Refinery29 as well (although I don't want to reveal too much until they start airing)!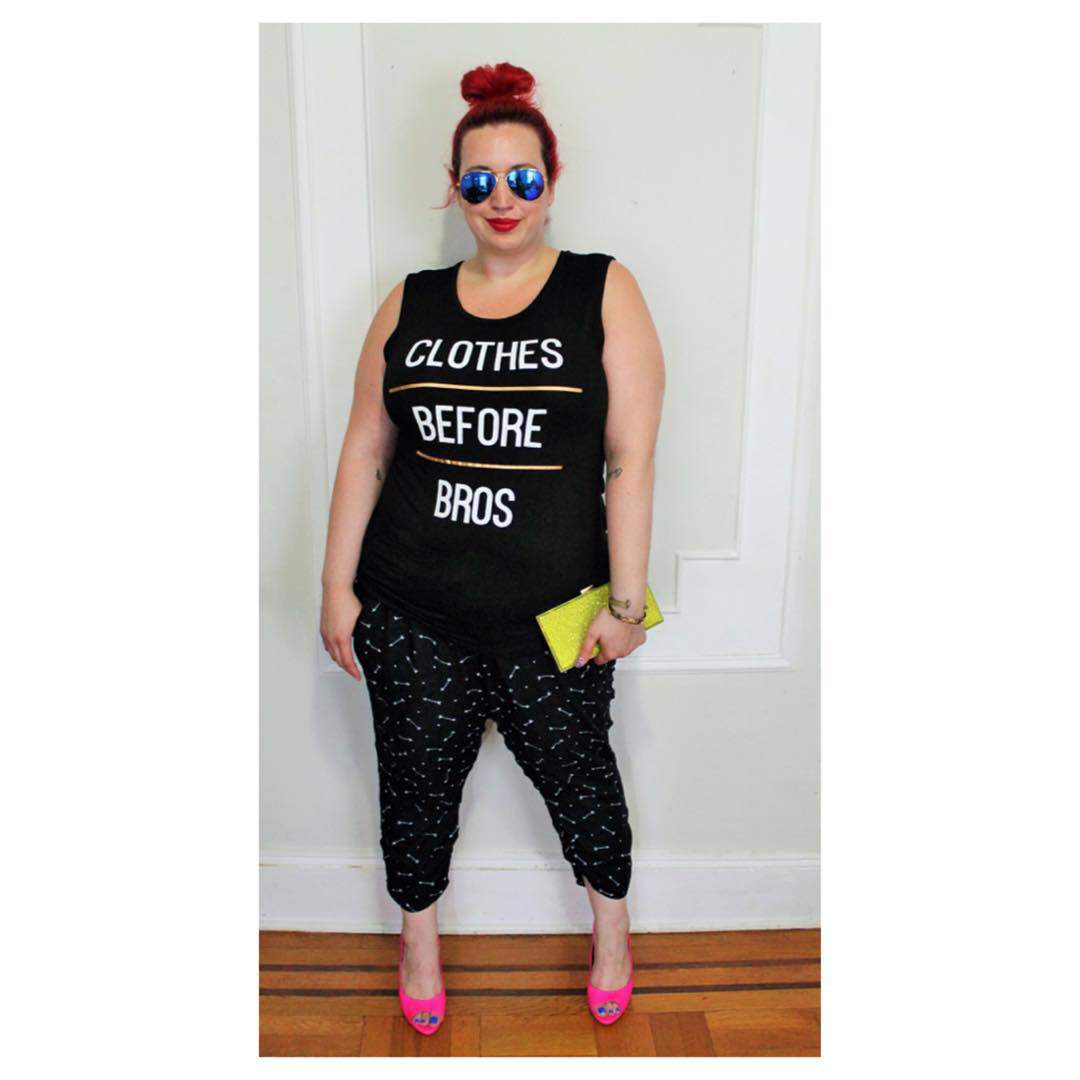 Lastly, what does Curvy.Confident.Chic mean to you?
Those are three adjectives that I think I embody. I'm certainly curvy, I know I'm confident, and I think I'm pretty damn chic.
Do you dig her style? Which look is your fave? Let's talk about it below!!
Are you a personal style blogger?
Want to be featured?
Make sure you fill out your deets here,
so that we can feature you!
Looking for more plus size blogger style inspiration?
Make sure you check out all of the other plus size blogger spotlights!
Aaronica
One dope woman/mom/wife/entrepreneur learning to conquer the world one cute outfit at a time.