The time is near as we get ready to tune in to the anticipated and long-awaited…The Cultivate Awards Year 2 Finale! This Saturday, April 23rd at 6PM EST, grab a seat, your favorite snack, and a glass of something "good" as the day we have all been waiting for is finally here!
If you have been following along with the TCF Cultivate Awards, you know that back in April of 2021, we held our first Cultivate Awards and found our winner, Melissa Mercedes!
The TCF Cultivate Award with the founding sponsor, Eloquii is The Curvy Fashionista's latest program designed to support and nurture the plus-size community through an Award program and a finale fashion showcase.
Last year, we put out a call for BIPOC plus size indie designers to sign up for a chance to win the 2022 Cultivate Award! The finalists are Charniece White, Matthew Robinson, Angela Rene, and LeAndra Dove.
We would like to applaud all of them for their hard work and perseverance. You are almost at the finish line!!!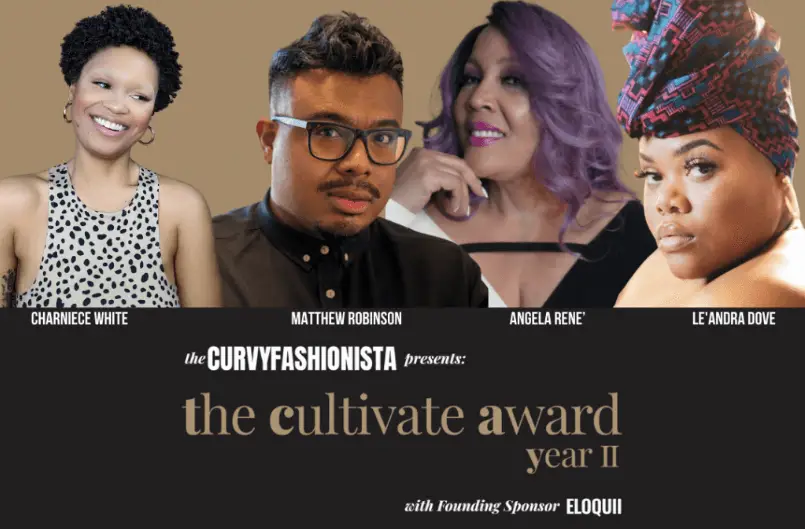 A very special thank you to our Finalists' advisor, Gabifresh and to our judges who took on the challenge of choosing out of these 4 powerhouses! Judges included an esteemed group of plus size industry experts:
 Gwen DeVoe (Commercial Model/Actor, Creator & Former Executive Producer of Full Figured Fashion Week), 
Susan Moses (celebrity stylist and author of "The Art of Dressing Curves"), and 
Yesenia Torres (ELOQUII's Director of Design).
So who will take home the title this year? Who will win the Voter's Choice Award? Well, in order to find out, you have to tune in to the finale!
Be sure to tune in to the LIVE finale, hosted and live-streamed in partnership with Facebook!
We have to again, thank Eloquii, Big Fig, Shapermint and Curvy Couture for being amazing partners and sponsors of this event!
The winner of the Cultivate Voter's Choice Award will also be revealed LIVE during our live-streamed finale on April 23rd at 3pm PST/6 pm EST!
Will we see you there?