We've shared our love of Shapermint on TCF before, but here are a few more reasons to love the leading body positive shapewear and intimates retailer: they just launched "Step Into Self-Love," a new, unedited photo campaign celebrating women, the beauty of diversity, and self-confidence. In a commitment to continue promoting body positivity in 2022, Shapermint is encouraging its customers to join the movement and "step into self-love" by pledging to show off their authentic, unedited selves both in their photos and their lives this Valentine's Day and beyond.
In Shapermint's effort to make social media a more positive, welcoming space, the campaign features a diverse group of women stepping forward and embracing their shapes in raw, unedited images shot by renowned photographer Ashley Batz.
"As an advocate for inclusivity for both my crew and those in front of the lens, it was a natural fit to partner with Shapermint on this shoot and the ethos of self-love," said Ashley Batz, Photographer, and Director. "When we are truly inclusive in the art we make, we foster opportunities for women to see themselves in the images that are circulated globally, inviting us to feel beautiful in our own skin."
They didn't stop there. Shapermint surveyed a diverse group of 3,000 women to uncover how social media and edited photos can impact body image. The survey results found that 61% of women want to see more unedited photos on social media, but only 6% committed to stop editing pictures of themselves.
These findings go to show that unlearning the editing urge will be tough.. but not impossible, and it is up to brands to lead that charge and show that there is so much beauty in these so-called "imperfections."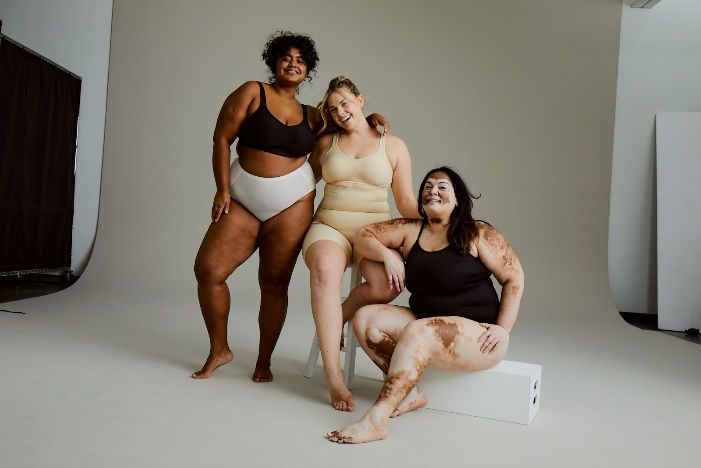 Shapermint further hopes to empower women on social media to step into self-love and celebrate confidence with its new "Perfect Shape" Instagram filter. But it's not your typical filter! This "non-filter" doesn't alter or change your appearance and instead provides positive affirmations to serve as a reminder for women to embrace their natural and authentic selves.
Along with the campaign launch, Shapermint is also relaunching its selection of size-inclusive, everyday "SupportiveWear" comprised of shapewear, loungewear, and intimates, which will be soon under the name Shapermint Essentials! Want to check it out? Click here.
We wanted to dive a little deeper into the creation of this Shapermint campaign, so We reached out to Gabrielle Richards, Shapermint Brand Manager, and Body Positivity Expert about the Step Into Self Love Campaign.
Why did Shapermint decide to develop this campaign?
Since its founding, Shapermint has always aimed to inspire confidence and embrace body positivity through its product offerings, brand communications, and partners we work with. In our continued commitment to promoting body positivity in 2022, we launched this campaign to invite our customers to step into self-love by pledging to take centerstage both in their photos and their lives this Valentine's Day and beyond. We want our customers to love themselves and embrace their raw and true selves fully.
How will the Step Into Self Love Campaign help women embrace their true beauty?
We hope this campaign inspires women of all shapes and sizes to love their natural features and proudly embrace their bodies. For our campaign imagery, it was important that we showcased a diverse group of models, so we chose to use a mix of professional models and women who are a part of our Shapermint Brand Ambassador Program to celebrate all body shapes and do our part to make social media a more positive space.
What are your thoughts on social media and its impact on our appearance? What do you think of this new campaign?!