Finding trendy, affordable, and well-made plus size denim can be difficult. Even though over 70% of women in the U.S. wear a size 14 or above, less than 20% of clothing in the women's fashion market creates clothing in extended sizes. And the companies that DO create denim for plus-size customers don't always hit the mark – denim for curvier bodies has to have the right amount of stretch while still sculpting and providing good structure.
Ashley Stewart is getting you into the perfect plus size denim
Luckily for us curvy ladies, Ashley Stewart has us covered! Long-time TCF faves Ashley Stewart's denim is truly made for us plus size girls: Power stretch technology helps the denim keep its shape, sculpting denim lifts and shapes, and gap-proof waistbands keep the jeans close to your body (no gapping here!). The best part is, Ashley Stewart denim comes in a variety of styles and washed, and in sizes 10-32, we stan an inclusive brand. We asked a few of our favorite influencers their thoughts on the new denim; here's what they shared:
Aaliyia R. – "I was so excited to find quality denim!"
A plus-size favorite on Tiktok, college student Aaliyia is a fan of the Ashley Stewart Iconic-jegging. "I chose the jeggings because it is something that I could be comfortable in and be able to move freely, but it also accentuates my curves and makes me feel confident," she shares.
Shannon G., "I really liked the level of overall stretch. The pants are stretchy but they still feel like denim."
Nashville-based content creator Shannon shares her affordable and chic plus-size finds with her followers on Instagram. Shannon tried out all three Ashley Stewart denim styles for the first time and was impressed, "I was thrilled right off the bat with the fit," she shares. "I liked the level of overall stretch. The pants are stretchy, but they still feel like denim," she continues.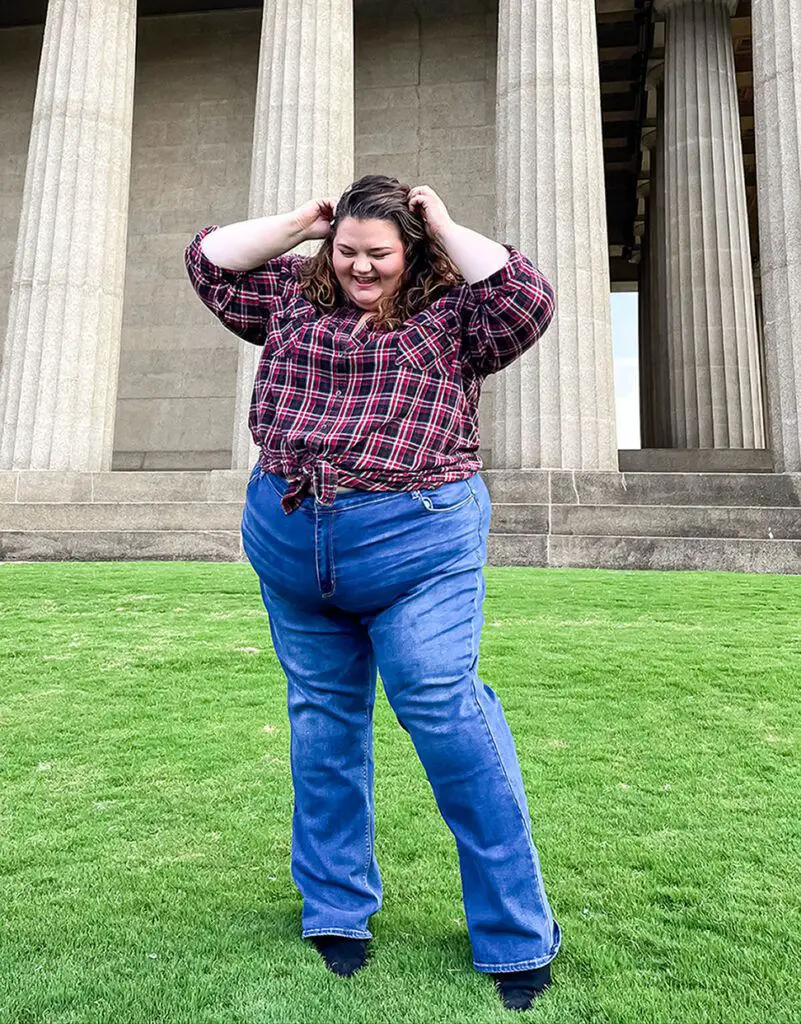 Sheila L.: "It felt so great to finally have jeans that feel amazing and glide with ease"
Plus-size model and content creator, Sheila, wasn't just wowed by the Ashley Stewart denim; she talked highly about the in-store shopping experience, "When I've walked into an Ashley Stewart store, I have always felt welcome, and it's a guarantee they'll have my size." Sheila loved the new legendary bootcut, "when I slipped them on, it felt so great to finally have jeans that feel amazing and glide with ease…I love how they looked and got so many compliments from friends!"
Fall is right around the corner, and we're breaking out the denim over here, and you can too! Which style in Ashley Stewart denim are you loving? The new Legenday bootcut, the iconic, comfy yet snatched jegging, or the Fearless skinny jean? Tell us in the comments! And don't forget to snag yourself a pair! Head to your local Ashley Stewart store or visit the website to shop.