Last summer, peak Rona and BLM, I sat back and thought about how I and TCF could better support the community and help our small businesses in this space. This is where the Cultivate Awards came to mind. I had a random idea that I had long kept tucked away, until now.
With the major support of Eloquii (and a few other brands) we are soooo excited to launch the Cultivate Awards!
"Funding the future of plus size fashion."
When we launched Speaking of Curves (returning Thursdays) to chat it up with various plus size businesses, it was even more important to do something MORE. And with our New Year's theme of Elevate, we had a chance to shake it up a bit.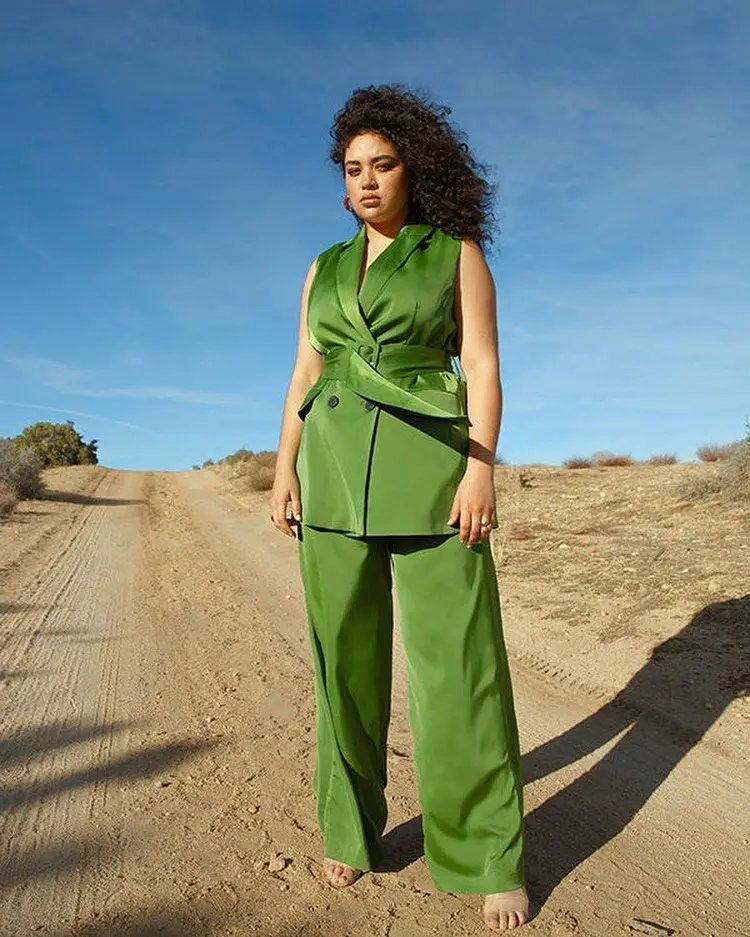 A chance to create and provide something that provided tangible support and tools to our indie plus size designers, who have long been the backbone and the innovation of plus size fashion.
So, I reached out to Eloquii. They were a brand who had the unique opportunity to show and share actionable support to the community and they came all the way through.
So, what is the Cultivate Awards?

The Cultivate Awards, presented by The Curvy Fashionista with founding sponsor, Eloquii, is an initiative that supports and nurtures the next generation of BIPOC indie designers in the plus size fashion community.
What I am most excited about? The winner of this award will score at least $10,000 grant AND a capsule collection with Eloquii!
"At ELOQUII, we're working to elevate BIPOC designers by giving them a platform to create beautiful, fresh designs that offer great style and fit. In partnership with Marie Denee and in presenting The Cultivate Award, we aim to initiate positive change through the transformative power of fashion by introducing new emerging BIPOC designers and their businesses."

Mariah Chase- CEO of Eloquii
Remember when we spoke about how we'd like for plus size retailers to do a capsule collection with indies? Well, it is happening!
This means that we are going to be hooking up 1 winner, 2 runners up, and a reader's choice winner with a cash grants, business tools, and more to be shared!
The finalists will present their collections via a digital streaming showcase in May, where the winner will be chosen!
But here is what is most important to me. The business tools.
Not only will the runners up receive at least $2500, we will be rolling out the business tools and resources that all finalists and the winner will receive soon!
Many of us, myself included, are accidental entrepreneurs. What started as a hobby has evolved into full-fledged businesses! With that, there are processes and tools that we wither do not know about or cannot afford at this time- both of which would impact our bottom line positively!
My frame of thought here was… "Cash is good, but the tools to make more, is better."
Meet Our Judges!
To help us choose our finalists and winners, I tapped a few friends and industry leaders to help us out. I wanted industry leaders who were extremely active on social and in the media space. Leaders who could bring experience, understanding, and support to the designers.
Lindsay Peoples Wagner (The Cut Editor-in-Chief, former Teen Vogue Editor-in-Chief, Black in Fashion Council Co-founder), Timothy Snell (celebrity stylist to Queen Latifah and more), Liris Crosse (plus model, author, coach, and first plus-size model winner of Project Runway), and Yesenia Torres (ELOQUII's Director of Design).
A nice line-up, right???
So…. are you ready to throw your design hat into this?
Are you an Indie Plus Size Designer and Want to Apply?
Let's do it!
Applications open TODAY and close March 1st at 11pm PST!
Make sure to check out the details of the program, eligibility, and the important dates on this page.
Isn't this exciting!?! What do you think!
We are soooo excited to be able to create something bigger than ourselves, something that helps give back, and that is for us, by us.
Good luck to all the designers making it happen!