I want people to step outside of their comfort zones -Nadia Aboulhosn
I remember sitting in a hotel room, about (more than?) five years ago with Nadia and Gabi listening to them talk about the collections they wanted to create and their drive to make it happen. Fast forward to today, and I have to admit, I am so damn happy for these two realizing their dreams and making it a reality. THAT is a feat alone! Both have been making their dreams come to life and today and while this is not her first collection, after killing her first collab with Boohoo and then with Addition Elle, last week, Nadia launched her eponymous label, by Nadia Aboulhosn, and I had to share it with you!
When I heard that Nadia was going to be bringing her style to her own creations, my mind began imaging the looks she would fashion for us, wondering if her style would come through, and how she would give it to us… Well, the unapologetic, bold, confident, and cheeky Virgo has delivered a collection that has the girls talking!  I mean, Nadia has been one to take a "No" and flip it on its head. You tell her she is too short to model? She goes and puts out a calendar. It is this moxie and drive that inspires me and why I had to get a few questions out of this girl as I share the collection with you!
Scroll through the looks as you will catch a few quotes and conversations with Nadia! Are you ready?
The by Nadia Aboulhosn Collection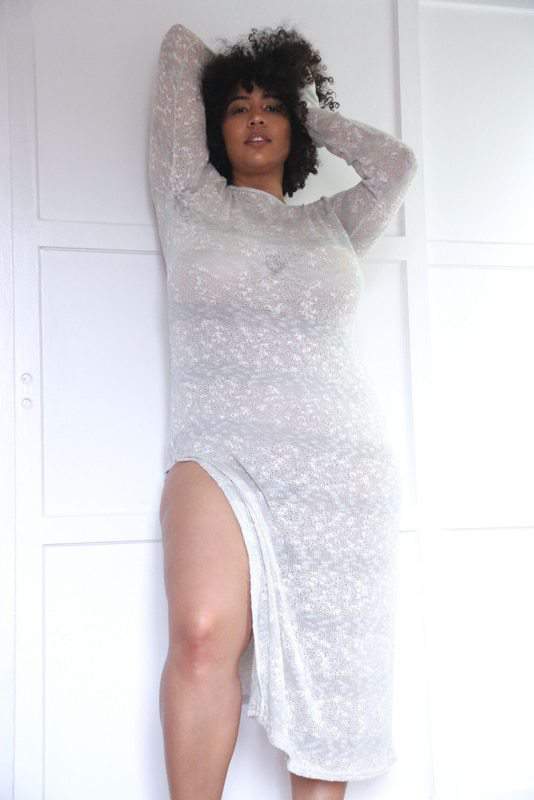 Why neutrals?
I'm constantly going to be creating pieces and dropping them whenever I want to, regardless of season but I wanted my first drop to be feminine with neutral colors. I really wanted to steer away from coming out with all black pieces the first round because I want people to step outside of their comfort zones and most of my capsule collections with other brands introduced more dark colors.
What was the inspiration for the shoot?
I had a few ideas for the first shoot. I originally shot the first round of girls in my old house that I grew up in Florida. My moms best friend bought it when I was probably 10 so I asked if we could shoot there. It was surreal to be able to be where I'm at now and walk back into a house that I've had so many childhood memories in. Most of the flowers taped to the wall and on the fences were for my dad who always use to grow flowers. He was obsessed with orchids so in a shot of me sitting down I held an orchid in the same yard I use to play in. Everything is pretty thought out whenever I have an idea but there was a lot of inspiration that inspired me for this first drop.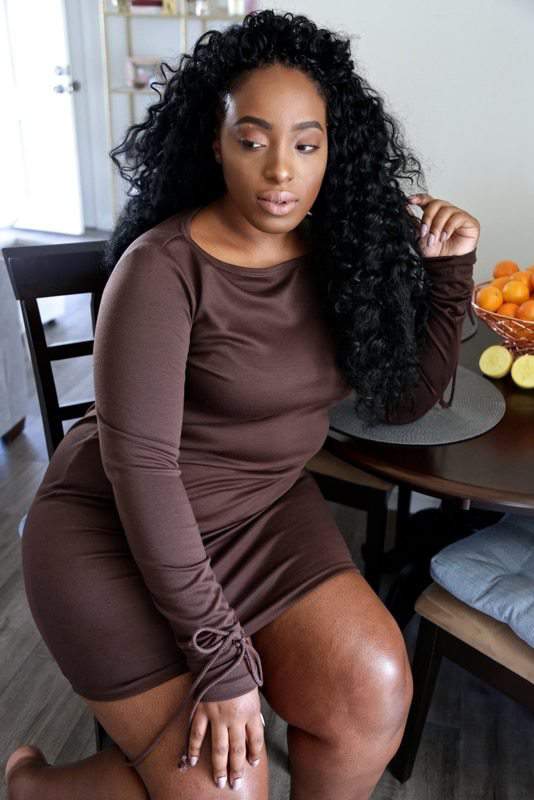 I noticed that each piece was named for someone, how did you come up with this idea and why? PS I am partial to the Marie dress… lolol
HAHAH when I decided on that name, I was like, Marie is going to be hype. I named the pieces after everyone who is important to me. Christine is my mom's first name, Alya is my sister, Shevah is my best friend, Marie is my mom and sister's middle names, and Melissa and Cindy are my sister-in-laws. There has been a lot of people who have helped me get to where I am today so in a way it's sort of homage.

What is coming next?
I have a few pieces I'm dropping for Valentine's day. At first, I was going to try and be cohesive with pieces but now I just really make what I want. Around the same time I'm dropping the Valentine's pieces, I'm dropping a sporty look too. I'll be releasing pieces every month so it'll be interesting.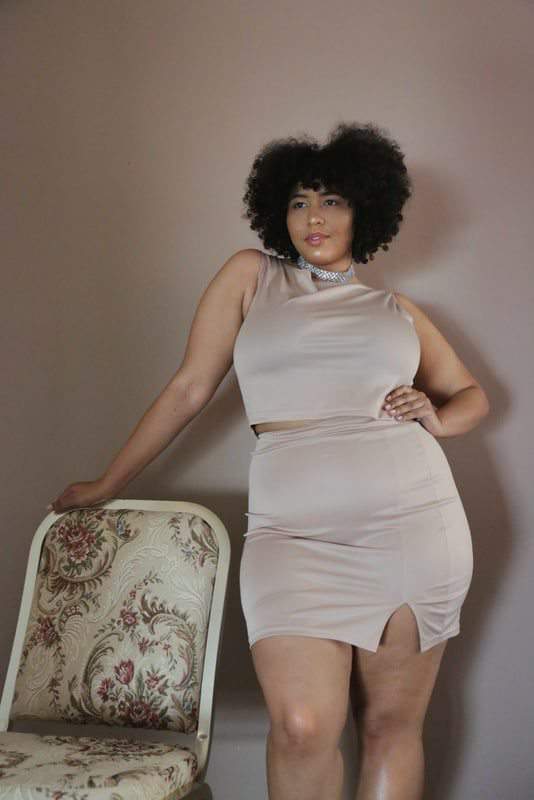 Now of course, we could not miss blogger babe GabiFresh and beauty blogger GlambyRuna reppin for the curves! We see you!
This seven-piece collection ranges from sizes 0-24.  Definitely for the unapologetic, free spirited, and bold, this capsule collection is for the sexy minimalist who is not afraid to show a little skin and those who love to live life on the edge. It includes all the essentials you need; a form-fitted mini dress, a segzy satin duster, a chic bodysuit, AND a sexy, deep v back midi dress! Ma'am!
Ready to SHop? You can shop the entire collection now, at Nadiaaboulhosn.com
Have you seen the collection? What are your favorite pieces?  Have you gotten anything?Let's discuss…