Looking for some sexy, comfortable, and most importantly… affordable intimates options? Look no further than the Curvy Couture Sheer Mesh collection! We love an accessible price point, and Curvy Couture delivers with that and brings us the styles and prints we love!
Have you heard of, or shopped Curvy Couture before? The intimates brand was founded in 2013 by Dora Lau and Evora Russell, both dedicated to bringing their expertise in design, fit, and knowledge of plus size intimate apparel to the brand.
That dedication is even found in their mission statement: To Uplift Curvy Women, both in Body and Mind, Through Artful Innovation that Celebrates her Best Self.
Now that you know a bit of the history, let's check out this new collection, shall we?
Model Veronica Campos is killing this pose!! We love how these pictures don't seem to be retouched. It's seriously refreshing to see all the things that make us unique and beautiful.
Everyone needs a sexy black bra and panty set! You seriously can't go wrong with this, as it goes with everything, and as shown by model Naimah Terry, looks amazing worn alone as well! We love how this t-shirt bra has full coverage yet has that sheer mesh on top, making it that much sexier!
We really love Curvy Couture's dedication to curvy bodies, and ensuring a perfect fit, which is why we were SUPER geeked to learn that they are actively working on expanding their size range!
Read on for more details on this, and more!
I had the pleasure of speaking with Curvy Couture ahead of their launch:
The Curvy Fashionista: You mentioned social media about how you are lowering your price point and keeping the same quality we all know and love – we'd love to know how?
Curvy Couture: Considering that we are now owned and operated by one of the largest bra manufactures in the US that is also Women founded and owned – we now have more leverage and negotiating power to sharpen the pricing on our raw materials and costs of goods. Our amazing CEO is genuinely eager to offer the best of the best in garments, styling, quality, and price for the plus size customer.
The Curvy Couture Sheer Mesh collection is the perfect example where we are able to offer this major trend in plus size, that is still extremely supportive, sexy, up to 46H at a great price!
The main idea behind our Sheer Collection is to provide luxurious comfort and support, with a lightness and airy feel. This is the sexiest collection we've designed and know you'll feel that instant mood change when trying us on.
All bras from the Sheer collection will be $40 and panties $18
( Shop the Collection here: https://curvycouture.com/collections/sheer-mesh-collection )
The Curvy Fashionista: Who is the "Curvy Couture" customer? Who does Curvy Couture have in mind when coming up with it's designs?
Curvy Couture: The Curvy Customer is someone who craves quality undergarments, long-lasting styles that will support you for months and years to come. Our mission is to uplift our customers both in body and mind with beautiful styles and artful innovation.
The Curvy Fashionista: Do you have any plans on extending sizes in the future?
Curvy Couture: We're actively listening to people who have an interest in Curvy Couture. The most requests are 48 & 50 bands and I&J cups. It's going to be a very lengthy process to perfect the fit, hoping to introduce new size offerings in 2022.
Want to Get Your Hands on the Curvy Couture Sheer Mesh Collection? Shop the Collection at CurvyCouture.com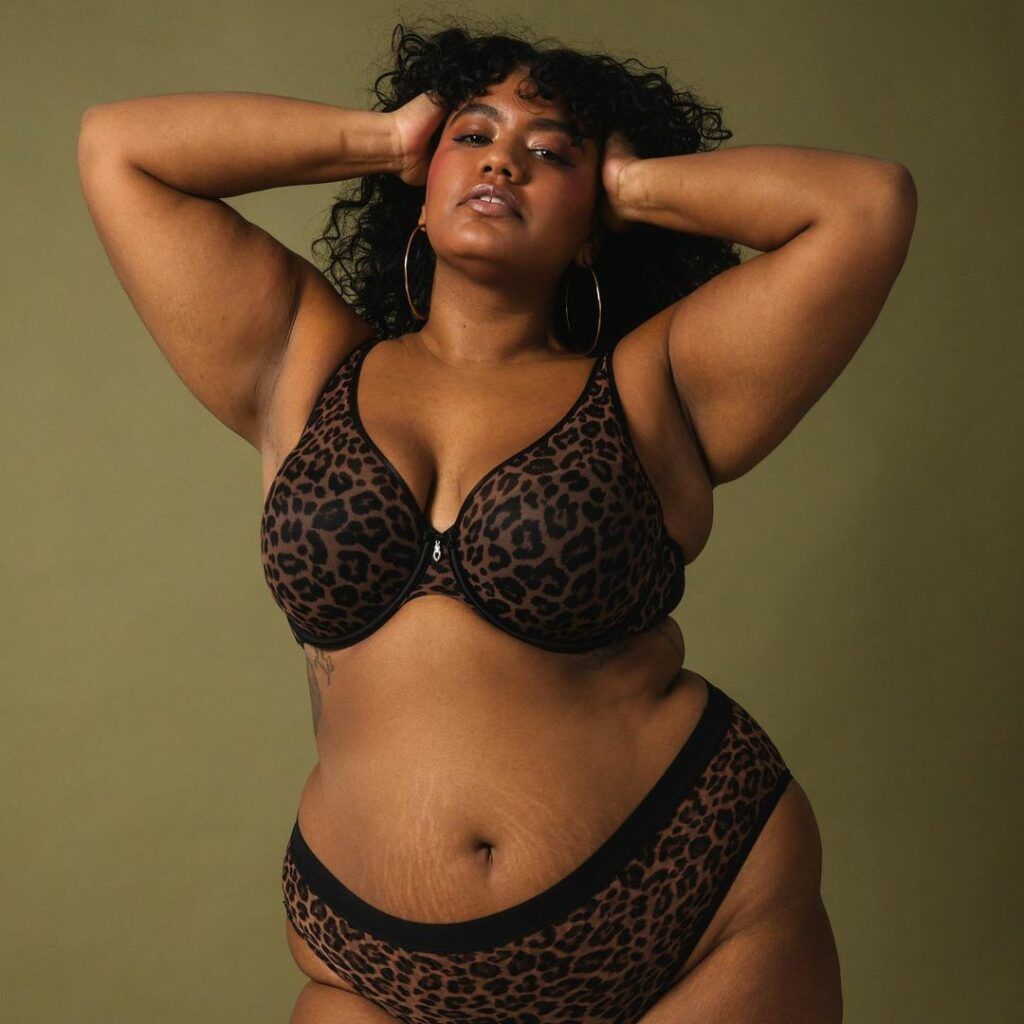 We love all the new bra and panty options, and at the new price point, will definitely be stocking up!!
Are you a fan of Curvy Couture? Where is your favorite place to buy your intimates? Let us know in the comments!