It's Friday!  That means we're back with another fashion blogger spotlight!  If you missed last week's feature of Katie from Toodaloo Katie, you can catch up with her here.   Today, we're excited to feature 40 year old petite plus blogger Dionna of Made me Pretty!  With a background in fashion writing, Dionna works to inspire and uplift other women through her style advice.  She loves showing some leg (ain't nothing wrong with that), and she isn't afraid to buck the ideas about what (petite) plus size women can or should wear.  She is a plus size blogger YOU NEED TO KNOW!!
Meet Dionna of Made me Pretty!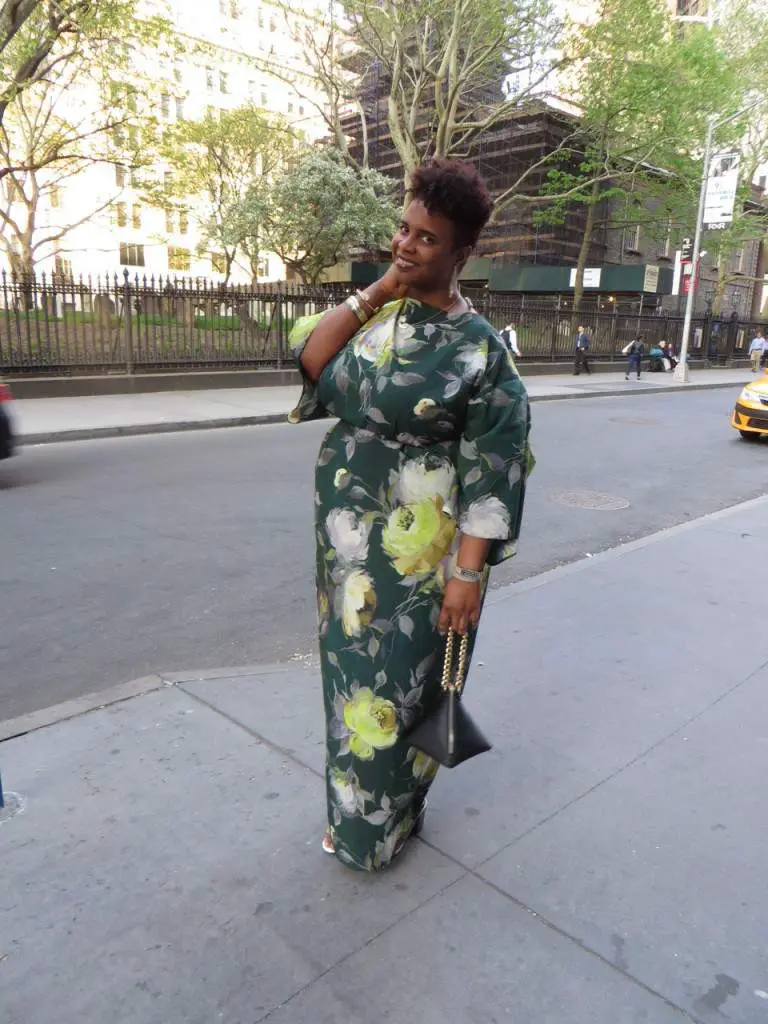 Blog:  www.mademepretty.com
Age:  40
Height:  5'3″
Location:  Silver Spring, Maryland

How long have you been blogging?
I've been writing for fashion publications for 3 years.  I've had my blog for 18 months.
What or who inspired you to become a fashion blogger? What led you to it?
I had my own column with an online publication dedicated to plus size fashion. But I felt constrained by the platform because it was limited to my region, and without a lot of plus size options around me, my creative outlet was limited.
I realized that I wanted a platform that would be not only a platform for self expression through style, but also a place to show other women that you don't have to be thin, or even hour glass shape to take fashion risks!
Do you blog full-time, for fun, as a hobby? Share your evolution!
I have been styling clients and writing in one form or another in the fashion industry for three years. I am working towards making this a full time profession, which takes time- but I'll wait!

What is your favorite asset? Your legs, arms, waist? How do you play that up?
I have a few assets I love actually! But I would have to say my legs get a lot of air time, so to speak, on the blog. I'm not afraid to show a little (or a lot) of leg, mostly through rompers or dresses, but I will wear skirts often as well.

What are the challenges, if any, you face regarding being plus size and petite?
Being 5'3 and plus size is definitely a challenge. When it comes to bottoms, I almost always have to tailor the items. I also have a short waist so often wear things high on the waist.
What's your favorite thing about being plus size and plus size?
I do find that being petite I have to find style hacks for wearing something that can be helpful for my readers, no matter what their size.

What's your favorite thing about being a blogger?
I like having an outlet that expresses my creativity through style. I feel a responsibility to inspire women– and challenge myself!– to take risks and feel good about the skin they're in. But even more than that, I love connecting with my readers and fellow bloggers. It's very empowering.

Who/what are your favorite designers/brands?
Where to start! I'll keep it to 5:
ASOS
Monif C
Demestiks NY
Forever21
Simply Be
Describe your personal style.
I think of style as an ever-changing canvas. So I will go from punk one day, to sexy another, to trendy or girly. I love that plus size fashion has really evolved into an arena that makes it fun to play in every day.

Which bloggers inspire you? Plus or straight size! Any bloggers currently on your radar?
I love all my blogger boos that I follow, who have been so supportive of me and my journey, and who I've had a chance to meet. I follow quite a few but I'll keep this list to 5 (in no particular order :-))
Gabi Fresh
The Curvy Fashionista (hey boo!)
Sometimes Glam
Naturally Fashionable
Jay Miranda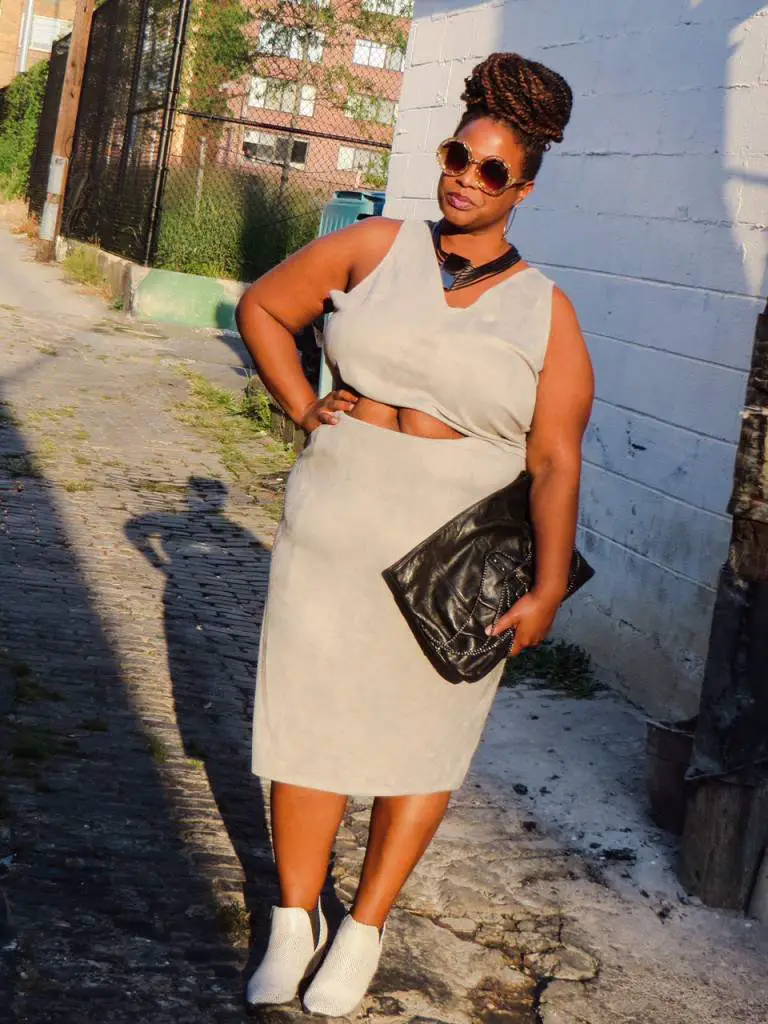 What do you think about where plus size fashion is today versus a few years back?
The plus size fashion industry has changed so much! Back in the day we had only a few stores with drab, colorless, shapeless pieces. There was nothing risky or standout about it. Those of us wanting to push the fashion envelope ended up trying to squeeze into straight size, modifying the dregs of what we saw or thrift shopping. But nowadays, it's vibrant, cutting edge, fierce! Brands are keeping up with the trends of the fashion industry and it's not just fast fashion but its current and emerging designers as well. It's so refreshing!

What do you think or hear from readers, is one of the biggest myths about plus size fashion?
I think the biggest myth is that we don't want to or can't wear the same as straight size fashion. And that's simply not true. It's so, so frustrating to me that brands will create a separate line for their plus size range and make it completely different from the straight sizes. Hello! I know my body. If you make something backless in my size I will know whether or not I can pull it off. But don't ignore us completely because you think we can't wear it!

Are you working on anything or have anything to share? Anything else you want The Curvy Fashionista's readers to know?
Maybe! But I don't want to jinx it:-) I will say as I continue to grow I want to do more with other bloggers to lift each other up. There is plenty of space in this world for those of us doing our thing and our style is not all the same.
I am also a personal stylist. I just celebrated my 3 year anniversary (whoop!) and while I'm looking to make some changes there as well, I have a steadily building clientele.
Lastly, what does Curvy.Confident.Chic mean to you?
These 3 words are statements that make up who I am, who all plus size women have the power to be. There's no question or room for interpretation in these three words strung together in a sentence, and I love that.
Be sure to check out Dionna's blog at MademePretty.com
Do you dig her style? Which look is your fave? Let's talk about it below!!
Are you a personal style blogger?  Want to be featured?  Make sure you fill out your deets here, so that we can feature you!