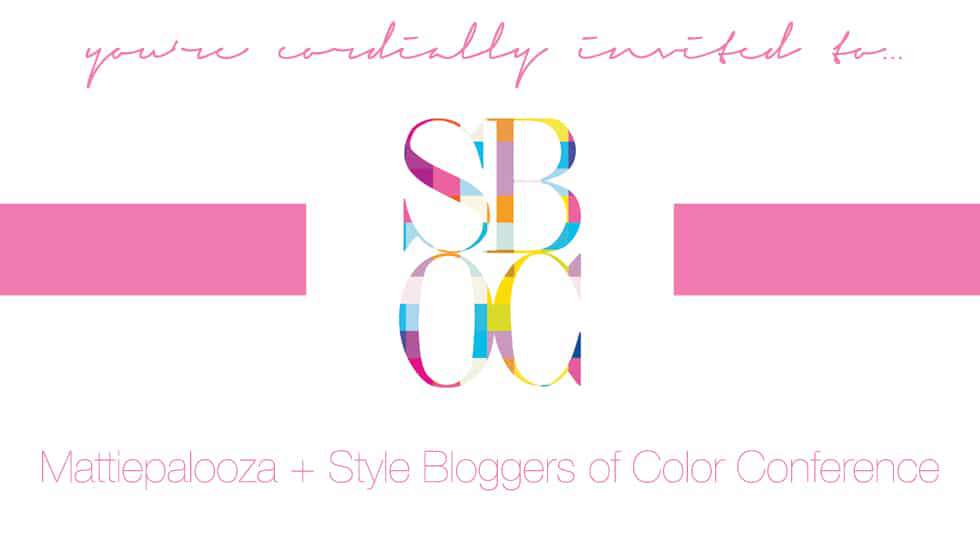 If you have ever had the pleasure of attending a conference, then you will relate to my elation. If you have never had the chance to go, please note my elation as I elaborate about my happiness over this past weekend for the inaugural Style Bloggers of Color Conference.
Created by Mattie of @Mattieologie, the #SBOC was a weekend full of empowering, uplifting, and inspiring conversations, presentations, and keynotes that I was so humbled to be a part of! Seriously!
Held at INK Art Studios, the SBOC consisted of a weekend of fashion, festivities, and fierce ladies (and gents) coming together in the only blogger conference geared towards fashion and style bloggers of color! (There are others who target color or fashion, but not the two specifically!)
I landed Friday evening to the Hotel Indigo- a boutique hotel in the heart of Atlanta across from the Fox Theater.  This place had such charm!
On Saturday morning, I opened my day speaking on the panel, If Content is King, then Consistency is Queen!  Moderated by Monroe Steele @fashionsteelenyc of Fashion Steele NYC, joining me on the panel was Ebony.com Beauty Contributor, @KimmyGotSoul, and Tiffani (@theatlgo2girl) from TastemakerMag.com! We shared our tips about writing and the writer's block one can get, and everything in between for content!
The day continued with panels about monetizing your blog, working with brands, and social media tools!  The overall vibe of this event was an uplifting one, which left me inspired, motivated, and excited to see what and how this conference will grow- BECAUSE IT WILL!
Later this evening, after eating, a group of us bloggers with the company of Myleik from CurlBox.com sat down at the bar for a much unexpectedly needed breakout session.  THIS was the magic- getting together, talking about our challenges, successes, men, and everything else in between really allowed for a perfect ending to a fabulously filled day!
Sunday was the Blogger Lunch and Award Ceremony with keynote speaker and friend, Claire (@thefashionbomb )from the FashionBombDaily! We hugged like its been years, I seriously adore her… but her keynote was to the point and perfect. Leaving the bloggers with 3 sound pieces of advice:
Take Risks
Fame and Glory come after the Grunt Work
Do it for the LOVE not the MONEY
After her note, Mattie spoke and thanked us and I did a quick outfit change for the airport! We took pictures, said our goodbyes, and parted ways!  I cannot wait for next year's as I am sure it is ALREADY a success!
Thank you Mattie for inviting me to speak and enjoy what Atlanta has to offer!  I will be back!