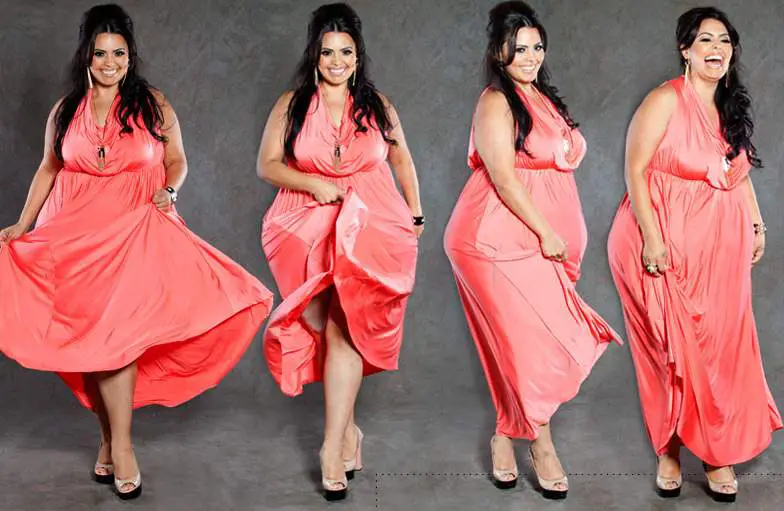 Rosie Mercado featured in Sealed With A Kiss Feature
I have been meaning to do this for the longest, I swear! As designers are rocking out in fashions, giving us OPTIONS to dress our personalities and moods, so are the options in the breadth and width of sizes and styles for those of you 3X and better!
No for real! Now, why most designers stop at a size 3X, honestly, I cannot give you a qualified answer. However, rather than harp on what is not available; let me share with you the designers and retailers who are MORE CONTEMPORARY (which excludes a few) who are giving fashionable options above a 3X!
I was trying to figure out the best way to rock this out, so I decided to show and share faves from varied designers and give you the 411 on each! So, please make sure to bookmark, pin, share and keep this as a reference!
Beyond a 3X, Fashions for the Plus Size Woman
While we do have our cornerstone designers and retailers, Lane Bryant, Ashley Stewart, Avenue, Catherine's, CJ Banks, Old Navy, Lands' End, Navabi, and Old Navy, there are quite a few that I wanted to make sure that YOU knew!
(Clockwise from bottom left: Ulla Popken Liquid Shimmer Shirt, Jessica London Black Dress with Jeweled Clasp,  Avenue Allover Sequin Tank Dress, Ulla Popken Sequin Banded Chiffon Dress, Jessica London Plus Size Leather Jacket 5 Colors)
While I could have listed Avenue, Jessica London, Ulla Popken, and countless others, as an online mall, One Stop Plus carries over 10,000 products, up to 28 colors, 70 sizes. With women's clothing in sizes 12W-44W (including petites and talls), you will definitely be able to find something here that tickles your fancy. One Stop Plus ships internationally and in some countries, they have dedicated sites!
DOMINO Dollhouse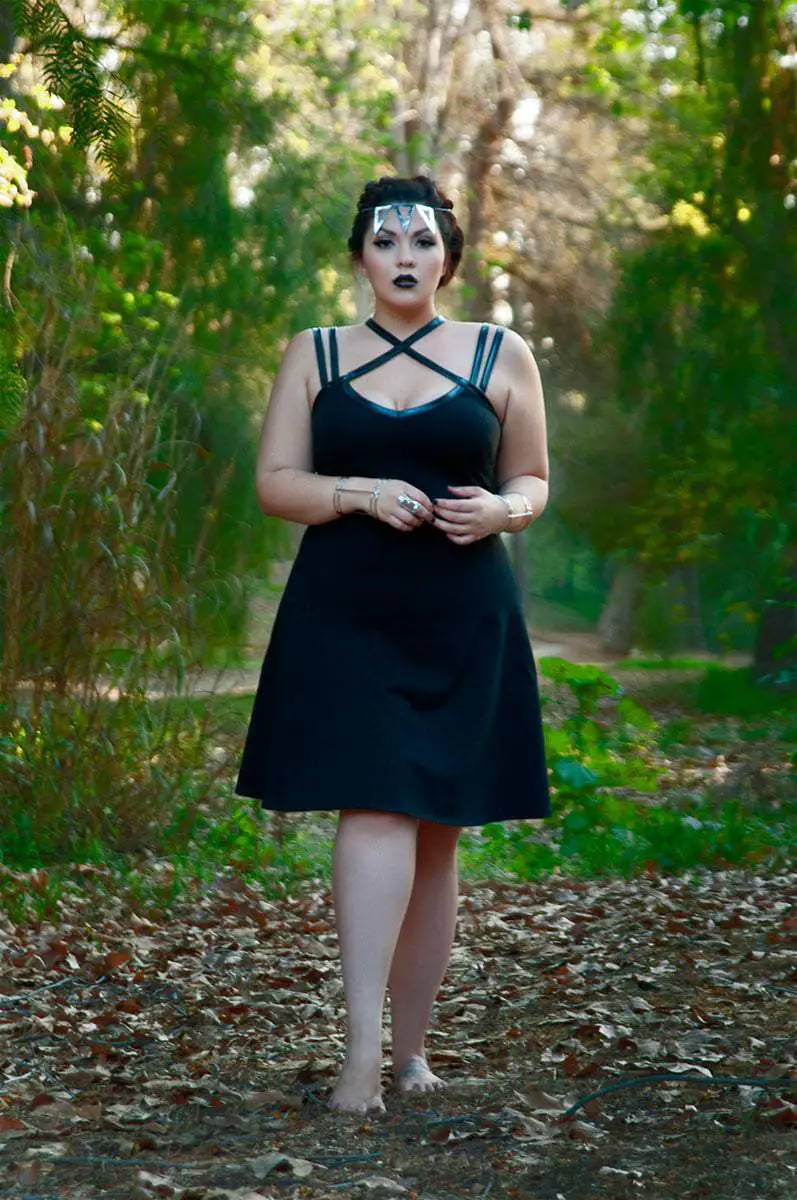 Recently featured and sooooo loved on the blog, Domino Dollhouse is a SoCal Based label that gives us a dash of goth, rocker chic, punk, and glam. You will be able to find SOMETHING that gives your closet a bit of sass and class… I KNOW I have! With sizes up to a 4X, you will surely find a few items to play in! Check out the latest from Domino Dollhouse here!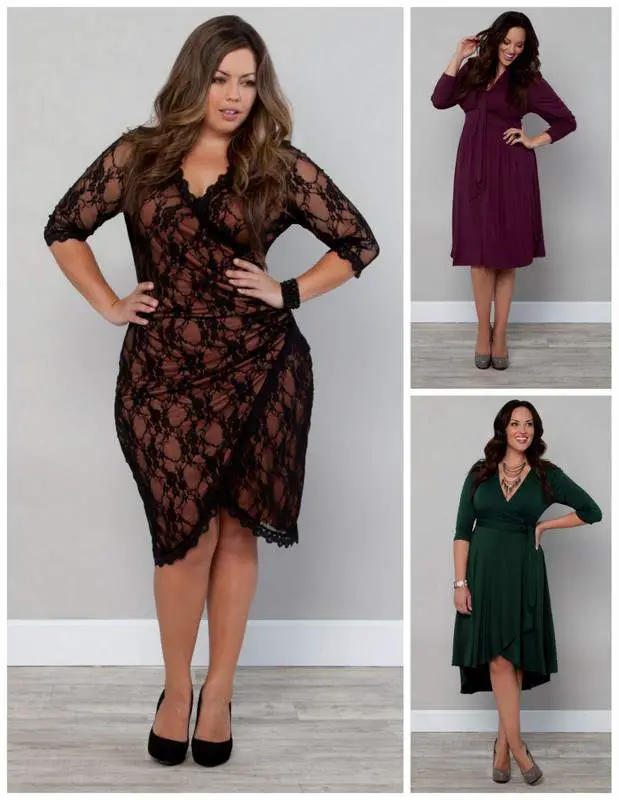 Since 1996, Kiyonna has been giving plus size women a contemporary and classic silhouette to play in. Kiyonna offers styles exclusively in sizes 0x-5x that can be found both online and in specialty plus size clothing stores across the country. Kiyonna offers special occasion dresses and laid back plus size separates with a fashion forward sophistication!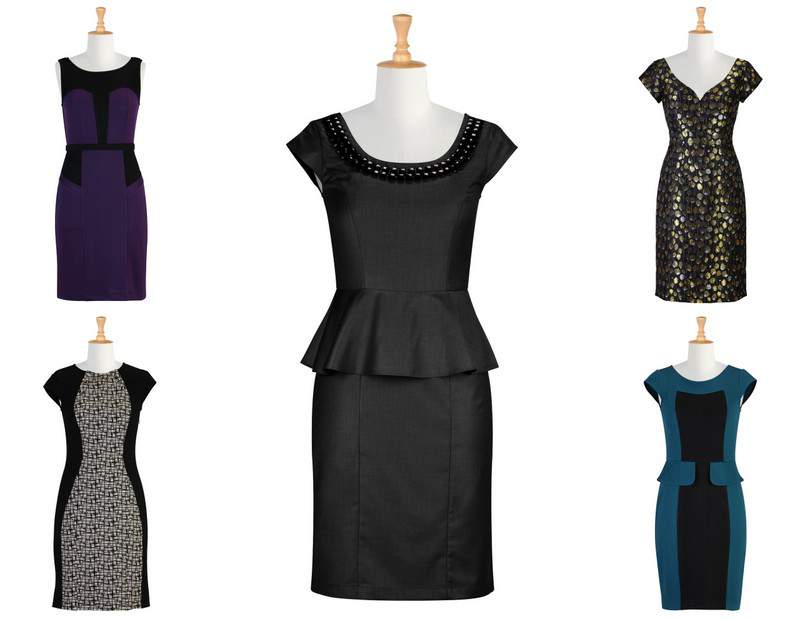 (Clockwise from bottom Left: City Gridlock Dress, Eshakti Colorblock season dress, Eshakti Lady peplum sheath dress, Eshakti Golden daffodils sheath dress, eShakti Mod style peplum dress)
One of the most custom friendly and closest to tailor-made, eShakti offers both ready to wear and semi-custom pieces. eShakti provides both design and fit solutions to meet our ever-ending desires. Want that dress a tad bit longer? Shorter? Sleeveless? eShakti is your spot. Over the season's and years, eShakti has definitely been a place to check out with sizes up to a 36!!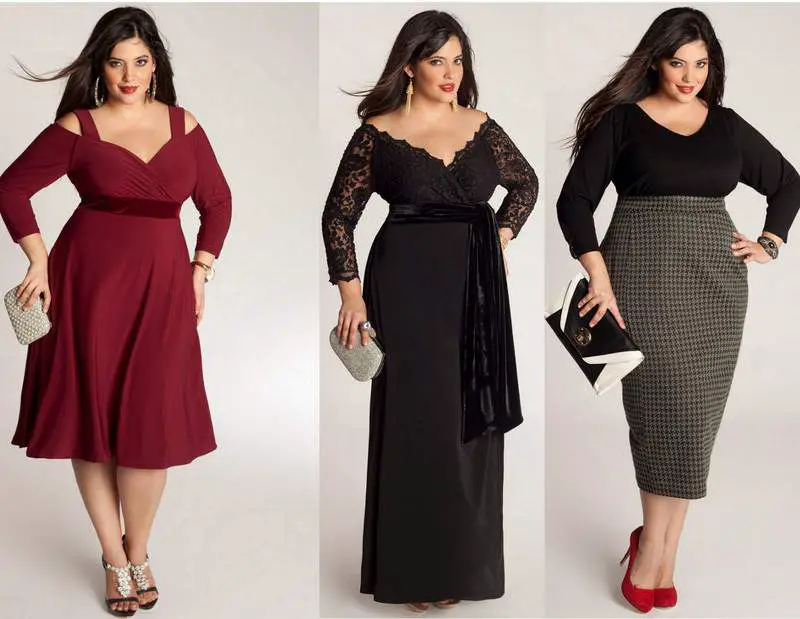 (Left to Right: Igigi Siren Dress, Anastasia Plus Size Gown in Onyx, Igigi Anna Plus Size Sweater Dress)
One of the pillars of plus size fashion is IGIGI by Yuliya Raquel.  Contemporary collections designed to fulfill the lifestyle of the Curvy.Confident.Chic. woman, IGIGI by Yuliya Raquel is consistent with sophisticated and smart pieces from work to play, cocktail to special occasion and weddings! With fashions up to a size 32, IGIGI definitely gives you fashion and personal style!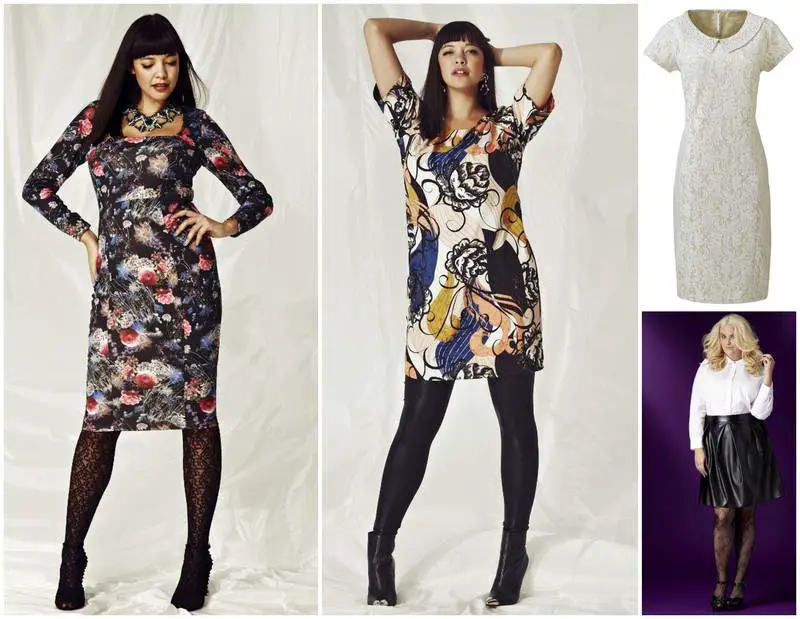 (From left to Right: Simply Be Floral Bodycon Dress, Simply Be Printed Sheath Dress, Simply Be Bonded Lace Dress, Simply Be PU Box Pleat Skirt)
The UK based company; Simply Be has made its mark on US fashion! Through capsules collection with Anna Scholz and Gok Wan, Simply Be offers on trend pieces at great prices. What is even cooler is that they carry up to a US 30! So fashion is NOT to be missed on you! Their sizes are generous too! In addition to their clothing, they also offer wide calf boots, wide width shoes, and the accessories to pull it all together!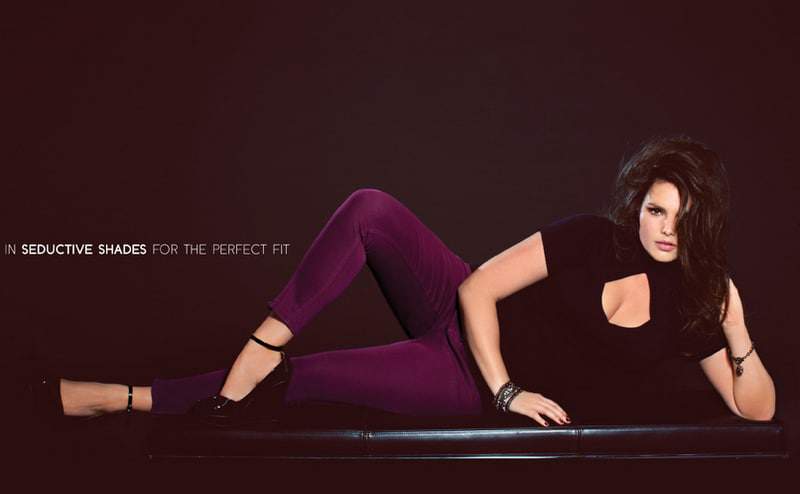 Hot Topic's little sister brand has definitely grown up! Torrid, the edgier plus size sister chain fashions contemporary fast fashion with sizes up to a 5X! This fast fashion chain gives the latest denim, rockabilly, vamp, and edgy fashion options. Torrid also offers wide width shoes up to a size 13W!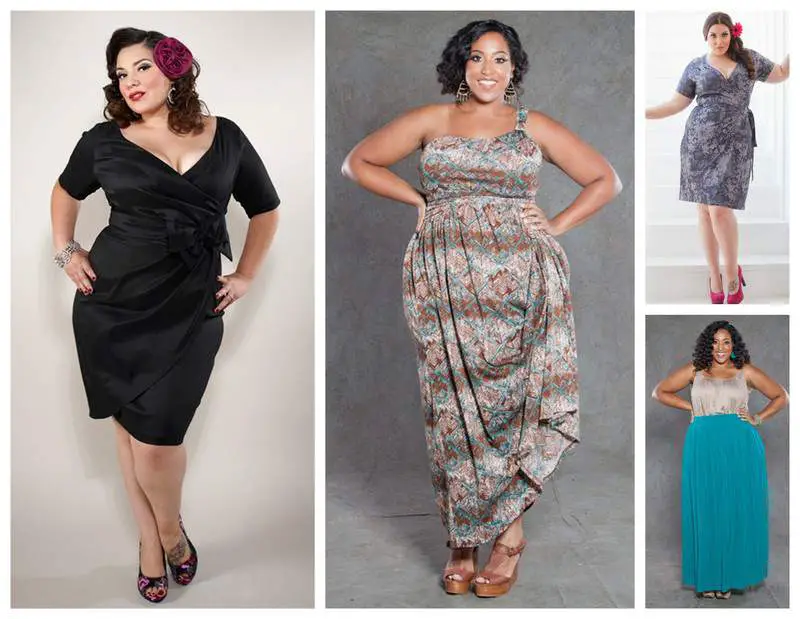 Sealed with a Kiss (aka SWAK) is a place that offers fast fashion that is affordable. With great fashion basics and classics, this is a great place to stop to build your wardrobe!  Based in LA, SWAK offers a laid back and easy LA style of fashion. Bold hues, great fabrics, and items that will be in your closet for quite a while, SWAK is def worth a look with sizes up to a 5X!
Evans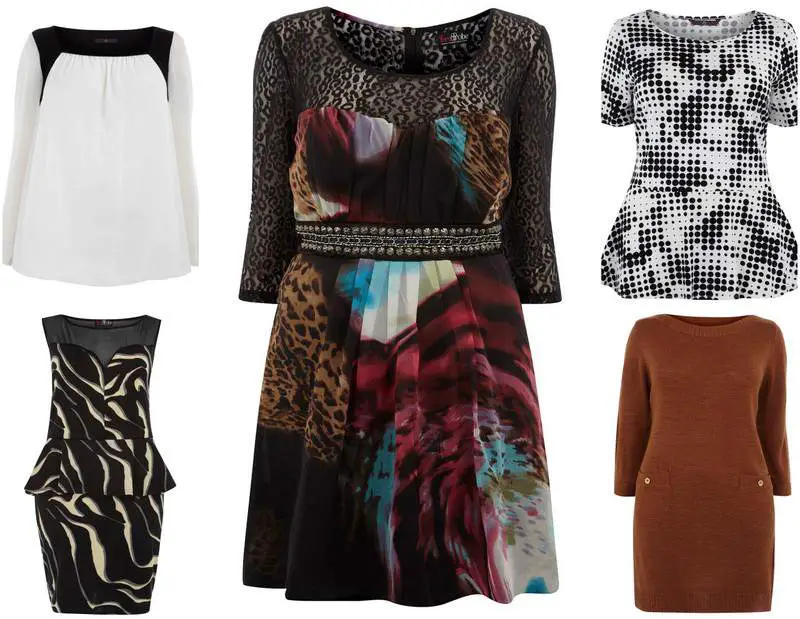 (Clockwise from bottom left: Lovedrobe Black And Cream Swirl Print Peplum Dress, Evans color block bubble hem top, Lovedrobe Multi Print Lace Dress, Evans Ivory Spot Peplum Top, Evans Rust Gold Button Knitted Dress)
Another UK transplant making inroads in plus size fashion, EVANS is another retailer who is delivering fashionable options to the plus size woman up to a size US 28! Clements Ribeiro and additional featured designers, EVANS brings a little sophistication and fashion flair to the party. In addition to the clothing, Evans too fashions wide width shoes, extended calf sizes, as well as lingerie for your enjoyment!
These brands featured, along with those I mentioned at the beginning of this post are places that I think share and have some of the cutest items that are contemporary and fashion forward above a size 3X. Finding plus sizes above a 24 still leaves room for improvement, but if we support those that do, more will come!
There are some designers that offer 26's like Queen Grace and sometimes City Chic, but I went on the site and could not find too much in offerings, so I did not include up there but still wanted you to know!
Did I miss any? Where do you shop for sizes better than a 3X? Share and sound off!
Marie Denee
I am the Editor in Chic of The Curvy Fashionista. Often goofy. Forever emo. Always a Virgo. You can find me somewhere grooving to 90s R&B.