Wasn't Virginie of Freaky Useless such a great spotlight last week?  This week, we are meeting up with petite plus size fashion blogger Shamika of Fro Plus Fashion!  Shamika's blog showcases her personal style but also tips on natural hair care, her insights as a petite plus size woman, and beauty reviews, all with budget in mind!  She is a plus size blogger YOU NEED TO KNOW!!!
Meet Plus Size Blogger, Shamika of Fro plus Fashion!
Blog:  www.froplusfashion.com
Age:  31
Height:  5'3″
Location:  Tallahassee, FL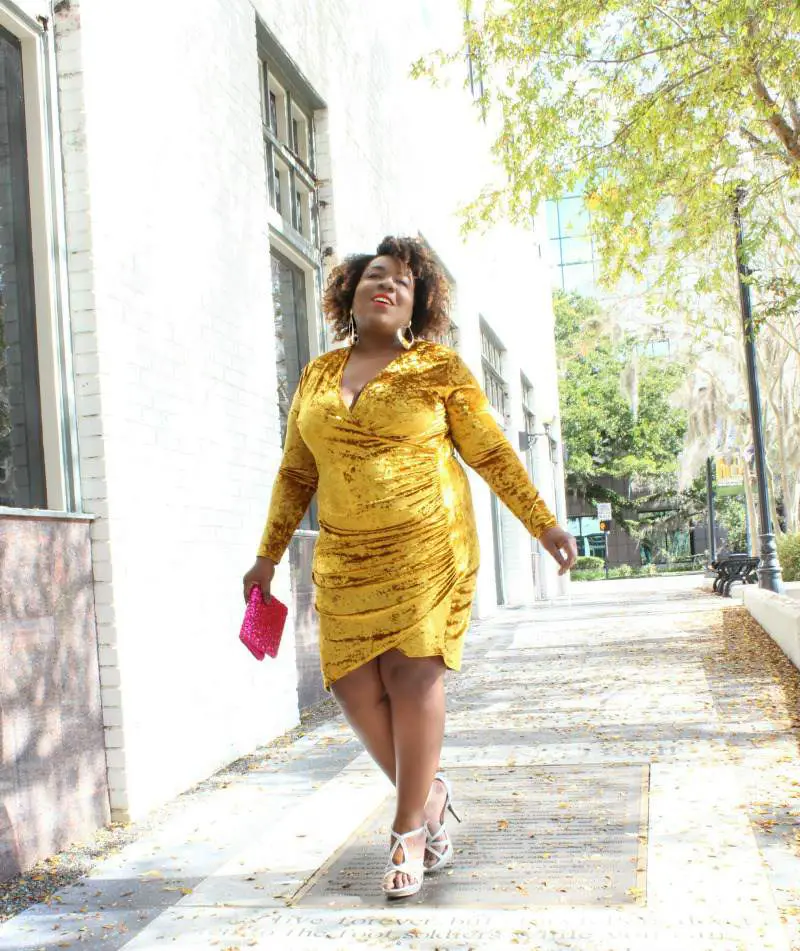 How long have you been blogging? 3 years

What or who inspired you to become a fashion blogger? What led you to it?
Blogging became my little space to be creative and share the things I love which are mainly surrounding natural hair and my plus size style.

Evolution!
Do you blog full-time, for fun, as a hobby? Share your evolution!
At first my goal was to become part of the change that I wanted to see in the natural hair community, by sharing how I managed my kinky, 4c texture natural hair. As I started shopping and thrifting more, I began to share content surrounding that as well.
Starting out, I didn't see a whole lot of women who were plus size with my hair texture rocking it, so my goal evolved. I wanted to serve in any way I could as representation for plus size women of color with kinky natural hair. So I changed Luvmika.com to something that resonates with my new goal. Now Fro Plus Fashion is where natural hair and plus size style meet. I'm a working mom, and I blog full-time by creating content during any available free time and spreading that content over a period of time.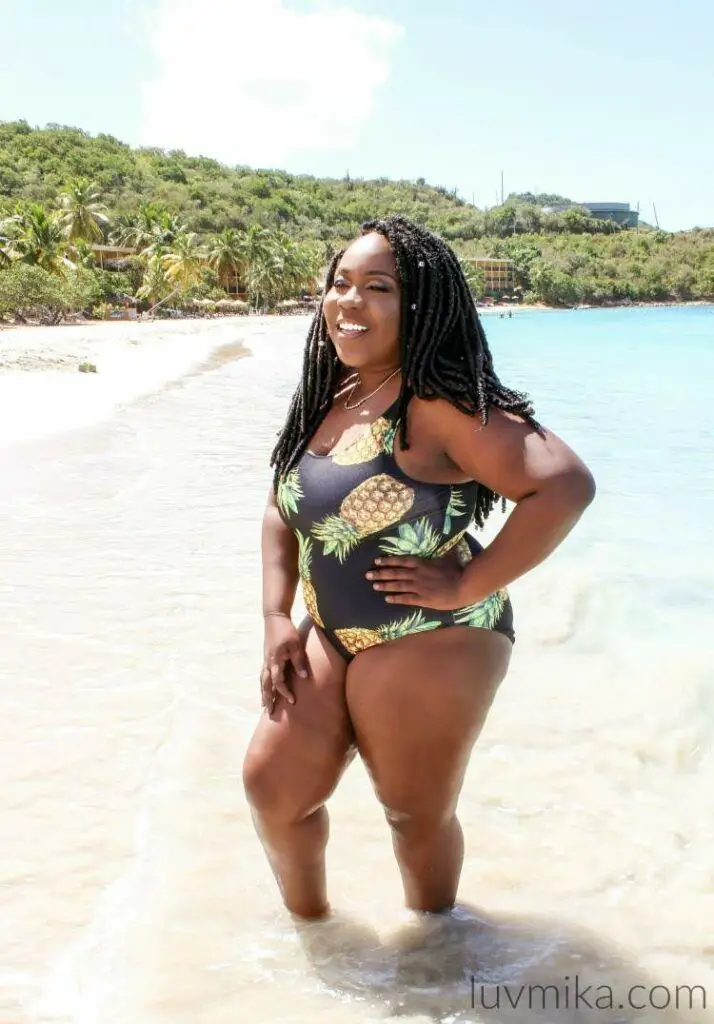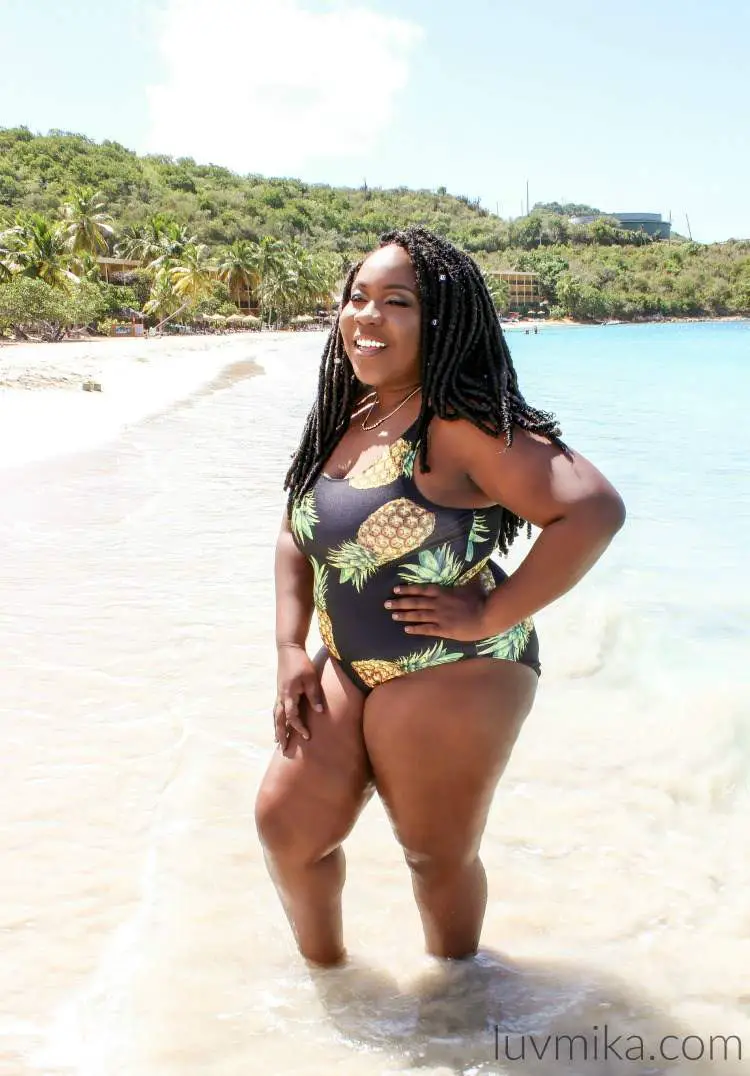 What is your favorite asset? Your legs, arms, waist? How do you play that up?
My thighs and my butt are my favorite assets. I play them up by wearing skinny jeans and tucked in tops and also free-flowing dresses with a wide waist belt to define my waist. A peplum top with anything form-fitting on the bottom is my hands-down favorite way to play up my assets.

Challenges
What are the challenges, if any, you face regarding being petite and plus size?
Wide leg pants, palazzo pants, and jumpsuits are a real struggle for me. They almost always end up dragging on the floor because of my height. Also I often have to size up with tops that have narrow sleeves to accommodate my large arms.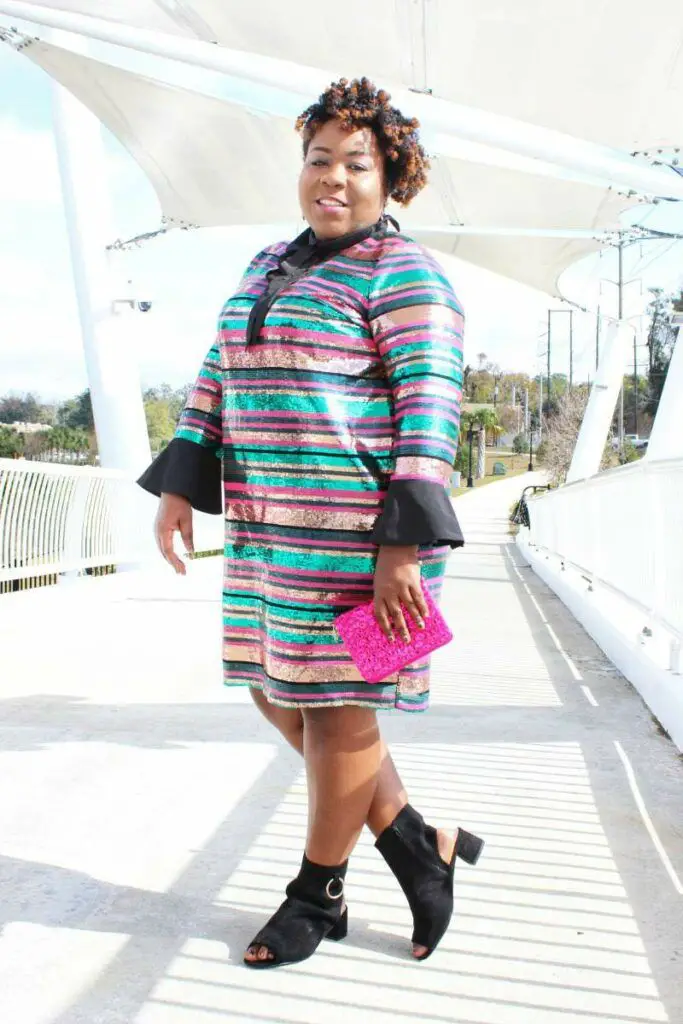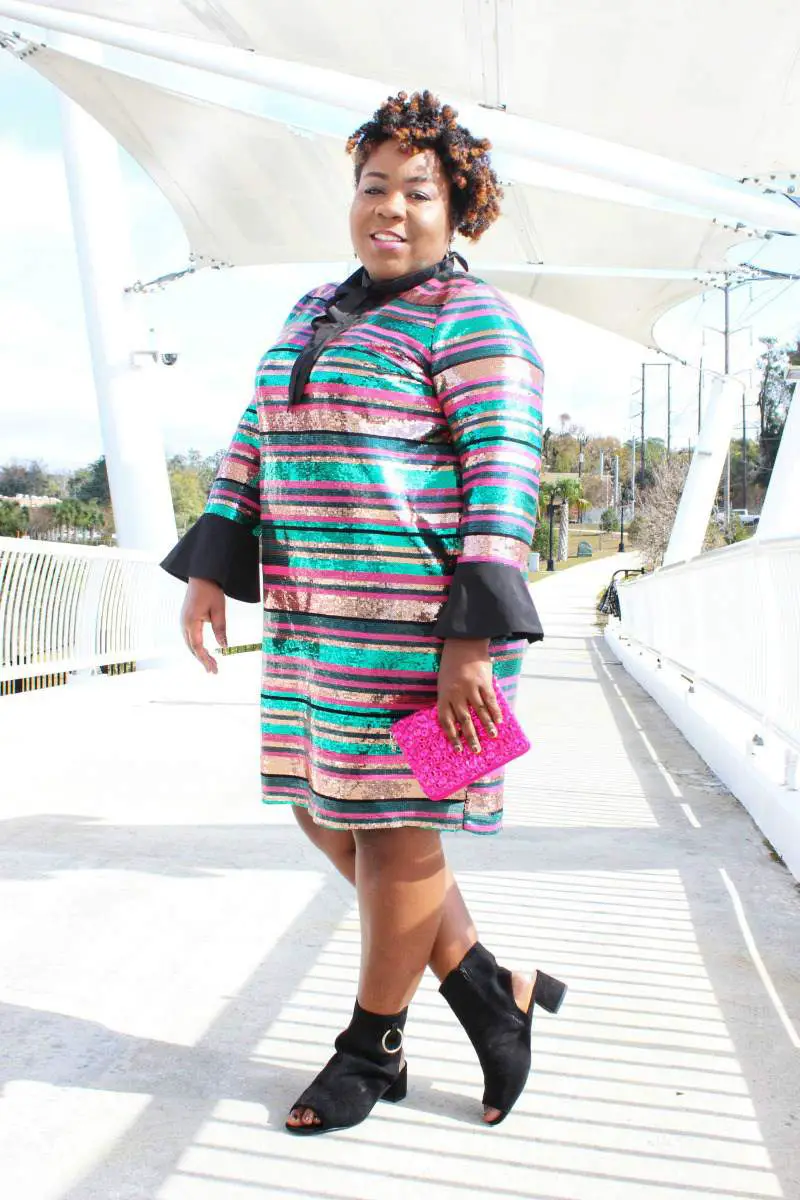 FAVES
What's your favorite thing about being petite and plus size?
It's very easy to achieve oversized looks because I'm petite. While I'm over here complaining about pants dragging, on the floor I love when my maxi dresses slightly graze the floor. I definitely feel more like a goddess when I achieve that look.
What's your favorite thing about being a blogger?
I really love the entire process of creation. From getting an outfit together, finding the right location, working with my photogbae to get the shots, and putting those shots together with valuable content for my readers. I also love the feedback that I get whether publicly or in the DMs about how encouraged women like me feel when they read the stuff I create for them.

Who/what are your favorite designers/brands?
My current favorites would definitely have to be ASOS, Eloquii, and the Who What Wear collection in Target. Target in general has been doing a great job of offering on trend and affordable clothing for plus size women. Gucci is a designer I really admire, but my coins don't line up with them… just yet. So for now I draw inspiration from their aesthetic and try to find affordable alternatives.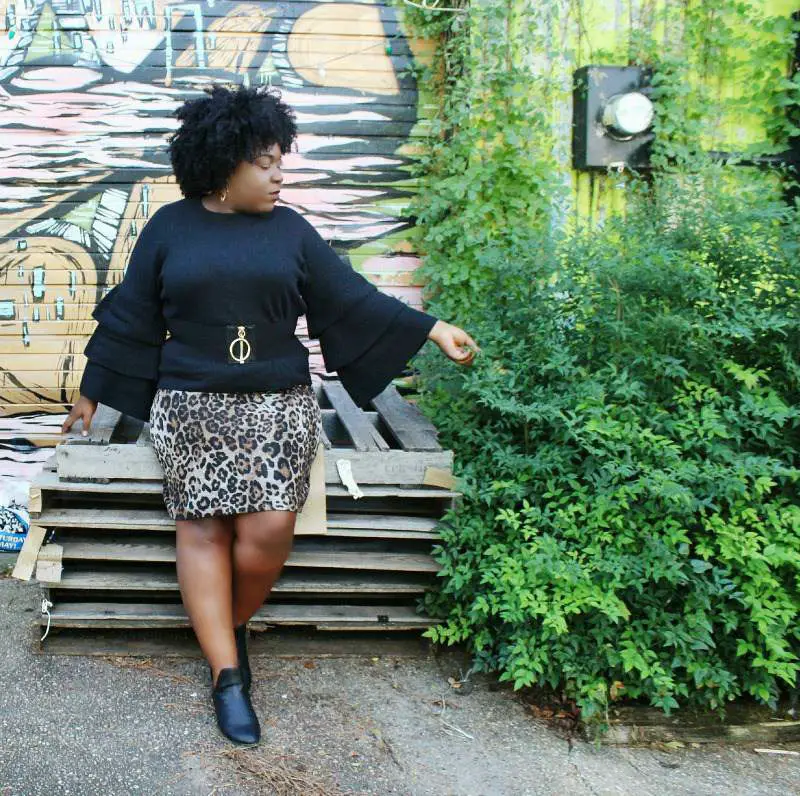 Who Are You
Describe your personal style.
My style is very comfy casual, but I'm a sucker for details (ruffles, layers, billowy sleeves,etc.) Those little details are the difference between blah and yaassss!

Which bloggers inspire you? Plus or straight size! Any bloggers currently on your radar?
Kellie Brown of And I Get Dressed is my #1 inspiration. I really love her free spirited style and am encouraged to experiment with my style and to just have fun with it.
Plus Size Today
What do you think about where plus size fashion is today versus a few years back?
I'm originally from and grew up in the U.S. Virgin Islands. The only plus size options on St. Thomas that were available growing up were Marianne's, Ashley Stewart, and later on, Rainbow. Now, there are so many brands that cater to plus size women I can't keep track of them all.
I love that we now have a well established voice that is the plus size community to encourage women to love themselves and look their best no matter their size. I feel we are closer than ever before to normalizing the image of plus size women in mainstream media, and I'm here for it.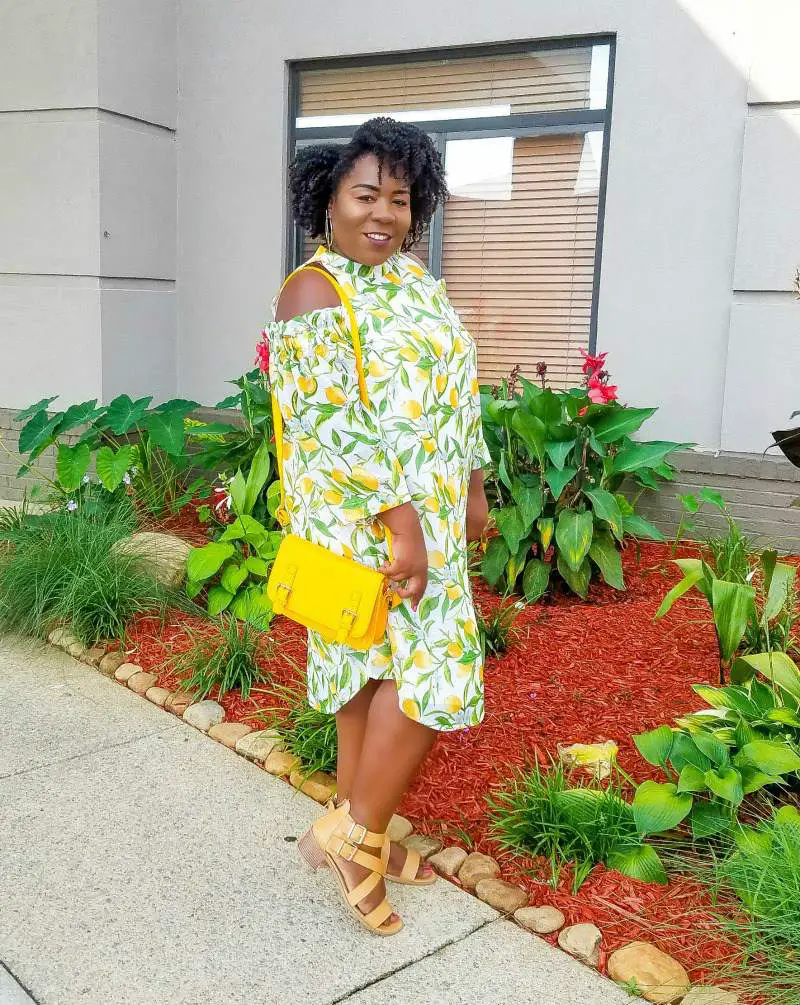 What do you think or hear from readers, is one of the biggest myths about plus size fashion?
I think there is the perception that there is only one way to be plus size and fashionable and that's having a banging hourglass shape and wearing bodycons and heels 24/7. Plus size fashion is available for so many different body sizes, shapes, and styles.
Extras
Are you working on anything or have anything to share? Anything else you want The Curvy Fashionista's readers to know?
I also have a YouTube channel where I share natural hair tutorials, product reviews, hauls, lookbooks, and how to style videos. You can also find me on Instagram and Twitter @froplusfashion.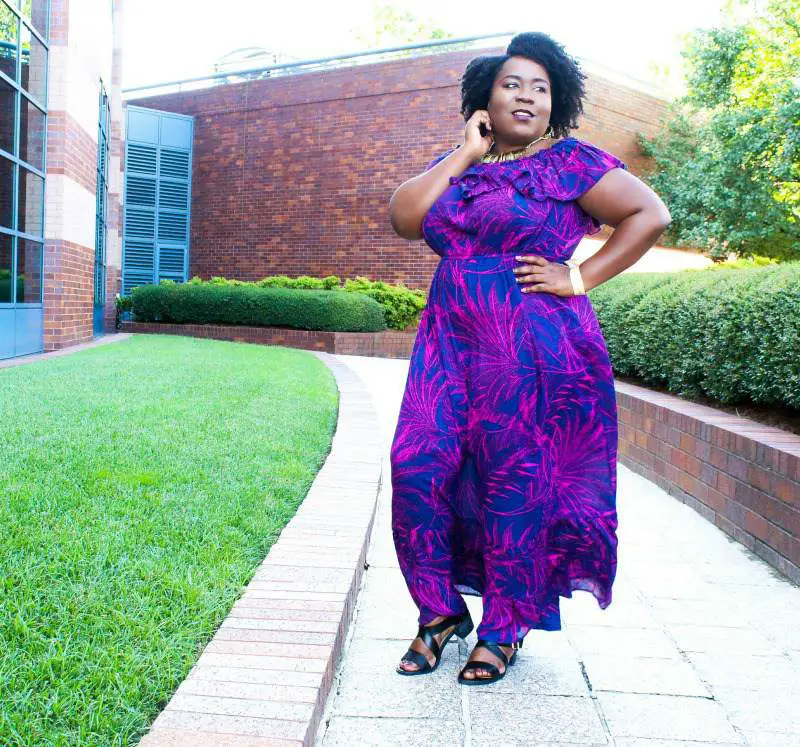 Lastly, what does Curvy.Confident.Chic mean to you?
Curvy Confident Chic means owning your body as it is , loving yourself as you are, and rocking your style without regrets!
How much fun is she?! I love her take on style and her attitude on plus size fashion and style, don't you?!!
Want to be featured?  
Make sure you fill out your deets here, so that we can feature you!
Looking for more plus size blogger style inspiration? 
Make sure you check out all of the other plus size blogger spotlights!