"I love being hot and fat," shares Peridot Robes founder, Marina Hayes. "I want to be hot. I am hot. And, I'm fat, and I want to look great. And even more importantly? I want that for other fat people. I want other people to feel hot and be hot. It's really a party once you get to a place of deciding you're going to be a hot fat person."
I am hot. And, I'm fat, and I want to look great.

Marina Hayes
And with that intro (truly the best way to introduce this brand), I'm excited to share an interview with Marina, all about her brand, Peridot Robes!
In this interview the (devastatingly) charming Marina shares:
Why she decided to start a plus size clothing brand
All the things that make Peridot Robes stand out — in the BEST way
Upcoming launches (jumpsuits!!) and what's coming next!
And, while I could definitely write a whole article gushing about the beautiful visuals (models, fabric choices, etc), I think it's MORE helpful to delve into the FACTS and STORY behind Peridot Robes – but also sprinkling in LOTS of gorgeous pictures. 😉
Are you ready? Let's get into it!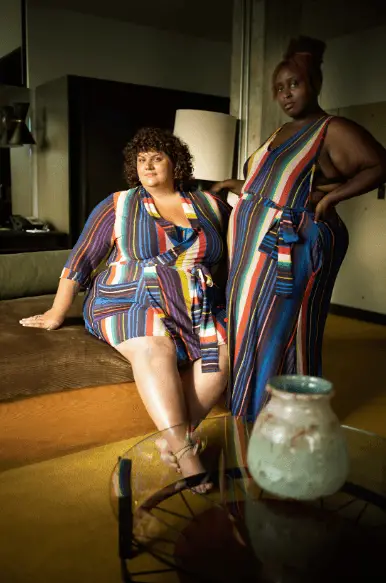 First up, how do you say "Peridot"?
When talking to Marina, my first question was on pronunciation. I'd tried to scour the internet for this information (nothing is worse than a writer who doesn't do her research!!), but I couldn't find it.
So, I (sheepishly) had to ask Marina.
When asked, Marina let out a joyful laugh and said, "It can be either way! I don't correct people. I say 'Pair-oh-dough," but if someone wants to say 'dot' [like 'spot'] that's totally okay! People can 'choose their own adventure'!"
Starting with Robes – The Peridot Vision
Like a number of other plus size and fat fashion designers, Marina started Peridot Robes because she was frustrated with her options.
"I used to live in a uniform of three quarter sleeve tunic length t-shirts off of Amazon and leggings," she explained. "I didn't know anything about fashion or think it was for me. It wasn't until I met plus size people in Los Angeles that I began to play dress up, and try new things. I began to have hope, and I realized I had been expressing myself through home decor and earrings. I realized, 'I can express myself through fashion!' and once that kicked in my entitlement and royalty kicked in – I wanted high quality and high value pieces that felt amazing and looked amazing."
I wanted high quality and high value pieces that felt amazing and looked amazing.

Marina Hayes
As a size 28/30, Marina went on to explain that seeing how the plus size consumer is treated in fashion also inspired her. "Nobody is speaking to the trauma of being a plus size customer," she shared passionately, "and how degraded we are every step of the way by brands. I feel like I'm healing myself through Peridot, by creating luxurious-feeling pieces that celebrate fat bodies. And you know what? It's working. We're sold out all the time. The lights are on, I've never had to borrow a single dime. We haven't had to do a gofundme or kickstarter, as our sales are supporting our growth."
I feel like I'm healing myself through Peridot, by creating luxurious-feeling pieces that celebrate fat bodies.

Marina Hayes
How Peridot Robes Works
If you've landed on this here interview, I'm betting it's because you're either a fashion nerd (hello!) or you're doing a deep dive on everything Peridot Robes.
Or both!
Below, you'll find information on how Peridot Robes releases collections, sustainability, and a bunch of other info I think is a MUST KNOW for plus size consumers!
Upcoming Collections & Drops
"We really work on a drop model," shared Marina. "It's normal for pieces to totally sell out during drops. The jumpsuits were released in 48 hours, and robes are coming back! We've been sold out of robes for months."
The Peridot Robe "Humpsuits" are super soft and cozy looking jumpsuits, available in colors: Black, Sunset Tie Dye, Black Floral and Peacock Green.
At time of this interview, Marina was excited (and maybe a little nervous!) about the drop for her humpsuits. Within a few days, almost all humpsuits [AKA "jumpsuits"] had sold out, and Marina is now taking pre-orders for round two, HERE!
The fans of this brand are truly unmatched!
Sustainability & Ethical Fashion
The drop model [releasing a set amount of inventory at a time], works for a business like Peridot Robes, because it fits in with their values around sustainability and ethics. By working on a drop calendar, they can plan out launches and find fabrics that work for the brand, releasing in batches as they find new fabrics.
Let's Talk about FABRICS
Peridot Robes is a sustainable fashion brand, using deadstock fabrics and ethical labor.
"I love choosing the fabrics," shared Marina. "We find super high quality fabrics that plus size and fat people often don't get access to, and I choose fabrics that will make people feel good when wearing our pieces."
We know fashion is more than fabrics, and Marina went on to explain her ethical manufacturing process:
"All Peridot Pieces are cut and sewn in LA," she shared. "I have a production manager and sewing room in LA. I've been to the space, regularly meet with the people, and it feels good to know exactly where our pieces come from."
It feels good to know exactly where our pieces come from.

Marina Hayes
At Peridot Robes, ethics is at the heart of everything they do. Marina elaborated, saying, "I constantly ask myself, 'Am I doing right by my clients? Am I paying my employees well? Am I doing right by my community?'"
What Makes Peridot Different – The Fit
While talking with Marina, I realized something that made Peridot different from many plus size brands on the market.
Marina is a size 28/30, and most brands (to my knowledge), do not do fit testing on a size 30 person. I hope it's okay to go full "fashion nerd" here, but most brands create a pattern for a size 20, maybe a size 24 – and then scale up to a size 30.
They test the pieces on a size 20 person, and [as my size 30 besties have shared with me] that fit often doesn't work NEARLY as well on a size 30 person.
Investing in the fit of a size 28/30 person really makes Peridot pieces stand out, and their raving fans really show this.
Because Marina is a fit model for Peridot (also hiring other sized models), the fit of her clothing works for folks a size 30 and up.
Additionally, Marina's thinking around fabric selection and fit is rather genius.
"I design pieces to fit a variety of sizes. As someone with endometriosis, I fluctuate by 12-17 pounds every month, it's almost like I have two wardrobes. Because of that, I create pieces that can handle fluctuations. I don't want my customer to be sized out of pieces."
She added, "For example, I'm a Peridot size 4. I can do a 3, 5 or 6. I'm 5'11"!! I use smart design and high quality fabrics to make each Peridot a lifetime piece."
I create pieces that can handle fluctuations.

Marina Hayes
Marina's smart design is perhaps actually magic(?), as she also shared, "We have had less than 10 items returned ever, out of multiple thousands of pieces."
Dressing for the Body You Have NOW
When asked whether she'd like to add anything before sharing sneak peeks, Marina grew quiet for a moment, then shared with conviction:
"Greater community, your body as it is right now is worthy of investment. Live your life as it is. FAT TODAY. Start treating yourself to things that fit you. Some people have this idea that fatness is temporary. They decide not to take that trip or go to that party or go for that promotion. But the sooner you can get to the point where you start treating yourself for the body you're in today, the more joy you'll find. Dress for the body you have TODAY."
But the sooner you can get to the point where you start treating yourself for the body you're in today, the more joy you'll find.

Marina Hayes
What's Next for Peridot Robes?
Looking at the website, Peridot Robes started with robes – and then rapidly grew to include crop tops, jumpsuits – even bags!
Ever an innovator, Marina is adding plus size period underwear to the brand.
"The period panties are a really big deal!" she gushed. "We have been in R&D for those for a year. It's been a push ever since. I decided to enter this space, because no one is designing for a plus size or fat body."
Marina is also frank about the process sharing, "Manufacturing ethical plus size period panties is not as fun or as easy as a robe. To do this, I ordered every single pair of period panties in my size. I reviewed them on my Instagram Story (highlight here), and I picked them apart. I shared what was and wasn't working. Fast forward, and we have finalized a fit and pattern!"
Marina also hinted at white terrycloth robes being available soon (terrycloth is a white towel-like fabric), and her eventual plan (mission) to get them in spas and hotels around the USA. As someone who hasn't been able to use a spa robe when I go to a spa, I LOVE this!
I don't say this about most brands, but the Peridot Robes Instagram is fantastic – I love their IG stories! I definitely recommend following the brand there. You can shop the brand here and follow them on Instagram here!