Peridot Robes is a new brand founded by fat activist Marina Hayes, that is making the world a bit more inclusive for fat folks by providing us with something that is surprisingly difficult to find in extended plus sizes – robes!
I think everyone reading this right now will agree with me when I say, fat people deserve ALL of the things that straight sized people have access to, and access to robes that are made to fit fat bodies is certainly one of them! With the #FightForInclusivity still going strong (shout out to Saucye West) we definitely want to highlight designers and brands that don't just stop at a size 24 or 3X (we have spoken extensively about body politics, fat liberation and the importance that plus size fashion has in all of those topics)!
Peridot Robes is here for folks sizes 14-40!
Peridot Robes Brings Luxury And Sustainability To Loungewear
These robes are not your typical robes, nope! Marina Hayes, founder of Peridot Robes set out to make luxury, ethically made, and sustainably sourced robes for fat folks sizes 14-40. I can't tell you how long and hard I have searched for a decent robe in the past, only to have to settle for an overpriced, ill-fitting robe. When I tell you all that my Peridot robe is my favorite thing ever, I am not exaggerating lol.
It is a feeling of cozy and comfortable that had not been available to me, and to other fat and super fat folks until now… And ya'll, we deserve that!

I reached out to Marina because I wanted to pick her brain on her inspiration when it came to creating her line, and of course, what's in store for the future of Peridot Robes!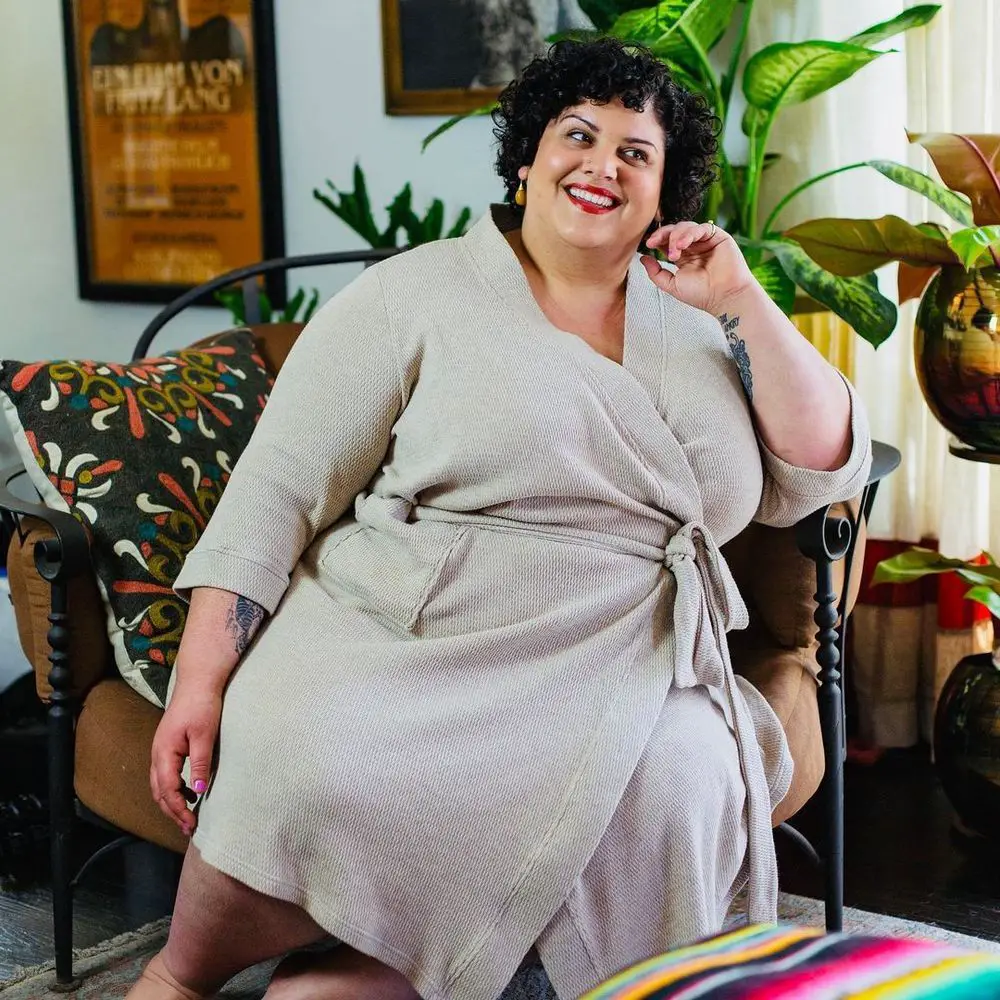 Marina Hayes Chats With Us About Her Line, & What's In Store For The Future!
TCF: How did you come up with your 3 core robe styles (Kush, Bear, and Peach)?
Marina: "The Bear is best for fabrics with a little more structure to them like our denim or waffle. I wanted front pockets available because I know side pockets aren't accessible for everyone (some people are unable to reach things on their hips easily) so I kept it as a "masc-leaning" style. The Kush is my ideal mama robe or for nights relaxed on the couch, it's so soft and comfy to wrap up in.
The Peach was developed because I wanted something that hugged my butt (🍑) and was very femme and dramatic and long!"
TCF: We wanted to talk about your upcoming collections. What can we expect from your next release?
Marina: "Our Fall/Holiday release is SO exciting! We have more tie-dye Kushes right now because they keep selling out!
I'm also making a men's robe going up to 8XL, we have a GORGEOUS lounger dress coming with pockets that's so versatile, and our Hoodie robe is amazing, it's basically like a hoodie sweatshirt that comes to right above your ankles! I'm also working on my wrapping skills so everything arrives gift-worthy for your loved ones for Xmas!"
TCF: Oooh, so you're expanding into loungewear as well?!
Marina: "Very much so! Peridot is all about being comfortable with a great fit, the highest quality fabrics, pieces you're investing in that will be your very favorite thing you own for years and years!
Our Lounger dress that's coming later this Fall is just the first step towards non-robe items!"
She's not lying… the tie-dye Kush robes are a best seller! I am the proud owner of a rainbow Kush robe and it always gets compliments when I wear it in zoom meetings (yes, I wear my robes on zoom) and when I'm lounging with my family! Currently, there are Rainbow, Black and White, Peachy Purple, and Pinky Purple Tie Dye Kush Robes available! Get 'em while you can!
Want To Know More About Peridot Robes And How To Get Your Hands On One?
The robes are $190 each, or you have the option of paying in installments with Klarna or ShopPay. It is definitely what I would consider an investment piece, but one that is definitely worth it! With the holidays coming up… these would make the perfect gift for any plus size person you love.
Go to www.PeridotRobes.com to see what's currently available, and prepare for the coziest fall and winter ever!
Had you heard about fat-femme-owned and operated Peridot Robes before? Do you have any other fat-owned businesses we should know about?
Please share in the comments!