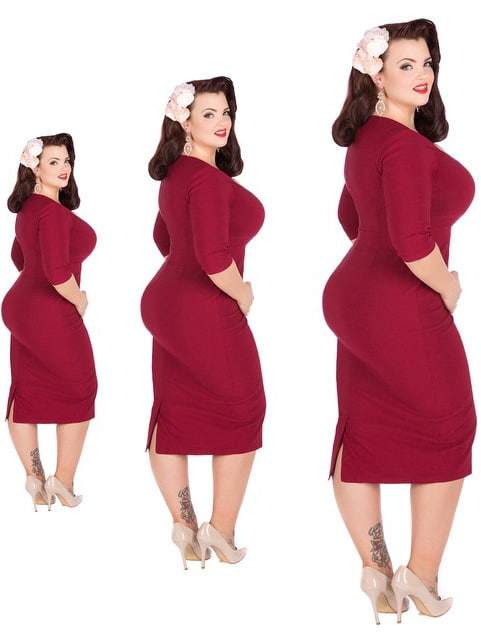 I love when another blogger gets all fancy and chases their dreams, makes something happen really cool for them, and shares it with us! Such is the case with my boo, UK plus size blogger, Georgina from Fuller Figure Fuller Bust did when she created her own clothing line with Lady V London. Lady Voluptuous is Georgina's collection, created in collaboration with Lady V London! After the success of designing the Estella dress and its success, Georgina was invited back to create a full line with them!
Talk about amazing. I am sooo damned happy for her and even more excited to share this collection with you! Great classic shapes, playful prints, and bold colors that I need to add to my closet stat. I already have my eye on a few of these dresses… I want to see if you will be able to guess my faves later down the post!
"It was pretty overwhelming to say the least, and it still doesn't feel quite real! I think once I start to see people wearing my designs and talking about them then the excitement will really hit!"
Lady Voluptuous is the UK's first dedicated Plus Size Vintage Clothing label, "Made in London, England." The Lady Voluptuous collection ranges from UK sizes 12-28 and, AND, they shop WORLDWIDE boo! So no worrying about not being able to shop the range!
"I wanted to design dresses that plus size women had maybe not had the option of wearing before. Figure hugging, fab prints, great necklines – options, exclusively in dress sizes, and all made right here in the UK! It's been pretty wonderful to tip ideas out of my head and onto paper and then see them come to life on the hanger and on my body. I hope to make plus size women feel beautiful and sexy and in love with their bodies in these creations."
Take a peek:
Blogger Fuller Figure Fuller Bust Creates New Line- Lady Voluptuous
(To view, just click the first photo and each dress is linked for you too!)
In the collection, there are three silhouettes- the Lyra, Cosette, and the Medusa, in various shades and patterns. Georgina named the dresses after characters that she adored or loved watching in books, plays, films and poems. As the collections grows, she plans on adding skirts, tops and accessories to collection further down the line! Get it girl.
"At the same time, I want the dresses to be for women who are not me. Older, younger, bigger, different skin and hair colors, different shapes, different preferences – and of course I wanted to love everything, but I also wanted people with opposite tastes to love them too."
You can shop the collection, NOW at LadyVLondon.com
Which piece can you see yourself in? As my own personal style evolves, I am all about this Medusa dress… yesss honey. I think I need it in red AND blue. If she does more skirts, I am here for both a fitted midi and full swing skirt option!
Here's to chasing dreams! Woot!