By Nadia, Zelie for She. Astra Signature. Rebdolls. Premme. Day Won. Girl with Curves. One Curvy Boutique. These are the plus size clothing brands and businesses started by plus size bloggers, models, and influencers. And it is kind of exciting! Well, today we add another one to the list! Kristine from Trendy Curvy launches her collection, KIN by Kristine.
These curvy bosses have leveled up their business and brand to take their brand to the next level, and we love them for this. So, when we saw that Kristine launched her own label, we knew we had to share this collection with you!
On the naming of KIN by Kristine:
"Well KIN means family and that's exactly what I want this brand to feel like. I very much have an online family with TrendyCurvy so I would love for that same community to transfer over into this clothing line.

But also, KIN is an acronym. The "K" is for me, Kristine, the "I" is for my mother whose name is Iris and the "N" stands for my sister Nicole. A literal representation of family and fashion."
Plus size fashion is at an interesting place. For the longest, the community would challenge brands, designers, and the media to do more for plus size fashion. While we have made amazing strides, we still need more and…
Here is where Kristine from Trendy Curvy has come in with her collection, KIN by Kristine!
For the inaugural collection, Kristine gives us a 7-piece collection pulling in jewel tones, classic silhouettes, and playful prints- all at an affordable price!
"Fall is my favorite time of year when it comes to fashion. I wanted to create pieces that were classic but that also were as vibrant and bold as the Fall color palette."
Your First look at KIN by Kristine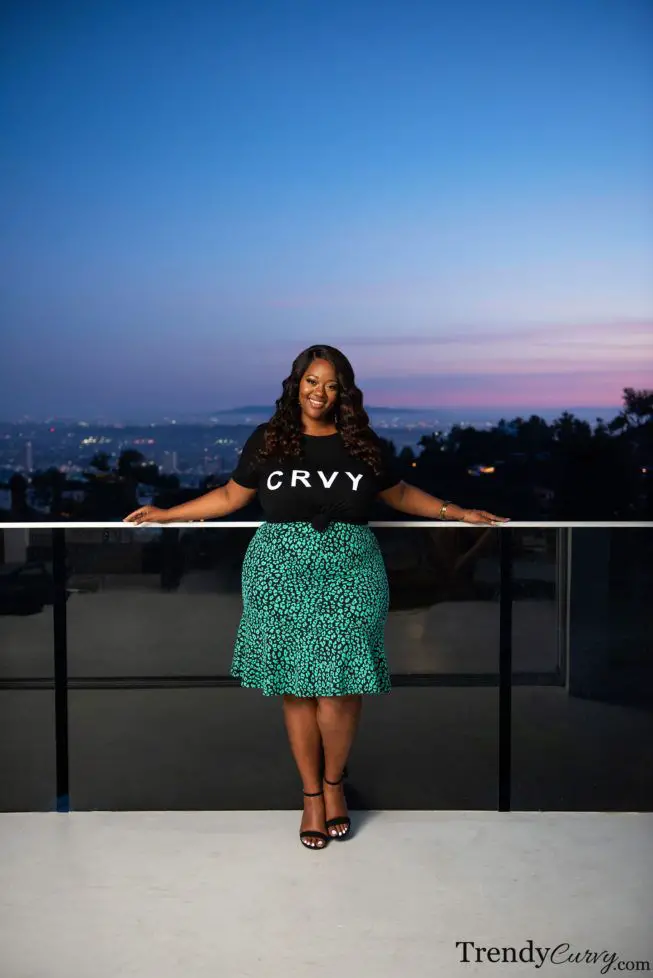 Do you see a few items that you have to have? We do… especially that jumpsuit! We are so excited to see how this collection grows and develops. Launching anything and stepping out on faith is no small feat, so congrats Kristine!
"I've really tried to keep my items as affordable as possible, keeping in mind that KIN is not a fast fashion brand. The clothes are designed and manufactured in the USA. With that being said, there is no item over $80 and there are items as low as $36."
Kristine of Trendy Curvy will launch KIN by Kristine this Friday, at 11 am PST and the collection is fashioned in her backyard, Los Angeles, CA!
Shop the collection October 25th, at KINbyKristine.com
Available in sizes 14-26, this line launches with a limited run collection, meaning that once they sell out, it is gone! And for those outside of the US, yes, they will ship internationally!
What do you think of the collection! See a few pieces that you will want to play in? Let us know what you think and which items you are in love with!