Are we ready for fall season yet? I mean, even though the weather is acting funny, but that does not stop our excitement for the new arrivals to fashionably clothe us! Soooooo, when we caught wind of Nadia Aboulhosn 90's inspired fall collection, we knew that we had to share this with you! Textures and tones married with fall's hues and Nadia's unapologetically bold and confident styling.
Nadia Aboulhosn is no stranger to the fashion game, who has combined her skills and passion to creative a jaw dropping collection. Last spring, Nadia debuted her inaugural 2017 Spring Collection. Did you see or shop that collection? Well, if you missed it, then you have the chance to give her collection a go with her newest arrivals.
"My inspiration came from the 90's for this collection. I think every collection I drop I end up releasing something that is oversized. For this Fall release, it's the burgundy blazer. I wanted something you can wear open as outerwear, be able to layer it, or keep it closed and rock it as a dress. The detail I love most about it is the velvet pin stripes.

For the Willow dress I wanted to make your not so typical bodycon, something that hugs your body but also has lots of texture. The inspiration is pretty easy color palette wise. Black for Fall is my first go-to. After that, burgundy and gold are right behind. All of them together mesh so well. I love layered organza mesh so I made a 3-layer bell sleeve and turtleneck to match.

The socks match perfectly with it. The scrunched up mesh was really something I was experimenting with this collection." Nadia
Are you ready? Scroll down to see the Fall Collection!
Nadia Aboulhosn Drops Her Fall Collection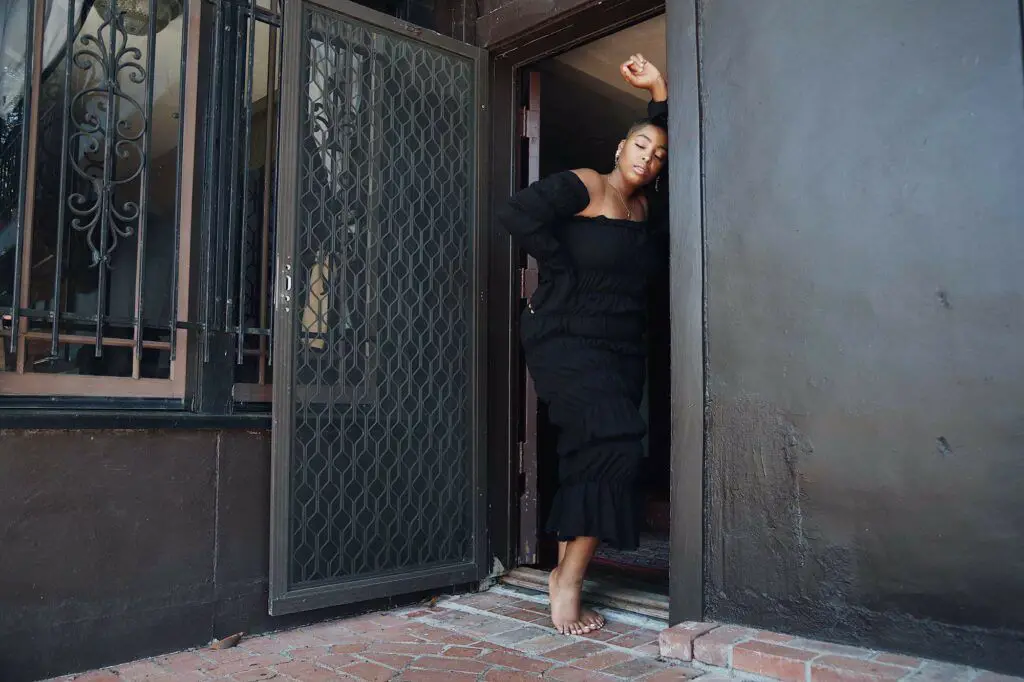 I love the combination of the velvet pinstripes on the burgundy blazer! I can already see the versatility. Paired with this season's must have, velvet, I can see this making a move in my closet. This blazer can be worn as an oversized dress paired with thigh high boots OR back to denim and stilettos.
Options! Options. Another favorite? The 3-layered bell sleeve turtleneck dress is perfect for a girl's night out.
Definitely not for the shy or demure, this collection is definitely for the confident, bold, and daring. The Nadia Aboulhosn Fall 2017 collection definitely captures a mood. This collection gives us a few of the fall trends we can't get enough of…
Shop the new collection, now, at bynadiaaboulhosn.com
And guess what? This collection drops today!
What do you think? Which look can you see yourself rocking?