Intention through one's artistry is an authentic manner in achieving pure self-satisfaction. FOC (Flaws of Couture) owner and Toronto native Sashagai Ruddock is an award-winning creative who takes pride in her attention to detail, versatility, and overall execution of her vision. Sashagai's "fashion show eye" shines through her fierce collaborations with brands such as REBDOLLS, Shein, and Channa Karasi.
Sashagai has not only built a fashion-forward, inclusive clothing brand from the ground up, but she also directs the ever-successful "Deddy's Kitchen" YouTube series starring her charismatic father. In a world where time in itself is seen as fleeting, Sashagai prides herself on constantly taking her time in obtaining the professional and personal moments that genuinely mean the most. Nevertheless, there is no denial that Ruddock's overall path has been crafted with care, purpose, and structure.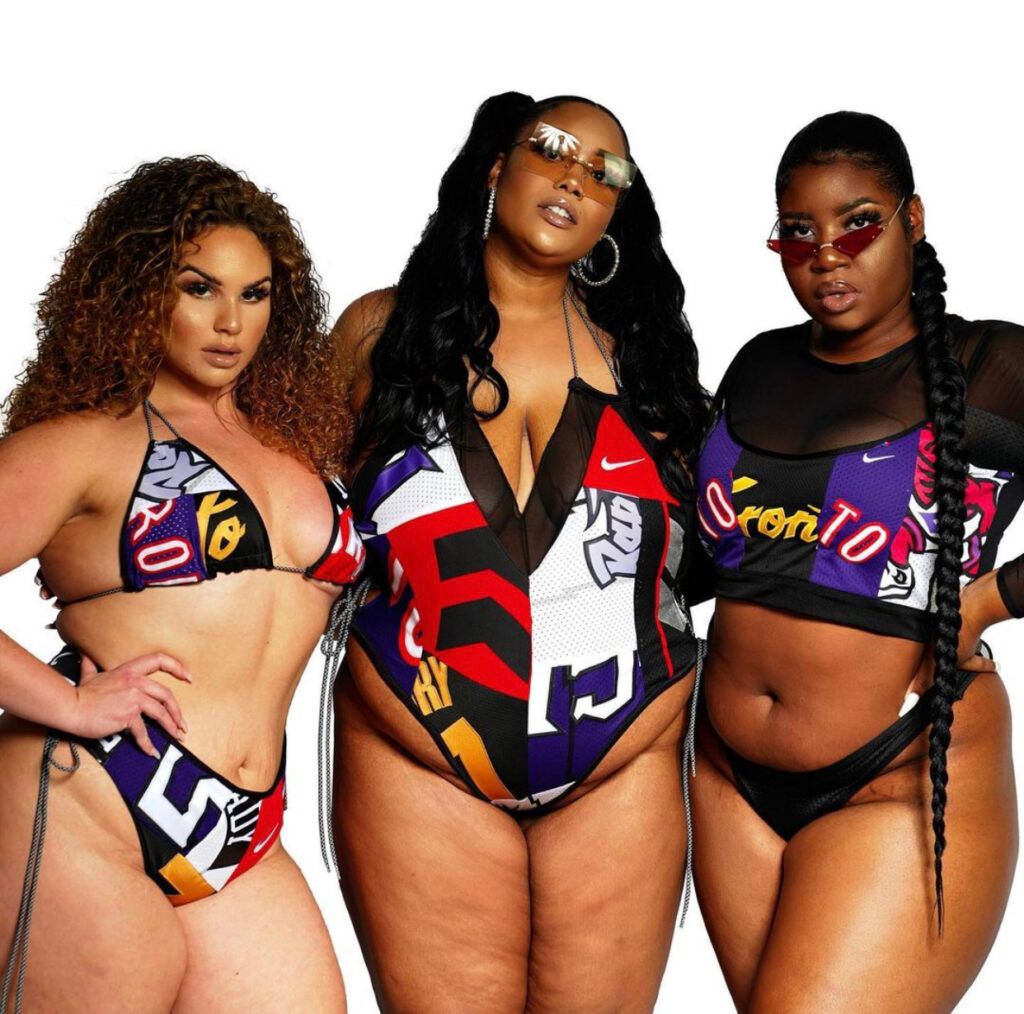 Sashagai Ruddock on Her Clothing Line "Flaws Of Couture"
What are some structural details that you look for when constructing one of your legendary looks for "Flaws of Couture?"
For me, it can vary. When it comes to structure, I love a good structured arm. I love shoulders – like really good structured shoulders. I love long lengths. I love an oversized look just as much as I serve a really skimpy, tight look. But the whole oversized high fashion look? If I can make a piece that is comforting as much as it is high fashion looking then I'm sold.
"Flaws of Couture" ended up winning the Shein X 100K Challenge contest finale and the $100K grand prize! How was the overall experience for you, and what can fans look forward to in the future?
The experience of the Shein X competition was wild. It was very much an experience I did not expect. I entered the competition, not realizing how grand it would be. I really thought that I was just gonna go after this 100K and compete against hundreds of designers across the world. I knew it was a big competition, but I didn't think that it would be so highly publicized and that there would be celebrities.
It was a part of the twists and turns throughout the competition, right? We weren't supposed to know that until we had made it to a certain point. It was really a life-changing experience because it showed me just how far I've come and just how qualified I am. Sometimes, imposter syndrome makes you believe that you're never at that level or you're just not good enough.
This opportunity and the competition put everything in perspective for me. It put a mirror up in front of me and was like, "Yeah, you thought you weren't worthy, but you are, and you're here."
What can everyone expect? You can expect lots of couture and doing exactly what it's done over the years. It's just taking its time and evolving into what it's supposed to be, right? I do not feel pressured by anything. I don't feel like I have to abide by any rules when it comes to timing. I'm just not that type of person, and I like to do things when I'm ready. I feel like the best product comes when I am ready and when I truly when it really lights me up inside, you know?
I don't like to give anything that's not my best, so you can expect that the next drop will be something that I've thought out, something that I'm in love with, and something that everyone's going to want to be a part of. I can't put a timeline on it, but I'm hoping that it'll be sooner than later.
On Working With Her Father On The Successful "Deddy's Kitchen" Series
You're a woman who is not only a successful fashion designer but also a successful YouTube show-runner with "Deddy's Kitchen" starring your legendary father. What is your process like creating a feel-good, engaging cooking show that thrives on the family dynamic?
I would say just being yourself. Being so true to what was already there before the cameras were there. For my Dad and me, we've always been super close since forever. So when we started this YouTube channel, I just reiterated, "You know? The only different thing is that my iPhone is here. That's it. That's all." I tried to remind him even when people bring in suggestions.
Even my mother does it at times (who's awesome). Sometimes she'll be like, "you know, maybe we should do this instead," which I always hear for suggestions and whatnot. However, if it seems too far away from who we are and how you would interact with each other (whether the cameras were there or not), then I always say that I'm not here for it.
I try my very best to keep it true to us, true to who we are, true to how we cook, true to what dinner being served is like, and true to what it's always been like in my home. I think that's the key to keeping it as engaging as it has been.
Oh, absolutely. I saw the YouTube commercial, and it was so beautiful! It was authentically emotional and just felt like home. It felt like family. I can only imagine being you while watching that and seeing that.
The thing about my Dad is that he doesn't know how to turn on a computer. Social media and electronics are the furthest things from anything he's ever known. It's just not him, right? It's very old school. It's about being able to be like, "Hey, Deddy! This is your commercial!" Yes, It's amazing. It's an amazing feeling. But for him, it's just like you would never imagine that he's 64-years-old.
A lot of the time, people will say, "Oh, these are the years where you're like narrowing it down. You're getting older, and there's not much left." My Dad defies that by starting at 63 and being at the height of his career. It just goes to show that time is an illusion, you know? It's there, but there are no rules to how you do it and how you live it.
What is your favorite meal to cook with your Dad for a holiday family feast?
I'm gonna say – we try to get him to make (well, you know what? That's my Mom. She'll kill me if I say that) is his ham or the turkey. If he does a smoked turkey? Oh my God. A turkey is good, but a smoked turkey? There's nothing like it, especially if he has the time to do the stuffing and all that good stuff. Oh my gosh – I would say it's probably one of my favorites because it's just to see it transform and just to know what it's going to taste like. That and curry goat for sure!
On Body Positivity, Inspiration and Being Present
Sashagai, what is your own personal definition of "body positivity" during this most recent era?
"During this most recent era" is a great way to put it. I feel as if so much has changed, and so much is changing. Body positivity for me? I try to simplify it as much as possible. I know there's a lot of different definitions and a lot of people believe that only a certain set of people should be able to use it.
The reality is that it's been infiltrated, and everyone is body positive, right? Honestly, I think if we were to boil it down, I would say that body positivity should be for everyone. It should be for any type of body that you have. Any single body – the body that you have in this very moment right now. Not tomorrow. Not yesterday.
The body that you have at this moment should be celebrated whether it is plus-size, thin, surgically enhanced or not, and whether it's botched or not. So you have to come to a place where you realize that the only thing we have is the present moment.
The body that is there with you in that present moment should be celebrated. It's positive because it's keeping you alive. It wakes you up every morning. It's giving you another chance despite everything you do to harm it because we do, you know? We do harmful things to our body. We have terrible self-talks to ourselves, and that harms our body also. We don't really think of it as harm, though. We think of it as normal. The reality is that our body endures so much and deserves so much better whether it looks like how you want it to look or not.
For me, that's what body positivity is – it's celebrating the body that you have right now regardless of what you've done, regardless of what it shows up looking like, and regardless of what you want it to be. It is what it is right now. That's what you should be celebrating now.

What are some creative bodies of work that serve as a source of inspiration towards your overall creative process (film, music, tv, etc.)?
I would say music specifically. Afrobeats, Dancehall, and Reggae are huge influences on the color choices that I choose and the boldness that I go for when it comes to pieces. Even if it's old school back in the day when I was doing pieces that had statements on them and whatnot. The boldness comes from my culture of us not being (as a Jamaican girl) afraid to say how you feel and mean what you say and say what you mean, you know?
A lot of people think of it as being "feisty" or whatever it may be. It's just culturally how we were raised to be – bold and confident in who we are. I would also say the movie "Dancehall Queen," which is an old-school movie from the 90s that takes place in Jamaica. It follows the life of a street vendor who cannot make ends meet. She dresses up as a Dancehall queen to compete at nighttime while hiding her identity to win some money to take care of her family.
The visuals, the culture, the colors, the loudness, and the boldness of "Dancehall Queen" have always inspired me. It has challenged me to make pieces that can go through any season but still celebrate the brightness and boldness of Jamaica and the West Indies.
What are your favorite ways to prioritize joy in your life?
My favorite way to prioritize joy in my life is by being present. I'm very much a God-fearing woman. God has shown His presence in my life so much that it's very hard for me to deny. So I am very big on just being present and being in the moment. I tapped into the realization that we don't have anything but what we have right now. We don't know. We hope for more after this moment, but we just don't know.
I think how I prioritize is just by being present while being in the moment. It means that you're not just shoving loved ones away or saying, "Oh, I'll spend more time with them tomorrow." If you have a moment to spend time with them today, then do that. You'll be surprised by how much joy that brings you.
It brings me a lot of joy to spend time with my parents, my family, or with people who have good intentions for me. Go where the light shines and where you're loved. Spend time there while turning the phone off and just be in that moment. This is how I prioritize joy, and I hope that I find more ways because it's truly so important.
This interview has been edited for length and clarity.
Digital Cover Details: Cover Model: Sashagai Ruddock.