You don't need a significant other to enjoy all the hearts and chocolates that are to come. However, the flowers and treats don't hold a candle to the plus size Valentine's Day lingerie out here.
The lace, garters, and straps will help you remember why this day is for you.
The offerings for plus size lingerie has come a long way since ice cream cone bras were all we saw in our sizes.
There's still a ways to go, but that doesn't mean there aren't places to shop both simple and sexy pieces for your Valentine's Day.
In fact, a lot of brands have been dropping Valentine's Day-specific collections to sink your claws into.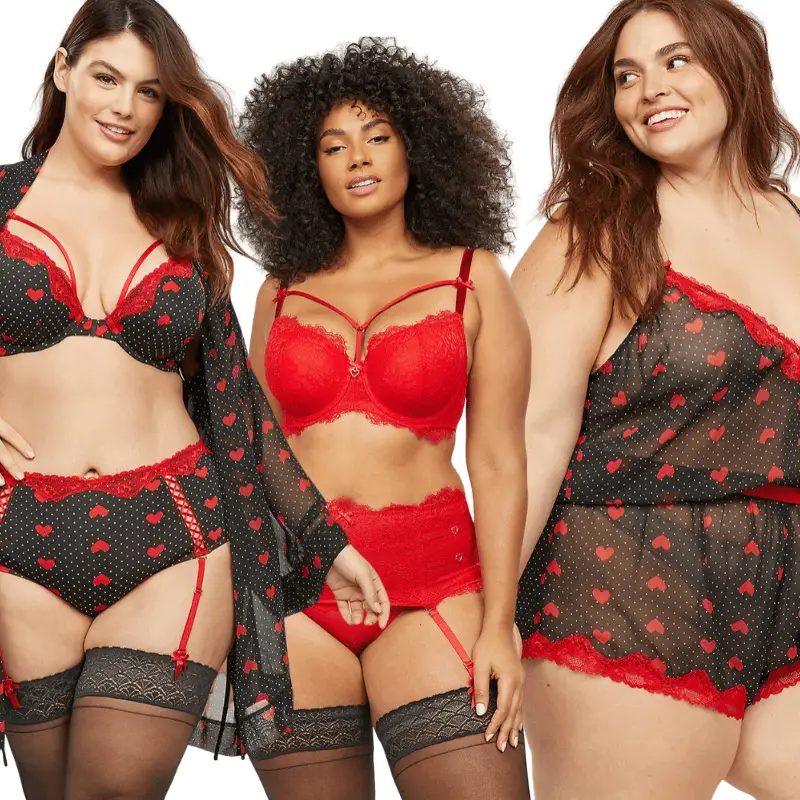 Cacique has stepped its game up with fitted bodices while Pretty Little Thing's plus size selection carries even more trendy Instagram-worthy pieces you can mix and match.
And of course, we can't forget about the Savage X Fenty Valentine's Day launch in collaboration with Adam Selman. And if that name sounds unfamiliar, he's the designer behind Ms. Fenty's CFDA naked dress.
Everything in this list is compiled of products that span bras, panties, negligee dresses, and a whoel lot of lace.
Ready to see what's stacked for this year's Valentine's Day jamboree?
Here's a Few of the Best Plus Size Valentine's Day Lingerie Out Right Now!
Hot Pink Harness Strap Underwired Slip With Suspender From PrettyLittleThing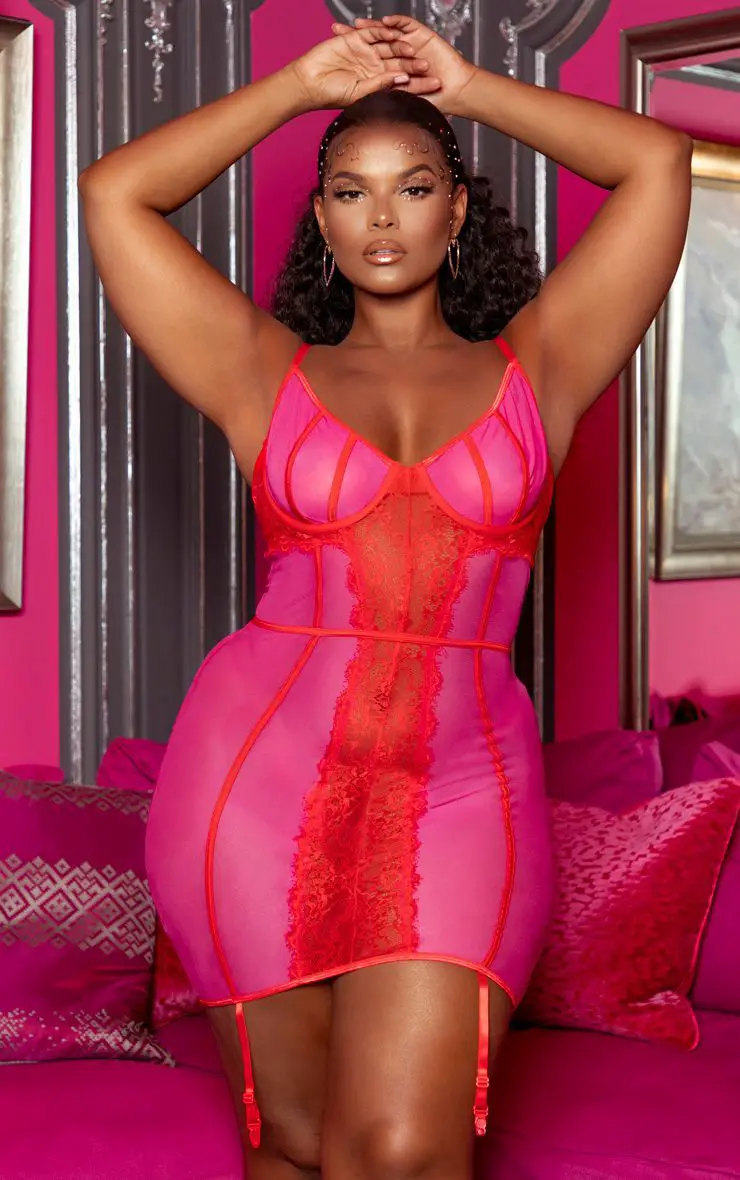 PrettyLittleThing's Valentine's Day collection includes this hot red and pink bodycon garter dress.
While this doesn't strictly have to be reserved for the bedroom, you run the risk of breaking necks.
This dress comes with underwire in the bra and retails for $52
Score this at PrettyLittleThing.us
Black & Pink Lips Cotton Cheeky Panty from Torrid
Plus size Valentine's Day lingerie doesn't have to be too plain or too sexy.
Sometimes, the happy medium is this pair of pink lacy lip panties from Torrid. Torrid has a lot of cute cheeky panty styles like these.
You can even get these in the thong style if that's more your vibe.
Score these from Torrid.com
Locked Down Garter Belt from Savage X Fenty
Lizzo's Instagram may be enough of a reason to buy the lingerie set including the Locked Down Panty and Bra.
Though this look is the star of the entire Savage X Fenty Valentine's Day collection, you may want to opt for just the heart-shaped garter belt to match with several other Savage looks you may have stashed away.
Get this at SavageFenty.com
Colina Unlined Corset Set from AdoreMe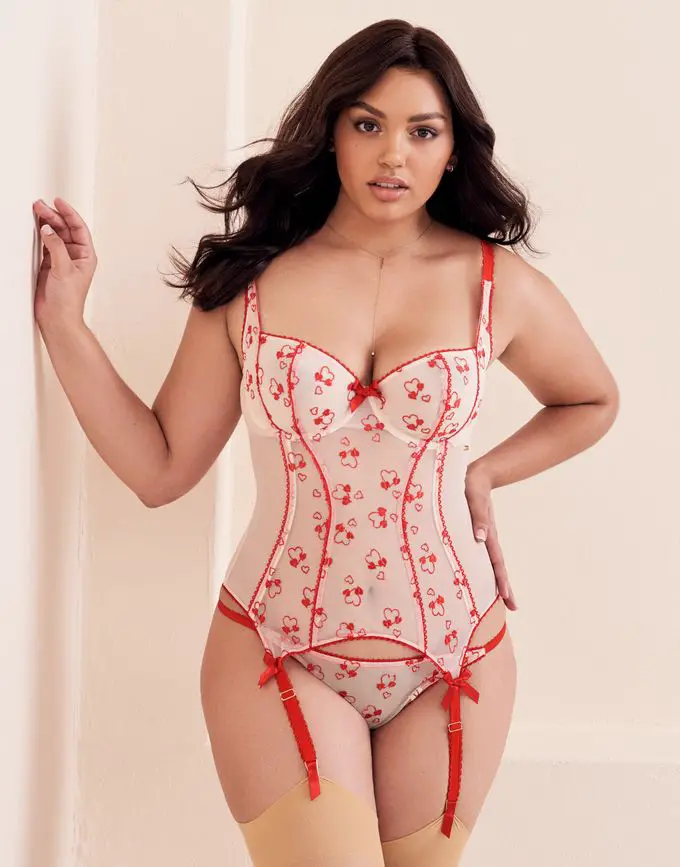 AdoreMe is spearheading the season with some cute unlined corset sets. The brand has panty sizes up to a 4X for this option.
Plus the corset top has sizes available by bra size. Not to mention, you can get the entire set for under $70.
Get this at AdoreMe.com
Ruched Bralette from TomboyX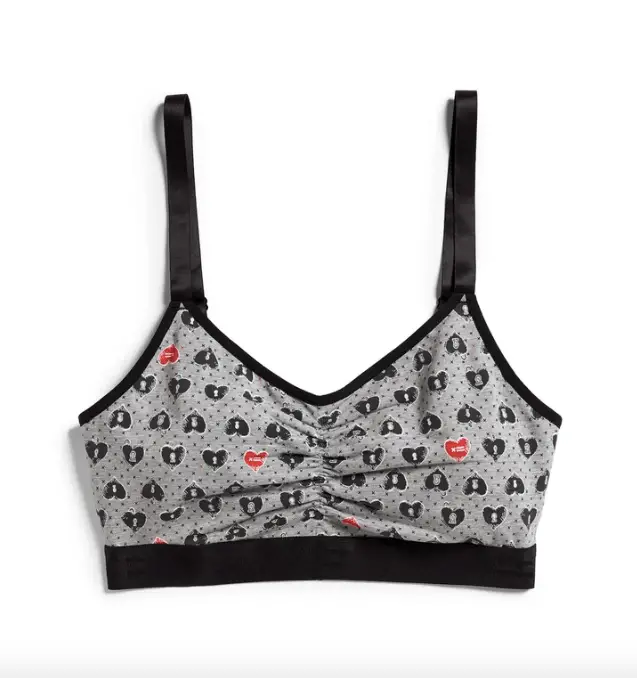 Dressing super femme is a thing of the past when it comes to Valentine's Day in 2020. TomboyX is one of our favorite places to shop gender neutral lingerie and undergarments.
This ruched bralette comes in several different designs, but in honor of V-day, these locked hearts are a must.
Plus, with adjustable straps and cinches at the waist, you'll have a fitted, but relaxed fit.
Score this at TomBoyX.com
Black Mesh & Red Heart Flocked Longline Underwire Bralette from Torrid
Torrid blew its collection beyond expectations this year. The brand offers this sculpted black mesh underwire bralette so that you're feeling sexy and secure all in one look.
The bra retails for $49, but you can match them with the pair of cheeky panties as a set for $70.
Score this at Torrid.com
Dusty Pink Delicate Lace Baby Doll Set from PrettyLittleThing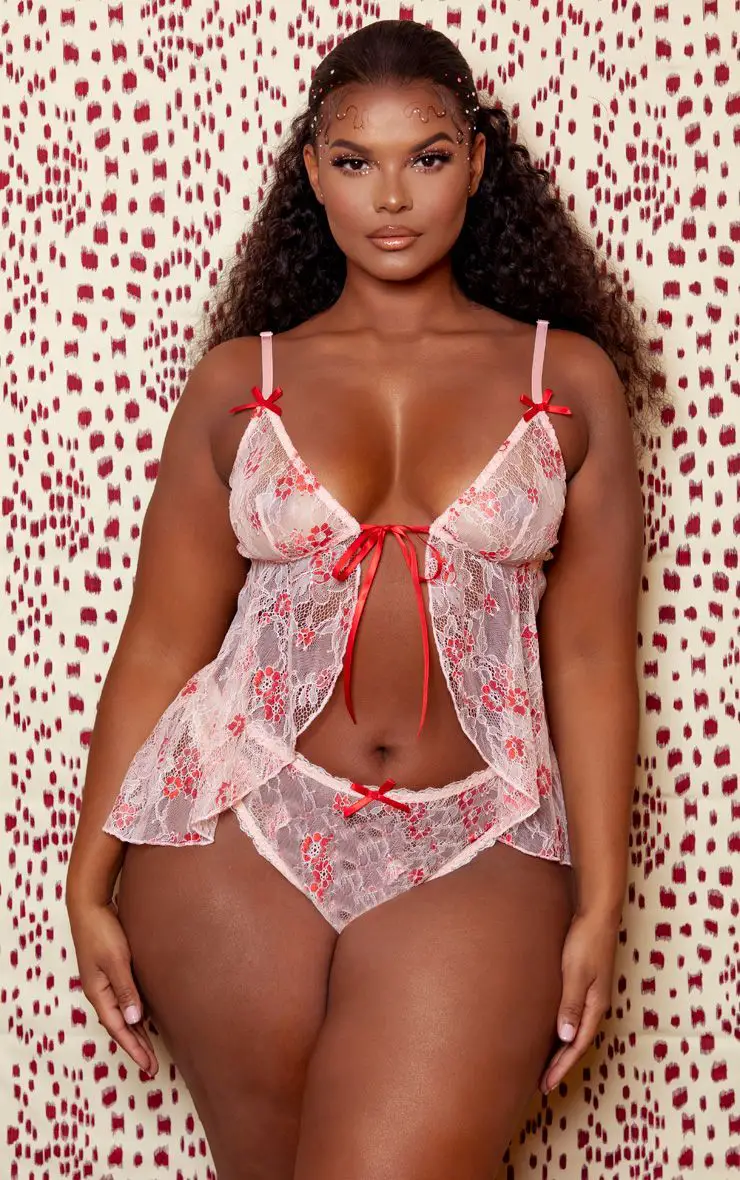 This year's lineup of plus size lingerie includes a lot of sweet, but sexy sets.
PrettyLittleThing isn't immune to adorable panty sets as this lace baby doll set leaves little to the imagination.
Offered only in a dusty pink shade, you'll stop hearts with this budget-friendly $38 set.
Heat things up at PrettyLittleThing.us
Sugar MX Vivien Baby Noir Chiffon Top from Dolls Kill
Dolls Kill is one of Instagram's favorite brands for punk and underground edgy looks.
Believe it or not, its plus size section has a lot more cutesy pieces from its most recent Valentine's Day collection from Sugar Thrillz.
This baby pink top is a cute addition to your nightly wardrobe. Don't let the color fool you, either. This entire look is see-through.
Plus, you can nab the top with the matching shorts for $38, too.
Get this set at DollsKill.com
Black Mesh Cold Shoulder Crop Top from Torrid
A top like this should qualify as underwear, but a lot of fashionistas will let this fly as a stylish top — hence why its made our list.
Perfect for the bedroom or the fashion streets, you can dress this up several ways.
The top has built-in underwire support as well as a keyhole front and cold shoulders. This chic piece from Torrid retails for $49.50.
Score this at Torrid.com
Felicity Hayward Leopard Longline Bra from Playful Promises
You're definitely missing out if you haven't nearly bought all of Felicity Hayward's Playful Promises collection that she launched back in November of last year.
If there's one thing (that's not pink or red) to buy for Valentine's Day is this Leopard Longling dress. Playful promises is UK-based, but it doesn't sacrifice fit for a classic pinup design.
This bra is also wired, but grab yours quick because sizes are selling out fast.
Get this at us.playfulpromises.com
Unlined No-Wire Metallic Bra from Cacique Intimates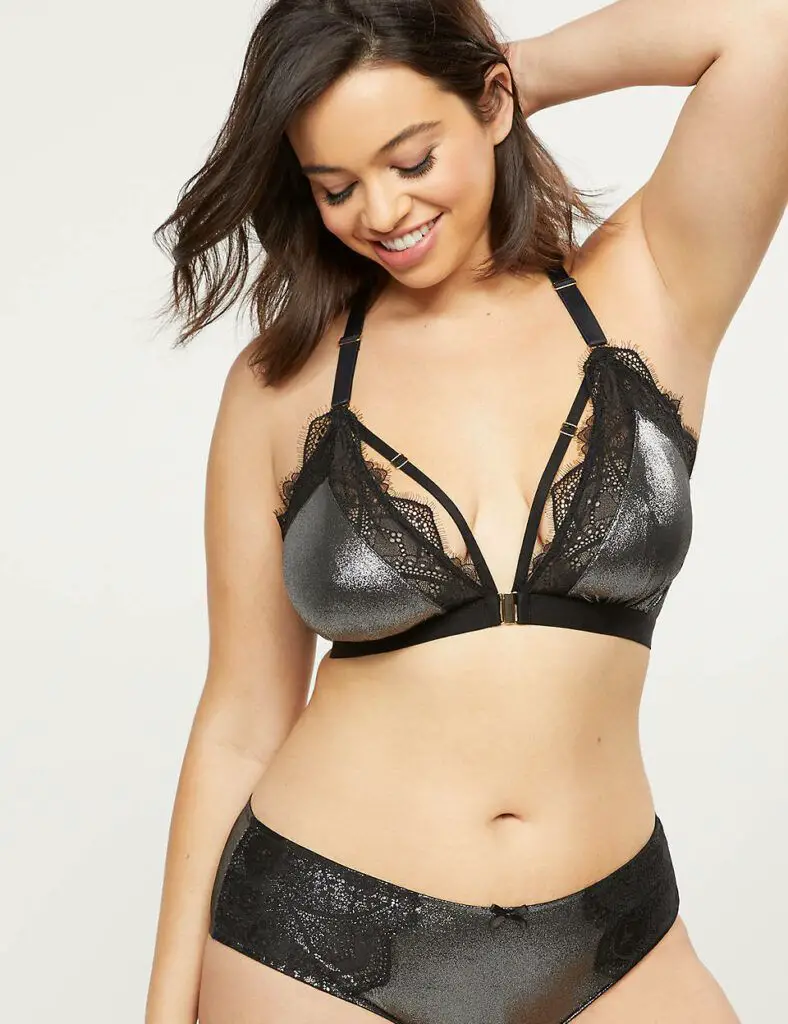 Cacique proves that if color isn't your jam for V-day, you can seek out metallics. Go wire-free for you and your boo this year and rock this deep-V bralette.
Lined with black lace trimming and a racerback detailing, this bra retails for $43.
Make this yours at LaneBryant.com
Eternal Eyelash Lace Garter from Curvy Couture
A lingerie drawer essential gets the seductive touch of eyelash lace and stretch mesh/microfiber. Wear it with their Eternal Eyelash Lace Bra for an unforgettable lingerie set.
You can score both pieces from CurvyCouture.com
Boudoir Overt Bodysuit in Animal from Hips and Curves
Unleash your wild side in the sensual Boudoir Overt Bodysuit.
This bodysuit features a Delicate soft lace cup, with an elasticated under bust line and adjustable angular neckline strap & ring detail. You can be both sexy and comfortable in this saucy number.
Get this sexy number from HipandCurves.com
Monica Ribbon Slot Lace Bra from Playful Promises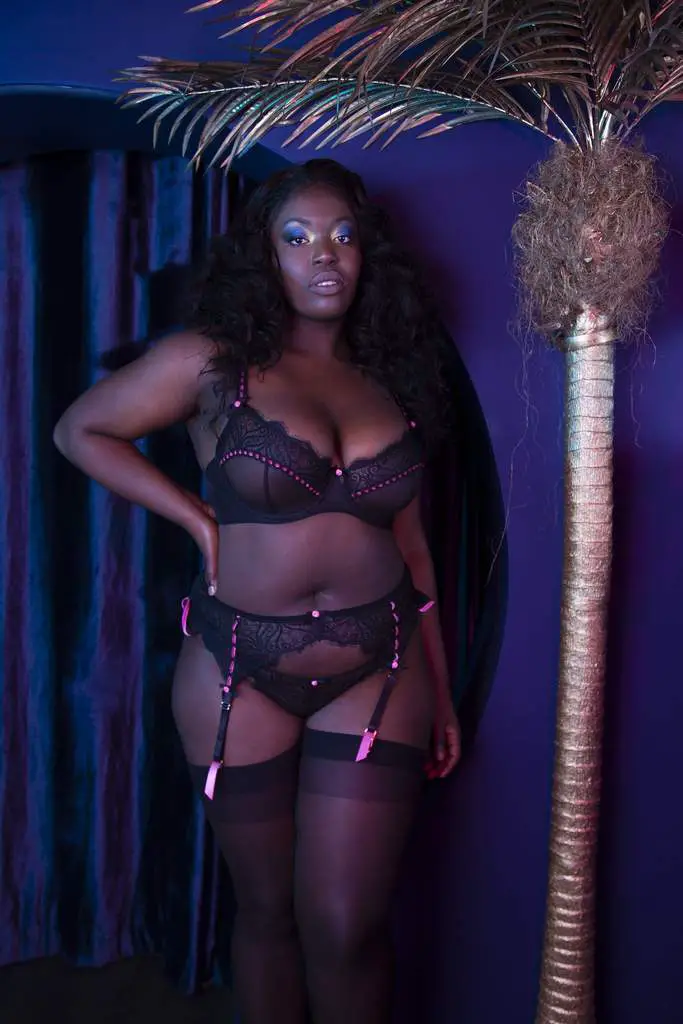 Another saucy piece from Playful Promises is the brand's black and pink lace bra. The bra highlights an eyelash lace detailing at the top with pink ribbon and roses around the straps and tops of the bra.
Plus, you can get the Monica Ribbon Slot Brief and Monica Ribbon Slot Suspender Belt for $65 to complete the look.
Get this at us.PlayfulPromises.com
Matilda White Plunge Bra From Elomii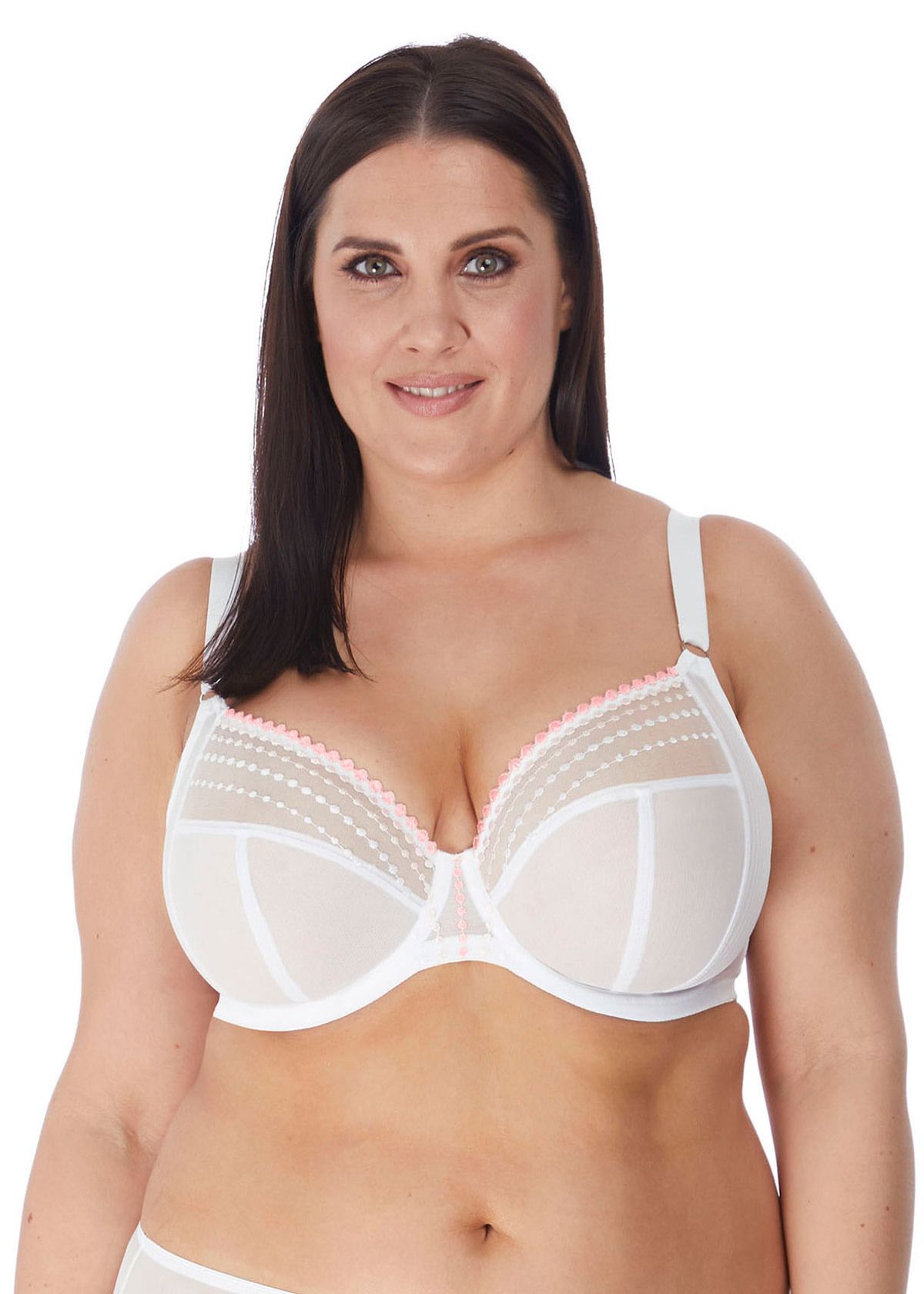 Elomi lingerie is a go-to destination when you're met in the middle between sexy and comfortable lingerie.
Some people forget that you have to wear that uncomfortably sexy bra and panty set all day long before it sees the light of day.
Luckily bras like Elomi's Matilda bras are well-fitted to your bust and they make you look cute enough to eat. You can snag this in three other colorways, too.
Find out more at ElomiLingerie.com
Parfait Lily Babydoll with Thong from Her Room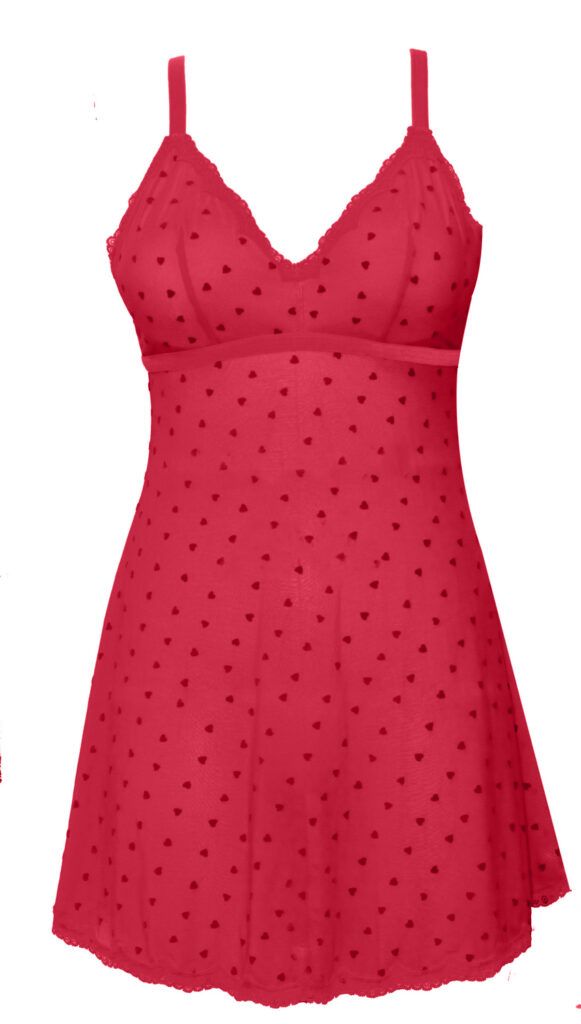 If you're in the market for a new babydoll dress, Parfait and Her Room's got a few in stock.
This two piece set is both playful and sweet. Sure to be heart stopping, this babydoll set frames your curves with a sheer, mesh body with flocked velvet hearts.
You can get this at HerRoom.com
If you need something racier, make sure you check out the newest plus size bodystockings from Monif C Lingerie!
Have you bought your lingerie already? What kind of sexy underwear is your favorite? Is there anything on this list you're dying to buy?
Drop a note in the comments!