When I was designing plus size focused clothing lines, one of the most common requests that I received to make gender neutral plus size clothing for larger sizes. I remember hearing folks bemoan suits that never fit right or wanting to wear a button down shirt but not finding one that fit over their chest. As feminine leaning plus size clothing options have continued to increase ten fold, clothing that is more masculine in style but accommodates for a larger body are still hard to find.
But do not fear! There are few brands and designers out there making androgynous and gender neutral plus size clothing in varying sizes. These designers make everything from leather harnesses and statement tee to custom suits and vintage-inspired swimwear so there's a little something for everybody.
Brands To Shop For Androgynous and Gender Neutral Plus Size Clothing
J Aprileo Weighs in On Accessibility of Gender Neutral Plus Size Clothing
J Aprileo of Comfy Fat is a blogger who knows all about this struggle. I interviewed J (who uses they/them pronouns) about what it's like shopping as a nonbinary size 28/30 babe. J says their size isn't carried in any store which makes shopping online the only option.
And that presents another challenge: J splits their shopping experience evenly between "mens" and "womens" stores. Women's clothing works best for pants and shorts while the mens section is better for shirts and jackets.
"I find it strange now to think that people actually believe all bodies should be shaped one certain way if you're a man or a woman… Bodies are all so different, how can we assume one type of cut of clothing will fit or FEEL the best?" J Aprileo of Comfy Fat
J points out that gender neutral often leans more masculine than neutral and many of these options are not available in plus sizes. Brands like Wildfang and Androgynous Fox are two such brands that J says wish made their pieces above a size 2X.
During my research, I discovered the UK-based brand Gender Free World. They design based on body type. This is such a cool concept but they only make pieces up to the equivalent of a size US 18. And personally, I'm waiting for STUZO to extend their designs beyond a XL.
This list is not only meant to be informational in terms of what already exists but hopefully a call to action for more designers to expand their sizes ranges. If there's a designer or brand we missed, definitely let us know in the comments below!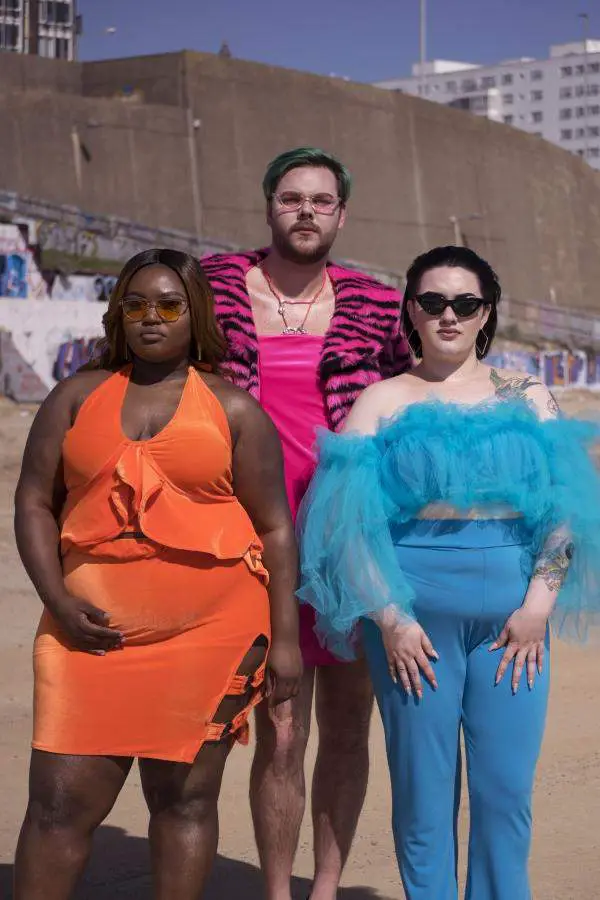 And don't forget if you are looking for LGBTQ-owned brands to support (many of who are also gender neutral), we've got you covered for that too!
Alysse Dalessandro Santiago
Alysse Dalessandro is a plus size fashion blogger, writer, social influencer, designer, and professional speaker. After graduating with a double-major in Journalism and Gender Studies from Loyola University Chicago, this entrepreneur is best known as the owner/designer for body positive fashion brand and personal style blog Ready to Stare. Her brand has become a haven for those whom fashion has otherwise ignored. It's a space where individual style is celebrated and breaking the rules is encouraged. Alysse has been featured on Good Morning America, Buzzfeed, The Huffington Post and more. She recently walked in dapperQ's fourth annual queer fashion show during New York Fashion Week.