Being a petite plus size woman presents its own set of issues and for the latest episode of Curvy Style with Timothy Snell, we get to see how he makes it work with his makeover client and Amber Riley! Have you been tuning into the series? Each week, Timothy has an overarching theme that he addresses and tackles! Not to mention, with each theme, he drops some seriously cool #TimTips that he applies to his work!
Even cooler? I have partnered with Centric to bring you weekly recaps! So let's dive in!
So, we have already had insecurities and stepping out of our box and for the latest episode, it is all about being petite and plus! Now you know, thanks to Cass, we frequently feature petite plus size fashion and tips, so when Timothy Snell started dropping tips that we shared, I was geeked.
And for today's episode? Timothy Snell gave the
"Timothy Snell Experience"
to Kimberly, a housewife and stay at home mother who hadn't put herself first in over a year and actress and songstress,
Amber Riley
!
The Celebrity: Amber Riley
Amber Riley needed a bit of help as she was attending the uber fancy event, the Essence Black Women in Hollywood Luncheon (which I have attended in the past and is utterly divine)! Amber was looking for a daytime spring dress and she knows what she likes!
A sophisticated look is what she was going for and in order to serve it up, Timothy Snell bought in Miss Tish, his personal tailor, to make magic work! Now, even though you may not have someone to travel with you to whip up quick fixes, no matter your height and size, a tailor is key! We even JUST did a whole before and after petite plus tailoring post! Check it out!
"Tailor, tailor, tailor. A great tailor makes all the difference." Timothy Snell
Amber Riley chose an Eloquii number and here is where the fun part comes in… On the hanger, on the rack, Amber shied away from the pastels, but once she had it on, she bounced in front of the mirror- in love! Which only reiterates the whole "Don't knock it until you rock it" mantra!
A fun #TimsTips that Timothy shared? Makeup remover wipes… For your clothes! Ha! I mean, I know that you rock them for your face, but clothes too? Thinking… I need to try this… Hold tight, I will report back!
The Client: Kimberly
I feel like we all know a "Kimberly." A woman who pours all of her love and life into those around them and leaves little for herself. Such was the case for Kimberly. After relocating across the US, Kimberly hadn't taken time for herself, even with getting her hair done! She hadn't gotten her hair done in over a year, resorting to wigs to keep it fresh… Honey, I hear you!
What brought Kimberly to Timothy was her need for a red carpet look for LA Fashion Week. Never mind the fact that her husband is a fashion designer (serious side eyes), this was the first time she was to meet his coworkers and colleagues and she wanted look and feel amazing!
One of the pain points that Kimberly stressed was that she did not like her arms, something that many of you call out! To help her out, Timothy brought her to the plus size bridal boutique, Della Curva! Bridal shops are where Timothy Suggests that we check out anytime that one may need a special occasion and evening dresses! Fancy THAT!
"Monochromatic looks helps petite women look taller" Timothy Snell
I love this tip. I will also add that I love a great head to toe hue. So chic! But not only did he share this tip, Timothy also shared that "Sometimes, longer hair can make a petite woman look shorter!" Ha! Never would have really thought about that. Great to know!
I love the parallels that Timothy brings with his clients. I appreciate the variety of concerns, insecurities, and style aesthetics that he brings to the show. Each woman he styles, I see in the emails and comments on the blog, and I love this! There is relatability with each woman, even if she is NOT you, you know her!
And guess what?! If you want that woman on TV to BE YOU, you now have your chance!
Want to get styled by Timothy Snell?
Here's your chance to #GetStyledByTimothy!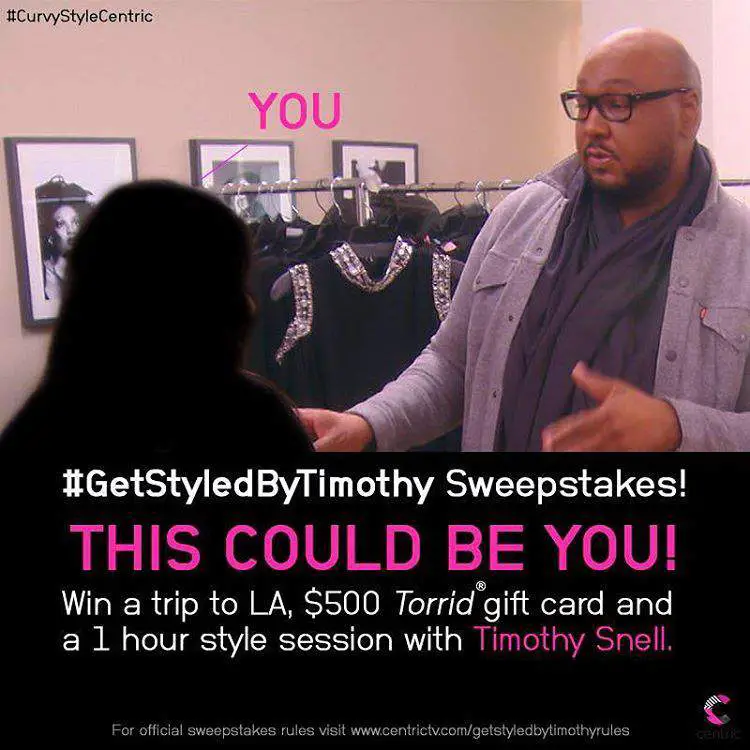 Upload an original :60 video explaining why you should get styled by Timothy Snell using #GetStyledByTimothy and #Sweepstakes. Ends 6/1/16 at 12AM. Get all the deets here! Good luck!
Are you tuning into Curvy Style with Timothy Snell? Are you following along on twitter with the hashtag, #CurvyStyleCentric?
Learn more about Curvy Style with Timothy Snell on Centric.com/CurvyStyle
What do you think of the show so far? Something you are loving? Want to see more of? Let me know! Let's discuss!
Disclosure: This is a sponsored series with Centric and all thoughts and ideas are my own!