Stunning, smart, sexy, educated, motivated, and sweet; all these things encompass the lovely Mia Amber! A model, an actress, one of the editors of Plus Model Magazine, and soon to be a speaker at Full Figured Fashion Week's "State of the Curvy Community" Mia Amber is making it big!
This month, Mia Amber graces the June cover of Plus Model Magazine, looking all the curvy beauty she is! Fabulous! I had the pleasure to chat with her and ask her a few questions about her thoughts of the community, all about plus size modeling, and acting. Such a beautiful person not only on the outside, but on the inside as well. Please read on to learn more about the lovely Mia Amber:
An Interview with Mia Amber Davis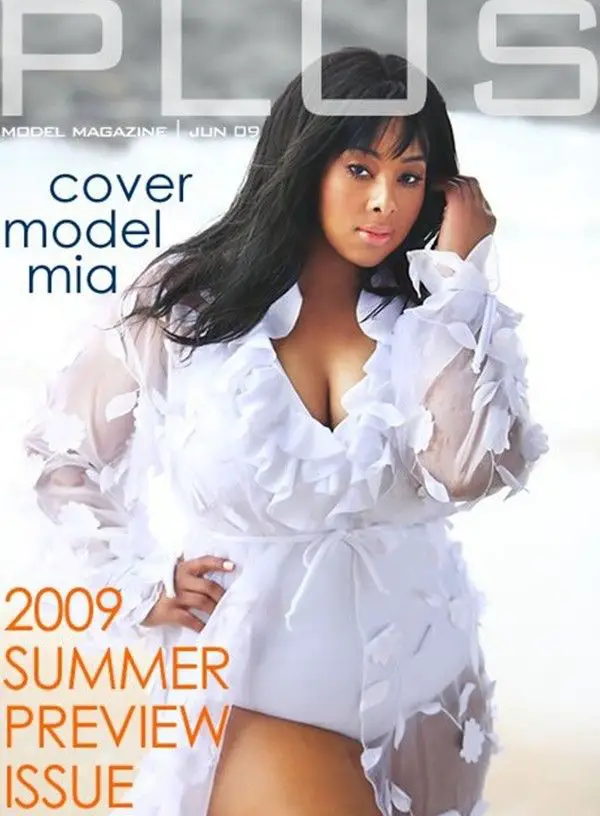 Who are you wearing today?
Today is a laid back kind of day… I am wearing a lemon yellow August Silk cardigan, a tank top from Target (one of my most favorite places in the world), Ashley Stewart skinny jeans (a wardrobe staple) and leopard print, short haired ballet flats by Pelle.
You are an aspiring actor and model which do you like more?
That's like asking a mother to choose between her children! I love them both! Acting and modeling have a great deal of similarities. In both you step outside of yourself to portray a character. With acting you are pretty much given that character and with modeling you create her based on your 'look.'
Which one was more of a challenge for you?
To be honest, they're both pretty challenging but I would have to say that acting is much more complex and the variables are constantly changing.
Generally speaking, with modeling it's a challenge when you meet a new client and you're eager to please them so that you can create longevity in your relationship. With acting you have to make a personal connection to your character and it can become emotionally draining!
Gracing the covers of many magazines and the "it girl" for many designers, what about modeling inspires you?
Thanks for that! I am inspired and driven constantly by the notion that I am representing a nation of my full-figured sisters.
I am one of 62% and I take that to heart trying to be my best so that someone else will try to be her best. And eventually we will knock down and obliterate some myths, stereotypes and walls concerning plus sizes and the fashion industry.
Who was your favorite designer to model for?
You're trying to get me in trouble! I have been blessed to work with many talented and generous designers and I'd never want to single anyone out.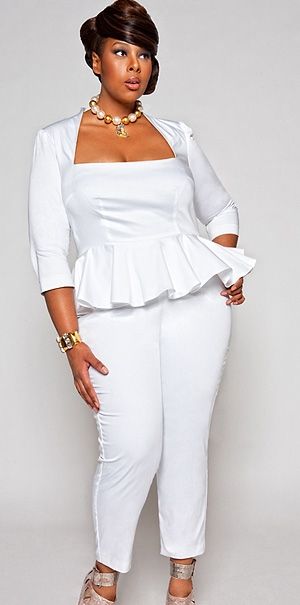 Who would you die to model for?
Oh my goodness (LOL) I would hope that if I ever get the call I'm still around to take the gig but my dream booking is a 10 page editorial for U.S. Vogue or "W" featuring the hot off the runway new plus collections of Reem Acra, Marchesa, Valentino, Oscar De La Renta, Elie Saab, Badgley Mischka, Carmen Marc Valvo, Heatherette and Roberto Cavalli (the list goes on)…
Hair by Serge Normant, Make Up by Sam Fine or Billy B.
Or it could just be an editorial for 'V" featuring the long lost Vintage plus size collections of Halston and Bob Mackie 🙂
I have read you left your job to pursue your dreams, what an amazing leap of faith! What moved you to take this leap?
I don't know any other way to say this but…my soul wasn't being fed. I love working in television and I still produce on occasion however I needed to live my life with no regrets and trying my hand at modeling was something I needed to do.
However, let me be clear: DO NOT QUIT YOUR JOB TO PURSUE A CAREER AS A MODEL!
I had my own path to take and circumstances which allowed me to test the waters. My path is my own and not for everyone. It is up to you as a person to create your own way based upon your own trials, errors and success.
Challenging you to "Follow your Heart and Dream BIG!"
You are now the Creative Director for Plus Model Magazine, how did you transition into this role?
I was appointed Creative Editor for Plus Model Magazine in June of 2008. Anyone who knows me will tell you that I am full of ideas about almost everything! My appointment by Plus Model Magazine Editor In-Chief, Madeline Figueroa-Jones as Creative Editor seems to be a progression of the other aspects of my career and I am thankful to be apart of it.
What have you been able to achieve in this role compared to others?
Well, my first order of business as Creative Editor was to go toe to toe with the infamous Janice Dickinson on Oxygen's Janice Dickinson Modeling Agency. I may not have accepted that challenge as a model.
However, being Creative Editor is not so different from my role as a television producer. My job in TV was to create content for the camera and at home viewers, now with Plus Model Magazine it's to be creative in a magazine format with a web audience.
I read your latest issue of Plus Model Magazine with the "Shape Issue," best one I have ever read yet! How did you come about this issue?
Thank you! We're glad you enjoyed it! Plus Model Magazine is on par with other major magazines in relation to theme issues.
As a magazine dedicated to the plus size woman we're all about celebrating the many different curves in the lives of our readers. Please look out for our next theme issue with the debut of or Denim issue coming later this summer.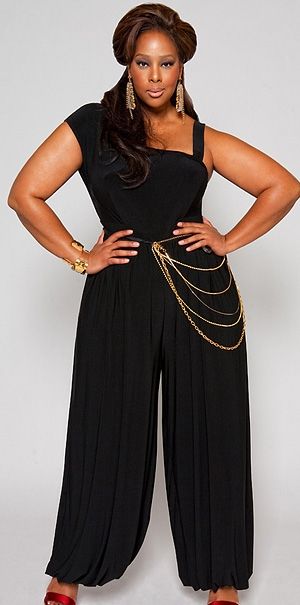 You have been in the game since the early part of 2000, how have you seen the plus size industry evolve?
I officially began my trek as a full time plus model in 2004 and since that time much has changed yet much has remained the same.
I believe television shows such as ANTM, Mo'Nique's FAT Chance and BET's Rip The Runway have helped the esteem of Plus Size women everywhere and in return the number of women who aspire to be plus models has increased 100 fold!
We also have seen the creation of plus size lines from top fashion designers such as Michael Kors, Calvin Klein and others, yet, in my opinion what hasn't changed is the amount of money spent on advertising for plus lines or ads featuring plus models. However, this industry is definitely evolving and growing.
Where would you like to see it go?
My prayer is that we, as a full-figured nation finally start to attain equality in fashion and that the needs of the 62% of the women in this country who wear a size 12/14 and up are finally met. It's a simple case of supply and demand and hopefully it will one day be met.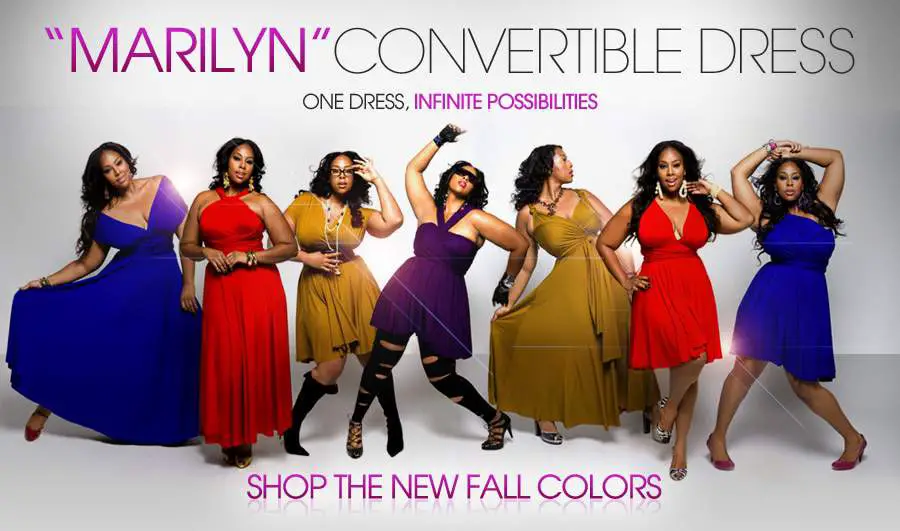 With that, where do you see Mia Amber next?
I am currently working on Mia Amber, the brand and I will be launching my new website this summer which will encompass Mia Amber the Plus Model, Mia Amber the Television Producer, Mia Amber the Actor, Mia Amber the burgeoning Style Maven, and so on, and so on, and so on!
Lastly but not least, what words of encouragement can you leave with the aspiring Curvy. Confident. Chic fashionista?
Follow your heart and dream big. You can do anything. It's true. If you want something, be it a career as a model, actor, school teacher or otherwise don't give up on yourself.
By no means do I fit the typical mold for any of the aspects of my career…yet, I keep pushing to find where I fit in and making adjustments.
Another piece of advice is to be flexible and not so rigid in your idea of "you" that you miss out on what the industry has in mind for you — but all without losing yourself.
Just for fun, when will you come to the Bay Area?
LOL I've never been but I'd love to! Make it happen, Marie 🙂
Make it Happen? Ooh! I am hitting the drawing board right now! Oakland, get ready!
Mia Amber was such an amazing pleasure! Laughing and beaming, Mia Amber is such a sight and an amazing delight! The June issue of Plus Model Magazine is up now! You can read more about Miss Mia and peruse the latest summer fashions!
What do you think? Did you learn something? Do you have more questions?
You will have your chance to ask away if you attend the "State of the Curvy Community". Make sure you mark your calendars for Full Figured Fashion Week!
Are you going? I am!
Keep it Curvy.Confident.Chic.