Queen Latifah, Beyonce, Katie Couric, Leona Lewis, Catherine Zeta-Jones, Vanessa Williams, Kate Winslet, Eva Longoria, and Mary J. Blige just to name a few- this illustrious designer, Carmen Marc Valvo knows the anatomy of a woman's curve.
When I say that he KNOWS the anatomy of a woman's curve, literally- he does! Proven to be a dedicated scholar of his craft, Carmen Marc Valvo emerged as a designer form a family who studied and performed in the medical field!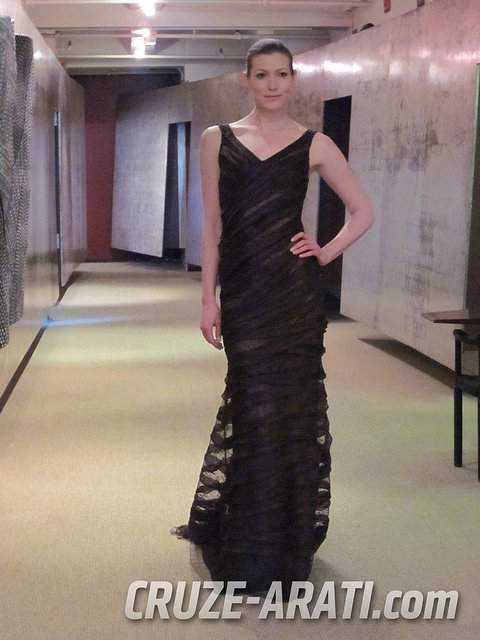 "Behind the Seams" with Carmen Marc Valvo
With plans on going into plastic surgery, a few rounds in the ER quickly chartered a new path for Carmen Marc Valvo to take his love of architecture, the female form, and fashion to master the fine art of cutting and draping fabric to enhance the female physique!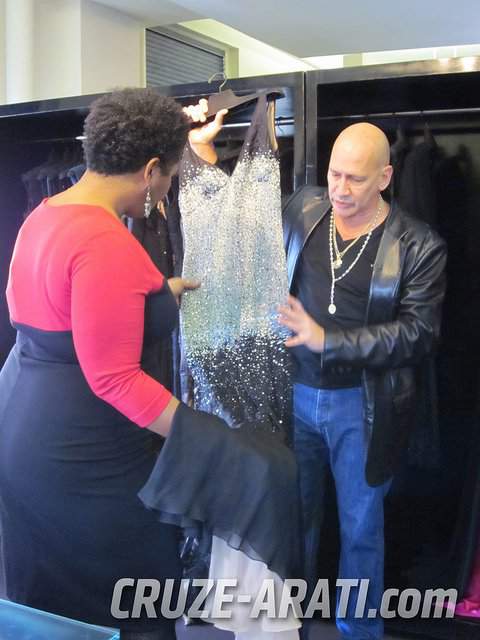 During New York Fashion Week, Carmen Marc Valvo opened his doors to ME!!!!
With a private showing of his Fall 2011 collection, I was a ball of nerves and excitement to meet the talented designer and creator of these amazing dresses I oft have touched but have never had the chance or place to wear!
The moment I stepped into his showroom in the heart of the fashion district, I felt I was in dress heaven! On the heels of his runway show- the night before, I KNEW he had to be exhausted! However! I knew it was a match made in fashion heaven, when he blew into the showroom with coffee on the mind in a TAZ cup! (I was geeked as I love TAZ too!!!! And my undying love for coffee- YES)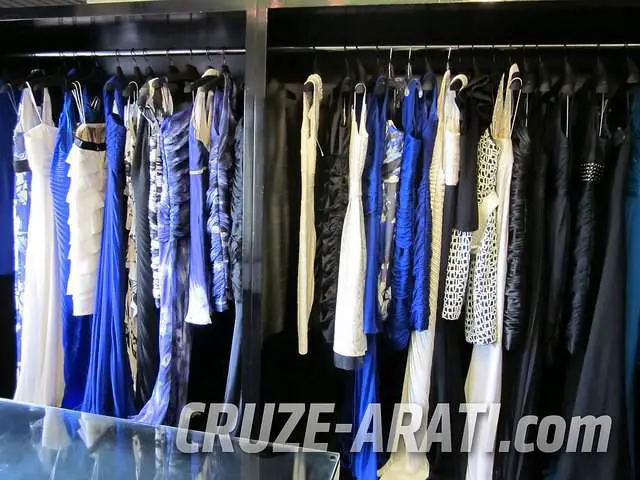 Adding to his ever growing portfolio, Carmen Marc Valvo's range includes bridal, ready to wear, swimwear, home, and most recently…. Author! As we chatted, laughed, and told jokes (he honestly Is such an amazing man!!!!), he shared with me his newest project- the launch of his new book- !
The Art of Dressing is both a fashion how to and coffee table book with tips for dressing according to age and occasion, thoughts on silhouettes and hemlines, advice on styling and accessorizing and on how to perfect an unforgettable look! In addition, The Art of Dressing inspires women to live their ultimate red-carpet moment, whether that means looking fabulous for a summer afternoon party, a glamorous cocktail soiree, or a black-tie event!
As a recent Prostate Cancer survivor, The Art of Dressing also serves as a tool to help raise awareness and a cure for colon cancer!
Enough talking, as I could go on and on about this lovely man, please take a gander at our "Behind the Seams" with Carmen Marc Valvo!
You can catch more behind the scene photos on The Curvy Fashionista Facebook Page! To learn more about Carmen Marc Valvo, please visit his website and become a fan of the Carmen Marc Valvo Facebook Fan Page!
Do you like my video!!!??? Tell me what you think about my trip and the talented designer!

P.S. Also, do not forget to check back in DAILY with me and on the UBER COOL Cruze-arati website, follow me @mariedeneeAND the@cruzearati on Twitter, catch #Cruzearati on Foursquare, and peep all the #Cruzearati on Facebook! My webisodes will also be featured on the Chevy You Tube Page!