Located in sunny Southern California, Hips and Curves.com opened for business in 2000 and has been going strong ever since! Hips and Curves offer a wide assortment of lingerie from "sweet and demure to smokin' hot styles for plus-sized women everywhere." Aimed to provide fabulous, sexy plus size lingerie that celebrates the beauty and sensuality of fuller figures, Hips and Curves delivers lingerie options for you!
With their entire focus on plus sizes, their carefully edited selection of lingerie provides "just the right amount of support, enhancement – and oomph! Never again will you find yourself squeezing into a corset that was designed with a smaller busted girl in mind."
"From sweet to sensual to downright racy – there's something on this site for every seductress." With that, I had the pleasure of chatting up the owner of Hips and Curves, Miss Rebecca Jennings! She was able to share how this pivotal company in the plus size industry started and the motivations behind Hips and Curves!
Meet the Person Behind Hips and Curves, Rebecca Jennings
You are the owner of Hips and Curves, what prompted you to start your trailblazing company?

Rebecca: After spending much of my life struggling with body image and self-esteem, I decided to do something about it. There was (and still is) a great pressure in this world for women to be unnaturally thin. I have a degree in psychology and a background in accounting, but realized at some point that this was my passion and I wanted to make a difference. I started Hips & Curves to create a safe online space where curvy women could come and be inspired to take pride in themselves and their figures.
What made you choose lingerie?
Let's face it, sexy lingerie is part of every woman's DNA, regardless of their size, but it was nearly impossible to find fun, sexy styles for women who wore sizes above 14. So it was a natural fit to focus on intimate apparel.
But beyond this, we've also evolved into a community where women, and their guys, can shop and share and feel totally comfortable.
Given that you are the owner of a lingerie company, what pieces are you wearing and what designers do you like wearing on top of it all?
I love our bra selection, so on any given day I might be in a lacy underwire, a hot pink plunge bra or a leopard print t-shirt bra. But red bras are my absolute favorite and a wardrobe staple. (Laughs) As for clothing, my favorites are Seven jeans, because I'm tall and they come in X-Long and they fit.
It is funny, because I look kind of understated on the outside but there is a lot going on underneath. I love to wear pinks, polka dots and lace, but on the outside, I am pretty neutral!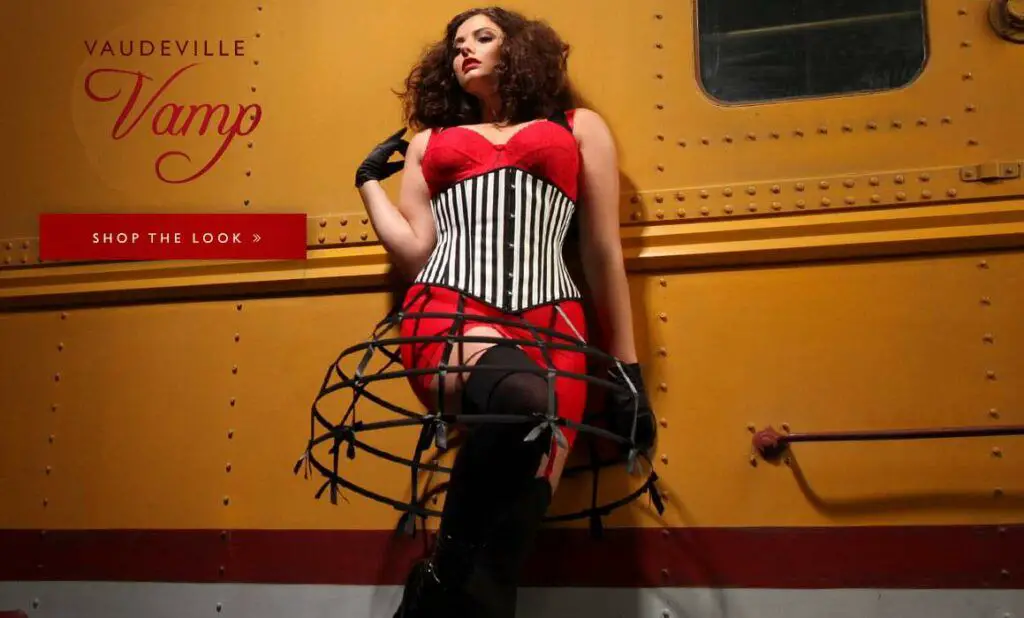 Can you share your views on the importance of a great foundation?
Finding the right bra is possibly the one instance in life where size does matter! (Laughs) A great fitting bra compliments your shape while a poorly fitting bra can ruin a totally great outfit. Because of the way it looks under clothes, wearing improperly fitted, uncomfortable foundations and shapewear detract from your clothing.
It is crucial that you find the right balance of support and comfort.
And be sure you are measured once a year as every woman knows, our sizes do change. When you order anything from our site- be it bras, sexy corsets or lacy teddies. You can speak with our knowledgeable staff who are experts at fitting and sizing foundations and lingerie. It makes all the difference in how you'll look.
A couple years back, you gave tips for loving your curvy body. Could you share those again?
It's all about having confidence in yourself and your curves. I think for men, seeing a self-assured, confident woman can be incredibly sexy, regardless of her size or shape. When you see a curvy woman who's clearly happy in her own skin, wearing a sexy tank top or a slinky chemise, now that's attractive.
The irony is, there are plenty of women who are size 2 and unhappy with their bodies and who will focus on anything that's not in their minds. Low self-esteem comes in all shapes and sizes, but at Hips & Curves, we encourage women to enjoy their curves and show off their figures.
And they look great!
What was it like to start your own business?
(Laughs) It was hard and scary! Like any new business owner, I had to find my way and figure things out. I built the site with a little help from friends, and learned to do HTML programming on my own.
Hips & Curves started in my living room, with inventory boxes in my bedroom closet and the packing department on my dining room table.
And I was my own shipping department, walking orders to the post office each day. I honestly didn't have any preconceived ideas about how successful it would become nine years later. I just did it because I was passionate about women loving themselves and bodies exactly the way there are – and the success has been a by-product of that.
When did you, or have you, reached your we made it! moment?
I've been fortunate in that I've had several "we made it!" moments since starting the company. Hips & Curves has grown so much since those early days, but I'll always remember the thrill of making my first website sale a $12.95 pair of stockings! I was launched!
What are your thoughts on the plus-size fashion industry then vs. now?
Hmmm… in a nutshell, not a lot. Yes, there are a lot more lingerie options for plus-size women and a lot more sites dedicated to lingerie, but the industry still has a way to go. Industry perceptions towards plus-size women haven't changed much.
There are still image and acceptance issues that separate curvaceous women from the mainstream, and it shows in the intimate apparel options they have. I believe we're making a positive difference though.
If you visit the Happy Customers section of our website and read some of the inspiring comments our customers make, you'll get a better idea of how we're changing lives. We even get letters from husbands and boyfriends, thanking us for helping their wives and girlfriends to look beautiful and, more importantly, feel good about themselves.
Eventually, I think the industry will catch up to us. (Laughs)
So, I notice that you have a pole in your office. What inspired you put this in?
I took a class! It was fabulous! There were no mirrors in the studio, allowing you to be in your body and feel your sensuality. It was really empowering! I wanted to share that! Fun, sexy, out there, and free!
I had a blast with Miss Rebecca, and I hope you enjoyed her interview! Make sure to stay on top of the latest happenings in plus size size lingerie at Hips and Curves. Make sure that you check out their blog, Curvy Confidential!
Can't wait and want to go shopping? Visit Hips and Curves here!
What do you like from Hips and Curves? Have you shopped there? Do you have a fabulous item? Share with me!
Keep it Curvy.Confident.Chic!