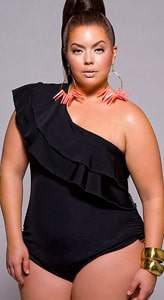 Last week, during my trip to Southern California, I had the pleasure to meet up with one of my favorite people, Reah Norman- Plus Size Stylist and West Coast Style Editor fro Plus Model Magazine!
After recently doing the Top 5 Swimwear Trends for 2010, Reah invited me to chop it up with her about these trends! I was really excited and terribly nervous, as Reah was my first feature for The Curvy Fashionista back in 2008, she reached out to me asking to be her first feature for her Vlog!
Anxious, excited, nervous, as I work best behind the scenes, I obliged Miss Reah to chat about the latest fashion trends for swimwear!
Please take a peek at the video and let me know what you think!
What do you think? I hope you enojoyed!