Are you searching ALL over the internet, looking for where to shop for plus size maternity swimsuits? Are you SUPER frustrated by brands that act like they have your size, but actually… don't!?
Finding a CUTE plus size maternity swimsuit can be so hard! Ugh!!
Expert on Plus Size Maternity Swimsuits, Jen McLellan
We're all about consulting the experts here at TCF, and here's what plus size maternity clothing expert, Jen McLellan, Certified Childbirth Educator and founder of Plus Size Birth, had to say about the topic, "When purchasing plus-size maternity clothes, getting a supportive (and cute) swimsuit is a must! Beyond the blissful relief of weightlessness, swimming and water aerobics are fantastic ways to engage in joyful movement during pregnancy. So while your current suit might last longer than you expect, if it gets snug, size up or invest in a maternity suit." – Jen McLellan,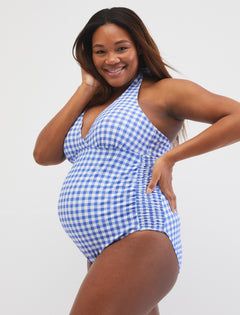 Plus Size Maternity Swimsuits
We've got you, bestie! In today's blog post (part of our Plus Size Swim Week!), we (the TCF team and myself, Brianne!) are going to over the BEST places to shop for plus size maternity swimsuits in 2023.
We've shared our picks below, with our extra tips for shopping for plus size maternity swimwear underneath our selects!
In this post, we're going to share where to SPECIFICALLY find:
A SUPER CUTE Plus Size Maternity Tankini
Plus Size Nursing Swimwear
FUN Plus Size Maternity Swim Dress
Plus Size Maternity Swim Bottoms (and a few hacks for this!)
Are you ready to find the PERFECT plus size maternity swimsuit for your needs? Well let's dive in (pun intended, lol), and get you going!
Trying to find a plus size maternity swimsuit or a bathing suit as a plus size pregnant person can be SUCH a challenge! Below, 've shared some SUPER helpful details on where to shop for plus size swimwear.
In the list below, we've shared ENTIRE BRANDS as well as specific plus size pregnant swimsuit options. Sometimes, a whole brand is a great place to shop -- and sometimes a brand carries one or two good plus size maternity bathings suits!
Tips for Shopping for Plus Size Maternity Swimsuits
Two Pieces are Better Than One! While we love a plus size one piece swimsuit, it's probably going to be easier to find a swimsuit you love (at plus size brands that don't carry maternity!) if you get a two piece swimsuit, where the bottoms are a different size than the top! (As shared above, we love the TorrId plus size swim bottoms made with POWER MESH!)
Shop Secondhand! From talking with my besties who have been pregnant, they really regret not checking websites like Poshmark or Mercari to find gently used (or even NWT) plus size maternity clothes. New moms and new parents will often sell their pieces once they have their baby!!
BIKE SHORTS! While they won't last as long in chlorine water (they'll probably wear out faster than actual swimsuit fabric), you can definitely wear plus size bike shorts for a bit more support! I definitely recommend checking out Yitty's bike shorts! <3
More Plus Size Maternity Tips!
If you're plus size and pregnant, you probably need more than some cute swimsuits, am I right?!
Below, I've shared a few other plus size maternity guides for ya!
Did you have a blast looking through plus size swimsuit maternity recommendations for 2023?! We hope so!
Be sure to catch all of our other plus size swim roundups and recs here!