We are in the throes of the holiday season and if you are like me, you are still shopping for gifts. I am probably the uber last minute person, and I am really trying to get better at it! I am! It can be a bit stressful. Especially now that I have to travel home for the holidays!
BUT, Sally Beauty is there to help us cruise through the holidays this year with a great selection of glam gifts under $10 for your friends, family, neighbors and whoever else is on your list!
And for under $10, I mean how could you not be hyped about this? They make great additions to gift bags or stocking stuffers. OR, you know those backup gifts?
Those extras you bring with you JUST in case you forgot that niece or cousin, OR if someone hooked you up with something and you want to return the love?
Yeah… I come from a big family of girls, so I am always ready (or try to be)!
SO let me share with you a few ideas that you can snatch up from Sally Beauty and why I think they are cool- you ready? Here we go:
Glam Gifts Under $10 from Sally Beauty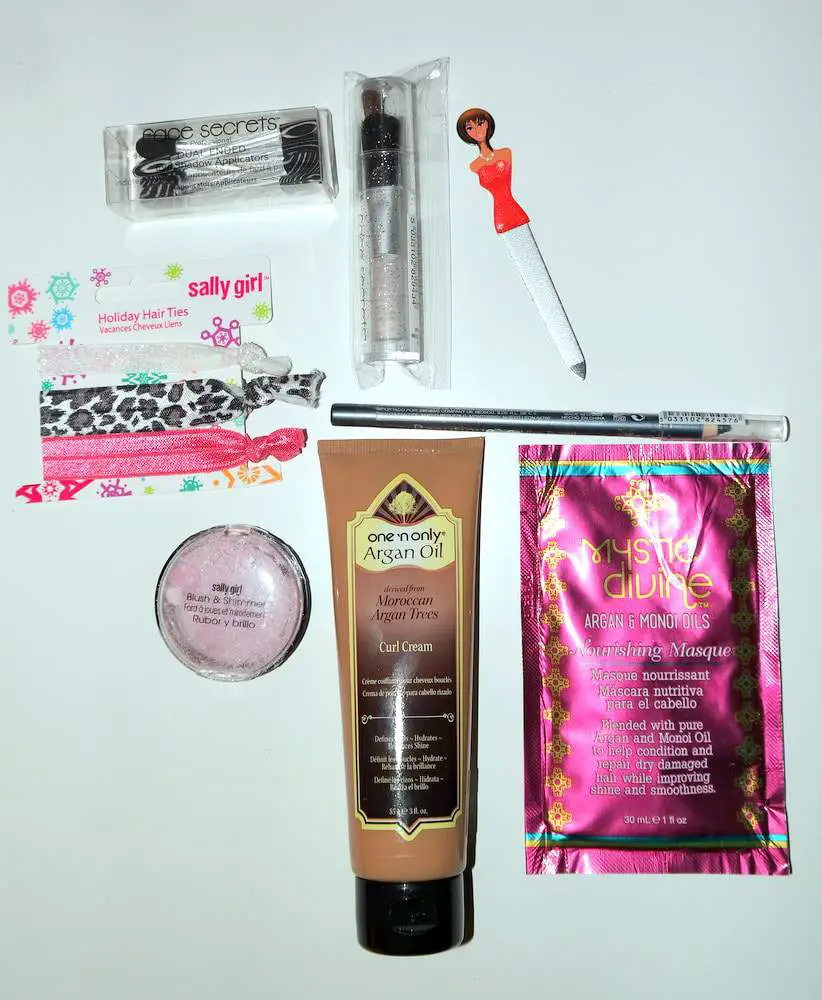 (Clockwise from left to right)
Face Secrets Zebra Print Eye Shadow Applicators– I have this cousin who is always testing out the newest colors and styles… I think I could see her in this one.
Face Secrets Mini 4 Piece Brush Set– I love this one for me, but because I love it, my mother will too. She is interesting like that. SO to her it goes!
Beauty Secrets Limited Edition Lady Nail Files– Perfect for my sister who has THE most amazing nails and hands (I am quite jealous of her nails).
Sally Girl Holiday Hair Ties– My nanna is always throwing her hair into a bun, ponytail or something! I have to give this to her.
Beautique Gel Eye Liner – Pewter– I am torn, I think both my mother and my other cousin could equally enjoy this. I grew up scared of liquid eyeliner because my mother would always have so much angst about this- now I know why. Hehehe
Sally Girl Candy Cane Blush – Santa's Little Helper- Hrmm… I have the cutest younger cousin who is just starting to play in makeup and I think this would be perfect for her…
One 'N Only Argan Oil Curl Cream 3 oz– I would sooo give this to my sister. She is the perfect person who is playing around with hairoils not only for herself but for lil Zoee too!
Mystic Divine Nourishing Masque 1 oz– I think I am keeping this one for myself. I mean… why not? You have to treat yourself!
BUT! You wanna know what is even better? You could win a:
7-Day Caribbean cruise for two with Princess Cruises®
No, for reals! Imagine JUST by shopping for others, YOU could win big?! You could win a 7-Day Caribbean cruise for two with Princess Cruises®! Wait, in a balcony Stateroom (have you been on a cruise before? I have, they are divine!) and sail for SEVEN DAYS! Not only do you get all of this but they will also provide airfare to and from the port! Here is how you can enter:
Buy any product in-store or online using your Sally Beauty Loyalty Card and get an automatic entry
Enter online at sallybeauty.com/cruise
If you refer a friend by sharing online, and your friend enters, you'll receive a bonus entry
Enter between 12/1/14 and 12/31/14
Good luck and Happy Holidays shop all of these gifts and more at Sally Beauty!
Disclosure: Sally Beauty provided these gifts for me to give and this is a sponsored post but the opinions are my own.