I loooove rocking black. For the longest time, my work clothes were all black, so making it new, interesting and fun was always a welcomed challenge! So when I caught the latest episode of Curvy Style with Timothy Snell, I was a bit geeked about it being all about the many ways to rock black! As I have partnered with Centric to bring you the recaps of this plus size fashion show, I have been excited to learn a few of Tim's Tip's and see how he shops and styles the curves. Have you been watching?
This episode, Tim is challenged with two very particular clients. Grammy Award singer, whom we just interviewed, Chrisette Michele, and political strategist, Kenya! Both ladies wanted to rock black, had very pointed perspectives on what they wanted and were not afraid to speak up about their opinions… I was sooo on edge to see how this was going to play out.
Because… quite frankly, I do love my black. Love. It. It has been a challenge to keep my closet from falling into the black hole of yesteryear, so I get it and understand where they are coming from. And, whenever I cannot figure out what I really want to wear? I reach for something black… Ha!
Curvy Style with Timothy Snell ep 4:
The Celebrity: Chrisette Michele
How does Chrisette want her black? 90s style. You see, Timothy was challenged with styling Chrisette for her newest video from her newest album, Milestone. Tim had to come up with three options: sleek, black, dark and sexy. When I heard this, my ears perked up with curiosity. I mean… 90s all black fashion? I was curious and excited. The bodycons of today have nothing on the 90s! *Cues En Vogue.*
Timothy was excited and hyped with this challenge as he hadn't styled a music video since his time with Whitney Houston!
(OMG, reallllly?!)
So in order to keep it cute and pull everything in TWO days, Timothy had to make this black pop and keep it interesting!
Now you know that Timothy dropped more than a few #TimTips throughout the show. Well, let me recap them here for you:
Skinny black jeans and bodysuits are musts for curvy closets. You know what? I so agree. Ain't nothing like having the perfect wardrobe essentials to pull and play with! (goes on a hunt for a few bodysuits)
Look for structured jackets with shoulder pads or big lapels You know, he made this shoulder pad comment before. I need to look into this a bit more!
Go big, bold, yet minimal with accessories. Ohhhh yes. All black does indeed set the stage for the most dramatic of accessories!
It is with these three tips that Timothy was able to give Chrisette exactly what she was looking for! Now that she was all done, Timothy had to help and hook up Miss Kenya!
The Client: Kenya
On the flip side, Timothy was challenged to give Miss Kenya an updated, conservative, yet stunning evening look for her hosting of Parlay, a political dinner! Now, as a political strategist, someone who controls everything around her and who is keenly aware of her own style and image, Kenya challenged him with the options, expecting a lot as she was already chic and pulled together!
Even Timothy noticed her style andquestioned why she needed his help. Not only does she know what she wants, she also knows her own limits and what she doesn't know! "My style knowledge is in the middle and yours is… higher."
I thought she was too damn cute. Like, seeing her made me smile, as this boss woman is killing it, she had her confidence, and she was not afraid of asking for what she wanted. Loved it and her.
Like Chrisette, Kenya loves her black. So in this case, Timothy had to reinvent black with adding texture! Think lace, mesh inserts, and the mixing of layers!
To get things started, Timothy met Kenya at Rachel Pally (who is one of my staple plus size brands to own)! Here, Timothy got a better idea of her shape, how she likes clothes to fit, and what she is really looking for. Timothy drops one of his tips here!
#TimTip: Empire waistline hides the stomach and emphasizes the bust
But at Rachel Pally, nothing seemed to be just right. Kenya shares her nervousness because with politics, image is everything. Your position or effectiveness can be dismissed, just on your presentation!
So, with Kenya, she specifically wanted to stay youthful and covered up, conservative with an edge, and to feel powerful and beautiful. And guess what?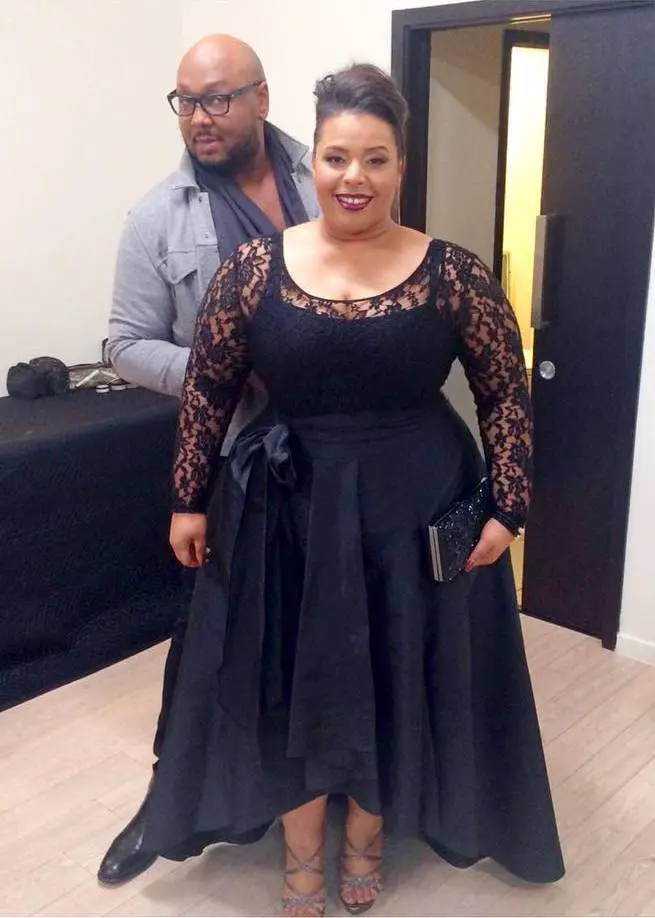 Timothy delivered. He took her breath away. And I am soooo glad he did! With a fit and flare gown with lace sleeves, Kenya beamed and dazzled! She was taken aback and I loved every bit of her reveal. Every bit of it.
So for those of you who loved a great black get up, doesn't it feel good to be affirmed in our black hole having wardrobe? I know for me it is refreshing to see a different approach to wearing black, not being shamed for loving and rocking it!
It is really all in how you reinvent it for you and your style!
Are you a fan of rocking black?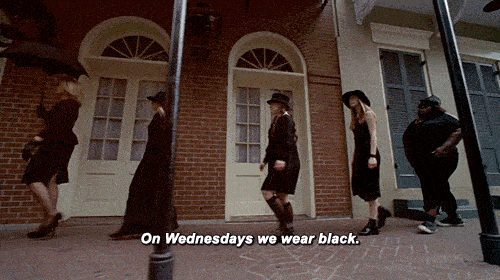 You can learn more about the show and catch additional snippets and tips over on Centrictv.com/CurvyStyle!
I soooo love doing these recaps, sharing the tips, and talking about a show that addresses the style of a plus size woman and all that comes along with it. I love the variety of women, issues, and concerns addressed- allowing us to see a bit into the world of our favorite curvy celebs and their issues as well!
Have you been tuning into Curvy Style with Timothy Snell? Are you following the conversation on Twitter with #CurvyStyleCentric? Tune in this Saturday to Centirc TV, for a brand new episode of Curvy Style with Timothy Snell featuring Ledisi!
Let's chat below!