It was so fun learning more about Brianne of The Huntswoman last week! This week, we are meeting up with another one of our amazing TCF Contributors, Aaronica! Aaronica actually writes two blogs – The Crunchy Mommy AND The Needle and The Belle!
The Crunchy Mommy is where Aaronica shares her tips, tricks, and anecdotes about the many roles of mother. A self-described "granola" mom, Aaronica makes her own soaps and lotions and focuses on a natural lifestyle for herself and her children.
In fact, Aaronica is big on do-it-yourself projects – she even makes many of her own clothes!
On The Needle and The Belle, Aaronica, shares her homemade clothing, sewing tips, patterns, and so much more.
She is a plus size blogger YOU NEED TO KNOW!!!
Meet Aaronica of The Crunchy Mommy AND The Needle & The Belle!
Blogs: thecrunchymommy.com & theneedleandthebelle.com
Age: 34
Height: 5'6″
Location: Atlanta, GA
How long have you been blogging?
I've been in this blogging game for about 10 years.

What or who inspired you to become a fashion blogger? What led you to it?
It's funny – I would have never thought myself as being fashionable but I started sharing pieces that I had made and people wanted to see more and know more, so I started sharing them on my site The Needle And The Belle. But I LOVE style and fashion!!!
Her Evolution
Do you blog full-time, for fun, as a hobby? Share your evolution!
I'm a full time blogger. This year makes 3 years doing it as my full-time gig. I started blogging on Black Planet (showing my age) and then MySpace.
After those platforms, I went out on my own with a "burn" blog called Rants of a Wild Child. Then I got pregnant and started the Mommy Memoirs where I documented my life as a single and pregnant mom.
This was the first time I realized that I could actually get paid for having a blog. I shut that down due to personal stuff going on.
Then when I was on maternity leave after having my second child, I submitted an article to The Root and got paid for it.
That's when I knew I was done with working for other people. I love writing, and I got paid to do it.
I was sold!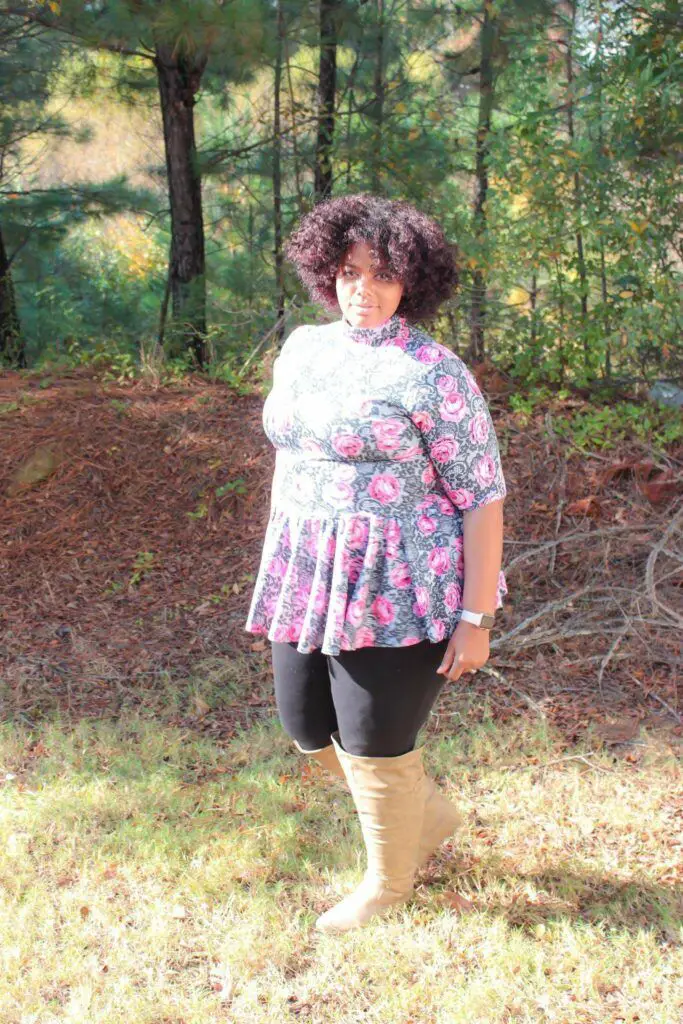 What is your favorite asset? Your legs, arms, waist? How do you play that up?
Right now? My face. My body is still adjusting after having a baby so things are still getting settled lol.
The Challenges
What are the challenges, if any, you face regarding being plus size?
I think I'm my biggest challenge. It's been hard to see the beauty in my reflection at times because I don't look a certain way.
Also, I recently had to ask for a seat belt extender on a flight which was way less humiliating than I thought it would be.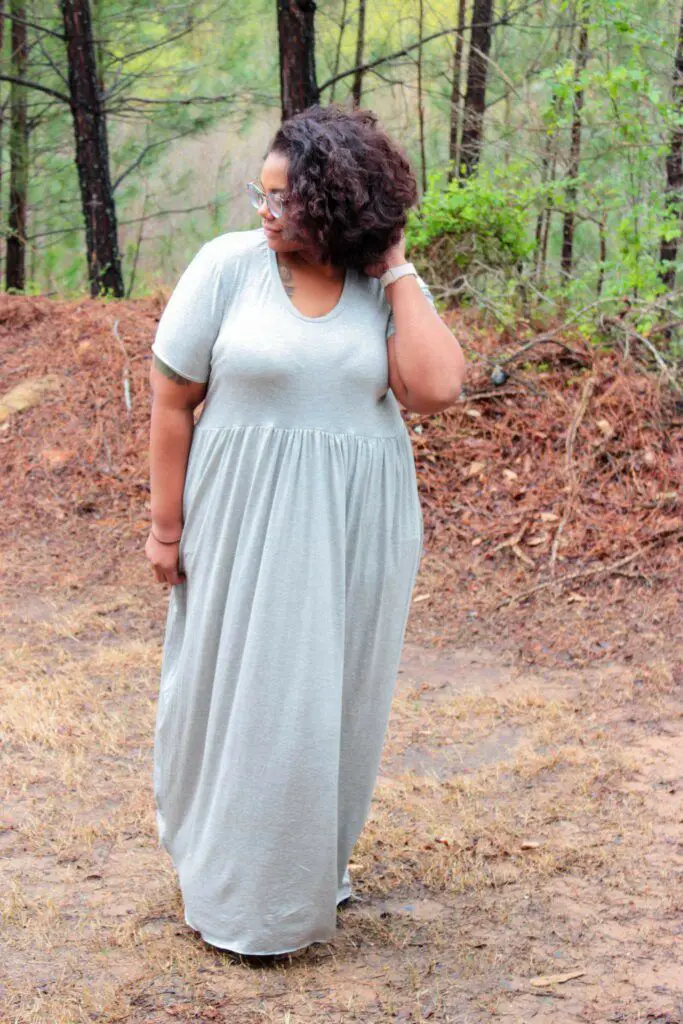 Faves
What's your favorite thing about being plus size?
I give great hugs.
What's your favorite thing about being a blogger?
I love being able to reach people and give them a safe space that is judgement free. My goal has always been to help others, and I feel like my blogs do that.
Who/what are your favorite designers/brands?
I love Eloquii. Their stuff is trendy but not too over-the-top. But, I normally make my own clothes, so I guess, me?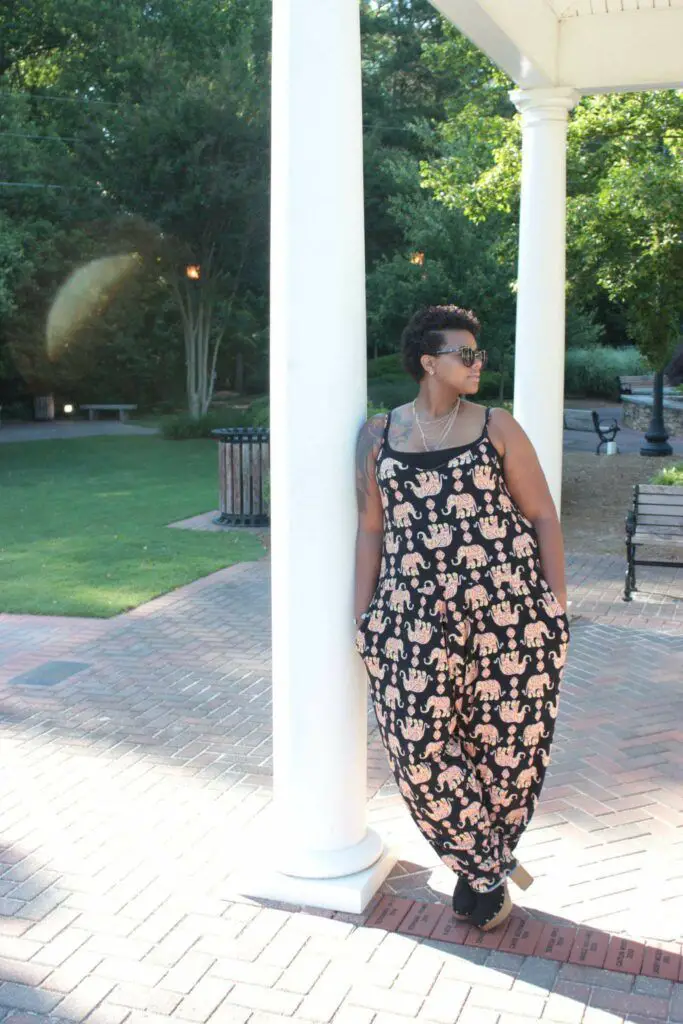 Describe your personal style.
Hmmm… Comfortable. That's how I would describe it, but others have told me it's bold and more on the "boho-chic" feel–which is honestly what I'm going for most of the time!
Which bloggers inspire you? Plus or straight size! Any bloggers currently on your radar?
MARIE DENEE!!! Lol but seriously. I love her style. And Ashley Nell Tipton.

What do you think about where plus size fashion is today versus a few years back?
OMG, it's made soooooo many advances!
I've been plus sized forever and we used to only have Old Navy and Dress Barn that really catered to us, but now with Torrid, Charlotte Russe, Forever21 and then the smaller indie designers, we have everything!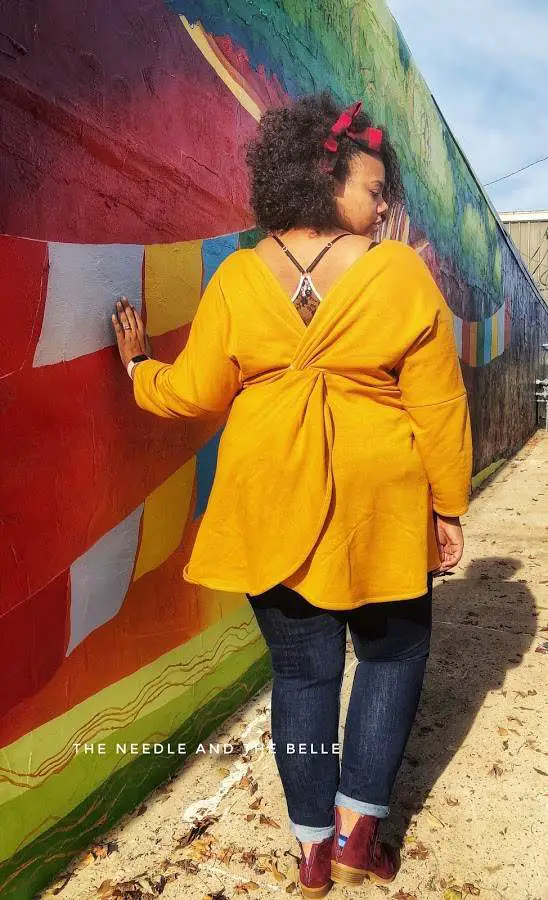 What do you think or hear from readers, is one of the biggest myths about plus size fashion?
That you won't be able to find something that fits well, looks good, and feels great.

Are you working on anything or have anything to share? Anything else you want The Curvy Fashionista's readers to know?
I am! I'm working on getting my store opened back up. I've launched my first product which is called "Aaronica's Box of Faves."
I created this box because people would see the things I've made and be like, "Just make me whatever you would make yourself" so that's what I'm doing with this box here.
In each box, there's a custom piece made from my personal stash of fabric plus some goodies that I love from fellow artisan creators.
The box can be found here: https://theneedleandthebelle.com/product/april-aaronicas-box-of-faves/
Lastly, what does Curvy.Confident.Chic mean to you?
To me, this means loving the body that you're in, seeing it for all the beauty it has to offer, and still be working to make yourself better because you deserve your best.
What do you think of her style and her thoughts? Is her blog one you read? Let's discuss!
Are you a blogger? Want to be featured?
Make sure you fill out your deets here, so that we can feature you!
Looking for more style inspiration? Check out all of the plus size blogger spotlights here!