We hoped you enjoyed our recent blogger spotlight featuring Rachel of Lovely in LA! This week, we are heading to the Heartland to meet up with St. Louis blogger, Anna of St. Louis Modern Mrs.
Anna's blog covers her personal style, body image, mental health, budgeting, life as a wife and dog mom, crafting, vintage shopping, and so much more. She is a plus size blogger YOU NEED TO KNOW!!!
Meet Plus Size Blogger, Anna of St. Louis Modern Mrs.
Blog: St. Louis Modern Mrs.
Age: 27
Height: 5'9"
Location: St. Louis, MO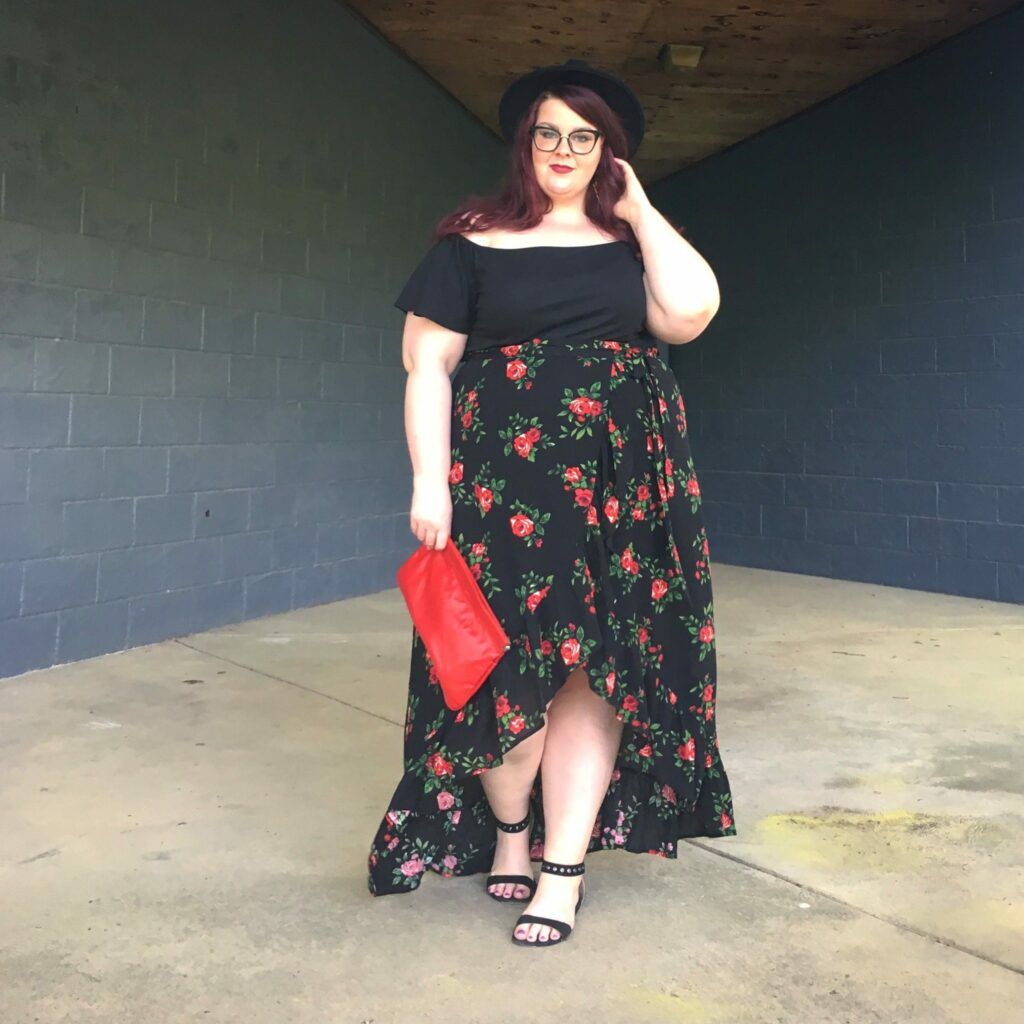 How long have you been blogging?
A year and a half.
What or who inspired you to become a fashion blogger? What led you to it?
I started posting my outfits on Instagram two years ago after my friend Sarah encouraged me to do so.
After starting that, I began my journey to body love and acceptance. Through that journey, I found many other powerhouse plus size influencers and bloggers that I loved and admired and knew that I wanted to also share my story with the world through blogging.
Do you blog full-time, for fun, as a hobby? Share your evolution!
I blog as a hobby on the side when I'm feeling inspired. The frequency can ebb and flow depending on what's going on with my life personally.
I've had a really rough year that has brought on quite a blogging hiatus and so much personal growth I can't wait to share!
What is your favorite asset? Your legs, arms, waist? How do you play that up?
I love my waist/hips/butt. I used to hate how curvy I was and would do all I could to hide it. But I've really grown to appreciate the hourglass shape my body really has.
I love to play this up with high-waisted skirts and pants. Cinch it all together with a belt to kick it up a notch!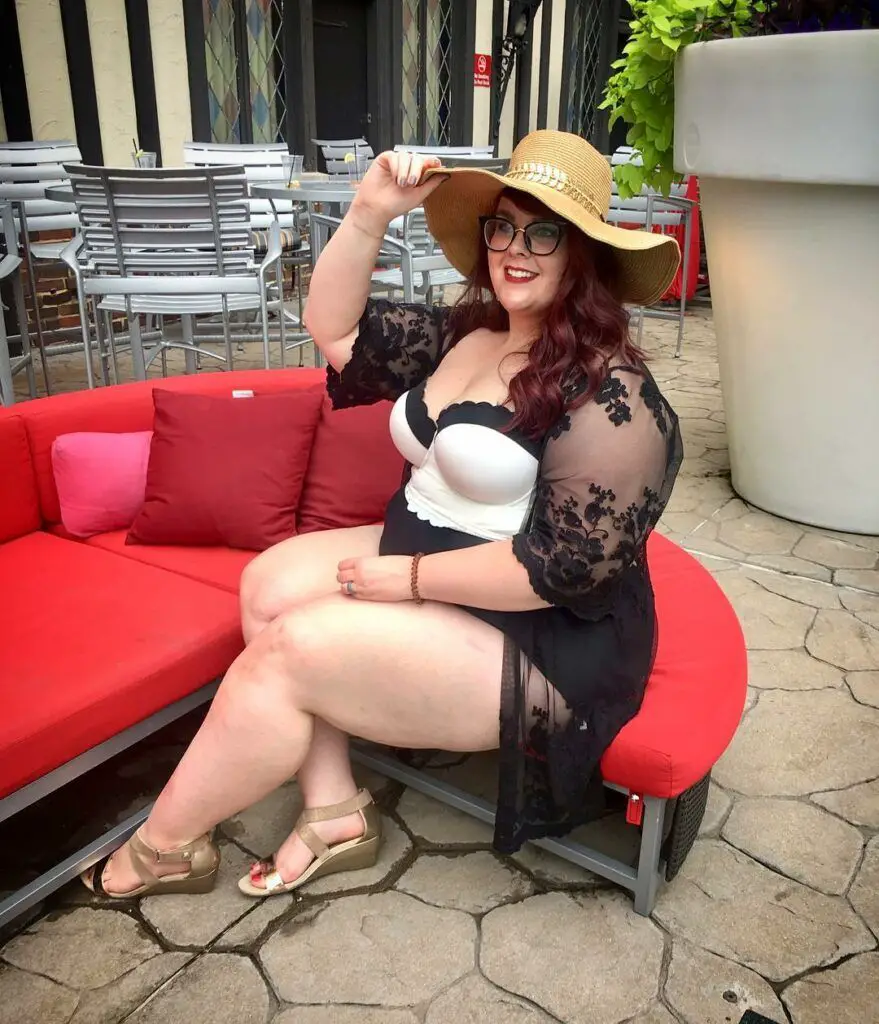 What are the challenges, if any, you face regarding being plus size?
I feel like standing in my own way can be my biggest challenge. I have learned to love my body, but we all have those days that our confidence is in short supply.
Or, we are out of our element and become hyper aware of things surrounding us and can become self conscious.
It's times like this that I feel myself thinking, "You can't do that!"; "You can't wear that!"; "You can't be seen doing that!"
But you can!
Wear that dress that scares you, wear that bikini, tear up that dance floor, do that boudoir shoot you've been wanting to try, etc.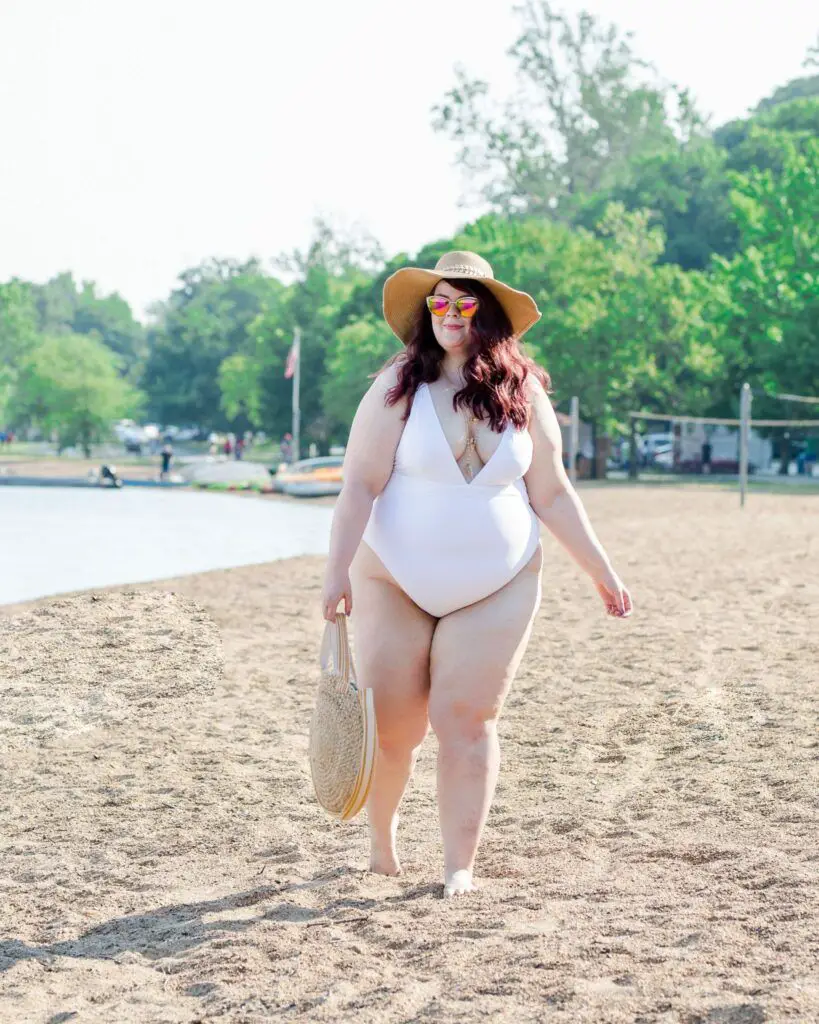 Put yourself out there! You are capable of doing so much if you stop standing in the way of yourself
What's your favorite thing about being plus size?
I love how curvy and unique my body is. It is soft and strong. And tells the story of my life through every stretch mark and dimple.
What's your favorite thing about being a blogger?
I love the community that blogging has! I have met some amazing people that I wouldn't have likely encountered otherwise.
But more than anything – when I started blogging and staring my daily life in Instagram, I vowed to stay transparent and true to myself.
I told myself that if I can help just one woman learn to love herself or just to make a positive difference in the world even in just one life – I would be happy.
And it's incredibly fulfilling to know that I have successfully done that.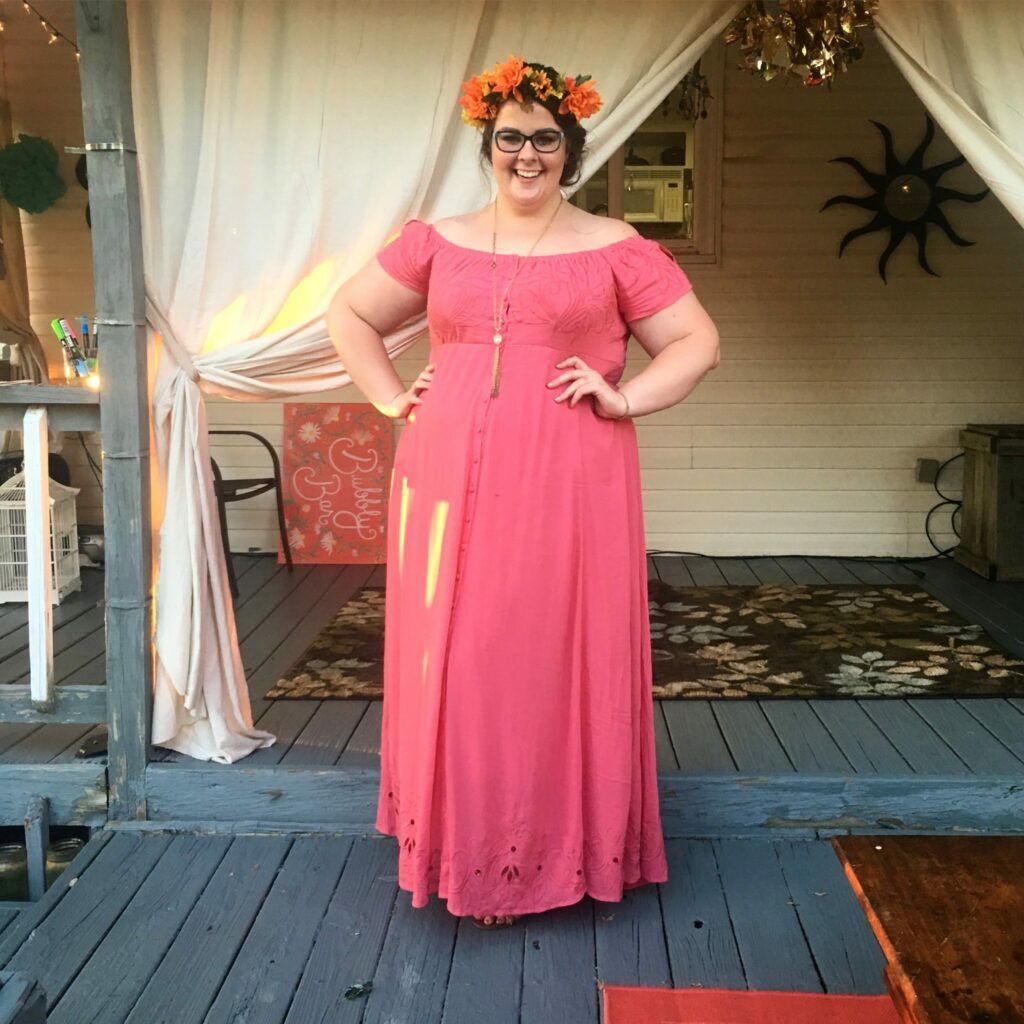 Who/what are your favorite designers/brands?
On a day to day basis, I'm a clearance rack/thrift store junkie and love to dig for unique finds. I don't follow any specific designers, but I drool over everything at Eloquii, ModCloth and Unique Vintage!
Describe your personal style.
Eclectic. It varies so much season to season and day to day. Overall, I would describe it as a combination of classic, vintage and quirky.
Which bloggers inspire you? Plus or straight size! Any bloggers currently on your radar?
I love:
Rosey of Roseybeeme.com for her humor, absolute sass, knowledge, self love, and fashion. She is my absolute favorite!
Alex of Chubby Struggles for her adorable style, top notch meme collection, self love and wisdom.
Ashley Dorough of House of Dorough for her fashion, transparency, journey to self love and mom life.
What do you think about where plus size fashion is today versus a few years back?
Plus size fashion has come so far! I love that things that have always been available for straight size women are now accessible for all sizes.
Growing up, trying to shop for plus size clothing was a nightmare! Everything was plain and shapeless.
And tended to lean more towards a business professional or grandma vibe.
And the old plus size fashion "rules" were in full swing, such as:
Don't wear horizontal stripes!
Fat girls can't wear prints!
Fat girls can't wear bright colors!
Wear loose, tent shaped clothing to hide all your "problem areas"!
Today, these "rules" have been tossed to the side and we are offered clothing in a broad range of sizes for all style aesthetics. Available in multiple different locations.
We aren't exiled to one store at the edge of the mall anymore. And a lot of retailers known for their straight size exclusive fashions are expanding their size ranges!
What do you think or hear from readers, is one of the biggest myths about plus size fashion?
People think that plus size clothing can't be sexy. Or flashy. Or attention grabbing in any way. Which definitely is not the case!
These styles are available! And anyone can rock them!
I can't tell you how many times I've heard the phrase, "That looks amazing on you! I could never pull that off!"
But you can! The only thing standing between you and being able to pull off a specific style is yourself.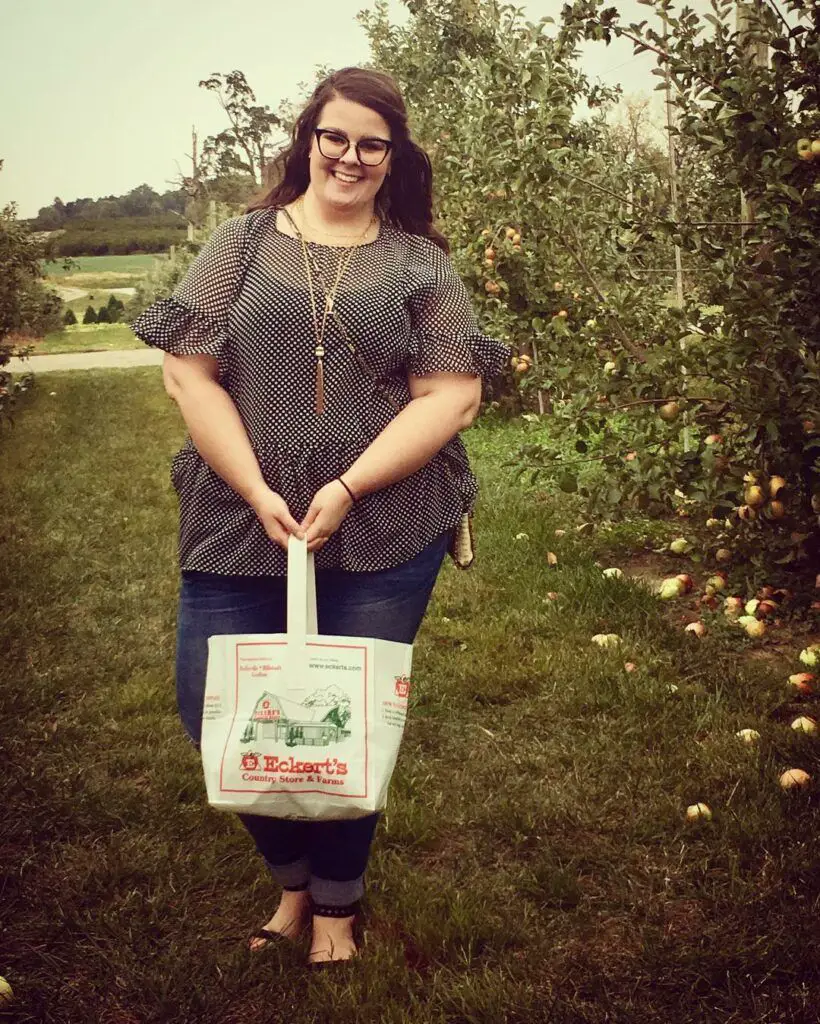 Are you working on anything or have anything to share?
I want to be able to share more crafting tutorials on the blog soon and to be able to open an online marketplace for crafted goods!
Lastly, what does Curvy.Confident.Chic mean to you?
To me, this means fiercely living unapologetically in the skin you are in. To love your body for all its beauty and societal "imperfections." Be a force to be reckoned with.
What do you think of her style and her thoughts? Is her blog one you read? Let's discuss!

Are you a blogger? Want to be featured?

Make sure you fill out your deets here, so that we can feature you!
Looking for more style inspiration?
Check out all of the plus size blogger spotlights here!