We hope you enjoyed getting to know more about the plus size fashion blogger Gess of GessFlyy! She was really cool, right??? This week, we're heading from Atlanta to the West Coast to meet up with blogger extraordinaire, Rachel of Lovely in LA! If you don't know Rachel, you DEFINITELY should! She has worked as a fit and fashion model, went to FIDM for fashion design and manufacturing and has worked closely with brands as an influencer, designer, and trend forecaster. Rachel shares her love of fashion and knowledge of the plus size market to her creative outlet, Lovely in LA! She is a plus size blogger YOU NEED TO KNOW!!!
Meet Rachel of Lovely in LA!!
Blog: Lovely in LA
Height: 5'10"
Location: Los Angeles
How long have you been blogging? 5.5 years

What or who inspired you to become a fashion blogger? What led you to it?
I was tired of not seeing my type of style represented anywhere in my size! I was constantly receiving compliments from women of all sizes about what I was wearing, so I decided to start sharing my daily outfits. I also wanted to show women that you can look fabulous regardless of your size.
Do you blog full-time, for fun, as a hobby? Share your evolution!
I now blog full-time but it hasn't always been that way. I started my blog quite a few years back casually while working full-time as a sales director for a trend forecasting service. It has since evolved way beyond that, and I am now able to do this full-time. Having my blog has allowed me to take on creative consulting projects and manage influencer relations for brands. It has also allowed me to design and collaborate on a few capsule collections!
What is your favorite asset? Your legs, arms, waist? How do you play that up?
I am not sure I have a favorite. I definitely love my legs and can be found wearing a ton of skinny jeans and dresses to show them off.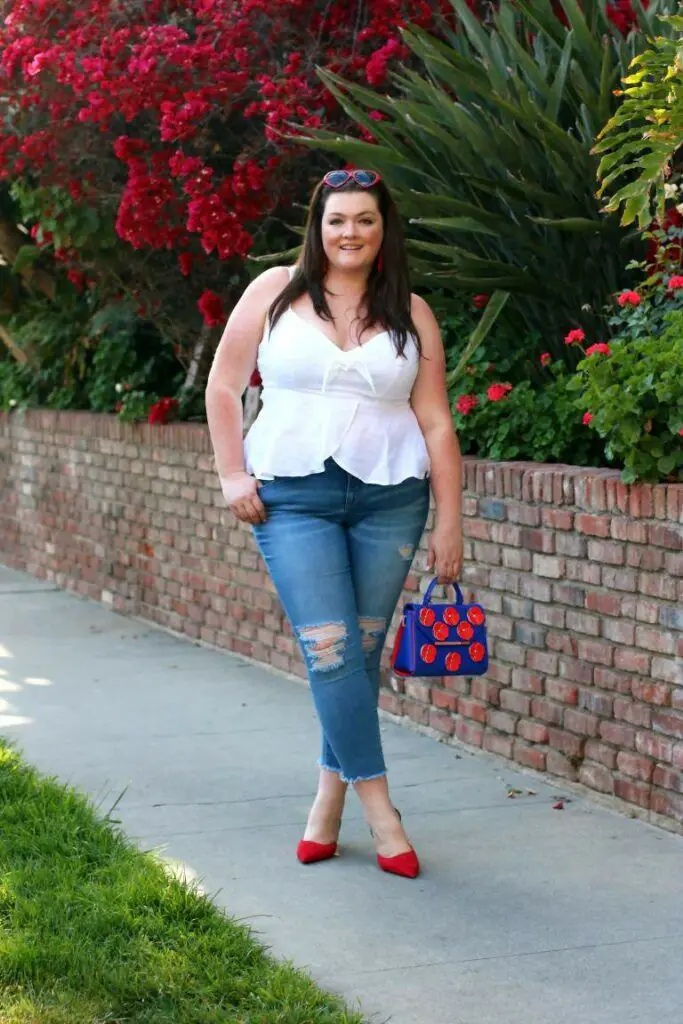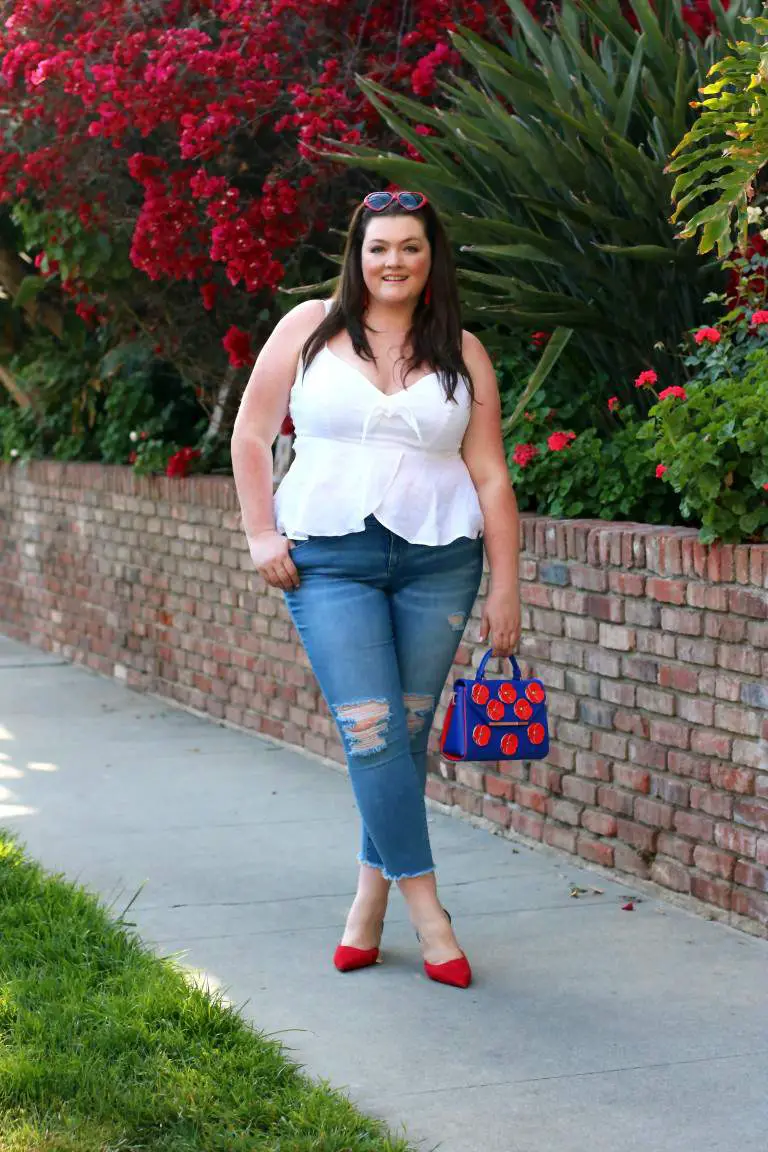 What are the challenges, if any, you face regarding being plus size?
Shopping is still a challenge for me! While I feel like we have come a long way, there is still so much that needs to be done.
What's your favorite thing about being a blogger?
I love meeting new bloggers, attending events and working with brands that I may not otherwise have had the chance to collaborate with. There's also the creative side – setting up shoots, selecting locations and props to really make photos come to life.
Who/what are your favorite designers/brands?
Oh, there are quite a few right now, and my list of favorites are always changing! Eloquii, Ripley Rader, Slink Jeans, Asos, Rachel Pally, Tart Collections, Reformation and some of Nordstrom's in-house brands that recently extended their sizes like Leith & BP.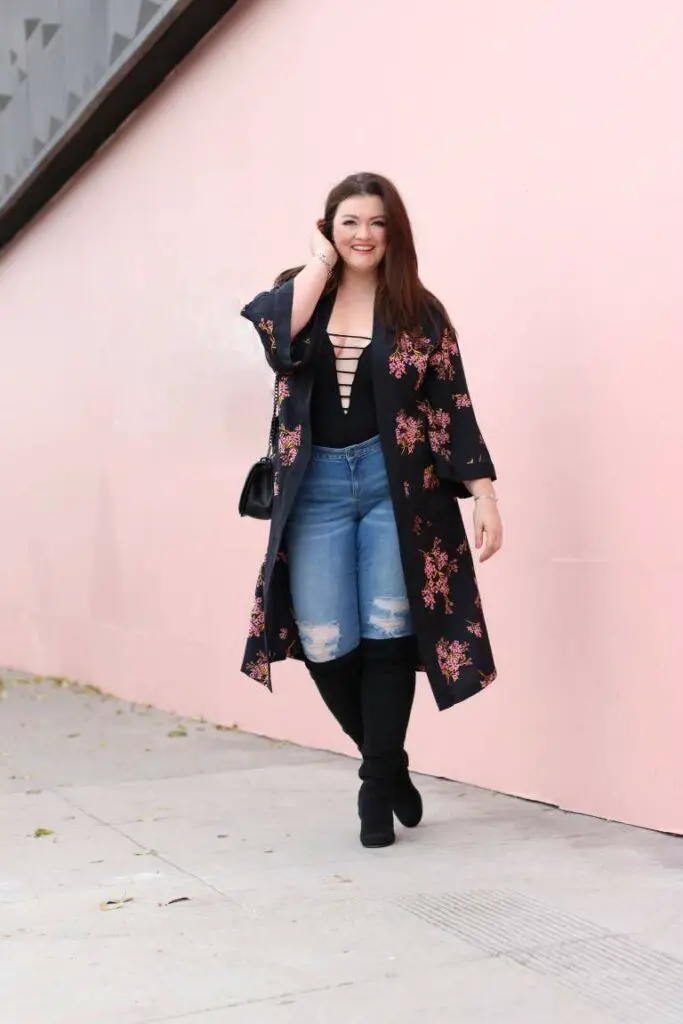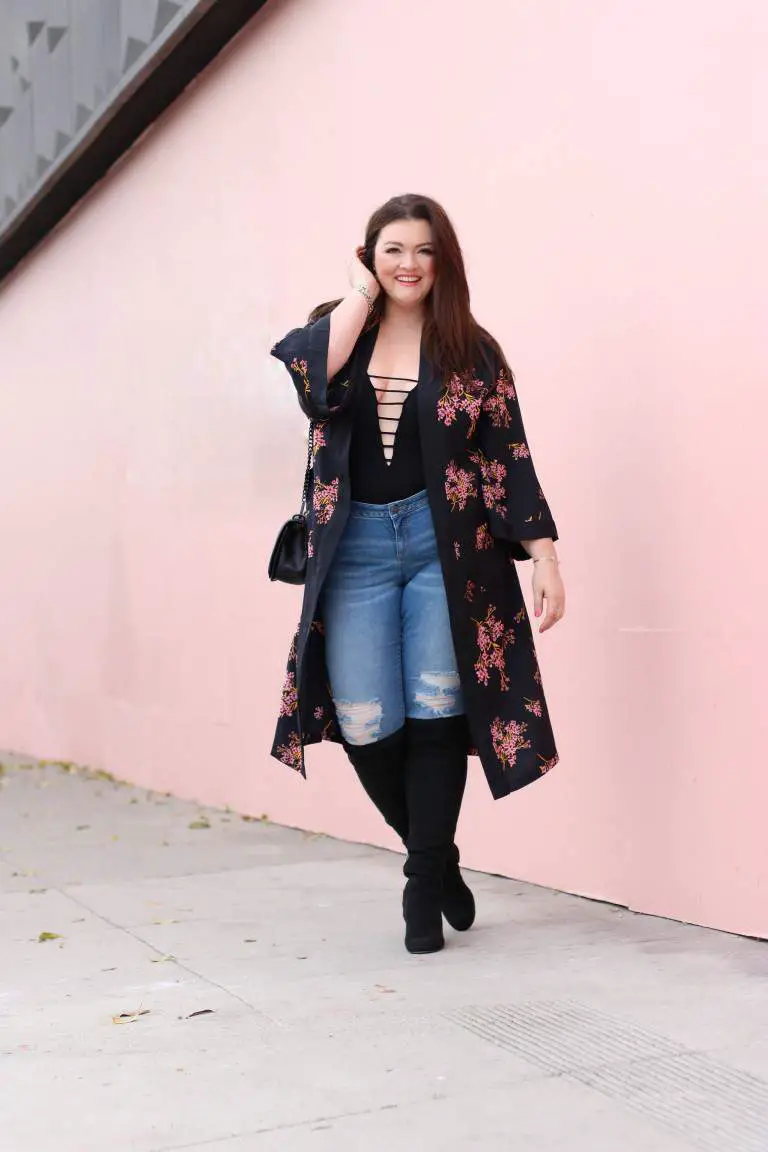 Describe your personal style.
Classy, elegant, on trend. Since I live in LA and the weather is great all the time, I wear a lot of dresses.
Which bloggers inspire you? Plus or straight size! Any bloggers currently on your radar?
There are a few I have always loved and admired for their personality, style and business savvy. Off the top of my head right now are Styled By Reah, Curvy Girl Chic, Jennifer Buckingham, Esther Lafourcade of Esthereal, Gavyn Taylor, Kat Tanita of With Love from Kat, Love & Loathing LA… I feel like there are too many to list and probably some great ones I have missed!
What do you think about where plus size fashion is today versus a few years back?
Something people may not know about me is that I have been in this industry for a very long time. I started as a fit model for Nordstrom over 11 years ago before blogging had even taken off. The biggest difference I have seen since I started out is that there are a lot more brands offering plus in much better styles. However, we still have a long ways to go.

What do you think or hear from readers, is one of the biggest myths about plus size fashion?
I personally hate the assumption that there are certain things we shouldn't or won't wear. Whether it's crop tops, bright colors or the latest trends, women of all sizes should be able to determine what they want to wear.
Are you working on anything or have anything to share?
I am always working on things 🙂 Some I can't quite share just yet!
Anything else you want The Curvy Fashionista's readers to know?
Several things! If there is something you want to do, start it today! Don't wait for that perfect moment or your perfect body or whatever else it may be that you are waiting on to get started. It is never too late to start on a new path. Also, we (bloggers, creatives) really appreciate you and could not do this without the support of our readers and followers.
Lastly, what does Curvy.Confident.Chic mean to you?
To me, it means being comfortable in your own skin and owning who you are (whether that be your body, your style, your personality etc.) My favorite people are ones who have a good sense of themselves, know who they are and are comfortable with that. Confidence is quiet; insecurities are loud.
Check out Rachel's blog at LovelyinLA.com!!
What do you think of her style and her thoughts? Is her blog one you read? Let's discuss!
Are you a blogger? Want to be featured?
Make sure you fill out your deets here, so that we can feature you!
Looking for more style inspiration?
Check out all of the plus size blogger spotlights here!