As we round out our Plus Swim Week, talking about all thing plus size bathing suit related… Let's talk about plus size swimsuits under $100!
Four or five years ago, plus size babes couldn't get a decent plus size swimsuit under $100. But did you know that the average swimsuit goes for $263?! According to Who What Wear, via Lyst, "today's most popular brands sell for an average of $263!"
Heck, it was hard to even FIND plus size swimsuits! Shopping was a bit of a nightmare, and Marie (founder of The Curvy Fashionista) would spend a ridiculous number of hours, scouring the internet to find affordable plus size swimwear.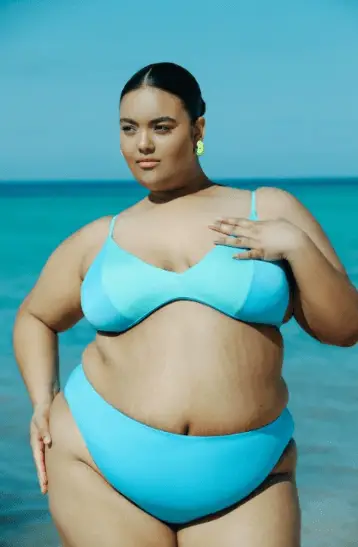 There's Hope for Plus Size Swimsuits Under $100!
Fast forward to 2023, and we have a WHOLE LOT of plus size swim options. Now, our problem is remembering what stores offer swim! And in what sizes!!!
This year, we've included in the list 1-piece plus size swimsuits and 2 piece plus size bikinis (woo bikinis!). I love how designers have added "peek a boo" cutouts and an offering of low-rise bikinis for plus size mermaids. Also, I've left out black swimsuits for the most part – only including ones that have a really interesting cut or other features!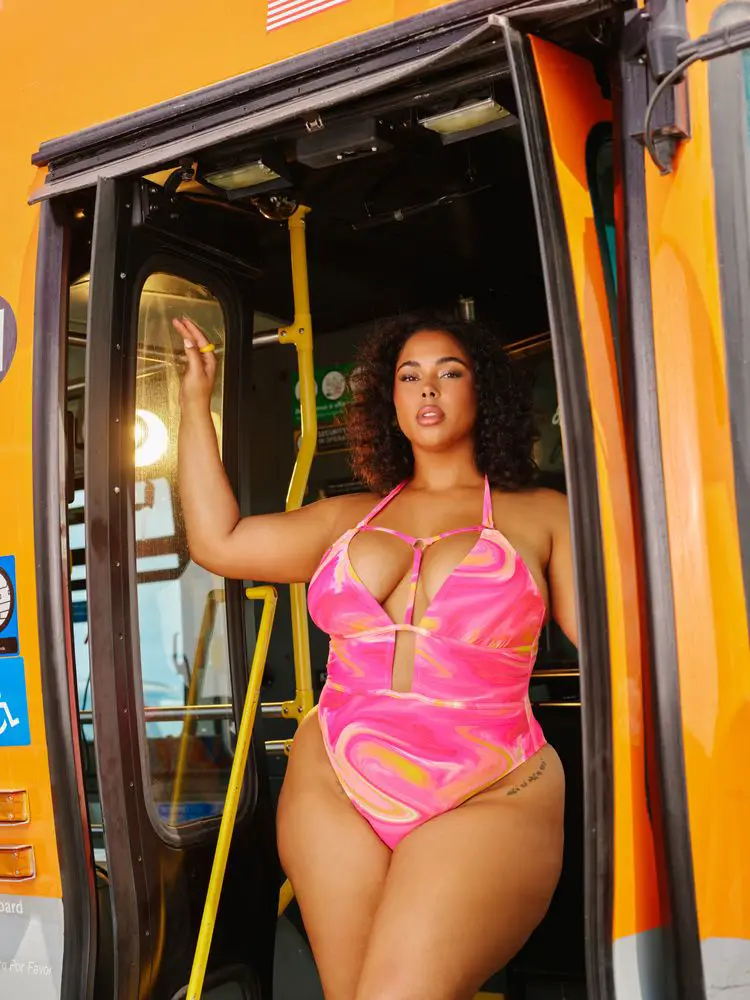 After all, life is too wonderful to spend it wearing a boring black plus size swimsuit! Take up space, babe!! Wearing black doesn't do what you think it's gonna do (ahem!), so you may as well live your life JOYOUSLY at the beach or pool, mmmmmk?
Get out of your comfort zone, babe, and join the world of color! There's fun to be had in sexy velvet or bold and bright prints!
Alright, you ready?
Let's go!!!
Here are 100 Plus Size Swimsuits Under $100!
OMG!!! Finding a cute plus size swimsuit under $100 is so hard -- which is why we're so excited to bring you the CUTEST plus size swimsuits for under $100 in this guide!
I have to admit, I wasn't a fan of bright neon colors, or throwbacks to the 80's we've seen this swim season, but they've totally grown on me! Seeing the diverse models repping swim this year, I've realized that neon colors look good on all skin tones! I also love seeing the "flower power" designs come back from the 1970's and be reinvented for 2023!
Y'all, creating this list has us dreaming of margaritas and a swim up bar. Do you have vacations planned this summer? Have you already started planning your summer swim life?
Ohhh and because sharing is indeed caring, pin this, to share with your BFFs!
I'm so excited to make new friends, so I hope you'll join us!
What kind of swimsuit will you be rocking this summer! Sound off in the comments.