During our last blogger spotlight, we brought you Lisa of Mustang Sally Two. Today, we head to Australia to introduce you to Melissa of Suger Coat It! Melissa has been blogging for over seven years, and her lifestyle blog offers her musings on everything from body confidence to organizing your closet to prepping the perfect cheese platter for your next party.
Of course, Melissa also shows off plenty of fashion with her sporty, minimalist aesthetic and unapologetic approach to wearing what she wants. She is a plus size blogger YOU NEED TO KNOW!!!
Meet Plus Size Blogger, Melissa of Suger Coat It!!
Age: 33
Height: 5'10" (178cm)
Size: US 18/20 (AU 22/24)
Location: Queensland, Australia
How long have you been blogging?
Since 2009, eight years this October. That makes me vintage, right?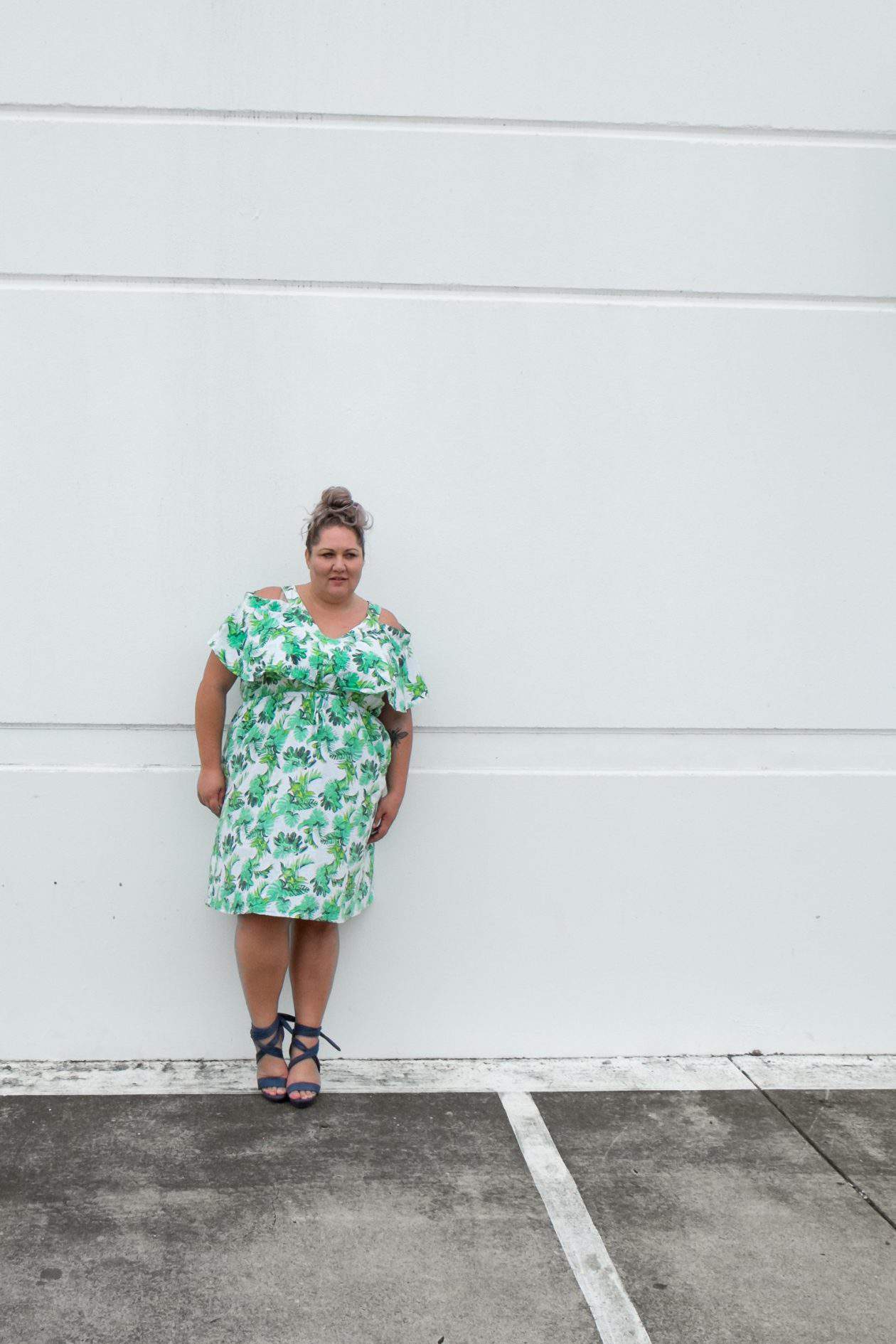 What or who inspired you to become a fashion blogger? What led you to it?
My blog started as a personal blog. I love to write, and blogging was such a fun medium to share my musings and have people talk back – something that the dozens of journals I kept at the time just couldn't offer. In the beginning, my blog didn't include any outfit posts or style commentary. But after a few years, a friend of mine who also blogged suggested that I post my outfit on the blog. After much back and forth, I decided I would do just that, and it took on a life of its own!
From there, I came across the community of plus size women who blog. First, it was bloggers from overseas like Jay Miranda, Nicolette Mason, and Gabi Gregg and later came the Aussies! We built our community in a way, though plenty came before me. Through blogging, I was able to find and dress in clothing that made me happy, that suited my personal style, and it was all systems go.
Do you blog full-time, for fun, as a hobby? Share your evolution!
I started my blog as a hobby, but I worked out pretty quickly that there was a business venture to be had there. At various stages throughout the last eight years, I've blogged full-time, part-time and sporadically. Right now I'd say I blog part-time and work 15 hours a week out of my home, and I own and operate a small business-focused social media agency in my hometown. I keep busy; it helps to keep me focused.
Regarding monetizing my blog, I've always managed incoming inquiry for sponsored and branded content personally so I can keep my eye on it. It was important to me that when I took on sponsored content or gifted clothing items, that they fit into my life, not the other way around. It was also important to me to get paid for the time and effort it took to generate content on a brand's behalf. And no one was going to fight as hard for that on my behalf as I was.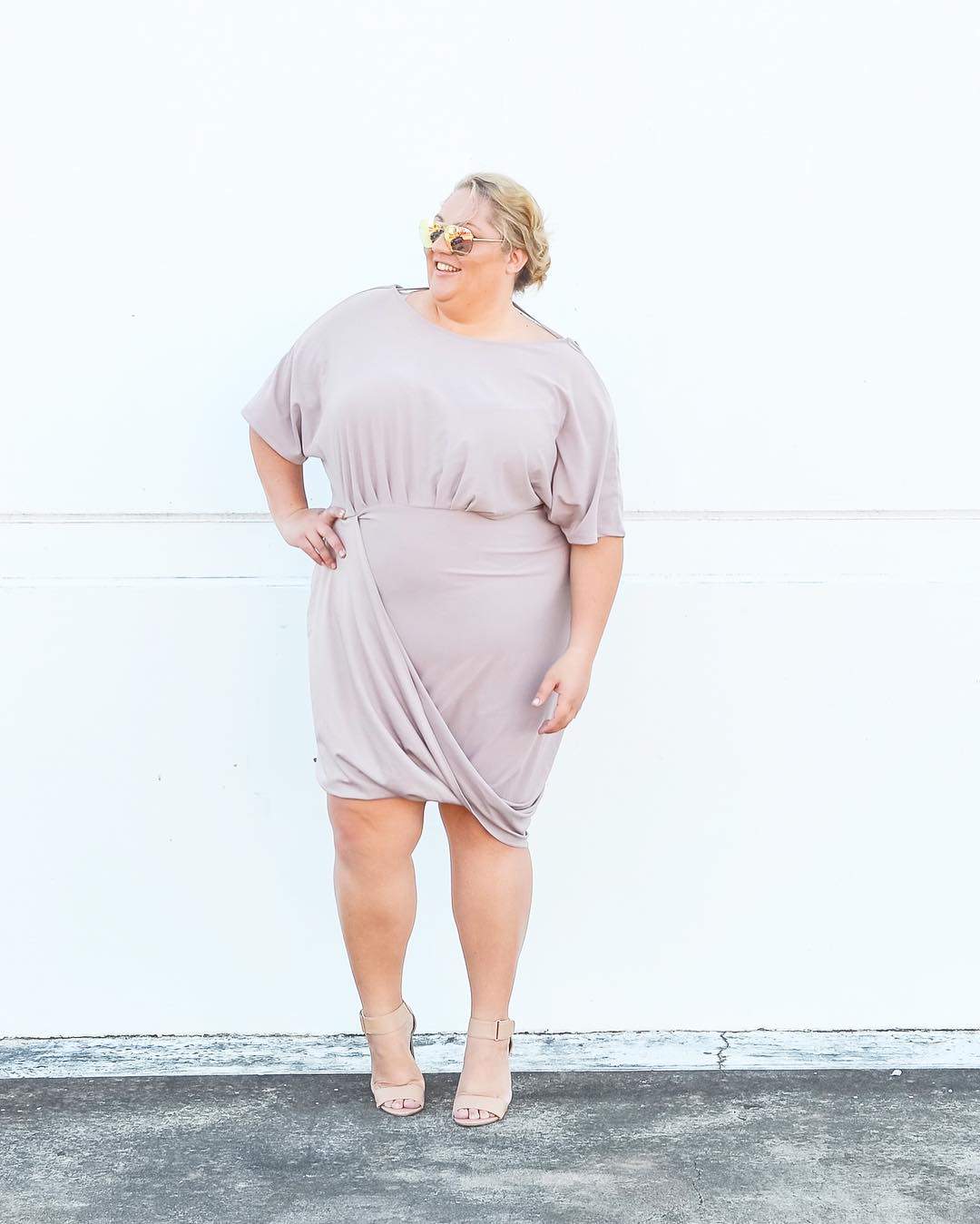 What is your favorite asset? Your legs, arms, waist? How do you play that up?
My favorite asset is my legs; I love short dresses and skirts, skinny jeans, heels and low cut ankle boots. LOVE. And do you know the funniest part of that? I used to get such a hard time for my legs growing up. They always felt so BIG with large thighs and prominent calves, but now I'm obsessed with the strength of them. Love, love, love.
What are the challenges, if any, you face regarding being plus size?
For me, it's about changing the idea that being plus size means I must be sad, unlovable and well, lame. My blog has always been a lifestyle blog where I share stories from my life alongside outfit photos and recipes next to opinion pieces.
I want to be a living, breathing, live-action example of a successful, thriving, plus size woman. Maybe I can change someone's mind? But on the whole, dealing with outdated thinking and assumptions is my biggest challenge.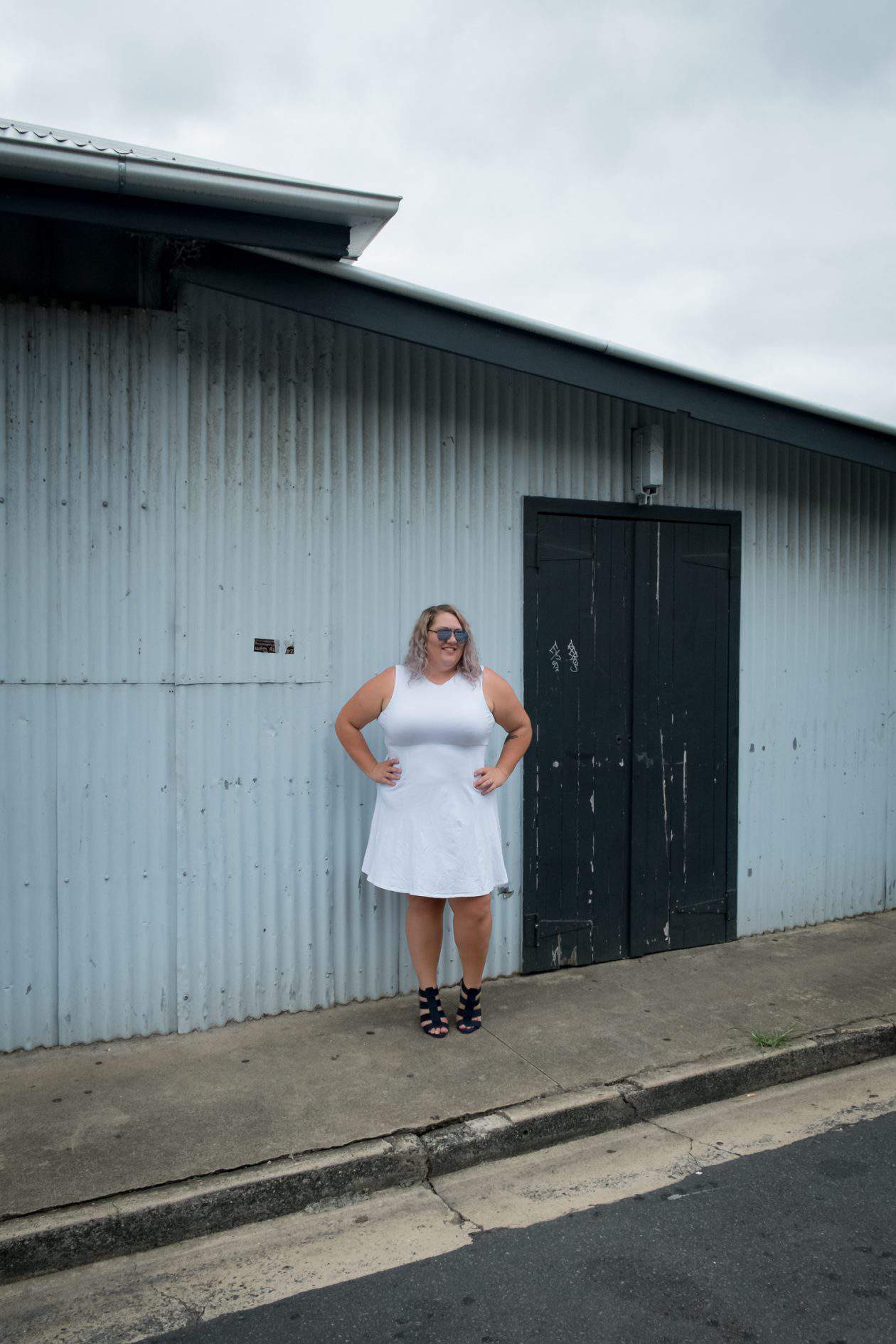 What's your favorite thing about being plus size?
There was this moment in my early twenties when I realized that I would never fit in. That I'd never be the small and delicate woman the world expected me to be, so I gave up their ideal, and I gained a lot of freedom. It empowered me to chose a life for myself. I know that that process sped up because I'm plus size and it was a gift. I learned early that the rules are bullshit and got on with living my life my way.

What's your favorite thing about being a blogger?
OMG, the people, of course! The people I've met in person and online, the ones who email and comment and have become part of the family. I've always loved writing so I knew blogging would be fun, but it's the people who make it so special and something I return to day after day.
Who/what are your favorite designers/brands?
I have one favorite, ONE LOVE, and that's Australian brand, 17 Sundays. I could never buy from another brand again and be fine just wearing what they sell. Season after season they do us proud with their take on plus size fashion and I adore them. Heck, sometimes I feel like a walking catalogue (and archive) for the brand. What can you do? I like what I like.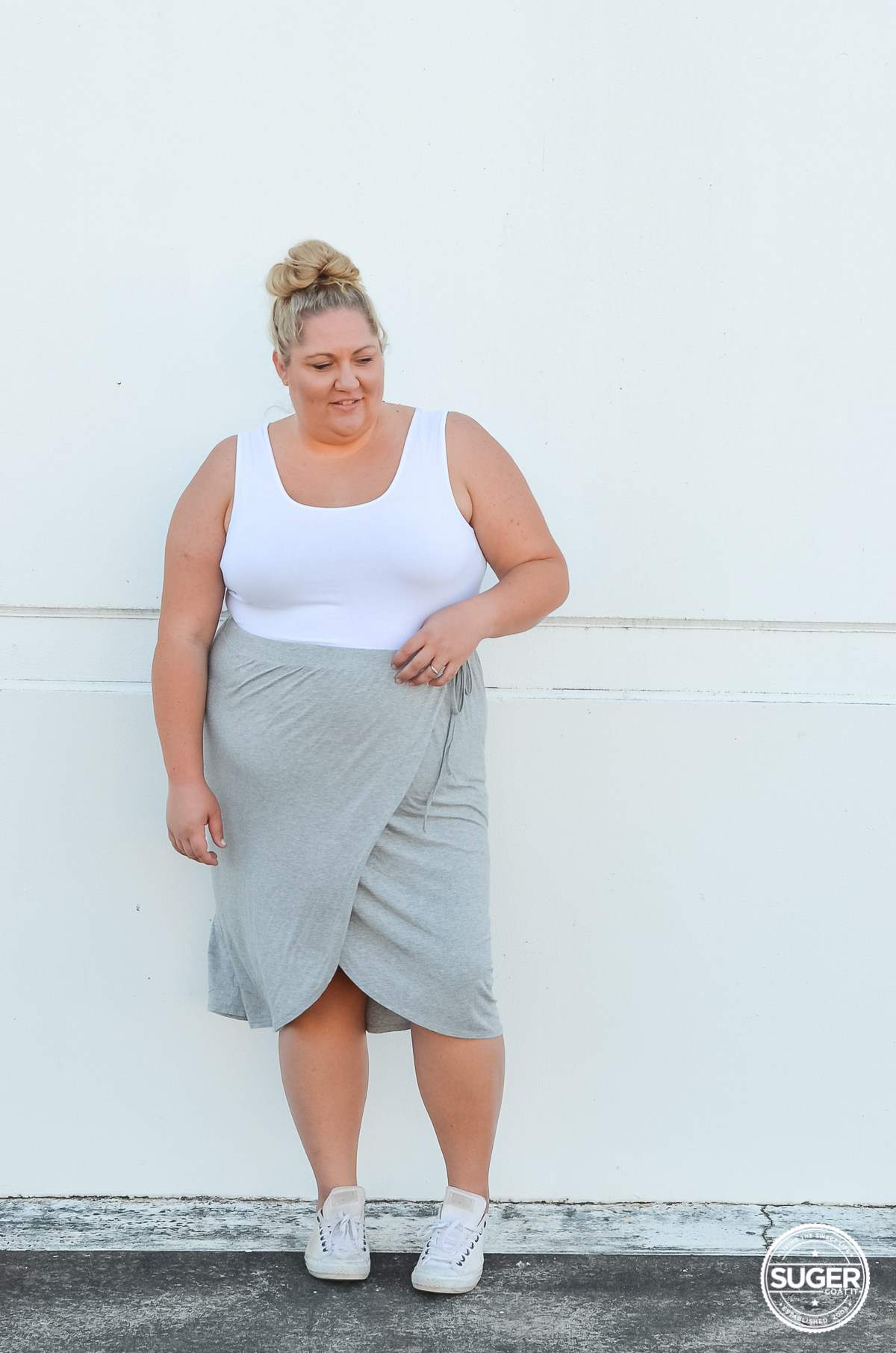 Describe your personal style.
It's casual, somewhat minimalist, and often sporty. It's like, lazy sports luxe. I prefer stripes over floral and seem to gravitate to a color palette of black, white, grey and blue denim. All. The. Time.
Which bloggers inspire you? Plus or straight size! Any bloggers currently on your radar?
I love bloggers who create stunning content; I adore Kellie Brown of And I Get Dressed and Margaret Zhang of Shine by Three. Love, love them. You can see the work and thought that goes into their blog and social media content. It's beautiful. The way they deliver for their audience time and time again – I admire that.
What do you think about where plus size fashion is today versus a few years back?
Oh wow, a few years back I was still in peplums! Yikes. Not that there's anything wrong with that, it's just soooooo not my style, AT ALL. I think that shows that there is more to choose from in general, but especially for someone like me who favors a less hyper-feminine option. Thank goodness! I was checking out Universal Standard and Carmakoma the other day, and their clothing is something that just wasn't out there when I started blogging, and they certainly didn't deliver to Australia.
Fashion industry-wise, I think that door is being inched open. We see it in the US and European markets through the inclusion of plus size bloggers in general fashion and beauty events, plus size brand-specific launches and shows, and the addition of plus models in mainstream shows. We're not there yet here; brands are yet to see our value, but they will. I'm confident that this will change, so we just keep persisting.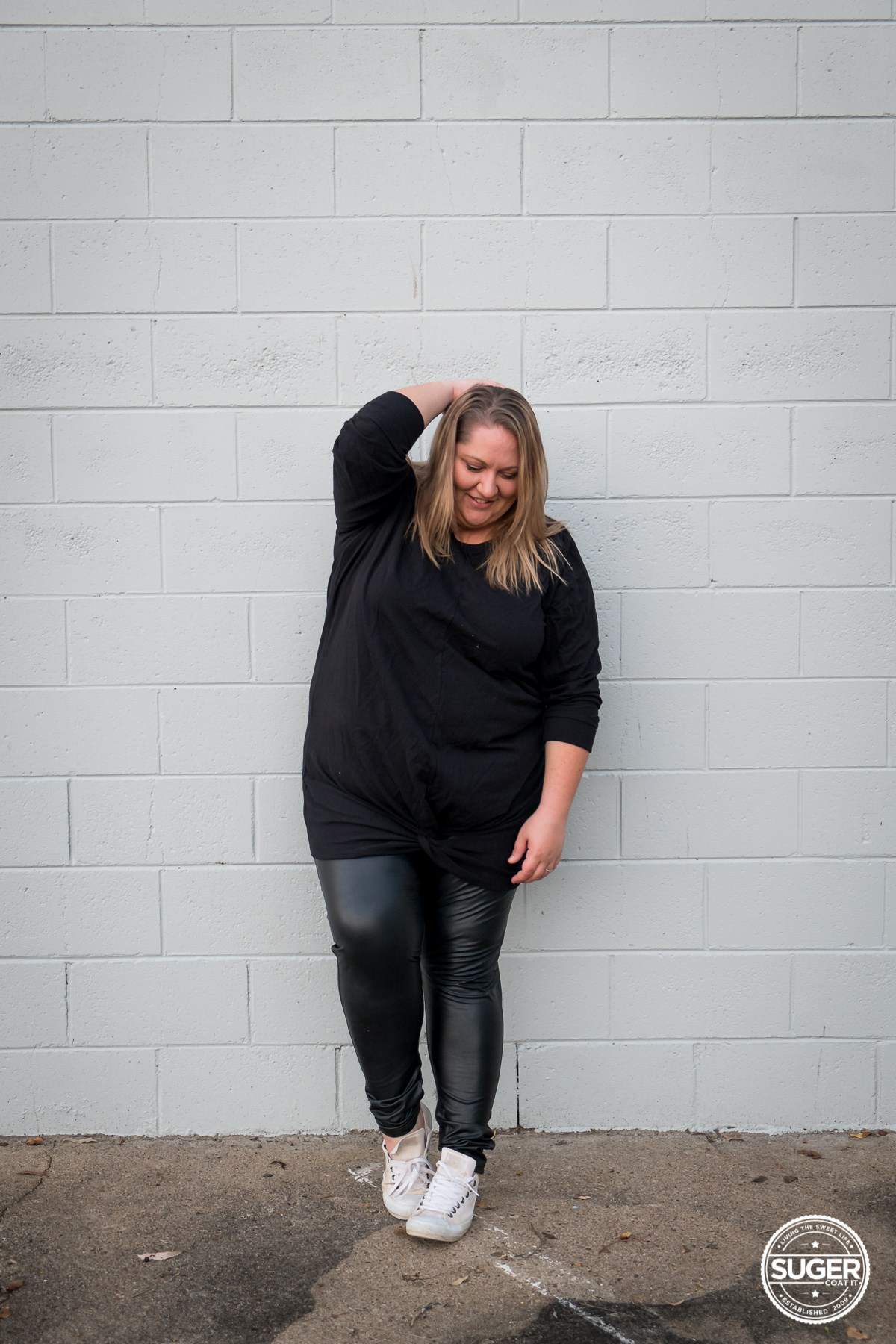 What do you think or hear from readers, is one of the biggest myths about plus size fashion?
A lot of people who find my blog are surprised by the complete disregard I have for the fat girl "rules", whether that comes to dressing or living my life. I think that is the biggest myth out there in regards to plus size fashion; that you have to be something else, or dressed in an appropriate way to be acceptable and that it's brave to do otherwise. It's not brave; it's a tank top or a striped skirt, it's time to do what makes you happy!
Are you working on anything or have anything to share? Anything else you want The Curvy Fashionista's readers to know?
Umm yes, I'm glad you asked! For those that don't know me, I have been conducting a confidence challenge for years now; we call it Suger's Confident You. We ended last year with a Body Confidence challenge that was our biggest intake yet, and this year it's back!
First up this year for the challenge, the theme is Dreams, Goals and Kicking Ass. It's a comprehensive course for people who are committed to developing confidence in who they are and what they want to achieve in life. We are mixing things up a little with the delivery, so I'm PUMPED to get it out there in the world. The Curvy Fashionista readers can stay up to date with that here: http://eepurl.com/bZSB-5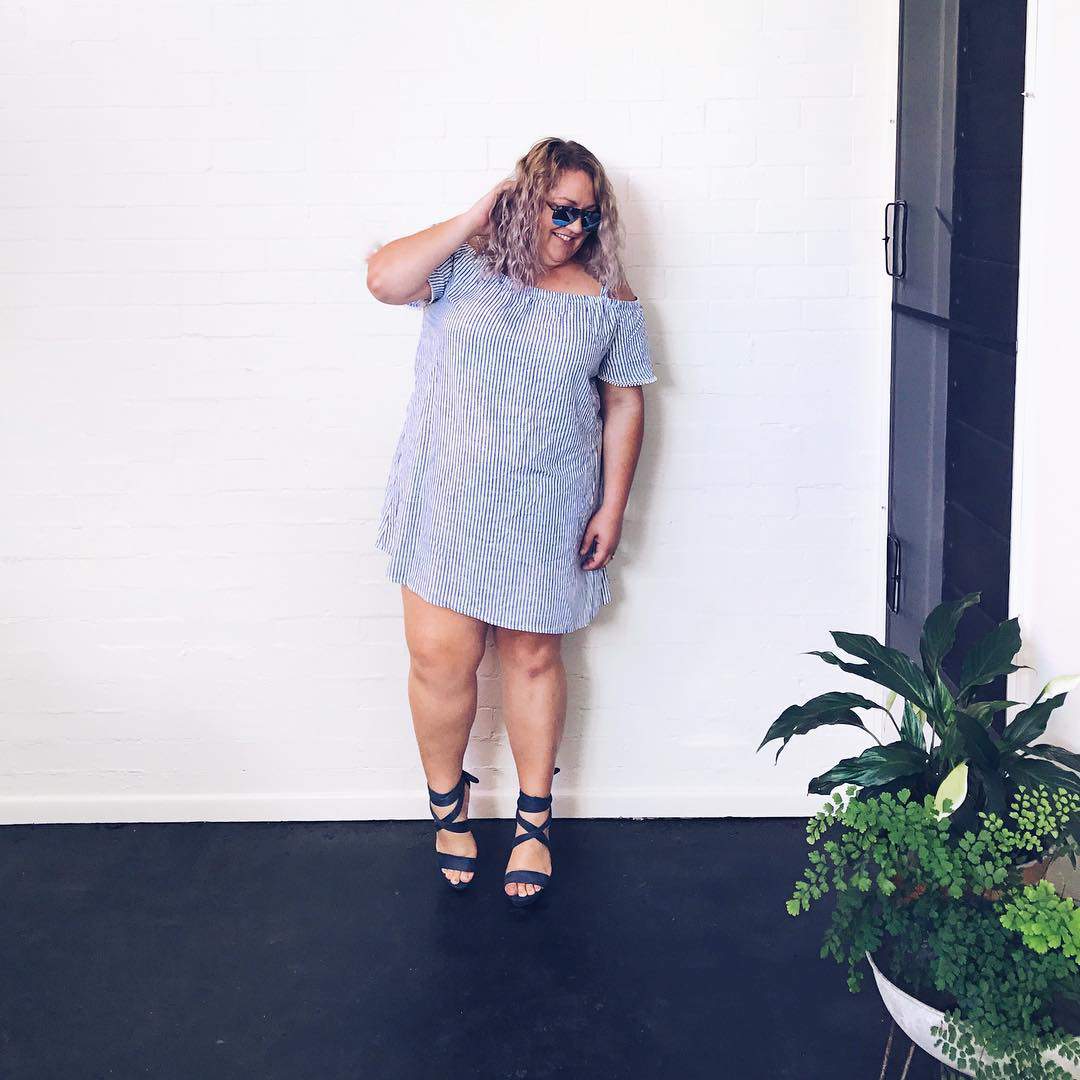 Lastly, what does Curvy.Confident.Chic mean to you?
It means living the life of your dreams now, in a great pair of shoes!
Be sure to check out Melissa's blog at SugerCoatIt.com!!!
Do you dig her style? Which look is your fave? Let's talk about it below!!
Are you a plus size personal style blogger? Want to be featured?
Make sure you fill out your deets here, so that we can feature you!
Looking for more plus size blogger style inspiration?
Make sure you check out all of the other plus size blogger spotlights!