We're having so much fun over here featuring these amazingly diverse plus-size fashion bloggers from all over the world. We spent a lot of time meeting up with some petite plus bloggers, and today, we're excited to showcase a tall plus blogger.
Essie of Golden Kaleidoscope offers up sexy body-hugging dresses in vibrant prints and cool laid-back street chic. Her style is amazing, but what's even more inspiring about Essie is how she inspires others. Her posts are full of confidence-boosting advice and honest stories of her own path to confidence.
Essie is a plus-size fashion blogger YOU NEED TO KNOW!!
Fashion Blogger Spotlight: Essie of Golden Kaleidoscope
Blog: www.essiegolden.blogspot.com
Height: 5'8.5″
Age: 28
City: Brooklyn, NY
What made you want to become a fashion blogger?
I would post regular everyday outfits on my Instagram and people were always asking me where I got things or asking me for confidence advice. After a major push from my friend Shaina Harrison from the blog, Cornerrich.com I decided to give it a try. I've been blogging for a little over a year now.
What are the challenges, if any, you face in being tall and plus-size?
Jeans. I can't find a good pair of jeans to save my life. I'm still on the hunt for the perfect pair of jeans.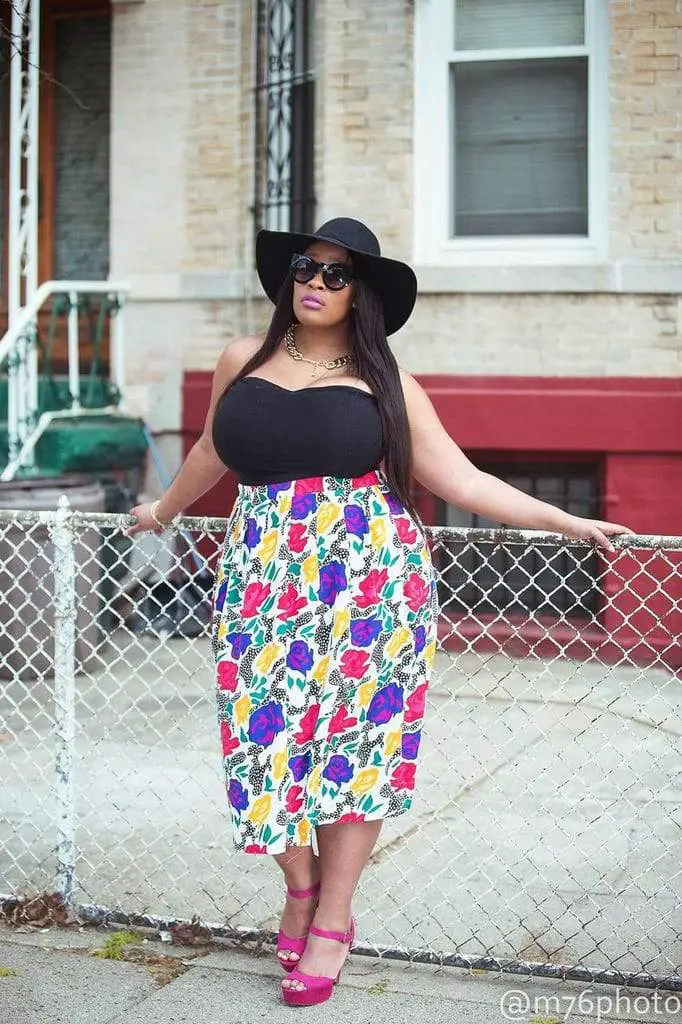 What's your favorite thing about being plus-size?
My favorite thing about being plus size is breaking the stereotype that plus size women can't be fashionable, sexy or on trend just like straight sized women. We're a force to be reckoned with.
What's your favorite thing about being a blogger?
I love being able to share my fashion opinions, spreading body positivity to women, as well as be a positive voice within the plus size community.
Who/what are your favorite designers/brands?
I love indie designers like Married to the Mob, Gifted Apparel, Rue 107, Cupcake Mafia, Served Fresh and Carnivore Creates. Who doesn't love ASOS, Simply Be, Forever 21, and Boohoo? I recently fell in love with 17 Sundays and the bold pieces from Carmakova.
Describe your personal style.
Street sweet. I love my bodycons and super feminine, curve hugging pieces. I also love a graphic t shirt, jeans and cute flats.
Any bloggers currently on your radar?
Too many to name. Everyone is doing such a great job at showcasing plus size fashion. I will say I adore Kelly Augustine, Nadia Aboulhosn, Amarachi Ukachu, Claudia from Curvy Claudia, Chasity Garner from Garner Style, Chante Burkett from Everything Curvy and Chic, Ashley Rose, and Rochelle Johnson from BeautiCurve. All of these women push the limits of plus size fashion in one way or another.
Anything else you want The Curvy Fashionista's readers to know?
Be brave, be bold, and do whatever you heart desires.
Hope you enjoyed meeting Essie! Any plus-size bloggers you want to see featured? Let us know below!
Are you a plus size blogger who wants to be featured? Please make sure that you contact us, and we'll be in touch!