Heading from Denise of Chicago to Amanda of Toronto, we love bringing you all of the amazing and diverse plus size bloggers! Today, we are meeting with Amanda of Latest Wrinkle.
With a background in fashion design, Amanda has a deep love and knowledge of fashion, and she brings her experiences and passion to her blog where she brings the latest in fashion trends, personal style, beauty, and so much more. Amanda of Latest Wrinkle is a plus size blogger YOU NEED TO KNOW!!!!
Meet Plus Size Blogger, Amanda of Latest Wrinkle!
Blog: Latest Wrinkle
Age: 31
Height: 5'10"
Location: Toronto, ON
How long have you been blogging?
Since 2010, so 7 years.

What or who inspired you to become a fashion blogger? What led you to it?
I was in fashion design school and my illustration professor told us about Tavi, The Fashion Rookie, and I was intrigued. I started Latest Wrinkle to review runways shows and talk about trends, but I really didn't post much back then.
Do you blog full-time, for fun, as a hobby? Share your evolution!
I am now a full-time blogger. As I said, it started as a side thing to my design. Then, as I continued to work as a designer I found that I was missing some of the passion that I had back in school, and from that realization, I spent more time on the blog.
Soon I began blogging more than designing, and here we are. In 2014, I met a community of bloggers who encouraged me to start taking outfit photos, and from then I have been working with plus size fashion.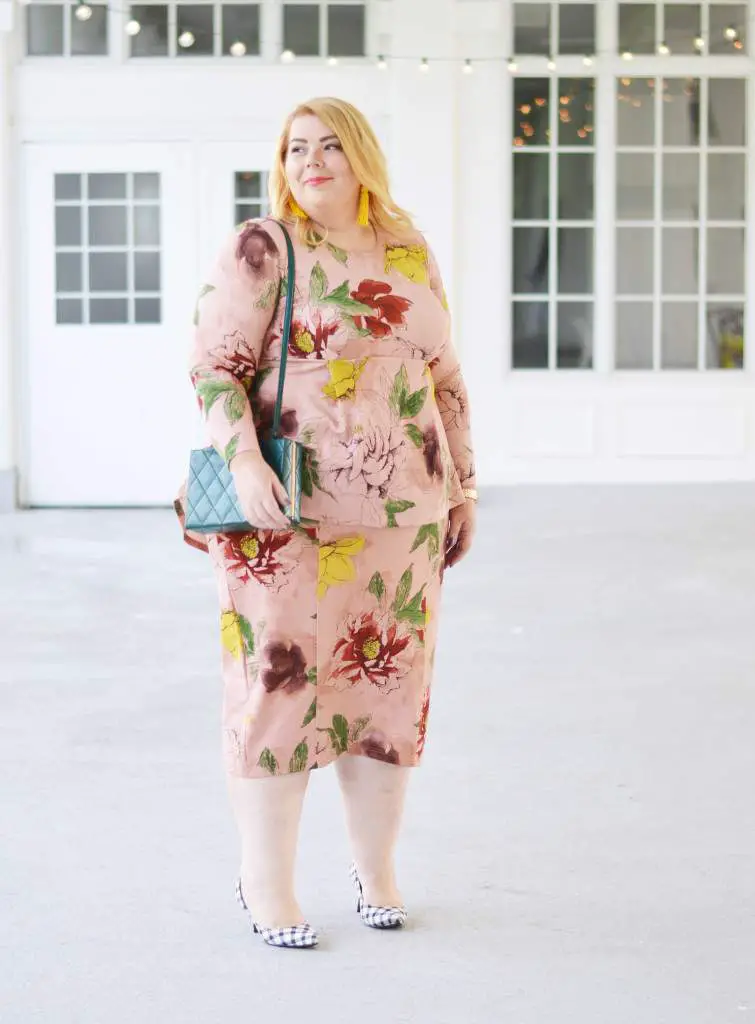 What is your favorite asset? Your legs, arms, waist? How do you play that up?
My waist, I love wearing fit and flare silhouettes and full skirts!

What are the challenges, if any, you face regarding being plus size?
Not being able to wear all the clothes I love. I would love to have all the options and be able to walk into any store and find something in my size.
What's your favorite thing about being plus size?
I love my curves and how they look in clothes. I love that I get to be a part of a community of kick-ass bopo and fat acceptance women who have paved the way to changing the world, and changing minds of not only others, but how we feel about ourselves.
What's your favorite thing about being a blogger?
I have to be honest – working for myself is the best! I love the freedom it has allowed me. But my favorite thing is chatting with my followers/readers. When they share with me how something I did or shared changed how they felt about themselves or helped them in any way on their body positivity journey, it makes all the long hours and hard work worth it!
Who/what are your favorite designers/brands?
I love so many! I love when brands aren't afraid of a little color or print, so if I had to pick one, I would have to go with Eloquii.
Describe your personal style.
Girly, colourful, pastel-ly (mostly pink), a splash of classic, a dash of whimsy, and a pinch of nostalgia.
Which bloggers inspire you? Plus or straight size! Any bloggers currently on your radar?
Nicolette Mason is my queen. I mean she loves pink as much as I do—and she also just happens to be an amazing person.
Allie from Ailurophile with Style is one of the coolest people I know, her blog is stunning, she crushes pastels in a way I could only wish to, and I think she may she may be my dream persona. (Haha—like, in my dreams I think I am as cool as Allie, but I'm not…) You should all be following her.
What do you think about where plus size fashion is today versus a few years back?
Oh man!! How much time do you have? I am so grateful to the giant leaps and bounds we have made. Growing up I was constantly reminded that my "worth" or "value" was only worthy of 2 stores. That wore on my confidence over the years, feeling like my friends had every advantage to wear anything they wanted, while I was stuck wearing trends from 4 seasons back.
Never ever seeing anyone who even slightly looked like me was awful, and I never once thought to myself I look beautiful or good in any physical way. It is crazy how just access to pieces of clothes could have such a severe impact on my psychological state as a developing adolescent. It's horrifying.
But I am so grateful for girls today, that we live in a different world with access to beautiful pieces in any style and are more regularly seeing women with confidence who look like them. I always knew what my style was. I am just so happy that the industry finally has caught up and is offering clothes that I am beyond happy to be wearing.
What do you think or hear from readers, is one of the biggest myths about plus size fashion?
They must wear black to look good. Haha! It's actually quite hard to find black on my blog. I grew up being told I had to wear black to look thinner. In fact I think I wore mostly black from grade 6-11. Readers always love to see how I have thrown that myth under the bus and have embraced bright, bold colors and prints.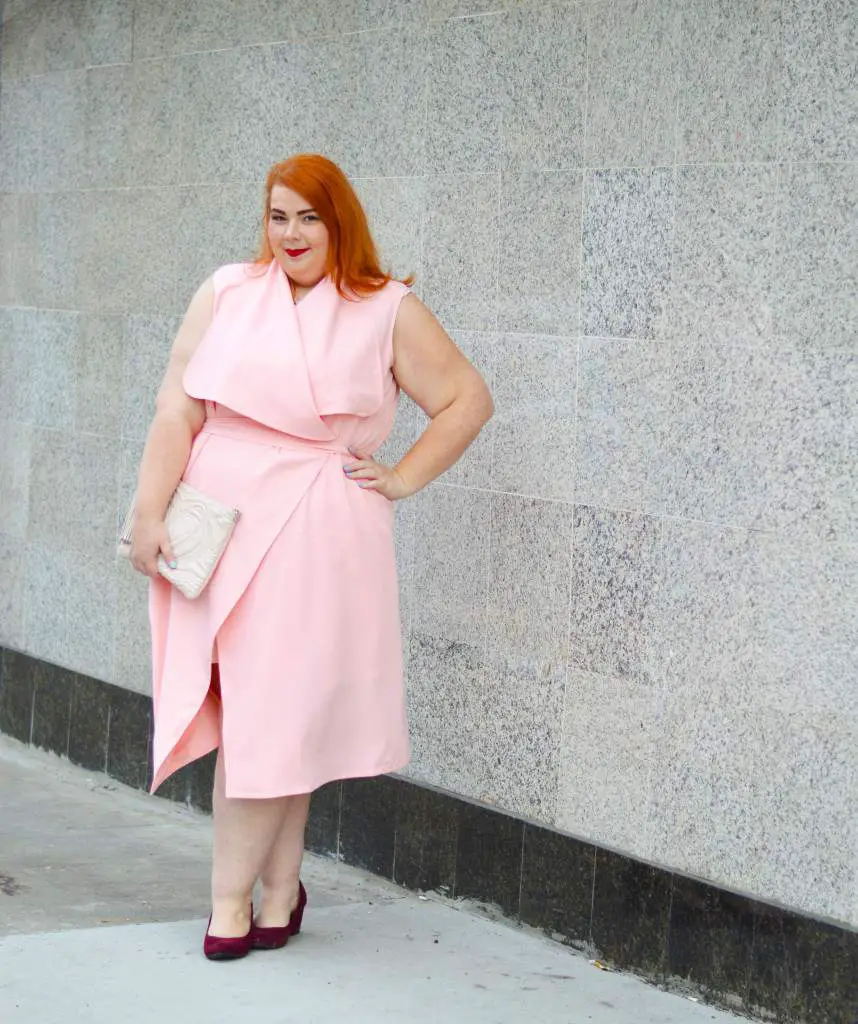 Are you working on anything or have anything to share?
I just completely redesigned my website, and coming up, you will be seeing some fun retro/90s flair and getting even more personal on the blog. The next steps for Latest Wrinkle is venturing into YouTube, so look out for that!
Anything else you want The Curvy Fashionista's readers to know?
Remember to be kind to yourself. Be consciously practicing self love daily, however that looks for you. And most importantly, don't compare yourself to others' journeys—there is no straight path. Two words that I meditate on when I feel myself comparing myself are: perception and perspective. You never know truly where someone is at, and if it isn't for your unique story, your journey would have no value to yourself.
Lastly, what does Curvy.Confident.Chic mean to you?
Confidence is something every girl has to develop no matter their size. Personally, being curvy has allowed me to be aware of my lack of confidence from a very early age and to begin to consciously work on it as I have gotten older. Through steadily gaining confidence, I was able to find and develop my own personal style. Embracing your unique style is what Chic means to me.
Do you dig the style of Latest Wrinkle? Which look is your fave? Let's talk about it below!!
Want to be featured?
Make sure you fill out your deets here,
so that we can feature you!
Looking for more plus size blogger style inspiration?
Make sure you check out all of the other plus size blogger spotlights!