Happy Friday! Hope you enjoyed meeting up with Nomali of Nomali from Soweto! This week, we head from South Africa to France to meet up with blogger Virginie of Freaky Useless! Virginie brings plenty of attitude and confidence to her style, and the story of what led her to start her blog is just way too cool!!! She is a plus size blogger YOU NEED TO KNOW!!!
Meet Virginie of Freaky Useless!!!!
Blog: Freaky Useless
Age: 29
Height: 175 cm (5'7″)
Location: France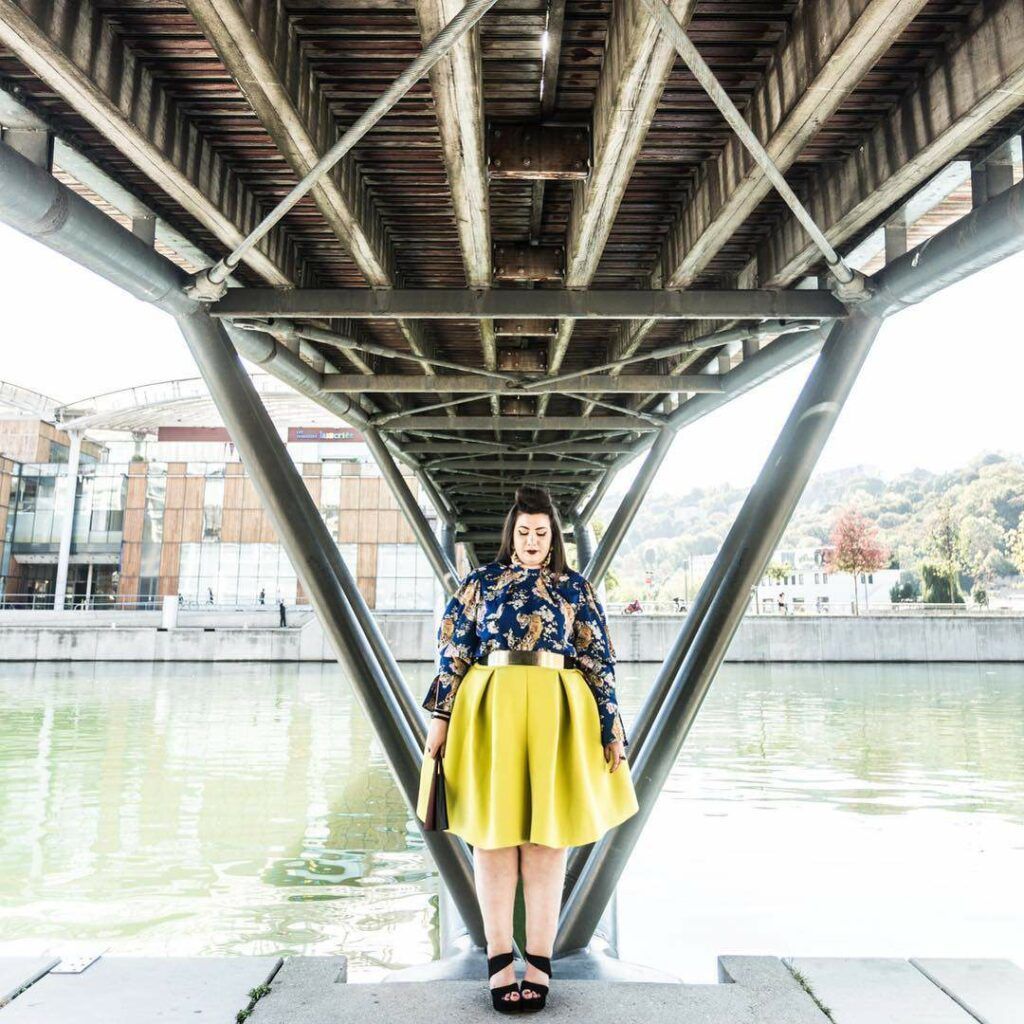 How long have you been blogging? 2 years
What or who inspired you to become a fashion blogger? What led you to it?
Everybody told me that I should start a fashion blog, but I never had enough time and I'm very bad in photography. But 2 years ago, I met Beth Ditto for the launching of her fashion line and she asked me "Do you have a fashion blog?"

Evolution
Do you blog full-time, for fun, as a hobby? Share your evolution!
At this moment, it's only for fun, but the blog brings me more than expected like friendships and discovering new brands!

What is your favorite asset? Your legs, arms, waist? How do you play that up?
I love my big butt (sorry haha) and my thin waist. When I was younger, I hid these, but now I love them so much! High waists and bodycons are so hot on me!

What are the challenges, if any, you face regarding being plus size?
The fight is long. I dream about a world where petite, tall, and plus size will be in the same range, with the same clothes with no rules and barriers.

FAVES
What's your favorite thing about being plus size?
I'm tall, I'm plus size, and my look is stunning, I have a big confidence in me in my personal life and at work, so it's a real advantage! Nobody can forget me!

What's your favorite thing about being a blogger?
I love taking new pictures. It's always a new challenge to reinvent myself, a new universe, a new woman. I love meeting people; other plus size French bloggers are so sweet! I organize plus size closet sales with curvy bloggers. Our visitors are so kind and want to take picture with me – it's incredible.

Who/what are your favorite designers/brands?
My favorite brands in plus size are ASOS, ELOQUII, and Fashion Nova. I love Gucci and Moschino too. Please make us plus size clothes (I pray)

Who Are You
Describe your personal style.
I love fit-and-flare dresses, skater skirts, high heels and big jewels! I love to be a new woman each day, so I could be S&M, pretty, street… everything! Because a plus size girl can wear everything!
Which bloggers inspire you? Plus or straight size! Any bloggers currently on your radar?
I love reading blogs. In France, we have Stephanie Zwicky, the real Queen. I love the smart outfits of Rochelle Johnson too. I love the hot Gabriella Lascano too.
Plus Size
What do you think about where plus size fashion is today versus a few years back?
There are a lot of bloggers. Everybody claims himself influencer but there are only true specialists with great pictures and outfits.

Extras
Are you working on anything or have anything to share? Anything else you want The Curvy Fashionista's readers to know?
I'm sorry for my bad English. Hehe
Come to my blog or my Instagram, and we can share our good addresses, and talk together <3

Lastly, what does Curvy.Confident.Chic mean to you?
The triple C. It's my way of life! I'm so sad when I read my followers being blocked in their life by their shape. Being different is such an advantage – we run the world!
Want to be featured?
Make sure you fill out your deets here, so that we can feature you!
Looking for more plus size blogger style inspiration?
Make sure you check out all of the other plus size blogger spotlights!