From Texan blogger Tameka of Embellished Dame to Canada we head, to bring you another personal style blogger to know! Lisa of MustangSallyTwo is a personal style powerhouse, who brings her style, inspiration, and thoughts about the industry and community to the forefront!! Lisa offers up tons of great fashion and body confidence and fills a void in the plus size fashion world by offering style and shopping tips for women over a size 24. She is a plus size blogger YOU NEED TO KNOW!!!
Meet Lisa of MustangSallyTwo!!
Blog: Mustangsallytwo.com
Age: 41
Height: 5'6″
Location: Burlington, Ontario, Canada
How long have you been blogging? 19 months

What or who inspired you to become a fashion blogger? What led you to it?
I went to an event in Toronto called The Big Deal in 2014 that was run by the owner of Your Big Sister's Closet, a local plus size boutique owned by Karen Ward (aka the Curvy Canadian) where you could shop blogger's closets. I never really felt a sense of community as a plus size woman until I went to it and met all these amazing women, particularly Karen & Thera Warren of the blog Cloud 14+. Over the next few months, I became good friends with Karen and her husband Peter and Thera, and they encouraged me to start my own blog. I always loved fashion, was a huge shopper, and I realized I had something to say, especially being a size 26/28. So from that, MustangSallyTwo was born.
Do you blog full-time, for fun, as a hobby? Share your evolution!
I am a CPA, CA by day with a busy professional career in an accounting firm, so blogging is my hobby, second job, and creative outlet. I never expected for it to grow as much as it has or as quickly as it has, so sometimes juggling the two is a challenge, but I love it and wouldn't trade it for anything. And the outlet it provides me makes me better in my professional career.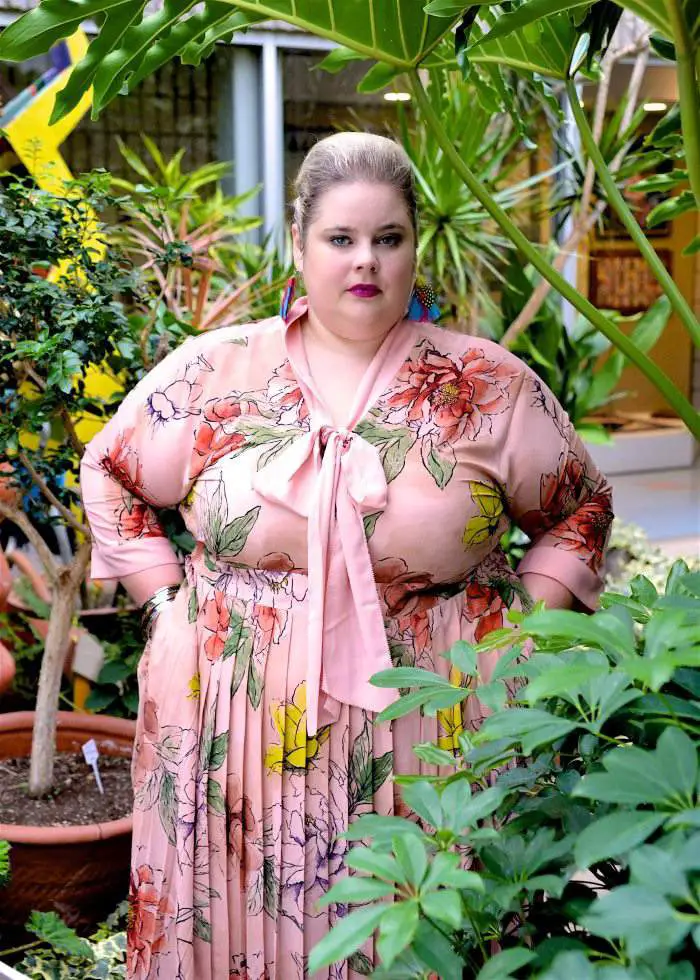 What is your favorite asset? Your legs, arms, waist? How do you play that up?
I would say my waist and my booty. I wear pieces that define my waist and emphasize my shape. I know I have a large booty, but I love it and it is a part of me. I am not a huge bodycon person but there are other ways to play it up, like a great fitting jean or pant.
What are the challenges, if any, you face regarding being plus size?
Being an extended size is definitely a challenge because many plus size brands stop at a 22 or 24 so there are fewer options out there. And of course, you are always dealing with the negative stereotypes about my health, what I eat, that I am lazy and don't exercise etc., but I try to just rise above it.
What's your favorite thing about being plus size?
I love my curves and how I look in clothes. I hated my body for so many years, but when I realized that I was good enough just as I was, my style really evolved and my confidence soared. I can rock just about anything and I love it.
What's your favorite thing about being a blogger?
I love hearing from followers and knowing that I have helped them on their journey to self love, that I inspire them, that I helped them find an outfit or a new brand to try or gave them the confidence to go sleeveless or wear a swimsuit. I love all the amazing women I have met in the plus size community.
I never thought I would forge such great friendships and find a space where I feel like I belong. I also am grateful that it pushed me to get comfortable in front of a camera because I avoided getting my picture taken for so long. And I also found love.
Who/what are your favorite designers/brands?
I have loved Christian Siriano since the very first episode of his season of Project Runway. I am inspired by Diane Von Furstenberg, Chanel, Dior, Kate Spade, Marchesa, Michael Costello to name a few. My fave brands are Lane Bryant, Eloquii, Torrid, IGIGI, Penningtons, Full Beauty, eShakti, City Chic, and SWAK Designs. I also love indie plus designers like Courtney Noelle & Zelie for She.
Describe your personal style.
My style is feminine, glamorous, sophisticated and classic with modern elements mixed in.
Which bloggers inspire you? Plus or straight size! Any bloggers currently on your radar?
Lovely in LA, Jessica Kane, Garner Style, The Latest Wrinkle, Miss Lion Hunter, My Curves and Curls, Glamarosh, Fashion Love Letters, Glitter & Lazers, Fat Girl Flow, to name some, I could go on lol. I think Style Plus Curves is going to have a breakout year, and fellow Canadian Big Hips Red Lips is killing it these days. And I love seeing a new extended size gal Kelly Belly Ohio on the scene.
What do you think about where plus size fashion is today versus a few years back?
As someone in her 40s, I can honestly say it is night and day compared to when I was a teenager and in my early twenties. I think in the last few years we have seen growth and change, but there is still so much work to be done.
We need more brands carrying full size ranges, we need designer options, we need to see diversity – more diversity in models and major campaigns, and we need more plus size women actually working in the plus size fashion business because we know what we want and we know what works for our bodies.

What do you think or hear from readers, is one of the biggest myths about plus size fashion?
I find many plus size women have no idea about the options that exist for us nowadays. I realize a lot of brands are online and don't have brick and mortar locations, but I can't believe it when someone says they have never heard of IGIGI (I bought my first dress from them in 2005) or even my American followers who have never heard of Penningtons.
Are you working on anything or have anything to share?
I am working on a few things, rebranding my website and adding full ecommerce capabilities so you can shop my closet 365 days a year. I will also be doing a play on my Holiday Double Slay in 2017, branching out into more beauty and lifestyle posts and I am looking at YouTube which has been a huge request from my followers. And, I am open into crossing over into modelling for the right brand. I would love to see someone my size represented.
Anything else you want The Curvy Fashionista's readers to know?
I appreciate all the love and support you guys have shown me. Stay tuned because I have big dreams, and I want to help change the game in this industry. And if you ever have questions, please ask. I will be happy to answer them.
Lastly, what does Curvy.Confident.Chic mean to you?
It means being comfortable in the skin you're in, knowing that you are fabulous and worthy of anything you set your mind to, and you wear what you want, what makes you feel great and don't care what others think. Fashion is a form of self-expression, and we all should have our voices heard.
Be sure to check out Lisa's blog at MustangSallyTwo.com!!!
Do you dig her style? Which look is your fave? Let's talk about it below!!
Are you a plus size personal style blogger? Want to be featured?
Make sure you fill out your deets here, so that we can feature you!
Looking for more plus size blogger style inspiration?
Make sure you check out all of the other plus size blogger spotlights!