Now, you guys know that I love to shout out those ladies (and gentlemen) out there that are doing their part in pushing the world of plus size fashion forward in their own unique ways. And, as a blogger myself, I have a special place in my heart for those who use this medium to do so.
That is why I wanted to take some time out of my day to highlight – nay, CELEBRATE the 20 plus size personal style bloggers that I feel completely SLAYED IT in 2014. Yes, we have GabiFresh, Nicolette Mason, Nadia, Girl with Curves, and Garnerstyle, these ladies you know, but I bet there are a few that you didn't know about! So, without further ado…
The Top 20 Breakout Plus Size Personal Style Bloggers of 2014
In no particular order other than alphabetized, check it out…
Amanda Allison (Fashion, Love, and Martinis)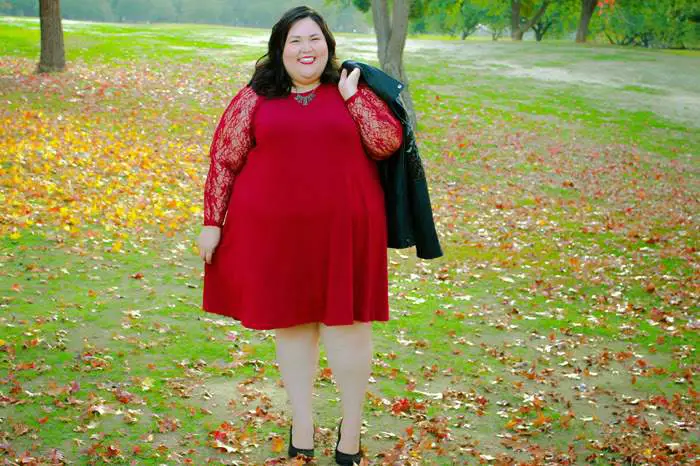 This Fresno-based blogger/vlogger promotes body positivity and her friends love her for it! Her post dates back to 2010 and reflects her journey from an attitude of self-hate to one of self-love. And that is something that many people can relate to. I, for one, am one of the legions rooting her on. Get drunk in love with her blog, yall!
When it comes to finding trendy print fashions for the fuller figured ladies, I definitely head on over to Amarachi's eponymous blog to see what catches my eye.
Alissa Wilson (Stylish Curves)
This New York-based blogger has been featured on my blog a few times. And for good reason – she is awesome! She effortlessly blends sexiness with sophistication. Better yet, she teaches other full-figured fashionistas how to do the same. If you didn't already visit her when I featured her on Fashion Blogger Fridays, you should take some time to do it now.
Allie McGevna (Inside Allie's World)
This plus size model, turned blogger, turned designer has been slaying all over the place from fashion and style to NOW featured blogger for People Style Watch! She serves all on fronts and is the sweetest woman too!
Allison Teng (Curvy Girl Chic)
Allison is a Pinterest & fashion addicts dream come true! She flawlessly blends stand out colors with gorgeous fashions to bring us looks that we all want to steal. If you haven't already been fawning over her, prepare yourself for some awesomeness!
Ashley Rose (This is Ashley Rose)
This blogger from "Down Under", Ashley Rose is very self-aware about what looks good on her and that is a trait that not everyone has. I love seeing the way that she pairs classic looks with edgy looks. It is absolute perfection. You don't even have to be in Australia to check her out.
Cynthia Ramsay Noel (Flight of the Fat Girl)
Blogging from Quebec, Cynthia got started on this path as a way to claim being a big girl as a positive thing rather than negative. I love that she puts in s much effort to promote body positivity. I also love her style, which she describes as "edgy and quirky, with a little bit of class". Fly on over to her blog and check her out.
Essie Golden (Golden Kaleidoscope)
If ever there were an advocate of embracing imperfection and loving your body as-is, it is Essie. Her blog is the epitome of the body positive movement and I love her for it.
Georgette (Grown and Curvy Woman)
Like many other plus size fashion bloggers, Georgette began her blog as a way to celebrate her personal style and to chronicle her personal journey towards loving the skin she is in. It's a beautiful thing when you can take part in someone's journey towards self-love. You can check her out on her blog.
Mother. Blogger. Huffington Post contributor. Jay Miranda is definitely rocking it out in all three roles. And you can follow along with her every step of the way on her blog
Jeniese (The Je Ne Sais Quoi)
This Alabama native uses her blog as a medium to share her unique style (with quite a few shout outs to her favorite football team). Check out her fashion and beauty sense on her blog.
Kellie Brown (And I Get Dressed)
This has been an eventful year for Kellie. Re-branding, business growth, personal style, and more, Kellie has given us a year of playful fashion looks and making a name for herself! Definitely one you should check out!
Kimberly Postell (Natually Fashionable)
Fellow TCF Contributor, This blogger/vlogger has dedicated her time to helping other curvy ladies to develop their own personal style. If that sounds like something you'd be interested in (aren't we all), you can follow her on her website (and beyond).
This edgy, playful blogger is also a fashion writer AND a recording artist who released her own album this year! How much fun! She is known for her bold pairings and daring mixes with fashion! Gotta love her!
Peggy Jean (On the Q Train)
As you can probably imagine, this dynamo hails from Brooklyn and is known for her colorful fashion. If you are looking for a way to break out of a monochromatic rut, I highly recommend popping over to her blog for some inspiration.
Rochelle (BeautiCurve)
This Los Angeles native started her blog in January of 2013 and has been rocking it out ever since! She is definitely a proponent of body consciousness styling. If you haven't already checked her out, all it takes is a click of the mouse to visit her.
Sarah Rae Vargas
Based in Chicago, this trendy blogger/vlogger is contributing to the fashion industry with her style, beauty tips, and by promoting body positivity. If you are not one of her 220,000+ fans (and this is just counting Youtube and Instagram), you probably should run over to check her out. I'm just saying.
Supple Chic
I found Supple Chic by accident this Spring while looking for some cute ideas. Oh, what a happy accident that was! Come on and check her out.
Thera Warren (Cloud 14+)
This Toronto blogger is just too fabulous for words. Her style is like the intersection where sassy meets classy and you WANT to be there. Plus, she has a definite focus on showing my fellow curvies that body positivity is where it's at. The fashionista in you will be on cloud nine over at Cloud 14+.
Venessia (Style4Curves)
Venessia's blog showcases her style in a photo diary that is straightforward and fantastic. And if you love bloggers who show you how to be confident in all of your curvy glory, then you definitely want to check her out!
You have to love all of these new ladies- showing off how to rock out with your curves out! Loving all of these new bloggers, their style, and how they are owning their body and showing off their plus size style!
Who have we missed? Do you follow these ladies? I want to hear from you! Drop a note below!