As we are getting things wrapped up for the 2019 TCFStyle Expo, we went into our vault of recaps and wanted to share this one from this year Style Squad member, Megan Hillard also know as the vibrant Curves, Curls and Clothes. Take a peek into a day of the expo with Megan!
Flashback: 2018 TCFStyle Expo Recap with Curve, Curls and Clothes
Hi my loves!!! How have you been? I have been sooo crazy busy, but I wanted to drop in a talk to you about this lovely community that I am blessed to be a part of. The plus size blogger and influencer community is truly a gift. Last year was my very first time attending The Curvy Fashionista Style Expo, it was actually my first blogger event EVER. I was welcomed with open arms by people that I only knew through following them on social media. Marie, the founder of TCF, is the GOAT of hosting! She makes sure that everyone in attendance is enjoying themselves and goes out of her way to bring new panels, vendors, and events every year.
I am going the breakdown my weekend for you guys! From all the happenings at the event to all the looks that I rocked during my fabulous weekend in Atlanta! The host hotel for this years conference was the beautiful Renaissance Waverly, it is attached to the Cobb Galleria which was the location of the conference.
Blogger Mastermind Event
This year Marie added an additional day to the TCFStyle Expo schedule for a Blogger Mastermind Event. Yes, it was as dope as it sounds! We had a room full of bloggers at every stage, from ones who JUST launched to ones who have been in the game for years. Marie lead the class and we talked through a range of topics pertaining to blogging, working with brands, monetizing and more. We also got to hear from some of the ladies from Media Vine, Heather talked to us about how to make more money for our content and walked us through all the things that Media Vine offers to content creators. Just look at this room FULL of us ready to learn! I felt like I was in college again, but this time with a ton of my favorite people!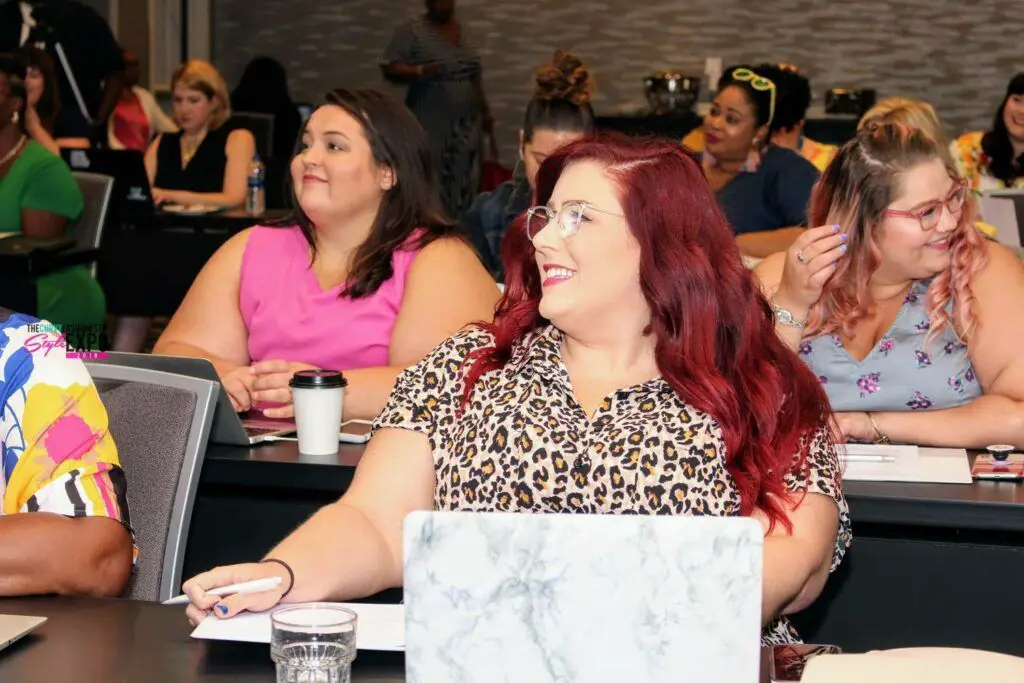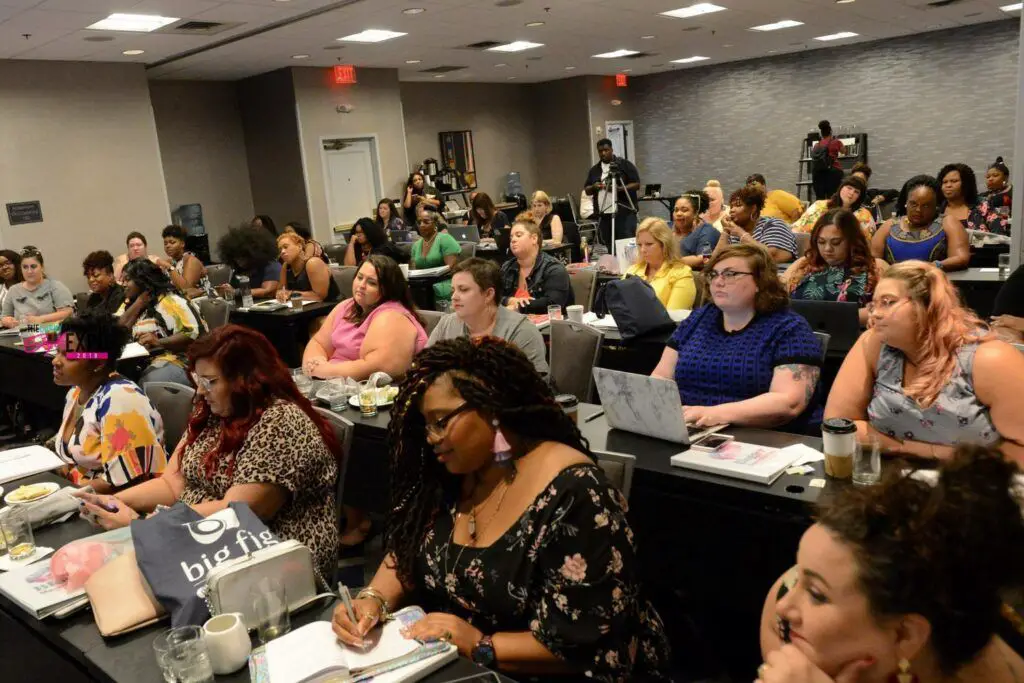 Since day one was all about getting my learning on, I decide to go with a boss babe look with a slight edge. I paired an animal print ASOS Curve dress, which you guys sold out when I linked it on Instagram, with some strappy heels that I picked up from fullbeauty.
After a day of learning, coffee and chatting with my fellow bloggers, Lane Bryant hosted happy hour and then we followed that up with a cocktail party by The Curvy Social. We danced, had cocktails and enjoyed the venue.
For the TCFStyle Expo evening look, I decided on a super fun palm leaf print set from Pretty Little Thing. I am wearing a US size 20 in the crop top and in the pants. This look made me wish I was on a tropical island sipping drinks with my toes in the sand.
Expo Day 1
Day one! This was officially the first day of the TCFStyle Expo! Full disclosure, I started this day off falling hardcore outside in the parking lot. I went to get my spare phone charger out of my car and tripped right in front of two men that were walking toward me. Now, you should know, I am SUPER clumsy and fall ALL the time. Other than a few bruises, scratches and ego hit I was perfectly fine. Plus, I didn't mess up my outfit!
I was honored enough to have CityChic provide my day looks for the expo. First up, this gorgeous Flowerette Jumpsuit! I am wearing a L/20 and the fit was phenomenal! Jumpsuits can be tricky with my build, I carry a lot of weight in my BLT (Butt, legs, and thighs) area. So, a jumpsuit can be a problematic fit, not this one! It fit like a glove! Loved the length and that the tie in the front featured a wrap look that draped around the top half beautifully.
After I dusted myself off and collected all my swag from the pavement, I grabbed Kelvin, Notoriously Dapper, who was my partner in crime all weekend and we headed over to breakfast before the expo doors opened. Day one was FULL of panels, shopping, and fashion shows! I split my time between the "Size 20+ and How to Navigate it" panel and the "Male Body Image Project" panel, both featured speakers with great advice and opinions on these very important topics. Although the plus community is making great strides at inclusivity and diversity, both of these demographics are still underrepresented and overlooked.

Also, we were graced with a performance by the 4Thirty-Two dance crew. Those ladies killed it! Day one also featured some pretty great fashion shows on the main stage, and the MCs and DJs for this year's event kept the party going all day long! After a full day of fun, we closed out the evening with the TCF 10 year anniversary party! Yes, 10 YEARS! Congrats to Marie, that is a huge accomplishment. I spent the evening laughing, dancing and hanging out with my blogger family.
I am wearing a jumpsuit from boohoo that I have had forever.
Expo Day 2
Day two! I am happy to report that day two was fall free, I stayed upright all day! After I met Kelvin and Alysse for breakfast in the hotel, we headed over to the expo for more good stuff! CityChic provided this look as well.
This was my very first time trying out City Chic jeans and I LOVED them! I am wearing a size L/20 in this Peach Strappy Wrap top and a 20 in these Asha Petite Patched Up Skinny jeans as well. I did get the petite length, I am only 5'3 and have finally accepted that I need to order jeans in petite. Took me years to come to terms with this. Here I am pictured with Crystal of Society of Harlow. She is wearing City Chic as well! We rocked our CC looks all over that expo!

Y'all ever watched a little show called Project Runway? Well, the gorgeous and oh so sweet season 14 winner, Ashley Nell Tipton, was the featured speaker for day two. I loved hearing her story, it was inspiring for me to hear that she never gave up on her dreams. Ashley was great! Not only in here speech but in person as well. She has a great spirit and we plan to work together very soon!
I would like to note here that TCF, is one of the only plus size events that I have been two that give Big and Tall men a platform too! I think this is so dope and important. Men struggle with body confidence and self-esteem as well. It is important to highlight them and give them a chance to shine, I was happy to see men's fashion shows included on both days of the expo this year! I wrapped up the weekend shopping and talking with some of the awesome vendors present this year. I bought a super cute and funny t-shirt from Feminine Funk and tried on some pieces from a new brand See Rose Go just to name a couple.
Overall, I had a blast in ATL at The Curvy Fashionista Style Expo, if you have never been to a plus size event or conference I highly recommend going! Do not be scared, this is the most welcoming, caring environment FULL of dope people. I have literally made life long friends at these events. I am actually going through withdrawals missing them now. So, mark your calendars as soon as they announce the next years event! You DO NOT want to miss it!
Thanks for reading!
(People Mentioned in this post: Alysse of ReadytoStare, Sabrina of SabrinaStyled, Megan (me) of Curves, Curls and Clothes, and Kelvin of Notoriously Dapper.)
XOXO,
Megan (Curves, Curls, and Clothes)
Told you the expo is an amazing experience! Meet Megan and the rest of the squad next month!
Are you ready for the 2019 TCFStyle Expo!
August 9th-11th at the OMNI Hotel CNN Center in Downtown Atlanta.
Ticket are on Sale Now Hurry!!