Happy Friday! It's time for another spotlight, and today, we are meeting up with social media influence and fashion genius, Troy of A Bear Named Troy! If you missed our last blogger spotlight, be sure to check out Anna of St. Louis Modern Mrs. and then stick around to learn more about Troy!
Troy first caught my attention on Instagram for his fierce and bold style and editorial photos. He is a Big & Tall plus size influencer YOU NEED TO KNOW!!!
Meet Troy of A Bear Named Troy!!!!
Instagram Page: A Bear Named Troy
Age: 28
Height: 6'1″
Location: Los Angeles, CA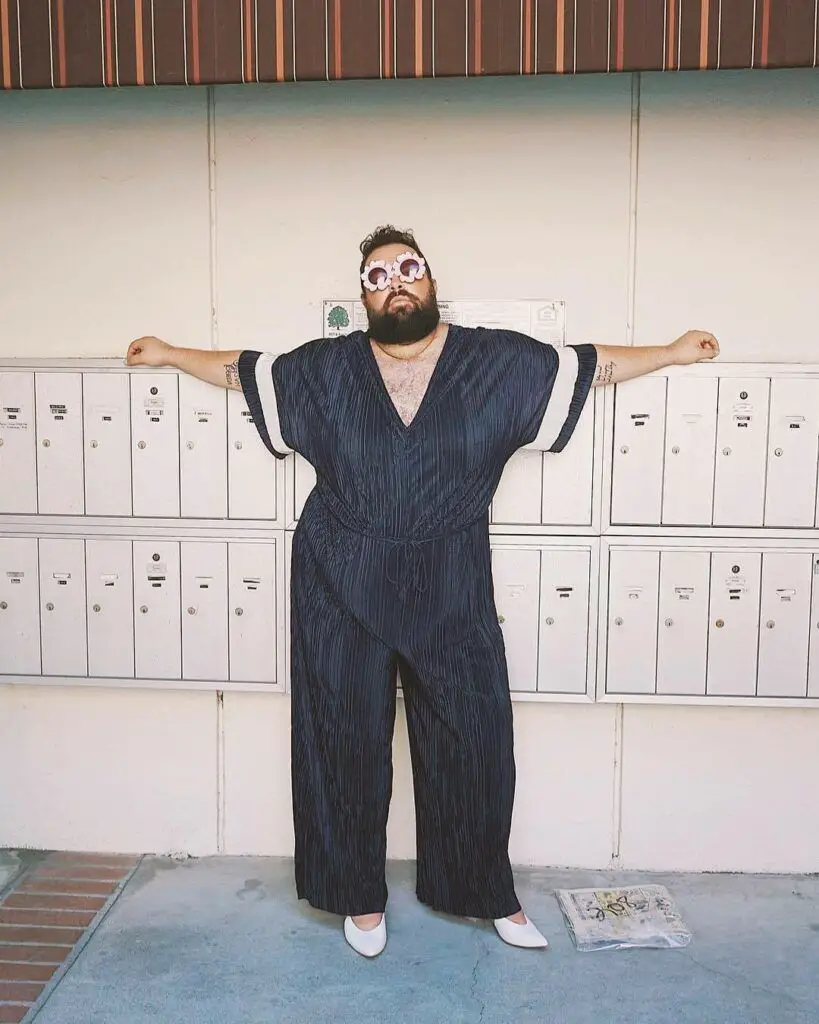 How long have you been an influencer?
I began building and growing my brand about 3 years ago or so! I guess I hit "influencer" status maybe a year ago?
What or who inspired you to become an influencer? What led you to it?
Honestly, becoming an influencer was all sort of by accident. I had just openly come out as gay and I was excited to share that with the world. I took to Instagram to post photos of my daily outfits, as fashion was something I had ALWAYS loved, but never felt was acceptable to show interest in as a "straight" man.
Pretty quickly, I found myself getting re-posted on other people's blogs and Instagram shout-out pages. Over time, that just grew and grew until I was featured in my first Buzzfeed article, which I think was the moment things shifted for me as far as my "influencer" status goes.
Do you work as a social media influencer full-time, for fun, as a hobby? Share your evolution!
Being a social media influencer is DEFINITELY a full-time job, quite frankly it's the GREATEST full-time job I've ever had, but unfortunately it doesn't quite pay all my bills on a regular basis yet.
I work freelance in transcription and take jobs periodically to just help bring in some steady income.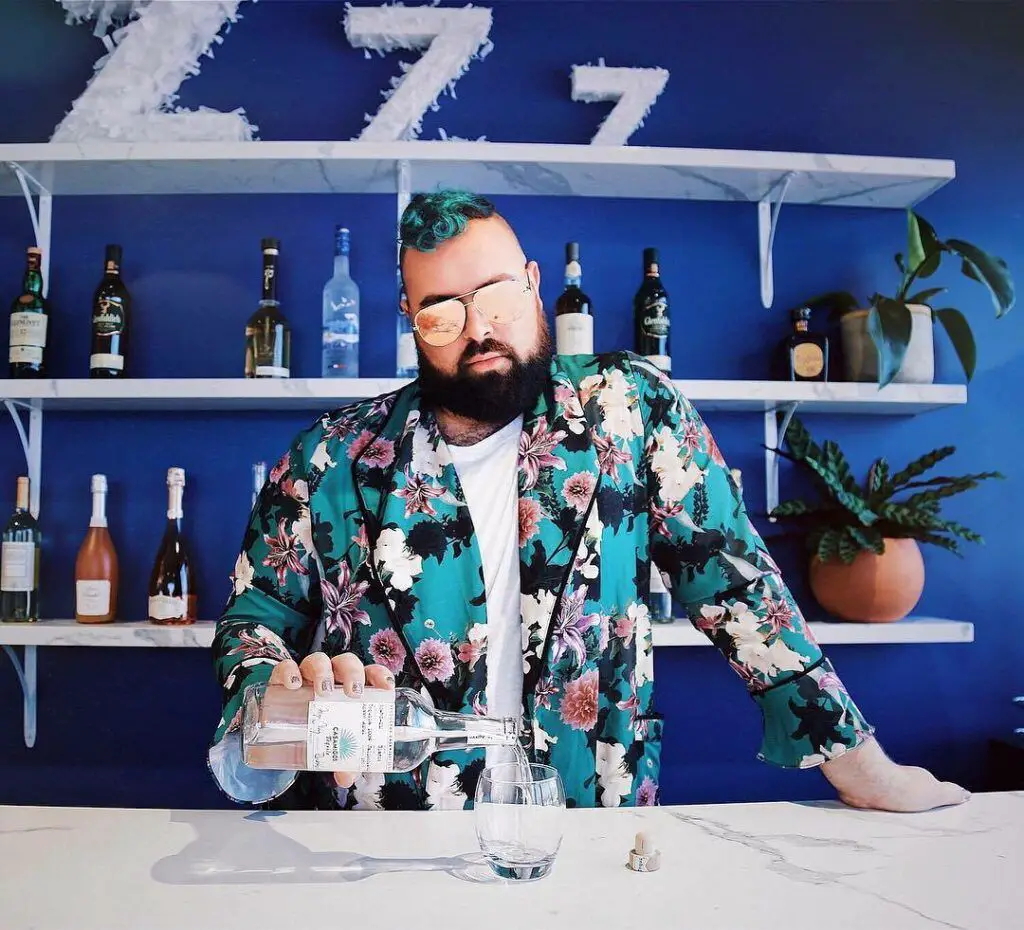 What is your favorite asset? Your legs, arms, waist? How do you play that up?
Truthfully, I love every part of my body, but if I HAD to choose I would say my legs. I'm always wearing short shorts, partially because temperature wise I run hella hot, but I also feel sexiest when my legs are on display.
What are the challenges, if any, you face regarding being plus size?
I don't think any of the challenges I endure truly are because of ME or MY BODY, but I think the fashion industry is still light years behind where we should be as far as clothing options for plus size people.
Plus size people are not this brand new breed of people that just popped up last year when body positivity became the hot topic. Fat bodies have existed forever and have always wanted to be seen and have always wanted to have the same options for self-expression as everyone else.
What's your favorite thing about being plus size?
I don't have a favorite thing about being plus size, but my favorite thing in REGARDS to being plus size is that I was able to overcome all the mental abuse and body shaming growing up to get to the place I am now where I love myself unconditionally. I hope that people of ALL sizes say that's their favorite thing about THEIR body's as well.
What's your favorite thing about being an influencer?
I think getting to connect on a pretty intimate level with thousands of people around the world is my favorite thing about being an influencer.
My followers know more about me and my life than most of my family knows and that is really special to me. My followers have been there through so many moments in my life and I have been there for them through major moments in their lives.
They're my real family.
Who/what are your favorite designers/brands?
I'm really loving what some of my indie designer friends are doing – Camille MacMillan and Matthew Westray over at Foxbait are creating some INCREDIBLE designs that really challenge the status quo when it comes to contemporary women's fashion.
My girl, Jenni Ricetti over at Ricetti Clothing is creating some KILLER street wear looks that focus on precision tailoring and quality fabrics.
I'm also a huge fan of more mainstream designers like Jeremy Scott and his brand Moschino. Brands like River Island have definitely been catching my attention lately, and ASOS will always be a staple of mine.
Describe your personal style.
My personal style is vibrant, bold, colorful, and gender-bending. I like to change up my look pretty often and not get too settled into any current trend.
Which influencers and bloggers inspire you? Plus or straight size! Any influencers or bloggers currently on your radar?
I'm ALWAYS inspired by my babes @GabiFresh and @AlexMichaelMay. They're just so fierce and their content is next level. I'm a really big fan of this photographer who goes by @die__yung on Instagram – her work is UNREAL – it's truly my dream to work with her.
What do you think about where plus size fashion is today versus a few years back?
I think plus size fashion has made LEAPS AND BOUNDS beyond where it was just a few years ago, but it has much further to go. Still, many women's brands don't offer extended sizing and virtually zero men's brands offer plus sizes.
I think the cool thing now though is that when brands ARE choosing to create extended sizes, they're creating more trendy, fun, fashionable clothing, rather than just plain old basic T-shirts and jeans.
What do you think or hear from readers, is one of the biggest myths about plus size fashion?
I think the biggest myth about plus size fashion that I've seen through connecting with my followers is that bigger men (or men in general for that matter) don't care about fashion.
So many guys WANT to look cool and feel good about themselves, but are continually given practically zero men's clothing options to work with. I do my best to encourage everyone to look beyond the assigned gender in clothing because I personally feel anyone can wear anything, but some things (i.e. jeans, jackets, etc.) are designed with a man's specific body in mind.
And, there should be more fashionable options for men of size to find and be able to wear.
Are you working on anything or have anything to share?
There is a LOT going on in the world of ABearNamedTroy so be sure to follow me on Instagram (@abearnamedtroy) so you don't miss a thing!
Lastly, what does Curvy.Confident.Chic mean to you?
It means loving yourself unconditionally and encouraging others to do the same.
Check out Troy's Instagram page @ABearNamedTroy!

What do you think of his style and his thoughts? Is Troy's Instagram page one you follow? Let's discuss!

Are you a blogger? Want to be featured?
Make sure you fill out your deets here, so that we can feature you!
Looking for more style inspiration?
Check out all of the plus size blogger spotlights here!