Hope you all have been staying warm and safe in this crazy winter weather! If you're stuck at home with another snow day, then it's the perfect time to catch up on your blogger spotlights! If you missed our last blogger spotlight, catch up with over-40 blogger Jackie of Curvy Fabulosity! Today, we meet up with Rebecca of Mommy in Heels.
Mommy in Heels offers up a great mix of casual wear and dressier looks perfect for her life as a mom and boutique owner. Through her blog, she shares her life as a wife, mom, and business owner and offers practical lifestyle advice and inspiration. She is a plus size blogger YOU NEED TO KNOW!!
Meet Rececca of Mommy in Heels!!
Age:
35
(will be 36

next Wednesday

!)
Height: 5'4″
Location: York, PA
How long have you been blogging?
I have been blogging for 5 ½ years! I started in June 2012.
What or who inspired you to become a fashion blogger? What led you to it?
I've always enjoyed fashion and was always the go-to for my friends when they had a style question or needed fashion advice. With Facebook, comments and messages were always asking where I got this or that outfit. With encouragement from friends and family, I decided to give it a go!
Evolution!
Do you blog full-time, for fun, as a hobby? Share your evolution!
I blog full time (or what I would consider full time). I post M/W/F every week. Initially, I started as a hobby, not even thinking that it was something I could get paid for, nor did I think it would ever become a business for me.
It has definitely been a labor of love over the last 5+ years. When I first started, I blogged 5 days a week. With working full time (I own a women's clothing boutique called Elizabeth & West Fashion House) and being a Mommy, it was a lot. I felt I had to blog every day. Some days I would post just for the sake of posting. Eventually I scaled back to 3 days a week, knowing that I would post more quality content.
I certainly go through moments (as I am sure most people do) where I get discouraged, or think about throwing in the towel, but when it comes down to it, I could never quit!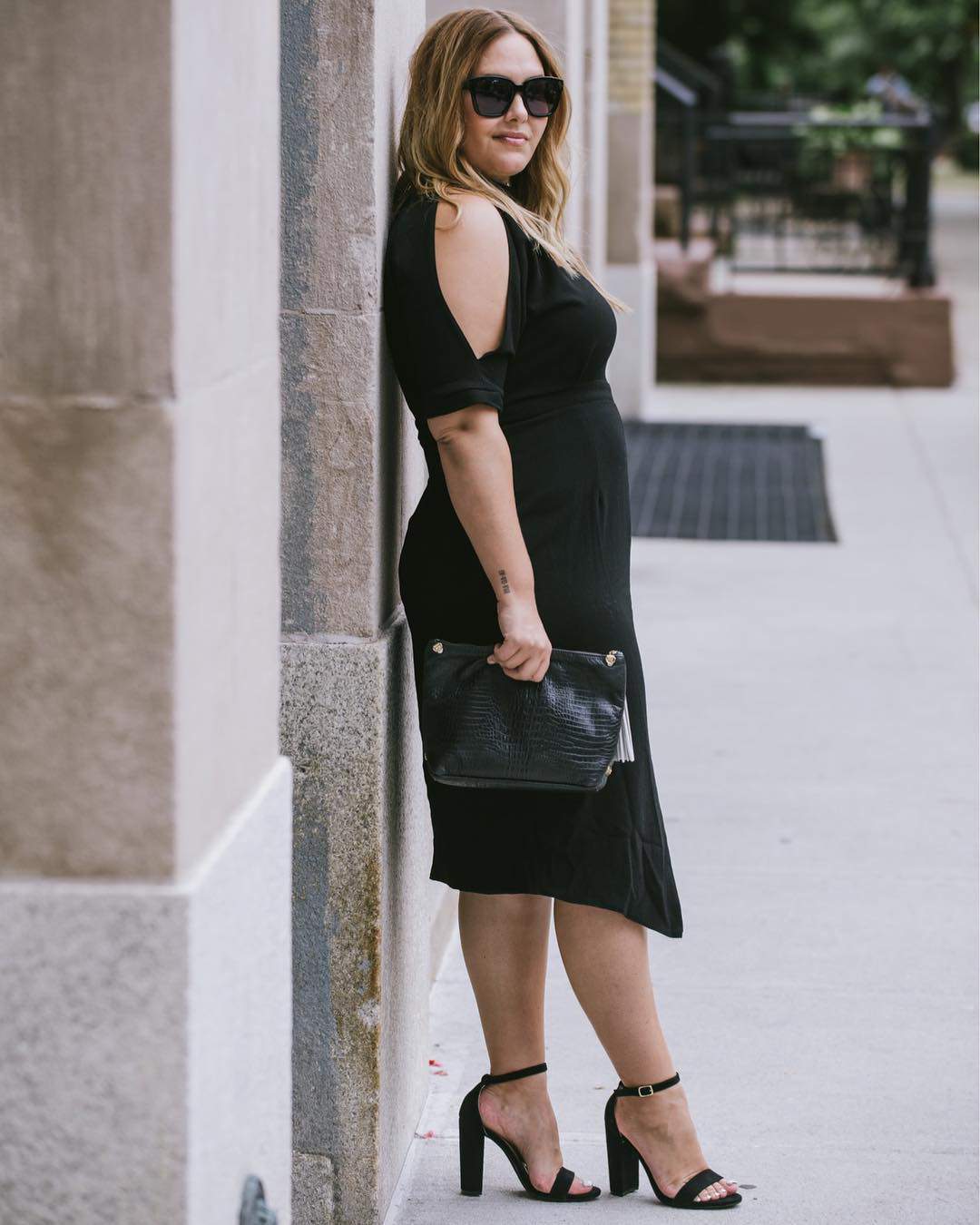 What is your favorite asset? Your legs, arms, waist? How do you play that up?
I really enjoy my waist/hips, especially in dresses. Even when I weighed a lot less than I do now, I always had a little curviness to me, which I love. It's fun to play up those assets when I can!
Challenges
What are the challenges, if any, you face regarding being plus size?
Being considered plus size is still sort of new to me. I have been everything from a size 2, to my current size 12/14. I remember a couple of years ago a friend texted me telling me she was on Pinterest and she randomly saw my photo – I thought it was so cool that a photo of mine had been repinned so much. Then I saw the caption "How to Wear a Blanket Scarf if you are Plus Size." It was that moment that I saw me labeled as plus size for the first time (and can we just address that caption? How does a plus size person wear a scarf differently than a non plus size person?! LOL. I mean, it's a scarf.)
I wasn't sure how I felt about it at first, because I had never really considered myself plus size, but when it came right down to it, I was. I felt like there was a public stigma along with it. Lazy, sloppy, unmotivated, doesn't care about their health. But I am none of those things! I think there's definitely been a shift in the perception of a plus size person, which is welcoming, but there still is a long way to go! With a lot of time, thought, working through feelings, I am more confident now than I have ever been, and it feels so good.
FAVES
What's your favorite thing about being plus size?
All of the new brands I am discovering! It seems like every week I stumble on a new brand that has an amazing selection for girls my size!
What's your favorite thing about being a blogger?
Being a role model for other women is not something I anticipated when I started blogging but it's a role I've gladly taken on and love. I simply thought when I first started blogging I would just share my outfits and that would be it! It's so fulfilling to receive messages and emails from my readers on a weekly basis thanking me for helping them be more confident. I'm a huge advocate for body positivity!
I also love sharing my life with my readers. I am pretty open and transparent with my blog followers – it's something I pride myself on! It's fun to connect with readers about certain things from a show I am binging to a parenting fail. My husband and I have a blast with Instastories – we think we are hysterical (we probably aren't, but we enjoy ourselves LOL!)
Who/what are your favorite designers/brands?
I wear a lot of Loft. Their clothes fit me really well-I am super excited for their plus size line to launch in a couple of months. I also adore ELOQUII. Their dresses are amazing and always fit me so well.
My dream designer to collaborate with is Christian Siriano – my husband and I loved him when he was on Project Runway, and it's been so awesome to see him evolve. He is incredibly inclusive to all shapes and sizes which makes me love him even more. To wear one of his pieces and/or meet him one day would be an absolute dream. I would 100% fangirl on him!
Who Are You?
Describe your personal style.
I am a chameleon when it comes to my style, and I like to dress to my mood. One day I am sporting something preppy, the next it's my checkered Vans, a rocker tee and my faux leather moto jacket. I wouldn't label myself as one particular style because it's always changing!
Which bloggers inspire you? Plus or straight size! Any bloggers currently on your radar?
Ah there's so many to choose from! I get inspired by a lot of different bloggers for different reasons! There are some I follow strictly for outfit inspiration (yes, fashion bloggers get outfit ideas from other bloggers!), others I follow for when I need a little pick me up, or others that are body positive. There are collectively so many that I feel inspired in one way or another!
Plus Size Fashion
What do you think about where plus size fashion is today versus a few years back?
Oh wow, plus size fashion has come such a long way over the last several years. It's amazing how many brands there are for plus size gals, and even other brands that have started to carry larger sizes. It's like brands are finally realizing that yes, plus size gals do want to and can be stylish and that there is a market for plus size clothing.
One thing that I notice that I think some brands still have to work on is on including more curvy models in their ads and websites. Their clothes may go up to a size 22 or 28, but yet all of their models are the standard 2 or 4. How about showcasing both?
What do you think or hear from readers, is one of the biggest myths about plus size fashion?
One of the things that I hear most from my readers is "I didn't think that would look good on me because of my size, then I saw you wear it!" I think a lot of plus size gals limit themselves because they automatically think a certain style or trend isn't for someone their size. Not the case! Style literally has no size limit, so if it's something that intrigues you, go for it.

Anything Else?
Are you working on anything or have anything to share?
YES! I am currently in the process of working on a body positive movement called #MoreThanASize. If all goes according to plan, it will launch January 15th. The premise behind it is that we waste so much time defining ourselves and others based on their size.
We are so much more than a size 2 or a size 16. We are teachers, mothers, mentors, entrepreneurs. This movement is a call to action to look beyond our size to see that we are all so much more!
Stay tuned for the launch on January 15th!
Anything else you want The Curvy Fashionista's readers to know?
You're worth it. Your size does not define you. You don't have to feel that way every day – it's okay not to (I certainly don't), but the more you start telling yourself that, the more you believe it!
Also – that one style or trend you weren't going to try because you thought it wouldn't look good on your body type? Go for it.
I would also like to mention that I was a Redbook Real Women Style Award winner this year and was on the September cover! I was also featured on The Today Show!

Lastly, what does Curvy.Confident.Chic mean to you?
It means loving yourself, owning your curves, embracing them and being comfortable with who you are!
Want to be featured?
Make sure you fill out your deets here, so that we can feature you!
Isn't she amazing?! Could you see yourself doing something similar? Love her too? Check out Mommy In Heels and let us know what you think!
Looking for more plus size blogger style inspiration?
Make sure you check out all of the other plus size blogger spotlights!